By Jocelyn Buhlman
On Monday, July 30, we bounced over to The Walt Disney Studios for a magical evening in celebration of Disney's new film Christopher Robin. We had the honor of attending a special ceremony honoring Disney Legends Richard M. and Robert B. Sherman with a soundstage dedication, before we stepped out onto the red carpet for more fun with voice acting legend Jim Cummings and our very own D23 Members.
A Practically Perfect Ceremony
You might know the Sherman brothers from, well—have you ever had a Disney song stuck in your head? There's a good chance they wrote it. From "it's a small world" and "The Tiki, Tiki, Tiki Room" to the classic soundtracks to The Many Adventures of Winnie the Pooh, Mary Poppins, and more, this legendary duo's music has been part of The Walt Disney Company for more than 50 years. It's only natural that Disney would dedicate Soundstage A in their honor—in fact, many of their most famous songs were recorded on this very soundstage!
The ceremony, which we streamed live on Facebook, opened with the Side Street Strutters performing a delightful medley of the brothers' best tunes, before a swingin' number from the Disneyland Band and the arrival of Mickey and Minnie kicked off the special event.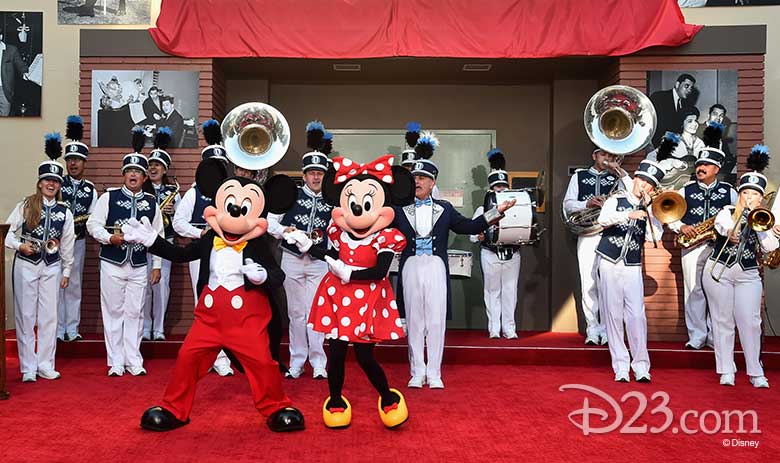 The Walt Disney Studios Chairman Alan Horn presided over the ceremony and Richard Sherman also spoke on behalf of his brother, Robert, who passed away in 2012, and himself. In addition to Richard's wife, daughter, and grandchildren, three of Robert's children and four of his grandchildren attended the ceremony in his honor. You can watch our live stream of the ceremony below:
Before the brand-new marquee was revealed to the crowd, Richard Sherman shared some heartfelt words: "It's been a joy, it's been an honor, and it's been a privilege to work here at The Walt Disney Studios, working for Walt Disney and for all the brilliant, brilliant people with whom Bob and I associated through the years."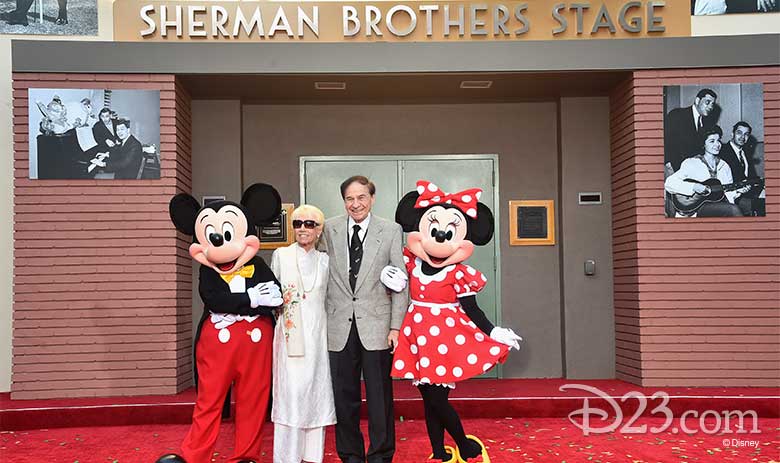 Rolling Out the Red Carpet
The wonderful thing about red carpets, is that red carpets are wonderful things—and we would know, because after the dedication ceremony, we had the delight of attending the Christopher Robin world premiere with a smackerel of important guests, including D23 Gold Members and the voice of Winnie the Pooh (and Tigger, too!), Jim Cummings.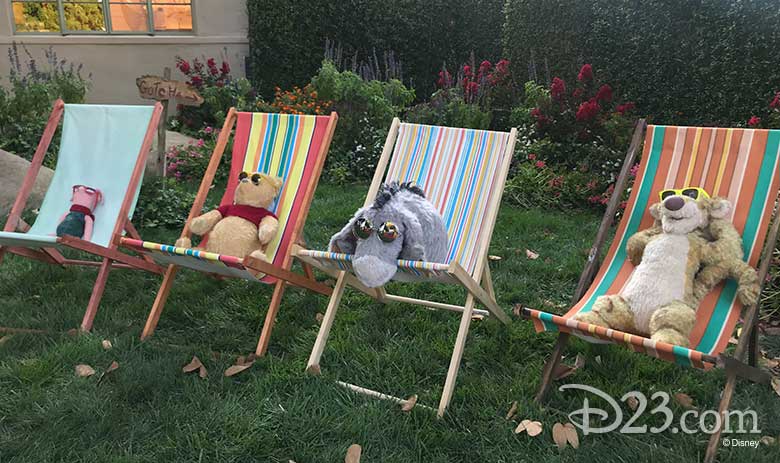 Cummings, a legendary voice actor who has lent his vocal talents to iconic characters you definitely know from your childhood—from classics like Pete and Kaa to television favorites like Darkwing Duck and Don Karnage—joined us on the red carpet for a special social media takeover that was sweeter than hunny.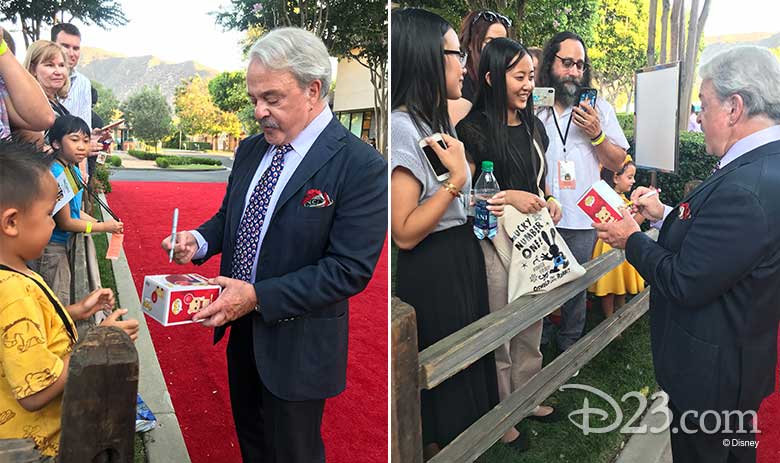 Our members, dressed in their Hundred Acre Wood best, had a special spot on the red carpet to watch the excitement of the premiere. Cummings made sure to stop by and say hi to our members and make their experience even more star-studded!
We had a chance to talk with Cummings before he headed into the screening, and he had a very special message for D23 Members:
Jim Cummings has a special message for D23 Members! Check out our Instagram story (?: DisneyD23) for more with Jim on the #ChristopherRobin red carpet! pic.twitter.com/zaFp8tpTXy

— Disney D23 (@DisneyD23) July 31, 2018
Of course, Cummings wasn't the only star on the red carpet (although he voices enough characters to fill a whole premiere!). Hayley Atwell, Ewan McGregor, Bronte Carmichael, and the film's director, Marc Forster, were all on site for the premiere.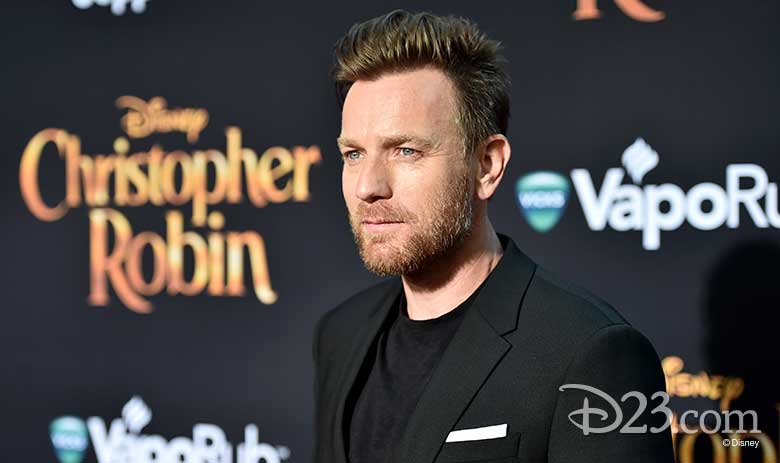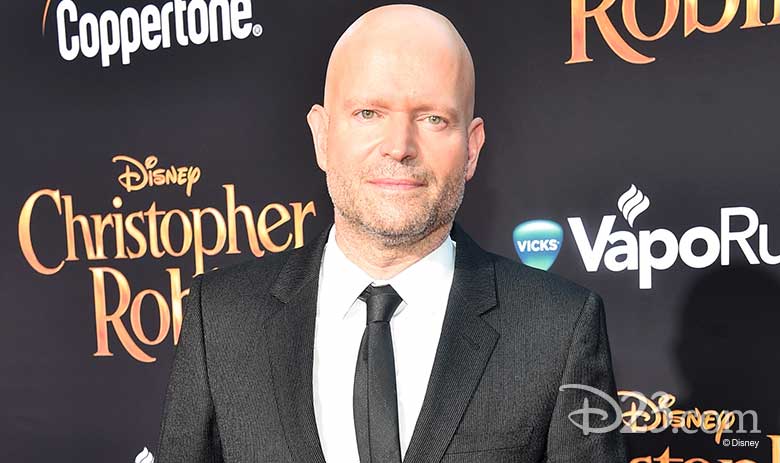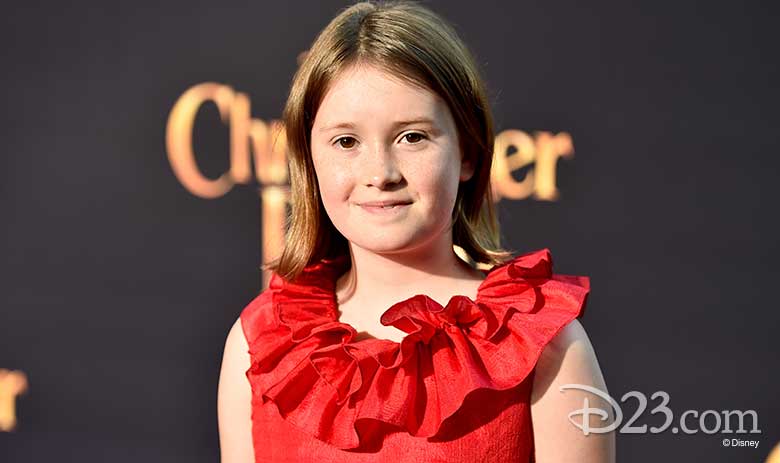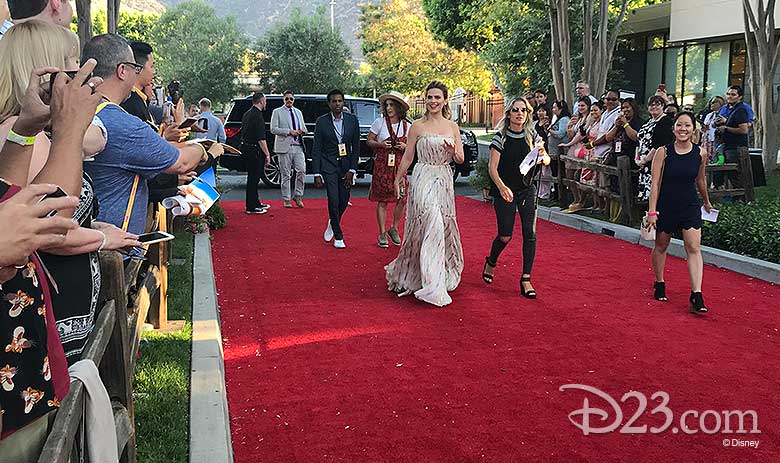 We also stopped to chat with Brad Garrett, who lends his voice to our favorite downcast donkey, Eeyore. He had this message for D23 Members:
We had to say "TTFN (ta-ta for now!)" to Cummings so he could head in to watch Christopher Robin with his family, but first, he posed with the cast of the film for a wonderful group photo!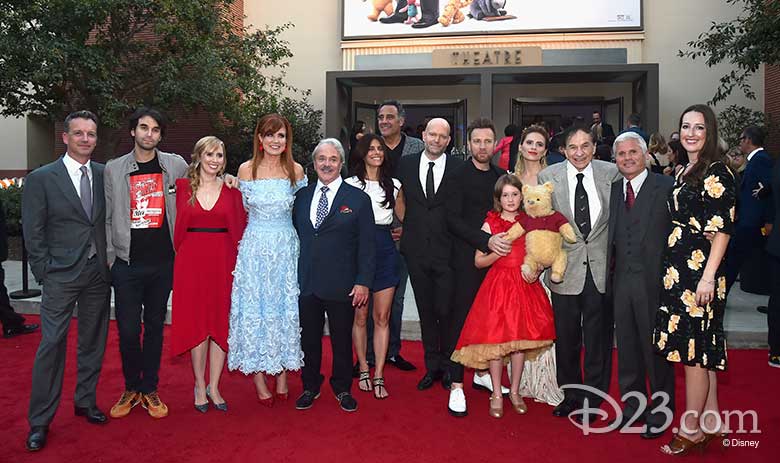 We couldn't have asked for a sweeter premiere, and we were so happy that we could share the experience with our D23 Members on the red carpet! If you want to join in the Hundred Acre Woods fun, make sure to bounce into theaters, starting August 3, to watch Winnie the Pooh, Tigger, Piglet, Eeyore, and more of your favorite childhood pals on screen in Christopher Robin!