It's the final day of D23 Expo, and we're so excited to see what magic is in store for everyone at The Ultimate Disney Fan Event. Stay tuned for updates from panels on Disney Parks, The Proud Family, TRON, and so much more!
Click here for updates from Day 2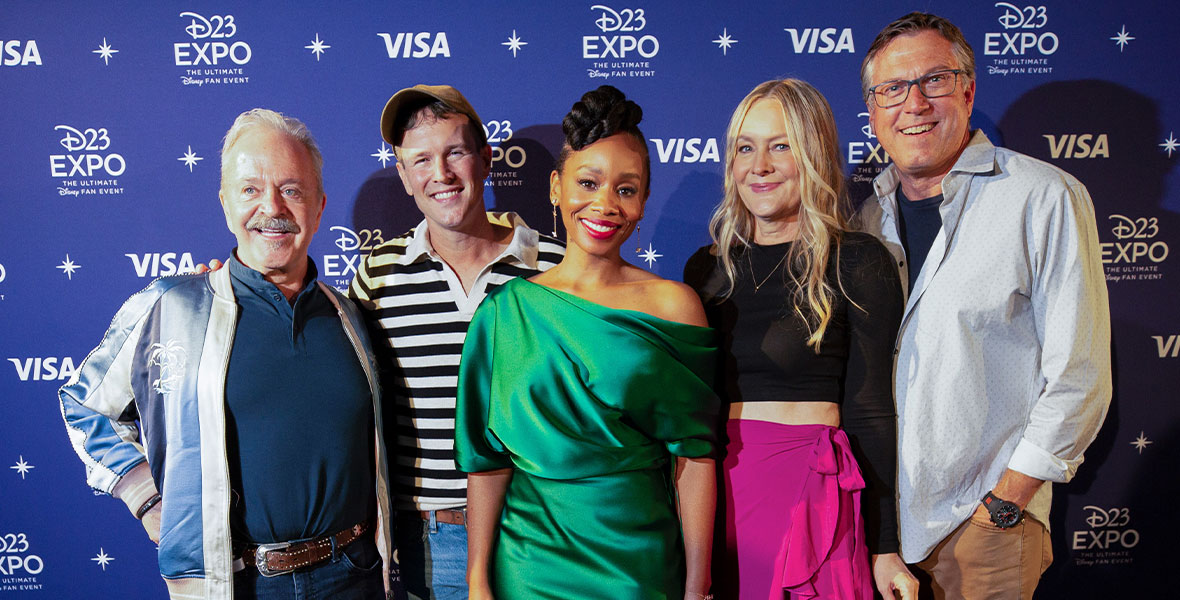 Conversations with Disney Character Voices Panel Awes Fans
The voices behind some beloved Disney characters, including Mickey Mouse, Goofy, Ariel, and Tiana, dazzled fans in attendance for the "Conversations with Disney Character Voices" panel to close out D23 Expo.
Rick Dempsey, Disney's senior vice president of character voices, emceed the festivities, which featured talk backs with iconic actors, an automated dialogue replacement (ADR) session with the stars of Aladdin, and a live performance by Donny Osmond!
Those participating included Jim Cummings (voice of Winnie the Pooh, Tigger, Ray, Pete, Darkwing Duck), Disney Legend Bill Farmer (voice of Goofy), Disney Legend Tony Anselmo (voice of Donald Duck), Bret Iwan (voice of Mickey Mouse), Kaitlyn Robrock (voice of Minnie Mouse), Jodi Benson (voice of Ariel), Susan Egan (voice of Megara), Disney Legend Anika Noni Rose (voice of Tiana), Disney Legend Linda Larkin (voice of Jasmine), and Scott Weinger (voice of Aladdin).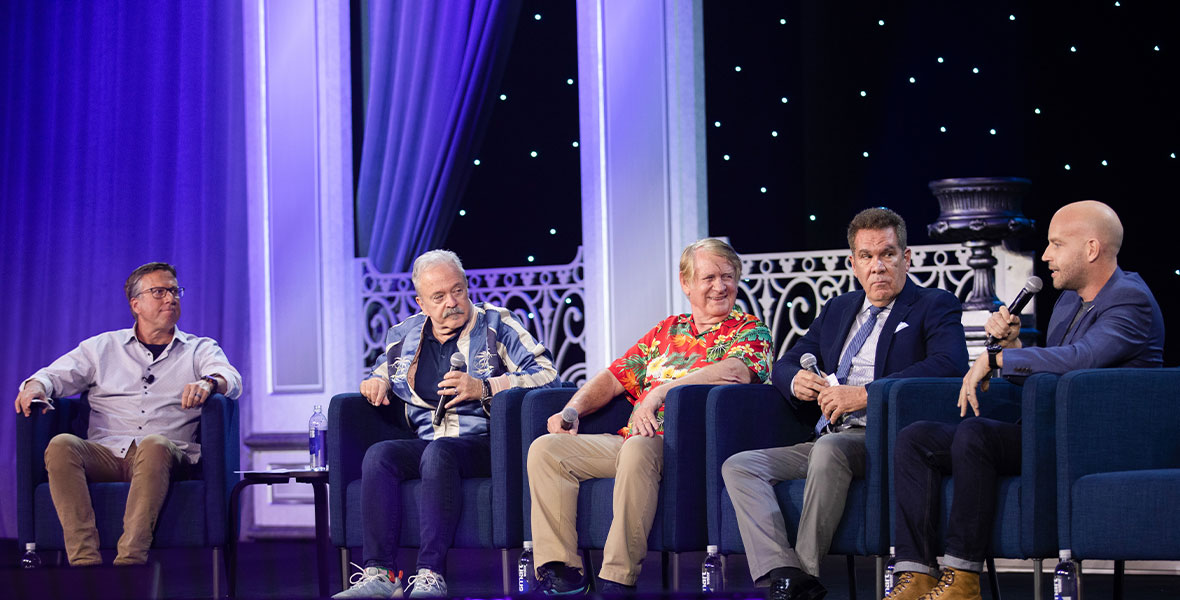 Farmer, who has been voicing Goofy for more than 35 years, shared that it's heartwarming to hear from fans how much his work means to them. "People always come up and say, 'I couldn't talk to my dad, and [Goofy Movie] became our movie, and we became closer because of it,'" Farmer said. "We're just in a little booth with a microphone; you don't know how it affects the people out there, but with an event like this, we get to hear how it affects you."
Dempsey later asked Rose if she shares any similarities with Tiana, a role that required the actress to embody extreme determination to land the gig. "I think we're both big dreamers and from small spaces but found ways to inhabit the dreams that we had in our spirit," Rose said. "I was really grateful to be able to bring that to heart and show young girls and boys who need to remember that dreams are still active even when you're a grownup."
Closing out the panel, Donny Osmond surprised fans with a spectacular performance of "I'll Make a Man Out of You" from Mulan, which brought the crowd to their feet with a standing ovation.
(Andie Hagemann)

Dancing with the Stars 31st Season Celebration Waltzes onto the Backlot Stage
"This is Dancing with the Stars!" To commemorate the incredible 31st Season of the fan-favorite series—and its big move to Disney+—judges and executive producers from the show took to the Backlot Stage to reveal some exciting news about the upcoming season.
Judges Carrie Ann Inaba, Bruno Tonioli, and Derek Hough were joined by executive producer Conrad Green and co-executive producer Deena Katz for a rollicking panel moderated by DWTS professional Jenna Johnson Chmerkovskiy—who unfortunately can't compete this season due to impending parenthood—alongside husband (and fellow DWTSprofessional) Val Chmerkovskiy.
Green, who began with the series when it first debuted on ABC, is back as executive producer and show runner—and is especially excited to be around for the show's big move to Disney+. "Coming back feels like coming home," he told the audience. "Bringing a live show to Disney+, and bringing it to an audience that's gonna be so receptive to what we are doing—trying to make it bigger, and we've got some really exciting plans for the season; just the combination of all that, seeing so many familiar faces and so many new faces and being able to bring a really aspirational, positive show to Disney+ is super exciting for us." Dancing with the Stars is the first live series to debut on the streaming service!
During the panel, they shared that the beloved Disney Night will expand this season to Disney+ Night and feature content from the streamer's marquee brands. Not only that, but voting will be live across the country in all time zones—as well as in Canada!
When asked why he thinks the show is so successful, Hough recalled a story about working with Season 18 contestant Amy Purdy, who lost her legs at age 19. "This is one of my favorite moments of all time—more than winning," he admitted. "I'm sitting down [in the rehearsal room] and she starts crying. And I thought, 'Oh my gosh, I'm being too hard on her; what's going on? I'm so sorry!' And she goes, 'No, this is the first time I felt like a woman, that I felt feminine, since I lost my legs.' And in that moment—to be able to bear witness to something [like that]—it just supersedes and transcends the show."
After the panel discussion concluded, Hough surprised the crowd with a never-before-seen, Disney-themed dance he'd choreographed with his fiancée (and previous DWTS troupe member) Hayley Erbert, set to a unique rendition of "Kiss the Girl" from Disney's The Little Mermaid.
Don't miss Dancing with the Stars—hosted by supermodel and businesswoman Tyra Banks and new co-host, actor, and television personality Alfonso Ribeiro—when it returns to the ballroom Monday, September 19, at 8 p.m. EDT / 5 p.m. PDT, only on Disney+!
(Courtney Potter)

D23 Expo Reveals the World of Duffy and Friends—Including a New One
Sunday's "The World of Duffy and Friends Revealed panel at D23 Expo was all about introducing American Disney fans up to Duffy, a teddy bear who has generated a genuine frenzy in the Disney Parks in Tokyo and Shanghai and has now transitioned across the globe, with a six-episode Disney+ stop-motion animation series now in the works.
Panel guests were first treated to a brief recap of the franchise, dating back to 2004 when the toy bear made his debut at Tokyo DisneySea (after a brief, unheralded appearance in the American parks), where he was given a name and a backstory: Minnie Mouse hand-stitched the bear and gave it to Mickey to take on his travels as he explored DisneySea's many ports.
The bear, who resides in DisneySea's Cape Cod Village, soon developed a life and ardent fan following of his own, and was joined by an expanding family of cuddly friends including:
Shellie May, a female bear who was described as being more adventurous than Duffy and who encourages Duff to try new things. She also loves making gifts for those in need.

Gelatoni, an artistic green cat who sees beauty in everything.

Stella Lou, a spunky, long-eared violet rabbit who loves to dance. She dreams of being a professional dancer and has taught Duffy what it means to dream.

Cookie Ann, a yellow puppy chef who is skilled at combining unrelated things to create something amazing.

Olu Mel, a green turtle who is a musician at one with nature. He plays his little ukulele and can create harmony among the birds, trees, and all natural things.

And the newest addition: Lina Bell, a pink fox detective who loves to learn and carries a little magnifying glass to help her solve mysteries. Her perspective on life: clues to life's problems might be right in front of you so just open your eyes! Lina has spent a lot of time in the woods and has thus learned a lot about plants and forest creatures.
The panel's moderator, Carlye Wisel, welcomed three panelists who have been involved in Duffy and Friends' expanding presence at the parks: Senior Story Editor Charlie Watanabe, Daniel Jue (WDI Portfolio Creative Executive), and Eva Lee (Senior Manager Franchise and Partnership Development). They explained that the pastel-hued plushies are intended to provide comfort and relieve stress. Just holding one of the animals, Jue said, causes chemicals to be released into the brain that make us feel better. Watanabe added that the stressful Japanese culture has benefited greatly from having these animals to love.
In the Disney Parks, the animals are held facing outward so they can enjoy the same visual experience that their owners are having. Watanabe said that as Japan's birthrate has gone down, the animals have filled a void as "surrogate children."
Photos were shown of the incredibly long lines that formed at Shanghai Disney Resort last year when Lina Bell was introduced. Fan-created costumes for the plush animals further revealed their growing popularity. InStyle China even put Lina Bell on its cover as its "Friend of the Year." The character had just been welcomed into Hong Kong Disneyland two days prior to the panel.
Asked if there will be more friends coming soon, Jue said cryptically that there "is always room for more in our imaginations," with Lee adding, "If the story requires a new character, there might be more."
Lee indicated that a little butterfly we see flying around the accompanying video shorts that Watanabe writes may be further developed in the future. The panel ended with a screening of a never-before-seen video adventure called "Lunch Box Mystery," which will be released at a later date. The story involved Duffy losing his floral-design lunchbox in a garden. With Lina Bell's sleuthing, it is discovered that the box was absconded by a pair of mischievous bright purple moles, one a bit larger than the other. The introduction of these two new characters in the Duffy World created quite the buzz among Duffy fans… who were each given a gift as they exited the panel: Duffy and Friends trading cards in a cute tote bag. Or perhaps "duff-el" bag would be more accurate.
(William Keck)

Imagineers Share Entertaining Stories of Making the Impossible, Possible
What's better than a story-packed Imagineering panel at D23 Expo? Two panels of Walt Disney Imagineers, back to back! For "Walt Disney Imagineering: 70 Years of Making the Impossible, Possible" on the Premiere Stage, filmmaker and author Leslie Iwerks hosted two sets of Imagineers, consecutively. The first, "Creative Imagination Panel," included Charita Carter, Kevin Rafferty, Kim Irvine, Jeanette Lomboy, and Bob Weis. A second Imagineering team came in for the second half, focusing on innovation and technology, including Tommy Jones, Leslie Evans, Emily Dow, Alfredo Ayala, and Ron Hamming.
Both groups began by sketching in their careers for the gathered fans, including Ayala's tale of getting caught playing "spin the beaker" in a college chemistry lab—an incident that eventually led to Imagineering after the professor who caught him became a mentor and recommended Imagineering as a career option for the budding innovator.
More such stories are included in Iwerks' upcoming book, The Imagineering Story: The Official Biography of Walt Disney Imagineering, an expansion of her popular six-part Disney+ Original documentary series, The Imagineering Story. Iwerks followed the panel with a book signing for the few lucky fans who scored advance copies of the book at the Disney Publishing pavilion before it sold out. Additional copies will be on sale everywhere in November.
Other highlights of the Imagineers' discussion on the Premiere Stage included:
Rafferty told the crowd his best and worst attraction pitching experiences. The best was for Toy Story Midway Mania!, which he and fellow Imagineer and now Disney Legend Rob't Coltrin proposed to Disney's top executives on the fly with just a few storyboards and concept sketches they happened to have ready—and "they bought it." The worst was a meeting he had to cancel at the last minute when another attraction, close to opening, needed his attention. As a result, Disney Legend Marty Sklar, then Imagineering president, sent a memo to then CEO Michael Eisner that read simply, "Kevin Rafferty preferred to go to Florida rather than meet with you." A copy of the menu projected on the stage's oversized screens drew a laugh from the audience.
Irvine shared her excitement at posting a "color board" sketch that depicted the beautiful endpoint of an ongoing renovation of Sleeping Beauty Castle at Disneyland Park. She had the sketch posted on the barrier that was erected around the construction site. Unfortunately, the color board depicted just the castle, without its drawbridge. The morning the sketch was hung, Irvine was eavesdropping on guests' reactions and overheard one guest telling another that Disney was apparently removing the castle's drawbridge to limit access to Fantasyland. Irvine immediately had the sketch removed and later replaced it with a drawing that depicted the castle and the drawbridge.

Carter had her own eavesdropping story: Outside a recently opened attraction, she listened as a father tried to explain to his 14-year-old daughter how a particular special effect was accomplished—only to have the girl poke holes in every explanation. Finally, he threw up his hands and said in exasperation, "Honey, it's just magic!"—and Carter knew that the Imagineers had done their job well.

Lomboy confessed that she used to think her favorite time at Disneyland Park was after hours, when the guests were gone—until the COVID-19 pandemic closed the park for more than 400 days. Now, she said, "I don't like Disneyland closed, and I don't like it empty." When the guests are gone, she told the audience, "It's a skeleton without a heartbeat, and that heartbeat is all of you."

Leslie, whose father is Disney Legend Don Iwerks, recalled how her father came home from work at Imagineering one day with a rubber hand. The Audio-Animatronics® figure at the center of Great Moments with Mr. Lincoln got a new set of hands before it was installed at Disneyland (after its debut at the 1964–1965 New York World's Fair), and Don had been the model for Mr. Lincoln's new hands. As a result, Leslie recalled, "I had this rubber hand that I grew up with," which she enjoyed hiding in unexpected places to surprise her friends.
One theme came through in almost all the stories the Imagineers shared—that the work of Walt Disney Imagineering is entirely focused on the guest experience. As Evans phrased it, "We're building part of the story, but you all are building the other half."
(Bruce C. Steele)

The Proud Family: Louder and Prouder Cast Reflects Upon D23 Expo
Following their Sunday panel at D23 Expo 2022 presented by Visa®, the voice cast from The Proud Family: Louder and Prouder reconvened backstage to reflect on what it meant to them to experience the appreciation that fans have for the Disney+ animated series in person—especially after months of working on their own, virtually, in the recording booth.
Kyla Pratt (Penny Proud), Paula Jai Parker (Trudy Proud), JoMarie Payton (Suga Mama), Karen Malina White (Dijonay Jones), Alisa Reyes (LaCienega Boulevardez) and Soleil Moon Frye (Zoey Howzer) sat down with D23 and revealed the powerful effect seeing fans in person had on them.
"It was an amazing feeling," said Pratt. "I think that's the reason we all do this show and love being a part of this show is getting that energy from the people who watch it. And it's moved them in so many ways for decades. So being here, we enjoy being with each other as our own little Proud Family, but everybody is an extension. So everybody who sees us and loves us and loves the show is a part of the Proud Family in some way, so being able to see them and spend time with them is an amazing feeling."
Her co-star Payton agreed. "To listen to some of the stories that we've heard about how we helped them navigate through issues and life challenges and things like that, it's just sometimes overwhelming to hear—which makes us even want to be better and better at what we do."
It was especially gratifying to see a rainbow of ages, races and generations represented in the audience, "all different walks of life," said Pratt. "That's what speaks volumes about The Proud Family… we relate to every single person. It doesn't matter where you're from, or what you look like or how you identify."
"We really don't know how we affect and touch people until we come to places like D23," said Parker. "And we see people wearing our clothing and carrying our bags and telling us these stories. So it's very important. This is why we do it."
For Reyes, interacting with fans was especially poignant. "It was emotional, especially with me being a new mom with a 1-year-old," she shared. "We had a Puerto Rican woman who said that she just resonated with all of us and that her daughter watches [our show] now… I think that for me, it was the full-circle moment, just the fact that we've impacted such a beautiful, diverse cultural community with so many topics that we weren't really talking about before, but now we can. I think for me that's what's just life-changing."
"It was really beautiful to hear these incredible people talking about how they felt represented and connected," added Frye. "To see they're such huge fans of The Proud Family and this beautiful community that loves each other so much is incredibly inspiring."
(Scott Huver)

Marvel Comics Stars Talk Comics-Movie Connections at Impromptu Panel
After an overwhelming positive response to Marvel Comics' Saturday presentation at D23 Expo, the legendary comic book company's editor-in-chief C.B. Cebulski and superstar artist Humberto Ramos took the stage again on Sunday for Marvel Fanfare, a more freewheeling—and wide-ranging—conversation.
Reuniting on the Hyperion Stage at the Anaheim Convention Center before an enthusiastic crowd, Cebulski jokingly warned fans that, as professionals working at the original comic book division of Marvel, they are typically no more in-the-know about secret developments in the Marvel Cinematic Universe than other fans.
"So I cannot tell you what's happening in Avengers: Secret Wars or who's in the cast of the Fantastic Fourmovie," Cebulski chuckled about two hotly anticipated, closely guarded film projects. But he did delve into the increasingly symbiotic creative relationship between the comic book creators and the film and television talent.
"Marvel's become such an all-encompassing kind of brand," the EIC explained. "But Marvel Comics, what we do, that's the heart. That's what I've always said: that's where it started."
He revealed that, particularly over the past decade, where the comics have always provided inspiration to Hollywood, now the MCU incarnations are having a similar influence on comics creators. "We take a lot of cues now from some of the cool stuff that they do in films or in games or in animation, or in the Disney+ shows," Cebulski said. "We see things and we go, 'Oh my God!' One of their writers, one of their directors, one of their producers had an idea and they took it and they improved upon it."
He continued, "A good example recently was Alligator Loki," one of the multiversal incarnations of Tom Hiddleston's Asgardian antihero seen on the Loki series on Disney+. "We fell in love with it. So I had a talk with some of the producers and said, 'Hey, we'd love to take that idea of bringing Alligator Loki into Marvel Comics'—and we have.
"It's that amazing synergy that we have now working between our divisions," he added. "The producers are taking what they love from the comics and putting it on their screens. We're taking what they have on their screens and put it back in the comics, so there's this wonderful symbiotic relationship that we have."
Ramos' signature energetic interpretation of Spider-Man has become one of the most distinctive and influential visual takes on the web-slinger—one he's noticed reflected on the big screen as well. Drawing on cues from a few preceding Spider-Man artists, Ramos drew the eyes on the superhero's mask in increasingly expressive ways, reflecting Peter Parker's emotional reaction in more visual terms—a somewhat controversial take, he admitted, that got him a light scolding from a legendary Spider-Man penciller.
"He said, 'You're the guy who draws those Spider-Man eyes changing,'" revealed Ramos. "He said, 'You know this is a mask, right? You can't move the eyes.' And my answer was, 'But you know we draw comic books, right? These guys aren't real.'"
Validation came when Ramos saw Tom Holland's first on-screen appearance as Spider-Man in Captain America: Civil War, where the eyes on the Spidey suit shift and change size, giving him a greater range of expression. 'I was like YES! I knew it! In your face!'" laughed Ramos.
(Steve Huver)

Christy Carlson Romano and Will Friedle of Kim Possible reunite at D23 Expo
Multiple generations of Kim Possible fans answered the call—or the beep—to assemble for a 20th anniversary panel that reunited co-stars and longtime friends Christy Carlson Romano and Will Friedle on Sunday at D23 Expo.
Panel host Khleo Thomas welcomed Romano and Friedle to the Disney Bundle Stage at the Anaheim Convention Center, where they were greeted by an enthusiastic crowd that included more than a few cosplayers dressed as Kim, Dr. Drakken, and Shego, and the actors immediately rewarded them with in-character catchphrases "What's the sitch?" and "Booyah!"
Romano, who voiced can-do heroine Kim Possible, and Friedle, who voiced the reluctantly heroic Ron Stoppable, recalled their synergistic transitions from young live action actors for Disney-produced series—Even Stevens and Boy Meets World, respectively—and admitted they never imagined the animated series would become a beloved institution, with its popularity continuing for two decades and counting.
"Kim wasn't just some superficial high school chick. She was so three-dimensional," Romano offered on why her character struck such a resonant chord. "Something cool about Kim is that she was the change. She didn't talk about it. She didn't have to campaign for it. She just was powerful… She had those people supporting her, and if they were female, if they were male, it didn't really matter. At the end of the day, it was about community impact. It was about saving the day and being a good person. That's what she really represented."
"I think it's Kim, mostly, but I also think the relationship between Kim and Ron was really special," added Friedle. "That's something that people really liked and were big fans of, myself included. When I read the script that Ron was actually going to get to date Kim, I was like, 'Oh yeah—he did it. He did it!'"
Along with the groundbreaking female hero/male sidekick dynamic, Romano credits the then first-time collaboration between Disney Channel at Disney Animation for creating a such a visually compelling design for the show.
"It was groundbreaking, because we have people who have designed Belle and other Disney princesses literally working on cels for Kim Possible," she recalled. "It was a really exciting time to see that character. They played around with different hair colors, but that red hair—that's iconic. Everything about Kim Possible is so iconic."
Romano and Freidle, who currently co-host the podcast I Hear Voices, also revealed what they thought Kim and Ron would be up to all these years later.
"We've talked about this: We still think they're married and they have kids, and they're kind of like a spy version of The Incredibles," said Friedle.
"And they're [the parents of] twins, like Jim and Tim!" Romano added, referencing Kim's twin brothers. "I do think that it could be great to see a brother-sister dynamic."
(Steve Huver)

Back to the Grid: Boxleitner Leads "40 Years of Tron" Celebration
Producers and forward-thinking special effects wizards reunited with Tron himself, actor Bruce Boxleitner, for a nostalgic look back at the movie Tron—40 years after the ground-breaking sci-fi classic's release. As the panelists shared stories about how they brought the futuristic film to life, giant monitors showcased original concept art and rare behind-the-scenes photos, along with historic snapshots taken outside Hollywood's historic Grauman's Chinese Theater, where the film was first screened.
The biggest audience reaction came when a racy, never-before-seen clip was revealed showing Tron and Lora (Cindy Morgan) sharing a sexy private moment within the computer-generated grid. In the deleted scene, Lora is tracing her finger around the illuminated lines of Tron's costume, showing him how the lines can help guide him through the grid like a map. As Lora's finger extended further down Tron's costume, Lora could be heard saying, "Follow this all the way down…" before the screen suddenly went dark.
Boxleitner remembered being up on a horse while shooting a Western movie when he first read the script for Tron. Although he wasn't able to quite wrap his head around what the film would actually be about, he had recently lost the part of Luke Skywalker to Mark Hamill and decided to give it a shot.
In a surprise video greeting, Morgan recalled how the film's writer/director, Steven Lisberger, helped her conceptualize an environment that would be created only after her filming was completed—including graphics of what the lightcycle vehicles would eventually look like. "I found the reality in the other actors' eyes," she explained, before thanking fans for four decades of support and enthusiasm.
Producer Donald Kushner recalled having to "sell" Disney on the idea for Tron. Ultimately, he got a greenlight only after he claimed another studio had expressed interest. But the studio had one condition: He and Lisberger had to create a sample effects reel, "which—by the way—we didn't," Kushner confessed. "We figured if we could get the plane in the air, we'd figure out how to land it."
Visual effects supervisor Richard Winn Taylor II recalled how he took home a white motocross helmet and plussed it with tape to create the grid players' helmets the night before they were to be featured in scenes. "We were inventing what we were doing as we went along," he admitted.
John Scheele, the film's effects technical supervisor, inspired laughs when he spoke about how he was recruited to help airbrush away unanticipated strange glowing effects emanating from the actors' nether regions.
Boxleitner did take a moment to acknowledge his co-star and lifelong friend Jeff Bridges, who played brilliant computer programmer Kevin Flynn. "He still calls me 'the Tronster,' and I call him 'Flynnster,'" said Boxletiner, who was mourning the recent loss of actor David Warner, who played the villainous Ed Dillinger. "I was hoping he would make the event," Boxeltiner said of Warner, who passed away in July at age 80.
"I owe a great deal to this film," said Boxleitner, who credited the classic for helping him land future sci-fi projects, including Babylon 5.
The panel ended by looking forward to the spring 2023 opening of TRON Lightcycle/Run, a new high-speed coaster opening in Tomorrowland in the Magic Kingdom at Walt Disney World Resort. Scot Drake, the Imagineer who oversaw the attraction's debut in Shanghai Disney Resort, recalled that his initial challenge was "to immerse guests in the grid like never before…. When you get launched into the grid, face first… it's something you never forget!"
"I need to ride that thing!," Boxleitner proclaimed. And judging by the audience's cheers, he's not alone in feeling that anticipation!
(William Keck)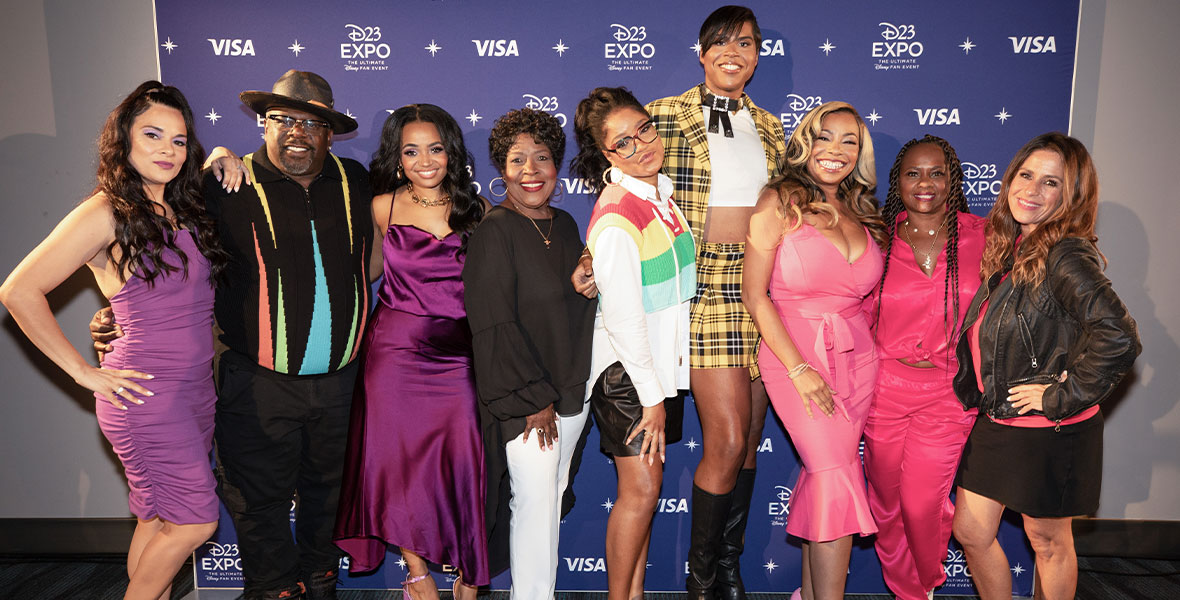 The Proud Family: Louder and Prouder Spills Family Secrets at D23 Expo
Fans were in for a real treat Sunday morning when the voice cast and creatives of The Proud Family: Louder and Prouder appeared on the Premiere Stage during D23 Expo presented by Visa®. EJ Johnson, who lends his voice to the character Michael Collins, hosted the panel, and was joined by Bruce W. Smith (creator and executive producer), Ralph Farquhar (executive producer), Kyla Pratt (voice of Penny Proud), Paula Jai Parker (voice of Trudy Proud), JoMarie Payton (voice of Suga Mama), Cedric the Entertainer (voice of Uncle Bobby), Karen Malina White (voice of Dijonay Jones), Soleil Moon Frye (voice of Zoey Howzer), Alisa Reyes (voice of LaCienega Boulevardez), and Keke Palmer (voice of Maya-Leibowitz-Jenkins).
From sharing what's ahead for the Prouds to doing a live table read and manifesting dream guest stars, The Proud Family: Louder and Prouder team pulled out all the stops for some of their biggest fans.
Additionally, the official trailer for Season 2 dropped this weekend amidst the festivities. The Proud Family: Louder and Prouder returns in February 2023, exclusively on Disney+. "Season 1 was the appetizer," Smith said, "and Season 2 is the entrée."
While the cast and creatives were reluctant to divulge too much about the upcoming season, they did tease an episode in which Penny is sent to live with Suga Mama. And fans viewed an exclusive scene from the Season 2 premiere, which is a continuation of the Season 1 cliffhanger, "Old Towne Road."
The Proud Family: Louder and Prouder picks up the story of its central character, Penny Proud, and includes her madcap family: parents Oscar and Trudy, twin siblings BeBe and CeCe, and grandmother Suga Mama (and Puff!). Of course, it would not be The Proud Family without Penny's loyal crew: Dijonay, LaCienega, Zoey, and Maya, among others.
"The interesting thing about doing this show this time around is that right now a great part of our audience were kids in 2001 and the show is being made by those kids," Farquhar said.
Cedric the Entertainer remarked how honored he is to be a part of The Proud Family—one of the few animated series centered around a Black family—that not only triumphantly returned after 20 years, but also added even more diverse characters.
"I feel fans of the show—just like me—can relate to the series in so many ways," Pratt said. "Everyone can find a character that they can relate to, and it's easy to watch TV when you see someone who is like you onscreen. It helps you feel more seen in so many ways."
Pratt added, "It's timeless; it's a show that you can watch any time."
The series has welcomed a star-studded lineup of guest stars and recurring characters on The Proud Familyand The Proud Family: Louder and Prouder over the years, including Disney Legend Anthony Anderson, Beyoncé, Lizzo, Al Roker, Kobe Bryant, and Gabrielle Union, to name a few. During the Q&A portion, a fan asked the cast to name their dream guest star, and the panel agreed they have their sights set on former First Lady Michelle Obama. Recording artists Saweetie and Doja Cat are also atop some cast members' wish lists.
What hijinks will the Prouds get into next? Tune in to find out!
(Andie Hagemann)

Mickey: The Story of a Mouse Documentary Previewed at D23 Expo
Mickey Mouse fans at D23 Expo presented by Visa® were the first to see the new teaser trailer for Mickey: The Story of a Mouse, a Disney Original Documentary that will debut Friday, November 18, on Disney+.
The panel discussion following the trailer reveal was hosted by Bret Iwan, the official voice of Mickey Mouse, who introduced the filmmakers: director Jeff Malmberg (Marwencol) and producers Meghan Walsh and Chris Shellen. When the concept of a Mickey Mouse documentary was brought to him, Malmberg said, "I instantly got why that would be a fabulous thing to do." Mickey, he continued, is "a symbol of joy for everyone, everywhere, all the time."
The documentary traces the history and impact of Mickey, both culturally and personally for fans, and also introduces a brand-new short, Mickey in a Minute, animated in part by legendary Disney animator Eric Goldberg, who also joined the panel. The new short takes Mickey through his 90-plus years of history with all-new animation recreating some of his most beloved roles—as well as showcasing Mickey's different looks across the decades.
It was a considerable responsibility, Goldberg said: "As animators, we have the specter of all the greats who came before us looking over our shoulders, saying, 'Don't mess it up.'" Goldberg worked on animating the new hand-drawn short for about a year, along with Disney animation veterans Mark Henn and Randy Haycock—all of them thrilled to be creating a fresh Mickey tale. "When we get an opportunity like this, we pull out all the stops," Goldberg said.
Also on the panel was animator and Disney Legend Floyd Norman, who shared, "To me, Mickey's always been real." When Norman left animation in the 1980s and for a time wrote Mickey Mouse stories, he discovered it was easier than he expected because "I knew this character. I had known him all my life."
During the making of Mickey: The Story of a Mouse, the filmmakers discovered that sentiment was shared by fans of all ages, backgrounds, and geographic locations. As panelist Rebecca Cline, director of the Walt Disney Archives, put it, "He's a part of our DNA—with an emphasis on the D."
The joy Mickey engenders, Malmberg said, was "endlessly fascinating" to document. "Even though it's universal, it's also very particular and personal," he said.
That's especially true for Goldberg. "My favorite kind of animation is animation that looks like it's enjoying itself onscreen," he said. "And who better embodies that than Mickey Mouse?"
Mickey: The Story of a Mouse also delves into the more difficult parts of Mickey's legacy—his appropriation by artists and activists outside of Disney, for their own agendas or expression. "We wanted to make sure we got to tell all of the story," Malmberg said—even the uncomfortable parts.
To close the discussion, Iwan asked each panelist to offer one word that expressed their experience of Mickey Mouse. Their answers colored in many aspects of the Mouse: "joy" (Malmberg), "perseverance" (Shellen), "layered" (Walsh), "animation" (Goldberg), "resourceful" (Norman), and "optimism" (Cline).
Iwan's own answer: "Walt." As the official voice of Mickey, "I'm just doing my part to fill in for Walt," he said.
Mickey: The Story of a Mouse is directed by Malmberg and produced by Academy Award® winner Morgan Neville, producing under his company, Tremolo Productions. Walsh and Shellen are also producers. Caitrin Rogers serves as executive producer. Marjon Javadi is vice president of Originals for Documentaries and Docuseries for Disney Branded Television/Disney Original Documentary. The film is edited by Jake Hostetter, Aaron Wickenden; cinematography by Antonio Cisneros; sound design by Lawrence Everson; and music by Daniel Wohl. The film had its World Premiere at the South by Southwest Film Festival earlier this year and also screened at this year's Sun Valley Film Festival and Newport Summer Film Series, among others.
(Bruce C. Steele)