Welcome to the first day of D23 Expo 2022! We're so excited to be back at the Anaheim Convention Center to celebrate all things Disney, Pixar, Marvel, Lucasfilm, and more. Stay tuned to this article for updates and news as it breaks throughout the day.

Secrets Revealed for ABC's Beauty and the Beast: A 30th Celebration
It may be a tale as old as time, but ABC's upcoming two-hour Beauty and the Beast: A 30th Celebration will be presenting a diverse new cast of actors and artists, headlined by recording sensation H.E.R. as Belle. At a Friday panel at D23 Expo, it was announced that the Grammy® winner will be joined by Josh Groban as Beast, Joshua Henry as Gaston, and EGOT winner Rita Moreno as the musical special's narrator.
"It's such a great cast," raved H.E.R. "I think about how much fun we're going to have."
Executive producer John Chu introduced the news-breaking panel remotely, followed by introductions of panelists that included H.E.R., executive producer Raj Kapoor, production designer Julio Himede, costume designer Marina Toybina, and choreographer Jamal Sims. Kapoor explained that the project has been three years in the making, with producers being granted unprecedented access to the Disney archives—including animators' original maquettes and character sketches used to create the 1991 classic.
In explaining the concept for the special, Kapoor said TV audiences will first see the opening of the original animated feature, with unexpected sequences suddenly coming to life in live-action recreations.
A series of slides revealed first-look images of the breathtaking sets, which will feature background projections of character sketches from the animated film's archives. One slide that inspired gasps from the enthusiastic fans showcased concept art for Belle's arrival in Beast's castle.
Additional slides revealed glimpses of the costume sketches for Lumiere and Cogsworth and an embodiment of the enchanted rose petals, which will come alive in a ballet sequence featuring both male and female dancers, Sims revealed.
In creating the costumes, Toybina said her goal was to blend "the world of reality, spellbound enchantment, and pure imagination." She praised Chu for pushing her creatively—by rejecting all of the initial costume sketches she presented to him. That sent her back to researching actual 18th-century candelabras and clocks. The result for Lumiere was a costume that evokes "a melted character from head to toe," Toybina said.
When she was a girl, H.E.R. remembered, her cousin had a Belle doll that H.E.R.'s aunt insisted be kept in its original packaging. They would only be able to admire it on display up on a shelf. But what H.E.R. most dreamed of having was Belle's iconic bright yellow ballgown. "Mom, I want that dress!" she'd plead, never dreaming that one day she'd have a chance actually to play Belle. "I'm proud to be part of this celebration," she said. "Now I know little girls who look like me know they can do it too! I'm proof that you're beautiful the way you are. It's important that the world gets to see a Black and Filipino princess."
Kapoor added that producers had also just found their child actor to play Chip, and Alan Menken, composer (with the late lyricist Howard Ashman) of the 1991 classic's beloved songs, "is still involved in this project."
With rehearsals starting in just three weeks, H.E.R. said, "I can't wait to sing and sound like a princess." She even started warbling a tease of "Little town, it's a quiet village...," as the audience screamed with delight, wanting to hear more.
But that will have to wait until Thursday, December 15, when Beauty and the Beast: A 30th Celebrationpremieres on ABC before streaming the following day on Disney +.
(William Keck)

Disney Legends Share Stories "in Conversation"
"When the hair stands up on my arms, I know I've got a hit."
That was just one of many nuggets shared by newly inducted Disney Legend Chris Montan, who appeared "In Conversation" with fellow Disney Legend Doris Hardoon and moderator Tamron Hall Friday afternoon at D23 Expo 2022 presented by Visa®.
"The first time I heard 'Let It Go,' I knew," Montan said, talking about one of the many memorable tunes he oversaw the creation of during his years as a creative executive as Walt Disney Music, including serving as president from 1999 until his retirement in 2017. Working with iconic songwriters and composers such as Disney Legends Howard Ashman, Alan Menken, Sir Tim Rice, and Phil Collins, as well as Jerry Goldsmith and countless others, "When you get their best stuff, you know it," he said.
The goal with a pop star like Collins, he added, was to "make him as comfortable with Disney as he was making his own records."
Montan and Hardoon, an accomplished Imagineer whose work spans almost every Disney Park in the world, agreed on what it takes to reach your dreams. "You can't give up," Hardoon said. "Passion is a huge part of it."
"If you don't feel the love [for what you do]," Montan added, "you should get out of the way."
Hardoon was herself passionate about the collaborative spirit at Walt Disney Imagineering. "When you belong to a group of people that go through blood, sweat, and tears," she said, "by the end of it, they are your family. It's the trust, right? That's the whole relationship."
The creativity at Walt Disney Imagineering, she emphasized, is focused not on individual accomplishment but on listening to the audience for each particular park. "It's nationwide—it's global," she said. "That's when you start learning to listen to what's being told to you." Every audience is different, she noted, so Imagineers' creativity is grounded in "respect for the culture and for yourself—and it's a challenge."
Zeroing in on the intersection between her two guests' different realms, Hall asked Montan what his favorite Disney Parks theme music was. "Soarin'," he answered, without hesitation, to spontaneous applause from the 800 people in the audience. The Soarin' theme was composed by multiple Oscar® winner Goldsmith, and Montan recalled telling Disney executives, "Jerry's going to be your script" for the attraction, pulling all the visual elements together with just his memorable melody.
Part of the magic of Disney music is its timelessness, Montan noted. "I never wanted the music to sound like 1991"—or any other year. "We had a pact with our audience," he continued. "I wanted their grandkids to like 'Let It Go' as much as their daughter does now."
For parents who are advising their children about how best to pursue their dreams, Hardoon said to tell them, "Absolutely you can. You have to be good at what you do, and you have to have confidence in yourself." And, she continued, "Don't worry about making mistakes—it's part of your learning process."
To which Montan added, "And you have to work incredibly hard."
(Bruce C. Steele)
D23 Expo Teases Future, Reveals Past of Society of Explorers and Adventurers
Created just over two decades ago—but mythologically dating wa-a-ay back to the early 1500s—the weaving of the Society of Explorers and Adventures into the Disney Parks has created a lot of enthusiasm from Disney fans. Friday at D23 Expo, those fans got an inside glimpse at the past and possible future of the SEA from Walt Disney Imagineers—including Mark LaVine, head of Story Development; Charlie Watanabe, senior story editor; Juleen Woods, brand management; and Kiran Jeffery, vice president, Content and Partnership Planning—along with moderator Julie Kagawa, the best-selling author of two books that tie into SEA lore.
The hour-long discussion both celebrated the society's mysterious origins and offered a few reveals of what may be to come.
The announcement that inspired the most enthusiasm from the packed Backlot Stage came from Jeffrey, who acknowledged that a yet-to-be-revealed SEA-related project is in the works for Disney+. Whether the mystery project relates to Kagawa's two novels was left for fans to speculate about.
The first book in Kagawa's fiction series, Shinji Takahashi and the Mark of the Coatl, was released on April 22, introducing the title character and his adventure partner, Lucy, who has ties to SEA nemesis Harrison Hightower III, the main character in the story at Tokyo DisneySea's Tower of Terror.
The follow-up novel, Shinji Takahashi Into the Heart of the Storm, will be published April 18, 2023. After revealing a first look at the cover art, Kagawa indicated more was to be revealed about Oliver Ocean, a descendant of SEA member Mary Oceaneer, a presence aboard Disney Cruise Line's Disney Magic and the Miss Adventure Falls raft attraction at Disney's Typhoon Lagoon.
Watanabe was also keen to reveal a little backstory for SEA member Dr. Kon Chunosuke, a fixture from the Jungle Cruise attractions at Disneyland Park and the Magic Kingdom at Walt Disney World Resort—whom the panel acknowledged bore more than a passing resemblance to Watanabe. It was revealed that Chunosuke is an entomologist who developed his intense interests in insects as a boy—with more details yet to be revealed.
A timeline chronicling in detail all of the major characters and events in the SEA mythology was briefly flashed on screen, as the panel explained that the chart was used internally by Imagineers. To the certain disappointment of fans, there are no plans to release the timeline to the public.
A few fun nuggets came from fans during the Q&A portion of the panel. Turning the Q&A back on the guests, the panel quizzed the audience as to whom they'd like to see revealed among SEA's ranks. Among the suggestions that inspired the greatest reactions: Indiana Jones, Jack Sparrow, and Flynn Rider.
A question from an audience member about whether the 2021 Jungle Cruise movie tied into SEA prompted the answer that the film's timeline didn't quite mesh with that of SEA. At the same time, the panel noted that props from the hit film have been placed on display at the Jungle Cruise attractions in Disney Parks. Also, in case you weren't aware, Emily Blunt's character, Lily Houghton, wears the jacket of Albert Falls, the founder of the Jungle Navigation Company, which (according to lore) established the Jungle Cruise in the years after Falls' death.
The panel did confirm that the Imagineers were looking for ways to expand SEA's presence in both Disneyland Paris—with Woods noting that Jules Verne would be the most obvious tie-in—and Disney's Animal Kingdom Theme Park at Walt Disney World Resort. With so many theme park suggestions being tossed out by the audience, LaVine playfully floated the idea of an entire "SEA Land." As cool as that sounds, for now we'll have to make do with all the exciting things in store as SEA expands its presence within the established Disney Parks.
(William Keck)

Members of the All-New Mickey Mouse Club Cast Reunite at D23 Expo
Disney fans were treated to a nostalgic look back at '90s favorite The All-New Mickey Mouse Club during a D23 Expo Friday afternoon panel with several season regulars.
Moderated by Ashley Eckstein, an entrepreneur and actress best known for originating the role of Ahsoka Tano, panelists included Albert Jeunepierre Fields, Chase Hampton, David "DK" Kater, Deedee Mango Hall, Lindsey Alley, Marc Worden, Mylin Brooks Stoddard, and Tony Lucca, with a recorded segment provided by Rhona Bennett, who was on the show from Season 4 through Season 7 and is a current member of the R&B group En Vogue.
The panelists shared highlights from their time on the show during a lively conversation, supplemented with some epic throwback photos supplied by the Walt Disney Archives. Among the stories:
Marc Worden shared a childhood memory he shared with Disney Legend and OG member of the original Mickey Mouse Club Annette Funicello. "I was very lucky to once go to Annette's house for her birthday, and my mother was able to come along and she was just in awe. She grew up idolizing Annette. The thing that really stuck with me was she had been given a pool table from Fats Domino. She said, 'I haven't played it, but here it is.' Yup. That was an amazing day."

Tony Lucca recalled seeing Season 6 cast members Britney Spears and Justin Timberlake perform together for the first time on the show. "We did this big, hourlong concert and they did a number together, 'I Feel for You' by Chaka Khan. Oh my God, I was just watching these two dynamos performing the song … Their choreography and their moves were just so accurate and good. I remember sitting there and thinking, I can't wait to see where this goes."

"It was just a lot of fun. And then, of course when Christina [Aguilera] comes along and we were like 'whoa, who is this?' Like, are you an alien? Where were you when?," Lucca recalled with a laugh.
(Alison Stateman)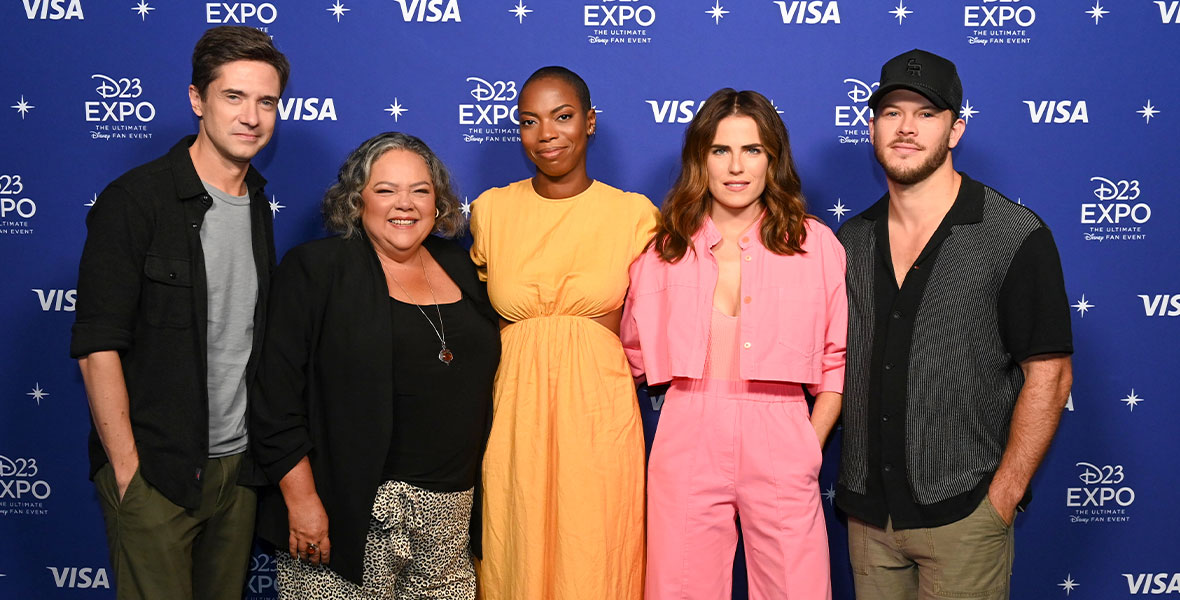 ABC's Home Economics panel previews episode set in Disneyland Park

Today at D23 Expo 2022 presented by Visa®, the cast of ABC's hit comedy series Home Economics debuted the Season 3 premiere, which is set at the Happiest Place on Earth.
Topher Grace (Tom), Karla Souza (Marina), Sasheer Zamata (Denise), Lidia Porto (Lupe), and Jimmy Tatro (Connor) dished on filming after hours at Disneyland Resort; jumping on rides in-between scenes; and their favorite memories at Disney Parks.
In "Mickey Ears, $19.99," Connor opts to tell Tom important news at Disneyland Resort to soften the blow and disguises the plan with a family trip. However, when Tom finds out, the ensuing drama threatens Marina's perfectly planned first visit to the parks.
"Tom and I went off on a attraction-riding montage, which was definitely the most fun I've ever had," Tatro said. "We filmed some of the rides ourselves with a GoPro."
Souza jumped in with a cough to alert the audience, remind Tatro that it was her camerawork capturing Grace and Tatro on Grizzly River Run at Disney California Adventure Park. "I'll hand it to her, she really put the camera first and her life second as we were plummeting down the rapids," Tatro then explained.
Zamata, who revealed that she's a former Walt Disney World Resort performer, admitted the fireworks scenes were her favorite part to film. "We had to film the fireworks a couple nights in a row," she said. "Before the show was the Main Street Electrical Parade, and I love that too. I love the Disney magic."
No trip to Disney Parks is complete without munching on tasty treats, and as depicted in the episode, the Hayward family left no snack uneaten. "There were a lot of churros floating around that set—I couldn't believe it," Porto said.
For Grace, he relished filming in Star Wars: Galaxy's Edge and co-piloting the Millennium Falcon with his on-screen brother—mid-argument! "During the week, the whole cast went on rides together as friends," he said. "Star Wars: Rise of the Resistance was incredible!"
The season premiere airs Wednesday, September 21, at 9:30 p.m. ET/PT on ABC. New episodes air weekly on Wednesdays, and are available for streaming the next day on Hulu.
(Andie Hagemann)

Brie Larson and Elijah Allan-Blitz Share the Inspiration and Innovation Behind Remembering
Today at D23 Expo 2022 presented by Visa, Oscar® winner Brie Larson and Emmy®-winning director Elijah Allan-Blitz revealed the inspiration behind Remembering, their original eight-minute film created for Disney+ that harnesses the power of augmented reality (AR) to celebrate the World of Imagination.
The fantastical film, which debuted on Disney+ Day, September 8, centers on a writer, played by Larson, who loses an important idea when her phone rings. Personified by a golden light, the lost idea is found by the writer's inner child, who takes viewers on an imaginative journey.
Aptly, the inspiration for the film came from the couple's 6-year-old neighbor, Dusty Peak, who plays the inner child in the film.
"We wanted to be creative during the pandemic," Allan-Blitz shared. "And we came up with this story with our neighbor, which is about the genesis of ideas. Where do those ideas go when they're forgotten? What happens to them? And what does that world of imagination look like? And are our ideas from us? Or are they something that is out there, and we're more like radios that can tune in and catch an idea?"
Partnering with StudioLAB, a program dedicated to storytelling via new technology at The Walt Disney Studios, the film has a first-of-its-kind companion Augmented Reality app that enables viewers to interact with the story by scanning a QR code with their mobile phones or tablet computers.
"It's still so awe-inspiring to me what we were able to achieve with this—and that this is really just the beginning of what will potentially be the future, the bridge to this next generation of storytelling," Larson said.
(Alison Stateman)

Announcements and More at 2022 Disney Legends Ceremony
Not only were 14 amazing talents celebrated at this morning's incredible Disney Legends ceremony, which kicked off the D23 Expo proceedings in the massive Hall D23—but Bob Chapek, CEO, The Walt Disney Company, also made some exciting announcements to the enraptured crowd.
"For those of you that were here in 2019, you may recall that I shared the promise of what would become Avengers Campus right here at Disney California Adventure Park," Chapek said. "And I'm proud to say that this dynamic land is already a guest favorite, and it's no surprise why. You can spin webs with Spider-Man, and see him soaring 85 feet in the air; enjoy the fun of an adventure with the Guardians of the Galaxy; and enjoy food big and small at Pym Test Kitchen. But we're not done yet!"
He continued, "Today I'm excited to announce that the Avengers Campus at Disney California Adventure is going deeper into the multiverse to do that. We're going to be expanding Avengers Campus! And the heart of this new area will be a sensational new attraction. Guests will be able to battle alongside Super Heroes and villains from anywhere." More will be revealed about this new attraction during Sunday's "A Boundless Future: Disney Parks, Experiences and Products" panel in Hall D23—so don't miss it if you're attending in person, or tune into our livestream!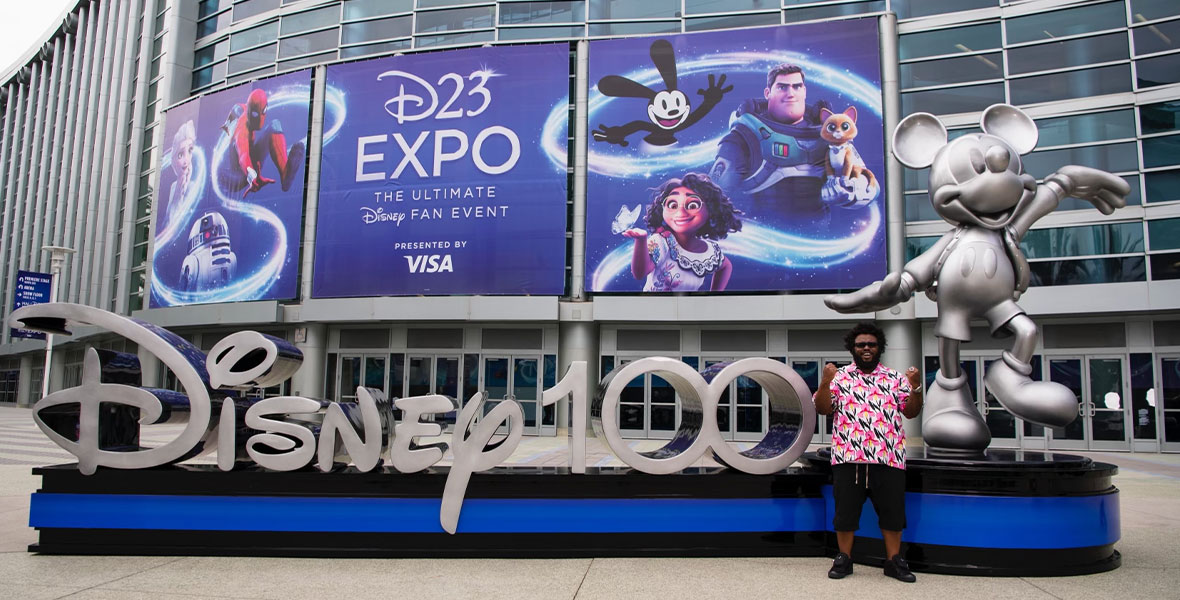 But that's not all: Chapek also revealed that starting in January 2023, D23 Gold Members who join or renew* will receive an exclusive replica of the amazing statue of Mickey Mouse, designed by Grammy Award®-winning artist James Fauntleroy, seen outside of the Anaheim Convention Center for D23 Expo. And everyone in the Hall D23 audience took home a special limited-edition pin depicting the statue!
(Courtney Potter)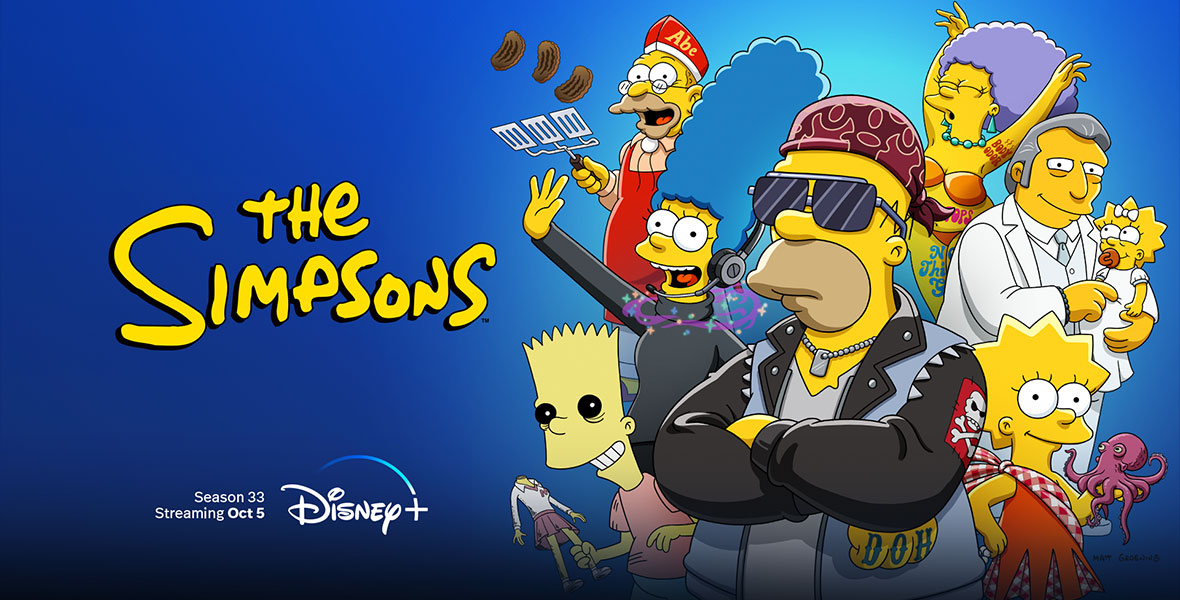 The Simpsons Season 33 announced at D23 Expo 2022
Today at D23 Expo 2022 presented by Visa, the cast and creative team of The Simpsons announced that Season 33 of the hit animated series will stream October 5 on Disney+.
In celebration of Disney+ Day on September 8, "Welcome to the Club," a new short from The Simpsons, was released on the streaming service. In the short, it's Disney+ Day and Lisa Simpson has her heart set on the ultimate princess transformation. After meeting some of Disney's most notorious villains, Lisa is surprised to learn being bad just might be more fun.
"Welcome to the Club" is the latest in a collection of shorts from The Simpsons created exclusively for Disney+ that highlight the service's marquee brands and most popular content. "When Billie Met Lisa" was nominated for Outstanding Short Form Animated Program at this year's Emmy® Awards.
The previously released shorts "Maggie Simpson in 'The Force Awakens from Its Nap,'" "The Good, The Bart, and The Loki," and "The Simpsons in Plusaversary" are also now available on Disney+, as part of "The Simpsons" collection on the streaming service.
(The D23 Team)
* Starting on January 1, 2023, the D23 2023 Gold Member Mickey statue will be available for new D23 Gold Members joining on either a D23 Gold Membership Individual Plan or D23 Gold Membership Duo Plan (sent to the Primary member). For current D23 Gold Members, the Mickey statue will ship after their D23 Gold Membership renewal date in 2023. Please allow 6-8 weeks for delivery. Limit (1) D23 Gold Member Mickey statue per membership plan. See d23.com for membership details.