Christmas Comes Early for Fans of The Santa Clauses
Fans were in for a merry evening when the cast and crew of The Santa Clauses appeared on the Premiere Stage to talk about the Disney+ Original series (premiering Wednesday, November 16, with two episodes) and share a trio of exclusive clips. Based on the blockbuster feature films, The Santa Clauses finds Scott Calvin (Disney Legend Tim Allen) on the brink of his 65th birthday and realizing he can't be Santa forever. And since there can't be a world without a Santa Claus, he sets out to find a suitable replacement while preparing his family for a new adventure south of the pole.
"If you've got a job and a family, you can work so hard that you forget why you're doing what you're doing," Allen said. "He's working so hard to be Santa Claus, to do everything right, that his kids are growing up without other humans. It's very complex."
You wouldn't know it when you see them in character, but it's been 16 years since Allen and costar Elizabeth Mitchell suited up as Santa Claus and Mrs. Claus, respectively. So, when the time came for them to reprise their roles in this new series, Allen joked he had to put in extra work to embody his character. "She puts her hair in a bun and then she looks gorgeous. I've got to gain just 138 lbs. of pork sausage!" the actor and comedian joked. "It's not magic. I actually gained the weight. You think [Tom] Hanks is a special guy? I gained 138 lbs. every day! All I ate was gluten and trans fats!" After the laughter in the room subsided, Allen asked Mitchell how she really felt about her hair and makeup... and she proved his point by admitting, "I thought it was fine. I really did!" In fact, she added, "It was really nice to put on [that costume] and walk through a room full of kids, seeing how they respond to it. It was really magical."
Joining Allen and Mitchell onstage were costars Elizabeth Allen-Dick (Sandra), Devin Bright (Noel), Austin Kane (Cal), Matilda Lawler (Bett), Rupali Redd (Grace), and Kal Pen (Simon), plus executive producers Jack Burditt and Jason Winer. Not only does Allen-Dick play Allen's daughter onscreen, but she's his daughter in real-life! "From a dad's point of view, it's one of those moments in life that I can't describe," Allen said of seeing his daughter act. "She's respectful to the crew and everybody around her, she does her job, she adds value, and she's a surprise in a huge way. It means the world to me."
(Zach Johnson)

Fans Get a Sneak Peek at Zootopia+ at D23 Expo
Saturday at D23 Expo, the directing team behind Zootopia+ treated fans to an advance screening of two episodes of the animated series, coming to Disney+ on November 9.
The show, from Walt Disney Animation Studios, heads back to the fast-paced mammal metropolis, diving deeper into the lives of some of the Oscar®-winning feature film's most intriguing residents.
Before screening the debut episode, "Hopp on Board," and the fourth episode, "Godfather of the Bride," directors Josie Trinidad and Trent Correy spoke about their approach to the series, which they began working on in 2020.
"The series was all about bringing joy, especially during the pandemic. We absolutely just want to bring some smiles to people," Correy said.
Each episode of Zootopia+ interconnects with the timeline of the original film, while offering a new perspective on the characters, locations, and scenarios that fans know from Zootopia, the the filmmakers shared.
"They seamlessly weave in and out of the movie while being jam-packed with familiar scenes, Easter eggs—and you might even get to see Nick and Judy," Correy said.
He continued, "Each episode embraces a different style of filmmaking. We have an action film, a reality TV [episode], a musical, and we have a film noir period piece, a talent show competition, and everyone's guilty pleasure, the rom com, giving each of episode its own unique and distinctive look and feel."
(Alison Stateman)

Encanto Fans Enjoy Surprise Guests, a Musical Performance, and More
An Encanto panel Saturday at D23 Expo brought together the filmmakers and the cast for some lively storytelling, a surprise guest, a musical performance, and the announcement of an upcoming live staging of the movie's story and music.
Thousands of enthusiastic fans filled the Premiere Stage at the Anaheim Convention Center as event host Tamron Hall began by introducing Jared Bush (who directed the film with Byron Howard and co-director Charise Castro Smith, and wrote the screenplay with Castro Smith) and producers Yvett Merino and Clark Spencer.
The overwhelming fan response to the film was "completely surreal," Bush said, addressing the audience. "It means so much to us that it means so much to you."
"It really just means so much to me that people see themselves in the movie," Merino added.
Bush and Howard, who together also directed Zootopia, "have this incredible ability to create these amazing worlds," Spencer said.
The filmmaking trio were next joined by Jamal Sims, the choreographer for the movie, who shared a rare clip of live-action reference footage of dancers performing the dance moves for the hit song "We Don't Talk About Bruno." It was the first Encanto song he worked on, he revealed, "and we kind of did it in one day and sent it over [to the filmmakers]." He remembered thinking after working on that first, amazing tune, "All the rest are not going to be as good, right?"—only to be disproved again and again by the great numbers provided by songwriter Lin-Manuel Miranda.
Miranda himself next joined the panel, linked in remotely by AT&T 5G technology and seen sitting in a chair on a large screen across from the other panelists—looking for all the world like he could step out onto the stage any minute. "I'm trapped in Bruno's tower!" he joked.
The Tony®-winning composer, writer, and actor said he'd been preparing for his career ever since "I was pretending to be Sebastian the crab on my desk in the fourth grade"—referencing Disney's The Little Mermaid—and had enthusiastically pursued a creative role in the Latin American film he had heard Walt Disney Animation Studios was working on.
Development of Encanto took place before the COVID-19 pandemic forced isolation on the filmmaking team, which meant most of production was done remotely—with team members working from their homes, including Miranda. He composed "Bruno" and "Surface Pressure" in the two months immediately following the lockdown, he recounted, when he was living in isolation with his family and his in-laws. The songs he worked on reflected that situation. "'Surface Pressure' was about 'How do I protect my family,'" he said, while "Bruno" was about "what am I allowed to talk about in front of [my wife's] mother?"
After Miranda signed off from his remote connection, the panelists were joined by Encanto cast members Wilmer Valderrama, Mauro Castillo, Diane Guerrero, Carolina Gaitán, and Adassa. Getting together onstage in person, as they were today, was a pleasure this chosen family didn't get to enjoy during the remote recording sessions, due to the pandemic. "No one ever met anyone in person until the night of the premiere," Merino said.
"Even though we were apart, we were working together," Clark said.
When the actors were asked by Hall about their reactions to seeing the designs for their characters, Valderrama responded, "You forget what the character looks like [when you're performing]. You're just trying to find the beauty and the humanity within yourself as a character."
Just before the panel's finale, Hall shared the big news of the day: "Encanto at the Hollywood Bowl" was announced for a two-night stand on November 11 and 12 at the famous outdoor amphitheater. For those evenings, "The Hollywood Bowl will transform into Casa Madrigal," she said, creating "an immersive concertgoing experience." Those attending the panel will have access to an early ticket-buying window with a code Hall shared.
Appropriately, the Encanto panel ended with the five cast members joining for an energetic performance of "We Don't Talk About Bruno," with the audience invited to sing along!
(Bruce C. Steele)

Magic in the Air: Muppet Christmas Carol outtakes and more
Muppet favorite Gonzo the Great channeled his Charles Dickens persona to open a merry and whimsical D23 Expo panel celebrating the 30th anniversary of The Muppet Christmas Carol. Not anyone could follow a personality as mammoth as Gonzo's, but D23 Expo managed to find a moderator who was more than up for the challenge: RuPaul's Drag Race alum and self-described "huge Muppet fan" Nina West, debuting a Kermit couture gown created especially for the event.
The first surprise for fans at the Premiere Stage was a Q&A with some very familiar panelists: Kermit the Frog, who played Bob Cratchit; Miss Piggy (Emily Cratchit); Kermit's nephew, Robin (Tiny Tim); and; of course; Gonzo, who generously invited West to address him as "Chuckie," a less formal take on "Charles."
From the onset, friction developed between Piggy and West, forcing Kermit to act as a go-between when Piggy turned her snout on West, refusing to speak to her directly. Kudos to Piggy for laughing off a real low blow from West, who cracked that Piggy had undoubtedly collected several Blue Ribbons during her long career.
Since Dickens' A Christmas Carol has long been in the public domain, allowing Hollywood to remake the timeless classic without having to pay royalties, the Muppets suggested future spin-off titles. Robin got a big laugh when he threw out his pitch for The Muppet Christmas Carol 2: Tiny Tim, Winter Soldier.
A behind-the-scenes gag reel from the original production was shown with bloopers revealing the lovable, ginger-haired giant Ghost of Christmas Present accidently slapping Michael Caine (Ebenezer Scrooge) in the face during a musical number. Other outtakes revealed Gonzo accidentally snagging his head with a grappling hook and Dr. Bunsen Honeydew flubbing a line and cursing in a very Muppet-like fashion by grumbling "poo poo."
Next up was a Q&A with the film's director, Brian Henson, songwriter Paul Williams, costume designer Polly Smith, and much beloved puppeteer Dave Goelz, who began voicing Gonzo, Dr. Honeydew, Waldorf, and others way back in 1976. A little trivia: Goelz' first association with Disney dates back to 1961, when he played an extra in The Parent Trap.
Henson began explaining how it was his agent who originally came up with the idea for having the Muppets dramatize Dickens' classic—but as an ABC TV movie with a budget of $3 million, before it ended up becoming a $5 million feature film, co-produced by Walt Disney Productions (as The Walt Disney Company was then called). With the film shoot so closely following the devastating death of Muppets creator Jim Henson, Brian Henson recalled how nervous he was, wondering how they'd fare without his father's guidance. "We were scared and careful… having just lost my dad," he said.
Williams said he was a Muppets fan even before his association with the colorful troupe began. Though he has an illustrious songwriting career, Williams admitted his "phone was not ringing off the hook" when Brian Henson called to invite him to write the songs for the film, which would also mark Henson's big-screen directorial debut. Williams, who had just committed to a sober life free of alcohol and drugs, felt blessed to be given the assignment to create emotional songs for a feel-good project about a man who was addicted to greed and undergoing a spiritual awakening. "Talk about timing," Williams said.
His one great disappointment about the project was a call from studio executive Jeffrey Katzenberg to cut a love song ("When Love Is Gone") that he wrote for Caine and actress Meredith Braun, who played Scrooge's lost love, Belle. Katzenberg made the tough call when he saw a few children exiting the theater to take bathroom breaks during the musical number when the film was screened for test audiences. "There was not a lot of laughing in there, Brian," Henson remembered being told by Katzenberg. Though Katzenberg agreed to have the song reinserted into the film for home video editions, the negative of the scene was somehow lost forever. Then, two years ago, a version of the scene taken from the negative was found, allowing the song to be shown to audiences in celebration of the film's 30th anniversary. Beginning December 11, Disney+ viewers will be able to see the long-lost musical scene as a special feature.
As an added Christmas treat to panel attendees, Jodi Benson, the voice of The Little Mermaid's original Ariel, came out onstage to sing a full version of the song. "I'm so honored to be here to share a lost treasure that's been found," said Benson, who added that she could relate to Williams' disappointment, as Katzenberg had also considered cutting "Part of Your World" from her 1989 animated classic when he witnessed a 4-year-old boy drop his bucket of popcorn during a test screening.
The look was priceless on Williams' face as he sat back in his chair brandishing a big grin as he listened to Benson sing the song he wrote more than three decades earlier.
As one final surprise for fans, Kermit, Piggy, Gonzo, Robin, Fozzie and the other Muppet cast came out in their original Christmas Carol costumes to sing a medley of the film's songs, accompanied by West. For the fortunate D23 fans in attendance, Christmas this year most definitely came early!
(William Keck)

Stars of National Treasure: Edge of History share a sneak peak of the Disney+ series
Stars from National Treasure: Edge of History treated fans to some behind-the-scenes intel on the highly anticipated Disney+ Original series on Saturday at D23 Expo presented by Visa®. The show debuts December 14 with two episodes.
Lead actress Lisette Olivera (Jess Valenzuela) was joined by castmates Jordan Rodrigues (Ethan), Antonio Cipriano (Oren), and Zuri Reed (Tasha), for a panel during which they showcased a clip about the making of the series before taking part in a Disney trivia challenge.
The series, an expansion of the National Treasure movie franchise, is told from the point of view of Jess, a brilliant and resourceful DREAMer in search of answers about her family. She embarks on the adventure of a lifetime to uncover the truth about her past and save a lost Pan-American treasure. The series also stars Oscar® winner Catherine Zeta-Jones, who plays fellow treasure hunter Billie Pearce.
"Thank you, guys, so much for coming out to support our show. I know we have to wait a little bit longer until you guys can see it, but we have a little taste [of the series] for you all to enjoy," Olivera said before the clip aired.
Fans were then given a glimpse of the action-packed journey Jess undertakes with her friends Ethan, Oren, and Tasha, as well as more about Billie.
"She's a black market antiquity dealer and she plays a cat-and-mouse game with Jess," Zeta-Jones teases in the clip. "The audience is figuring it out as we are figuring it out."
Justin Bartha, who reprises his role as Riley Poole from the original film and the sequel, National Treasure: Book of Secrets, said, "What's wonderful about the National Treasure movies and now TV show is that it uses American history as a jumping off point for exciting treasure hunts. What sets the television show apart is that it's a different world now. Exploring American history was a lot different 20 years ago."
The series will air later this year exclusively on Disney+.
(Alison Stateman)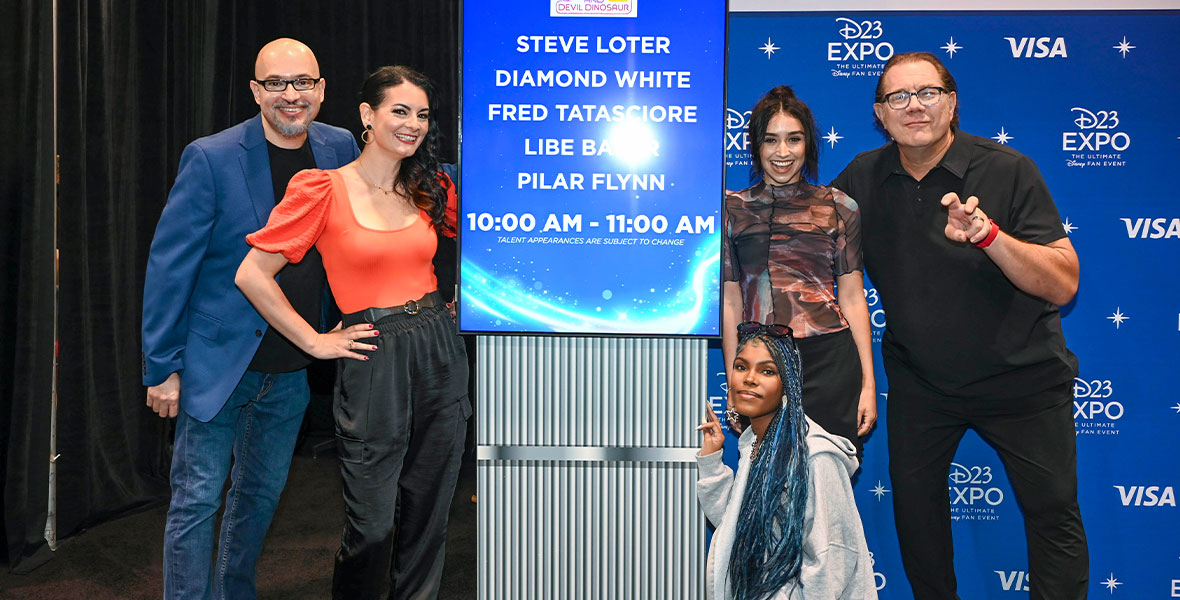 Marvel's Moon Girl and Devil Dinosaur Cast and Creatives Reveal Series Premiere
Saturday at D23 Expo presented by Visa®, cast and creatives behind Marvel's Moon Girl and Devil Dinosaur debuted the highly anticipated series' premiere.
After the screening, producer Pilar Flynn hosted a Q&A with executive producers Steve Loter and Laurence Fishburne, and voice cast Diamond White (Lunella/Moon Girl), Fred Tatasciore (Devil Dinosaur), and Libe Barer (Casey). Each shared their excitement being a part of the groundbreaking new series to fans in attendance.
Marvel's Moon Girl and Devil Dinosaur, based on Marvel's hit comic books, follows the adventures of 13-year-old super-genius Lunella Lafayette and her 10-ton Tyrannosaurus rex, Devil Dinosaur. After Lunella accidentally brings Devil Dinosaur into present-day New York City, the duo works together to protect the city's Lower East Side from danger.
The voice cast also includes Alfre Woodard as Mimi; Sasheer Zamata as Adria; Jermaine Fowler as James Jr.; and Gary Anthony Williams as Pops. Additionally, Fishburne will voice a character named The Beyonder in the series.
Lunella's arrival marks the first Black female Super Hero in a Marvel adaptation. "She's as smart as Tony Stark and Reed Richards—and she's only 13 years old," Fishburne said excitedly. The award-winning actor added that he wanted to show a multi-generation tight-knit family because it's a "family relationship rarely seen on TV—especially within animation."
Loter shared how he secured three-time Grammy Award® winner Raphael Saadiq as the series executive music producer. "I heard he was doing a signing at Amoeba Music so I brought a stack of records with me and when it was my turn I pitched the series to him," Loter continued, "and when he finished signing the last record he said, 'I'm in.'"
Marvel's Moon Girl and Devil Dinosaur debuts in 2023 on Disney Channel.
(Andie Hagemann)

New cities, artwork shared for Disney100: The Exhibition at D23 Expo
Where can you see the original "Feed the Birds" snow globe from Mary Poppins, an actual ride vehicle from Disneyland Park's Peter Pan's Flight, and the chimes used to make Tinker Bell's iconic jingle? Only within Disney100: The Exhibition, a celebration of The Walt Disney Company's 100th anniversary that opens February 18 at The Franklin Institute in Philadelphia, Pennsylvania, beginning a five-year journey across the continent.
That official opening day and many more details and exclusive visual treats were among the revelations Saturday at D23 Expo, as part of the panel "The Making of Disney100: The Exhibition," presented on the Backlot Stage. Becky Cline, director of the Walt Disney Archives—the main creative force behind the exhibition—both led and moderated the panel. The challenge of putting the show together, she said, was, "How do you tell the story of 100 years of Disney in 15,000 square feet?"
An early decision was that the exhibition would not be presented in strict chronological order but rather thematically, in 10 galleries inspired by "Walt Disney's philosophies," explained Paula Sigman-Lowery, the exhibition's curator. "I didn't want people to have to walk through eight galleries before they meet Olaf," she said. After an introductory gallery introducing Walt Disney and his early life and creations, subsequent galleries are based on themes such as sound and music, story development, technological innovation, and the spirit of adventure.
Of course, with the Walt Disney Archives behind the show, priceless artifacts will be showcased throughout. The Archives worked with Berlin, Germany-based exhibition design firm StudioTK to create "a stage for all these beautiful artifacts… to make them shine," said Annette Doonan, StudioTK's head of content. "They are the real stars of the exhibition."
More than 250 rarely seen original artworks and artifacts, costumes and props, and other memorabilia will be included in the exhibition, celebrating feature filmmaking from Snow White and the Seven Dwarfs to Strange World, Disney Parks and products, Disney music, and more, including the latest members of the Disney family: Pixar, Star Wars, Marvel, and National Geographic.
StudioTK also created "unique interactive experiences" for each gallery. For example, while the actual prop book used at the opening of Sleeping Beauty will be on display, "everybody will get to see every page" inside the book, Doonan revealed, through an original video display—and each page is further brought to life with new animated touches.
Such artifacts are the "crown jewels" of the Walt Disney Archives, said Archives curator Kelsey Williams, who shared images of some other items heading to Philadelphia, including a unique Pinocchio maquette, that Mary Poppins snow globe, and Cinderella's glass slipper.
The panel also revealed two more stops along the North American tour: Chicago, Illinois, Walt Disney's birthplace; and Kansas City, Missouri, where Walt spent much of his youth and where he founded his first animation studio, Laugh-O-gram Films, Inc. Meanwhile, a second unit of the exhibition—with the same design as the U.S. unit but with many unique artifacts of its own—will open April 18 in Olympic Park, Munich, Germany. More European stops will be announced in the coming months.
The panelists also shared the creation and final design of the 12 colorful posters designed for the exhibition by David Pacheco and Shane Enoch, who also joined the panel. In addition to the collectible posters, the exhibition will have a colorful catalog, including essays by film historian and critic Leonard Maltin; Imagineer Joe Rohde; Disney producer, director, and author Don Hahn; and others. A coffee-table book inspired by the exhibition, titled The Story of Disney: 100 Years of Wonder will also be available next year, along with a new book of quotations from Walt Disney (Walt Disney's Words), and a commemorative edition of Bob Thomas' definitive biography, Walt Disney: An American Original.
As Cline put it, "It didn't really start with a mouse. It started with a man. Walt Disney."
(Bruce C. Steele)