Disney Channel's hit series Jessie stars Debby Ryan as a young girl who's left Texas to pursue big dreams in New York City, while working as a nanny to the Ross family and their four kids, Emma, Ravi, Luke, and Zuri.
The show returns for its fourth season this Friday, January 9 (8:30 p.m. ET/PT) with an episode that has the Ross kids convinced that Jessie is headed to Africa to rekindle her relationship with her ex-fiancé, Brooks. In an effort to stop her, the kids make the trip to Africa and quickly find themselves on a wild adventure.
D23 sat down with the cast in the Ross family's screening room soon after their special appearance on an episode of Marvel's Ultimate Spider-Man: Web Warrior—as animated versions of themselves. We talked to them about what other animated Disney movies or TV shows they'd like to appear in, as well as about what a certain other iconic Disney nanny might make of their characters.
D23: You recently had the seemingly once-in-a-lifetime experience of being animated for an episode of Marvel's Ultimate Spider-Man: Web Warrior. If you could be animated again for any other Disney movie or TV show, which one would it be, and why?
Karan Brar (Ravi): You know what I think is cool? They have the little Mickey Mouse shorts. I think those are hilarious—I think I'd stick myself in there. Who doesn't want to hang out with Mickey Mouse?
Cameron Boyce (Luke): The Jungle Book. Mowgli and I would be besties!
Skai Jackson (Zuri): I would like to be in Snow White. Or even Cinderella, to maybe be one of Cinderella's friends and be a princess. That would be pretty cool!
Peyton List (Emma): I just learned recently that Snow White was one of the first Disney movies to be nominated for an Academy Award® and that would be so cool, to be a part of that as something—as any one of the voices. But my favorite Disney movie will always be The Little Mermaid, just because that was my favorite when I was little. I grew up with that one.
Debby Ryan (Jessie): I would love to work background in The Lion King. I'd just love to be wandering the savanna; like maybe holding a map and wearing a fanny pack. Just in the back of some scene. I think that would be epic. And no one talks about it. It would be great. It would be like, "Well, she wandered away…"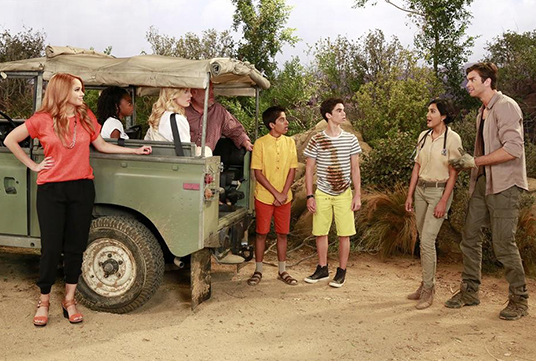 D23: Jessie and Mary Poppins are probably the two most famous nannies in the world of Disney. What do you think Mary Poppins would make of your character?
Cameron Boyce: Julie Andrews was really pretty. Luke would probably crush on Mary Poppins just as hard as he does Jessie! Mary Poppins is probably a lot more strict than Jessie… Luke might actually learn some manners or bathe every once in a while.
Karan Brar: I think Mary Poppins might be very intimidating when you first meet her. But Ravi gets geeky, and I think sometimes he gets a little bit insecure about that. But I think Mary Poppins would encourage him to go out there and be himself, because he's already a respectful kid and he's also very curious. I think Mary Poppins would just encourage that!
Skai Jackson: I think Mary Poppins actually would have a hard time with Zuri, because Zuri can be really sassy. But I think that she would eventually get used to Zuri and have fun taking her on adventures, which would be pretty cool.
Peyton List: All of the kids kind of give a little sass to Jessie. We always joke about it, but I think that Mary Poppins would be like, "Uh-uh—not going to happen!" I feel like she's a little bit more proper. I think she would definitely make us eat more vegetables. Although she did say that just a spoonful of sugar helps the medicine go down…
D23: What might Jessie learn from Mary Poppins?
Debby Ryan: Jessie could use one of those bags, for sure! I feel like I never have enough hands for all of the things that I need to carry. I think that there's a certain no-nonsense quality about Mary Poppins, that people trust that she has their best interests in mind. So even if she says to do something like "Take this medicine," or whatever it is that people wouldn't necessarily want to do, people know that she has such conviction in wanting the best for them.