By Courtney Potter
Dwayne Johnson and Emily Blunt announce Disney's newest live-action adventure, and the cast of the next Star Wars film is revealed… Read more, along with other news from around Disney, in this week's news briefs!
Ahoy, Skippers! There's Exciting News About Disney's Jungle Cruise!
Breaking news, fans and friends: A beloved Disney attraction is getting the live-action treatment, with mega-stars Emily Blunt and Dwayne Johnson. Disney's Jungle Cruise is now in production… check out the hilarious announcement from the duo, above.
Our pals at The Walt Disney Studios are keeping major scoop about the film close to the vest for now, except to say it'll open in theaters in October 2019. So keep your eyes peeled right here at D23.com for more information as it becomes available!
Save the Date!
Be sure to mark these upcoming Disney events on your calendar:
D23 and Walt Disney Archives


August 6, 2018


D23's Behind-the-Scenes Experience: Pixar Animation Studios


August 10, 2018


Lunch with a Disney Legend – Jim Cora


August 11, 2018


D23's Saturday Morning on the Lot


August 12, 2018


Mickey's of Glendale Summer Shopping Event


September 8, 2018


The Official Walt Disney Studios Tour—Presented by D23


November 16-18, 2018


Destination D: Celebrating Mickey Mouse


August 23-25, 2019


D23 Expo 2019
Parks
August 17, 24, 28, 31
September 3, 7, 9, 11, 14, 16, 18, 21, 23, 25, 28, 30
October 2, 4, 5, 8, 9, 11, 12, 14, 16, 18, 19, 21, 23, 25, 26, 28, 30, 31


Mickey's Not So Scary Halloween Party at Magic Kingdom Park




August 30-November 12, 2018




Epcot International Food & Wine Festival




September 7-October 31, 2018




Halloween Time at the Disneyland Resort




Summer 2019


Star Wars: Galaxy's Edge Opening at Disneyland Resort


Fall 2019


Star Wars: Galaxy's Edge Opening at and Walt Disney World Resort



Studios




August 3, 2018


Disney's Christopher Robin opens in U.S. theaters


November 2, 2018


The Nutcracker and the Four Realms opens in U.S. theaters


December 19, 2018


Mary Poppins Returns opens in U.S. theaters


Television




August 10, 2018


Disney Channel Original Movie Freaky Friday premieres on Disney Channel (8–9:45 p.m. EDT/PDT)


September 21, 2018


Elena of Avalor: Song of the Sirenas premieres on Disney Junior (7–8 p.m. EDT/PDT)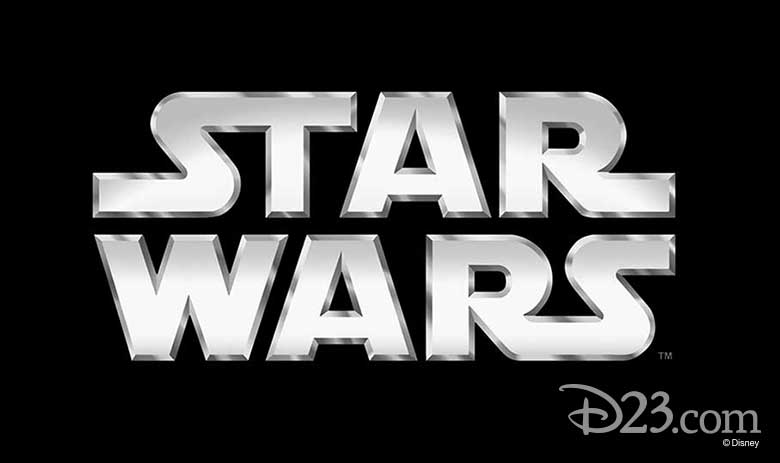 Star Wars: Episode IX Has a Cast
Yes, there's been a disturbance in the Force… in a good way! While we may not get to see Star Wars: Episode IX until December 2019, that doesn't mean we won't be privy to a smattering of jedi-rific information in the coming months. Case in point: last week's huge Episode IX casting news! D23.com has a fantastic rundown on what we know so far—click here to read more.
Disney and THE BLONDS to Bring Villains to New York Fashion Week
Full disclosure: We're obsessed with Disney Villains and their deliciously wicked ways. Plus, they're known to sport some of the most iconic fashion looks in the entire Disney canon! And now, they'll be taking center stage at September's New York Fashion Week, when the luxury brand THE BLONDS presents "Disney Villains"—a runway show featuring their Spring '19 collection.
Co-founded by designer Phillipe Blond and creative director David Blond, THE BLONDS are known for creating over-the-top pieces with glamorous, rebellious flare. Their Spring '19 line will feature looks inspired by villains such as Cruella de Vil from 101 Dalmatians; Maleficent from Sleeping Beauty; the Evil Queen from Snow White and the Seven Dwarfs; the Queen of Hearts from Alice in Wonderland; Dr. Facilier from The Princess and the Frog; and Ursula and her dark eel minions Flotsam and Jetsam from The Little Mermaid.
As part of the creative process, Phillipe and David toured the legendary Disney Animation Research Library—where they learned about each Villain's mythology and viewed original artwork and sculpts. As David recently explained, "What drew us to working with Disney Villains are the complex attributes of the characters themselves… we loved the idea of taking these characteristics and translating them in a glamorous way, making them the heroes of our story."
Lucky for us Villains fans, THE BLONDS' fashion show will be livestreamed on Disney.com, theblondsny.com, and NYFW.com on Friday, September 7. We can't wait to see the looks in action!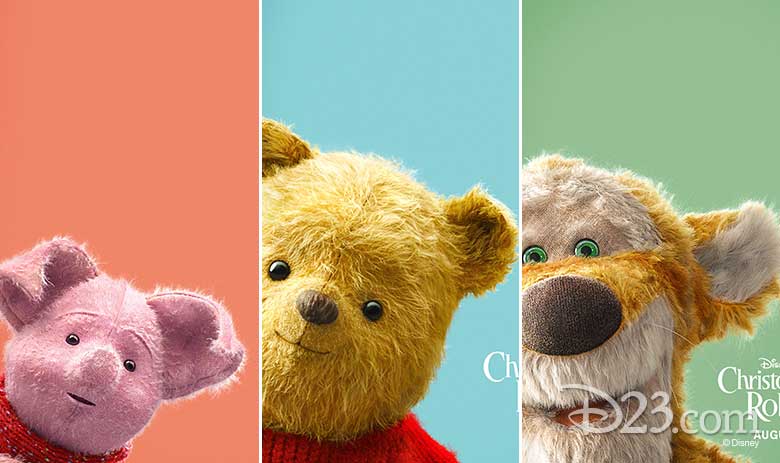 New Christopher Robin Character Posters
We're so excited to return to the Hundred Acre Wood in just a few days' time—especially now that we've seen these terrifically adorable new character posters for Disney's Christopher Robin. Look at how fuzzy and cute Pooh looks! And little Piglet and his floppy ears! And Tigger with his big green eyes!
Directed by Marc Forster, Christopher Robin stars Ewan McGregor as the title character; Hayley Atwell as his wife, Evelyn; Bronte Carmichael as his daughter, Madeline; and Mark Gatiss as Keith Winslow, Robin's boss. The film also features the voices of Jim Cummings as Winnie the Pooh and Tigger; Brad Garrett as Eeyore; Toby Jones as Owl; Nick Mohammed as Piglet; Peter Capaldi as Rabbit; and Sophie Okonedo as Kanga. Look for it in a theater near you starting this Friday, August 3.
Colorful #DisneyWalls Bring Insta-Worthy Fun to Your Photos
You've probably seen them as you've scrolled through your favorite social media sites—cool, unusual walls found at both Disneyland and Walt Disney World Resorts that make for fabulous photo backgrounds. Get the rundown on all the #DisneyWalls available for your next Instagram post here at D23.com.
Go Behind the Incredi-Scenes with New Paint the Night Float
Pixar Fest at the Disneyland Resort is still going strong, now through September 3—and as part of the fun, the sparkling Paint the Night parade not only moved locations (from Disneyland to Disney California Adventure park), but also added a brand-new float themed after The Incredibles!
Our super friends over at the Disney Parks Blog recently debuted a video chronicling the behind-the-scenes magic that went into creating such an innovative float. (Case in point: There are a whopping 200 programmable lights embedded into the float's buildings, Frozone's "ice" trail, and the Underminer's drill.) Check out the clip, above—and make sure to see the float in action during the Paint the Night parade, only at the Disneyland Resort.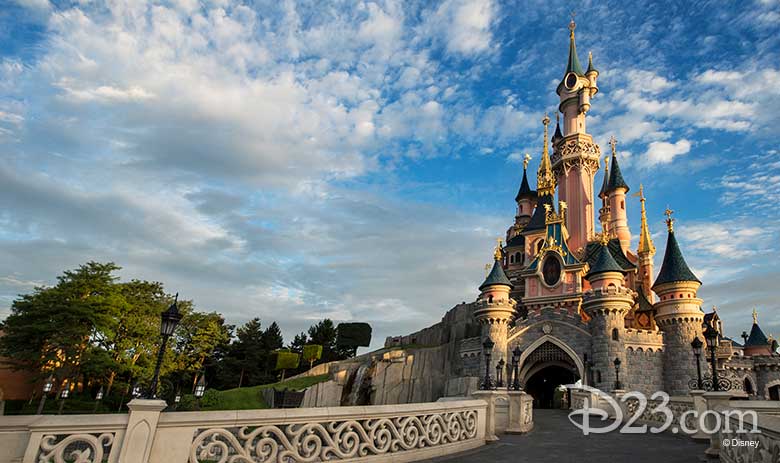 Rendez-Vous Gourmand is Back at Disneyland Paris
Disney Parks and Resorts are known for celebrating delicious food and drink—from the fan-favorite Food & Wine Festivals now held yearly at both Epcot and Disney California Adventure park, to the incredible restaurants located at Disney parks, hotels, and shopping districts around the world.
Considering France is known for exceptional cuisine, it stands to reason that Disneyland Paris would "cook up" something equally as memorable: Last year, the resort debuted Rendez-Vous Gourmand—and the festival just returned to offer up tasty treats once more!
From now through September 30, guests can stroll down Rue de Paris to Place de Rémy in Walt Disney Studios Park for a chance to try mouthwatering options from six "chalets," representing French regions from Alsace to Provence. And in addition to rich French flavor, this year's "feast"-ivities will also celebrate the West Indies, Italy, Spain, and Belgium. Vegan options are available, as are fantastic pairings of champagne, wine, beer, and cider.
Visting Disneyland Paris this summer? Don't miss the foodie fun!