By Jocelyn Buhlman
When we think of classic Disneyland attractions, many minds wander to haunted houses, salty old pirates, and children of the world. One Imagineer had a hand in bringing all of them to life: Disney Legend Harriet Burns, the first woman ever hired by Walt Disney Imagineering in a creative capacity.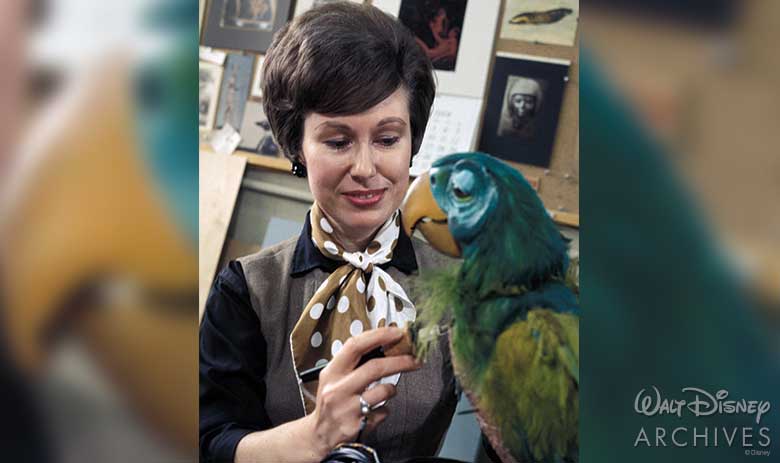 A "Model" Imagineer
This March, Women's History Month is celebrated across the United States. As we celebrate this important woman from Disney's history, we must remember that Harriet was so much more than "the first" female Imagineer. She painted, sawed, sanded, enameled and even torched to create models like the Tiki birds for Walt Disney's Enchanted Tiki Room and mermaids for the 20,000 Leagues Under the Sea attraction. She was responsible for designing the scale models for two of Disneyland's most important landmarks: Sleeping Beauty Castle and Matterhorn Bobsleds.
Harriet's hands are all over Disneyland, and even where she didn't work, she passed her influence on to others. She had originally modeled for the mysterious fortune-teller floating in the Haunted Mansion, but her features were too small, so Harriet passed the role to one of the Imagineers who worked under her: Leota Toombs Thomas.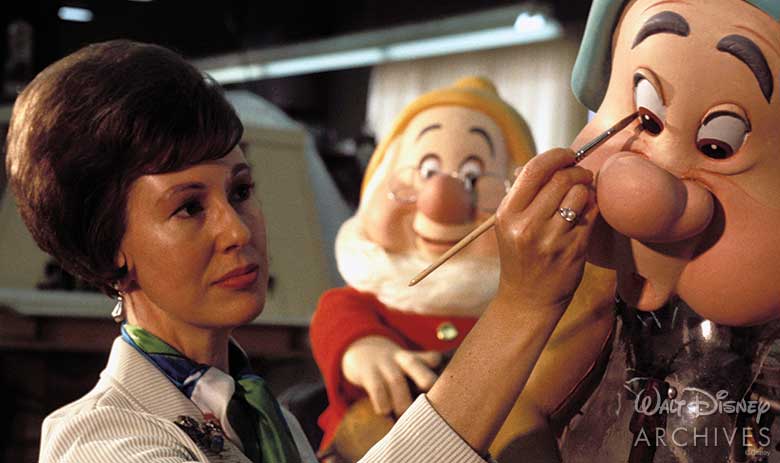 A Guide for the Future
Leota Toombs Thomas' daughter, Kim Irvine, remembers visiting her mother's work as a little girl and seeing Harriet in the model shop. "We had many long chats as I sat there playing with a lump of clay or a paintbrush and paper that she had given me," Kim recalls fondly. Harriet's positive influence left a big impact: Kim Irvine followed in Harriet and Leota's footsteps and now serves as art director for Disneyland Park.
Dressed for Success
In Imagineer Karen Connolly Armitage's early days at WED, she was singled out by a higher-up for wearing cowboy boots and jeans while working in the model shop, instead of more traditional women's professional wear (high heels and a skirt, of course). When she told Harriet about the interaction, Harriet (known as an incredibly snappy dresser herself) said, "Well, if he asks you again, you just tell him that if he can come here and work for a whole two days in three-inch heels, then you will gladly put yours back on!"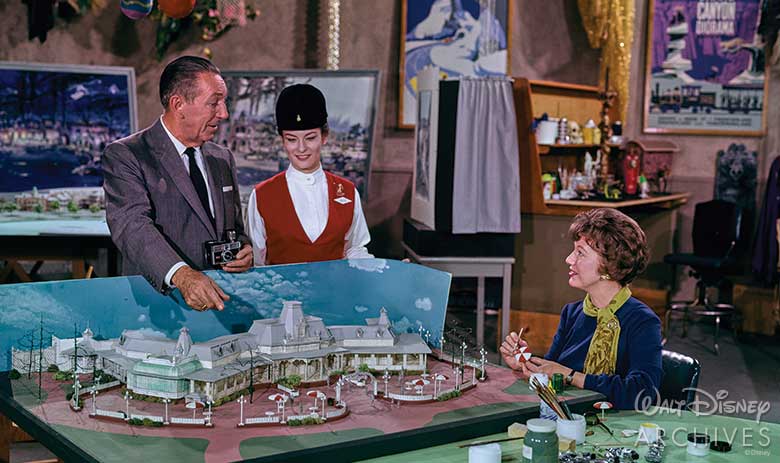 Walt's Favorite Imagineer
Harriet occasionally appeared on Walt Disney's Wonderful World of Disney whenever Walt wanted to show off a stunning new model for an attraction. Disney Legend Marty Sklar described her as "Walt Disney's favorite Imagineer," and for good reason: Harriet made Imagineering her own, creating literal magic for Disneyland and passing that spark on to the Imagineers of the future.