By Matt Moryc, The Walt Disney Archives
The grand opening of Disney's first international theme park, Tokyo Disneyland, took place on April 15, 1983—the first day of official operation. The hosts for the morning's events were Disney Legend and then-chairman of the board of Walt Disney Productions, Card Walker; and Disney Legend and then-president of Oriental Land Company, Masatomo Takahashi. A ribbon cutting ceremony was planned to take place early that morning just in front of the entrance to the park, but due to inclement weather, the ceremony was moved underneath the glass-covered shelter of World Bazaar (the Japanese version of Main Street, U.S.A).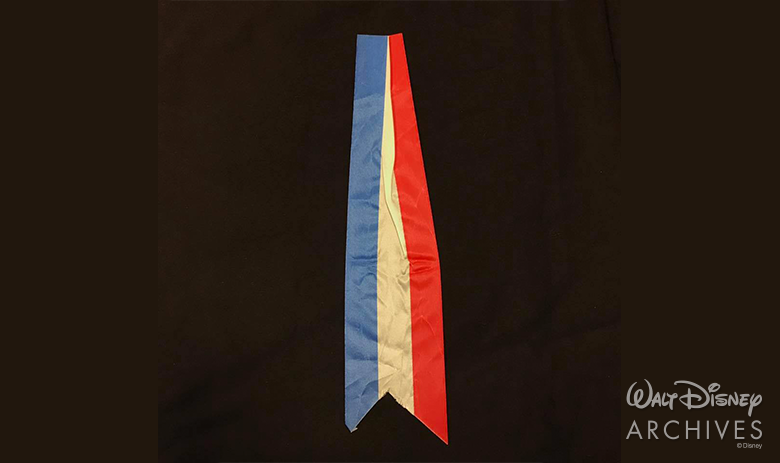 A piece of the ribbon cut by Card Walker and Masatomo Takahashi on the opening day of Tokyo Disneyland.
Accompanied by drum roll, Walker and Takahashi approached the stage, flanked by the Tokyo Disneyland Band; the 1983 Walt Disney World, Disneyland, and Tokyo Disneyland Ambassadors; and Mickey, Minnie, Donald, Pluto, and Goofy—each character holding a section of the ribbon. Resembling nothing short of a symbol of goodwill between the nations of Japan and the United States, Mickey Mouse took center stage between both Walker and Takahashi as the two men simultaneously cut the ribbon. As photographers snapped away, Mickey proudly held up his piece of the ribbon for all to see.
Soon after the ceremony, thousands of Guests who had waited outside the park's turnstiles in the pouring rain were let in to World Bazaar. Takahashi delivered a declaration to the crowd with grand conviction, exclaiming "On this day, April 15, 1983, I declare the opening of Tokyo Disneyland!" At 9 a.m., the rope was dropped, and Guests entered the "Kingdom of Family Dreams."