By Victoria Hunt
Looking to set sail on the perfect getaway? Look no further. Disney is here to make your dreams come true, with the launch of the Disney Wish. And to save you some perusing, we have rounded up all the information you need about the newest member of Disney Cruise Line's incredible fleet. From the first true Disney attraction offered on a ship in the fleet and all-new immersive interactive game to the gourmet dishes, world-class entertainment, and distinctly Disney design concepts guests have come to expect, the Disney Wish promises unforgettable fun for the entire family. Check out these D23 articles to learn more about this dream of a cruise ship.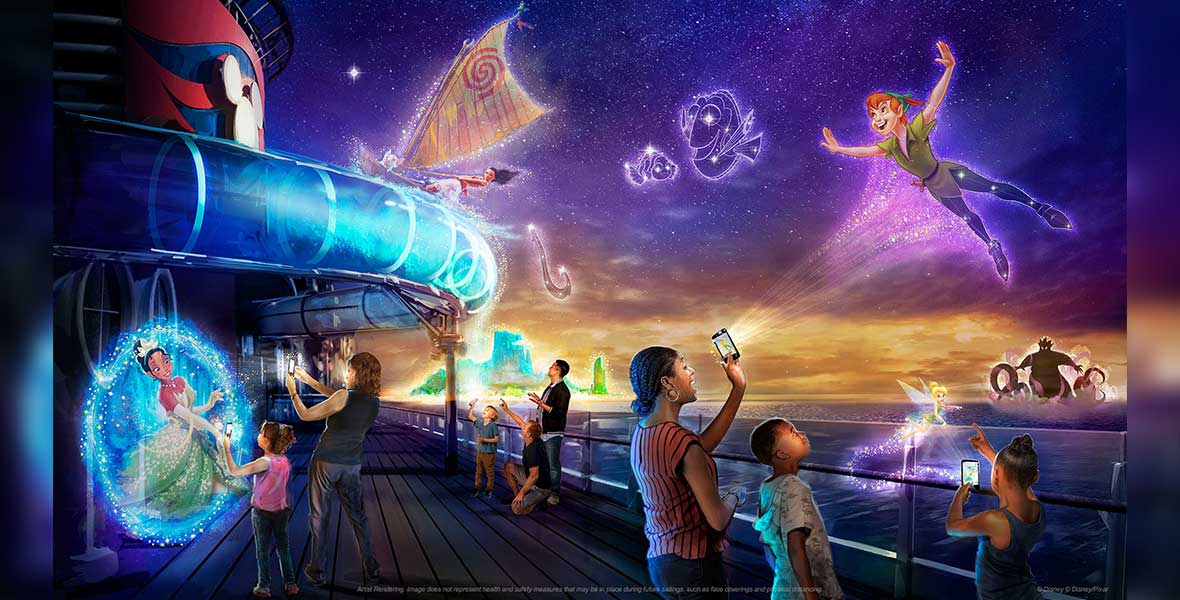 Get Ready for Disney Uncharted Adventure Aboard the Disney Wish
Designing a cruise ship is no easy feat, especially when creating an interactive, magical one like the Disney Wish. Imagineers and designers share the backstory behind the innovative, interactive game Disney Uncharted Adventure, which leads guests on a multidimensional voyage into the worlds of iconic Disney and Pixar characters through the Play Disney Parks app while on board.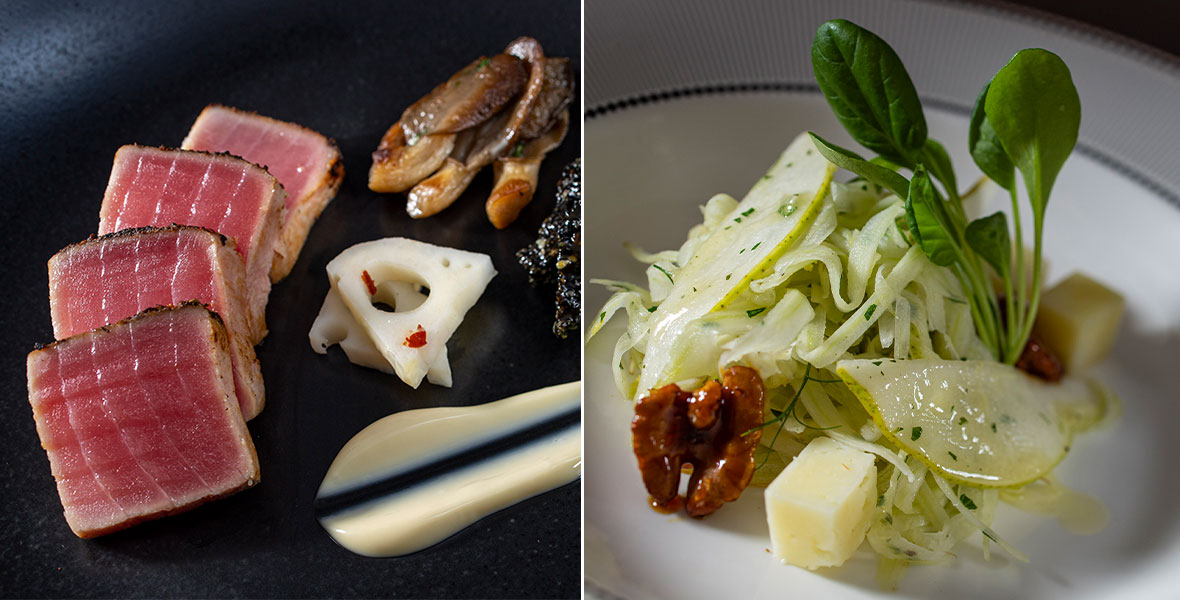 A Delectable Wish Come True
Whether you want a relaxing, adults-only dinner in a refined, gallery-like atmosphere or an adventurous night with Marvel Super Heroes or beloved characters from Frozen, the Disney Wish has unique experiences for whatever mood you may be in. Of course, delectable, chef-curated cuisine is guaranteed. Scroll through a sneak-peek of the innovative dining experiences and dishes that await you on the Disney Wish.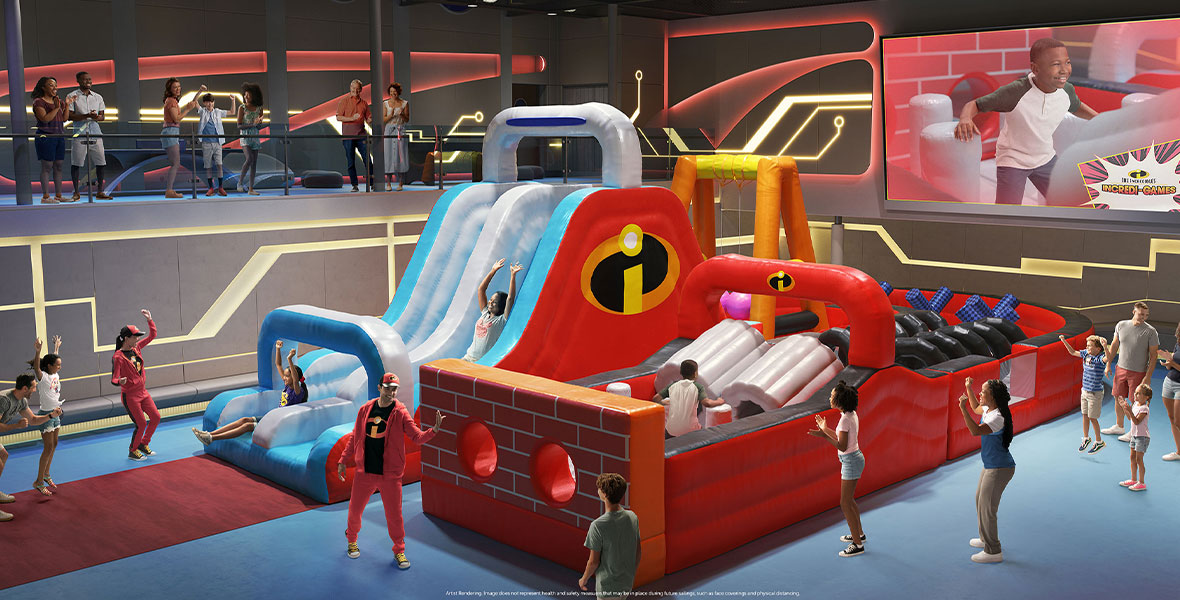 Disney Wish to Deliver Endless Entertainment and Family Fun
While the Disney Wish offers several adults-only retreats, the ship is jam-packed with fun for kids and kids-at-heart! The ship features the first true Disney attraction, the AquaMouse, and new category of active family play with the Hero Zone, a futuristic sports arena that fuses physical activity with imagination. Live performances, waterslides, and desserts galore—oh my! Read on for details on these imaginative offerings.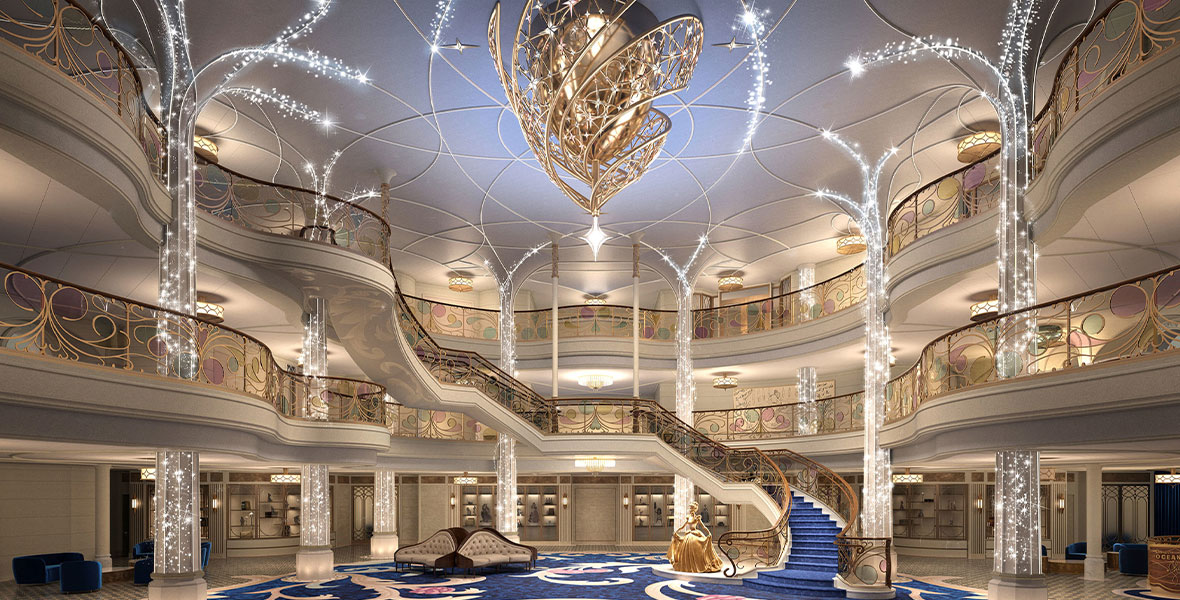 Disney Cruise Line Makes a Disney Wish Come True
Wondering what sets a Disney cruise apart from any other cruise line? The magic. The Disney Wish is inspired by the enchantment of Disney fairytales with designs straight from beloved animated classics. Guests are fully immersed within their favorite stories as soon as they step on board. Key Disney Wish players share a behind-the-scenes look at some of these oh-so-special touches.
Set Sail for Fun with New Ways for Adults to Relax, Recharge, and Reconnect on the Disney Wish
Sometimes you need a vacation from your vacation and the Disney Wish has several ways adults can unwind. The D23 team reports on the first-ever outdoor spa retreat featured on a Disney ship, as well as salons and barbers and bars and lounges that incorporate favorite Disney and Star Wars stories in sophisticated ways.
For an in-depth look at the dining, delights, and details aboard the Disney Wish, check out our special video podcast episode D23 Inside Disney Sets Sail on the Disney Wish.