By Courtney Potter
Go back to the playroom with another season of the Emmy® Award-winning animated series, and make sure you're up to date on all things Marvel and Comic-Con… Read more, along with other news from around Disney, in this week's news briefs!
Disney Junior's Muppet Babies Renewed for Third Season
They're Muppet Babies and—as the theme song says—they make their dreams come true. Now, they're making our dreams come true by coming back for a third season on Disney Junior!
Ahead of its official second-season debut on Friday, August 9, at 8:30 a.m. (with a special preview on DisneyNOW on Friday, August 2), the good folks at Disney Junior announced that the Emmy® Award-winning series will be returning for a third season. The show—which chronicles the hilarious playroom antics of a young Kermit the Frog, Piggy, Fozzie Bear, Gonzo, Animal, and new-to-the-Muppets-gang Summer Penguin—currently ranks as Disney Channel's No. 1 series among kids ages 2 to 8.
Season Two of Muppet Babies will see even more beloved Muppets make their way to the playroom for all-new adventures… including brother and sister duo Scooter and Skeeter; fuzzy, funny Sweetums; and the legendary Swedish Chef, to name but a few. Other special guest appearances include Rizzo the Rat's popstar brother, Vinny, and Mr. Manny—who comes to fill in for Miss Nanny when she goes out for the day.
Wanna see these adorable Muppet kidlets in person this winter? Muppet Babies will be featured in the all-new Disney Junior Holiday Party! On Tour, debuting Friday, November 1, with several stops at venues across the country. Visit DisneyJuniorTour.com for more info.
Save the Date!
Be sure to mark these upcoming Disney events on your calendar:
D23 and Walt Disney Archives


July 26, 2019


D23 Member Mixer—Seattle


August 23-25, 2019


D23 Expo 2019


September 9, 2019


The Official Walt Disney Studios Tour—Presented by D23


January 17, 2020


Get VIP Tickets to Disney's Frozen The Hit Broadway Musical
Parks


August 16, 20, 23, 27, 30; September 2, 6, 8, 10, 13, 15, 17, 20, 22, 24, 27, 29; October 1, 3, 4, 6, 8, 10, 11, 14, 15, 17, 18, 20, 21, 24, 25, 27, 29, 31, 2019




Mickey's Not-So-Scary Halloween Party at Magic Kingdom park




August 29, 2019


Star Wars: Galaxy's Edge Opening at and Walt Disney World Resort


August 29—November 23, 2019, 2019




November 8, 11, 12, 14, 15, 17, 19, 21, 22, 24; December 1, 3, 5, 6, 8, 10, 12, 13, 15, 17, 19, 20, 22, 2019




Mickey's Very Merry Christmas Party at Magic Kingdom park




2019 Epcot International Food & Wine Festival




September 17, 19, 22, 24, 26, 29, 2019; October 1, 3, 6, 8, 10, 13, 15, 17, 20, 22, 24, 27, 29, 31, 2019




Oogie Boogie Bash – A Disney Halloween Party at Disney California Adventure park




2019 Epcot International Festival of the Holidays




November 8, 11, 12, 14, 15, 17, 19, 21, 22, 24, 2019; December 1, 3, 5, 6, 8, 10, 12, 13, 15, 17, 19, 20, 22, 2019




Mickey's Very Merry Christmas Party at Magic Kingdom park




November 29—December 30, 2019, 2019




2019 Epcot International Festival of the Holidays




Studios




October 18, 2019


Maleficent: Mistress of Evil opens in U.S. theaters


November 22, 2019


Frozen 2 opens in U.S. theaters


December 20, 2019


Star Wars: The Rise of Skywalker opens in U.S. theaters


Television




August 2, 2019


Descendants 3 premieres on Disney Channel and DisneyNOW (8 p.m. EDT/PDT).


August 9, 2019


Muppet Babies kicks off season two on Disney Channel (8:30 a.m. EDT/PDT)

All the Marvel News You've Just Gotta Know from San Diego Comic-Con
Even if you were vacationing in a tropical, far-flung locale these last few weeks (and if you were, we're jealous!), you probably heard that A) San Diego Comic-Con just thrilled hundreds of thousands of pop culture fans for three full days, and B) Marvel Studios President Kevin Feige announced a veritable plethora of earth-shattering Marvel Cinematic Universe news. Read up on all things MCU right here at D23.com!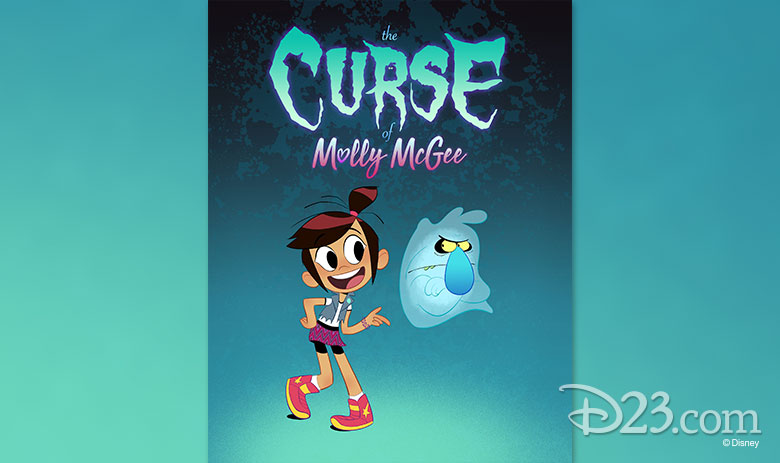 Disney Channel Announces The Curse of Molly McGee
Disneyland park may have "999 happy haunts," but Disney Channel will soon have a haunt of their own… only this time, he's on the grumpy side. Just this week, the channel announced The Curse of Molly McGee—a brand-new animated series from Emmy® Award-winners Bill Motz and Bob Roth (LEGO Star Wars: The Freemaker Adventures) and fellow Emmy winner Steve Loter (Kim Possible). This sure-to-be-hilarious "buddy comedy" follows Molly, a bubbly tween who lives to make the world a better place, and Scratch, whose joy comes from, well, spreading misery… When one of Scratch's spells backfires, he finds himself forever cursed in Molly's presence. Look for more info on this new series soon!
But that's not the only news out of Disney Television Animation this week: The studio also just added a slew of world-class talent—including animation creators and artists Bruce Smith (The Proud Family), Kate Kondell (The Pirate Fairy), Stevie Wermers and Kevin Deters (Prep & Landing), Amy Higgins (Star vs. The Forces of Evil), Steve Marmel (The Fairly OddParents), and many more—to its already fabulous roster. We can't wait to hear about all the new animated content to come.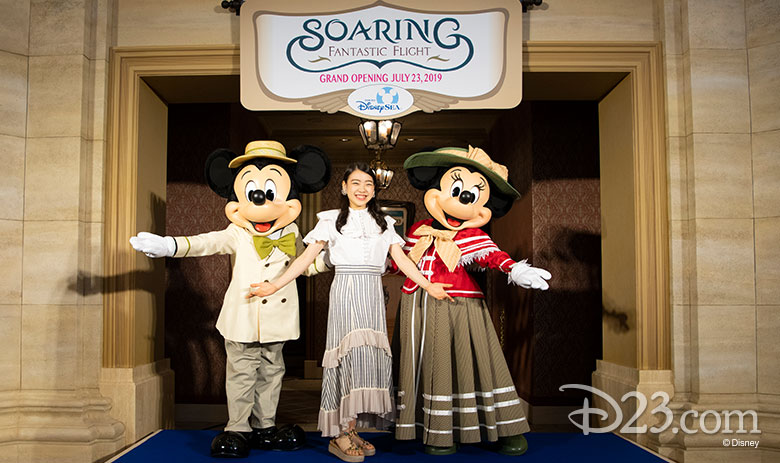 Soaring: Fantastic Flight Now Open at Tokyo DisneySea
There's a brand-new attraction at Tokyo DisneySea, and it's sure to put some air under your proverbial wings! Based on the popular attraction Soarin' Around the World, Soaring: Fantastic Flight features all-new scenes and visuals for an incredible experience exclusive to Tokyo Disney Resort… Guests on Soaring: Fantastic Flight embark on a journey over famous landscapes around the world, with the breezes and scents to match each scene. Rika Kihira, a Japanese professional figure skater who knows what it's like to "soar" in real life, was on hand to help Mickey Mouse and Minnie Mouse open the new attraction.
Soaring: Fantastic Flight also features the breathtaking Museum of Fantastic Flight, nestled in the hills of Mediterranean Harbor (one of the beautiful ports at Tokyo DisneySea), amidst the backdrop of an old-world Italian village. Dedicated to humankind's enduring dream of flying, the museum celebrates Camellia Falco—a visionary innovator in the fledgling field of aviation—with a special retrospective of her life.
Also now open at the Hangar Stage in Lost River Delta is the brand-new Song of Mirage show, which features Mickey Mouse and his pals on an adventure to discover the Rio Dorado (that's Spanish for "golden river") and its legendary city of gold.
Should you be lucky enough to be traveling to the Tokyo Disneyland Resort soon, don't miss these amazing new additions!
The Rocketeer Animated Series—Big Casting News!
We're huge fans of The Rocketeer 'round these parts… so when we heard that Disney Junior would be premiering an animated series based on the 1991 film, we were happily gobsmacked! And just last week—at the Disney Television Animation panel on the first day of San Diego Comic-Con—some very special members of the show's voice cast were announced. See the cool folks we're alluding to by clicking here.
Sofia Carson Roars into the Pride Lands with Spanish-Language "Circle of Life"
If you're up on all things The Lion King—and if you read D23.com with any regularity, we know you are!—you'll remember that one of the film's stars, multi-hyphenate Beyoncé Knowles-Carter, curated a very cool album inspired by the film called The Lion King: The Gift. And that's on top of the film's official soundtrack, which features tunes including "Hakuna Matata" sung by Seth Rogen as Pumbaa, Billy Eichner as Timon, and Donald Glover as Simba.
Well, this embarrassment of musical riches continues: For the film's original soundtrack for Latin America, there's a brand-new track sung by none other than Descendants star Sofia Carson—and it was just released to the public today! Take a look and listen to "El Ciclo Sin Fin" (yes, it's a Spanish-language version of "Circle of Life") by checking out the clip, above. And congrats to Sofia for joining the Lion King "familia"!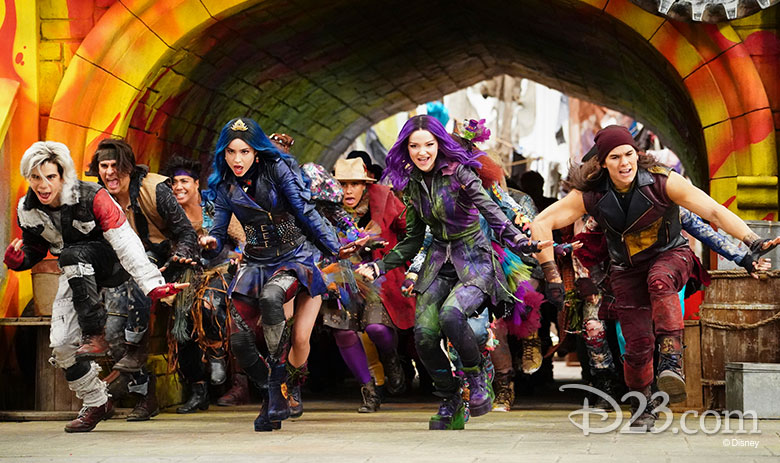 Kick It Up with DescenDANCE Party at Disney Springs
Speaking of Descendants, the "trequel" of the popular Disney Channel Original Movie series debuts in just a few days… and our pals at Walt Disney World Resort have announced a special event to celebrate all things VK (that's "villain kids," dontcha know). The Disney DescenDANCE Party will begin rocking the Marketplace Stage at Disney Springs this Friday, July 26—and it'll make you feel "Rotten to the Core" (in a good way!) through August 11.
Guests at the Disney DescenDANCE Party can boogie down to some wickedly good beats; snap and share pics at several cool photo ops; and even catch some on-screen shout-outs from stars of the movie! And guess what? In case you can't make it to Disney Springs before August 11, you have even more time to rock out with the VKs when the dance party takes over the stage at Cosmic Ray's Starlight Café for Mickey's Not-So-Scary Halloween Party, beginning August 16.
And don't forget: Descendants 3 premieres on Friday, August 2, at 8 p.m.—only on Disney Channel!