By Courtney Potter
Ready for some Halloween fun and frolic that's fit for the entire family? Look no further than Disney Junior's brand-new animated movie Mickey's Tale of Two Witches—premiering Thursday, October 7, at 7 p.m. ET/PT.
The tale begins on Halloween, as Mickey tells Pluto a story about two witches-in-training, Minnie the Wonderful and Daisy Doozy, who must pass four tests to graduate from the Witch Academy in Happy Haunt Hills. While Daisy isn't particularly confident about passing, she and Minnie join forces—along with Count Mickula and the gang—to defeat a mischievous ghost. Ultimately, Minnie and Daisy learn that working together is what makes their magic and their friendship stronger.
D23 recently spoke with executive producers Rob LaDuca and Mark Seidenberg (both known for their work on the Emmy® Award-nominated series Mickey Mouse Clubhouse and Mickey and the Roadster Racers) to get some spooktacular specifics on what the young and young-at-heart can expect from Mickey's Tale of Two Witches. This interview has been edited for length and clarity.
D23: Thanks for chatting with us today! So, are you both Halloween fans?
Mark Seidenberg (MS): We're both fans of spooky films and ghost stories and all that. [Rob and I] were talking about that classic Disney cartoon short Lonesome Ghosts, with Mickey Mouse and the gang hunting ghosts; that's been a great inspiration for us doing a Halloween story.
Rob LaDuca (RL): We looked at everything [for inspiration], including live-action movies—a little bit [of a certain young British wizard] was thrown in, some Tim Burton… Halloween is all about fun and magic and spooky things.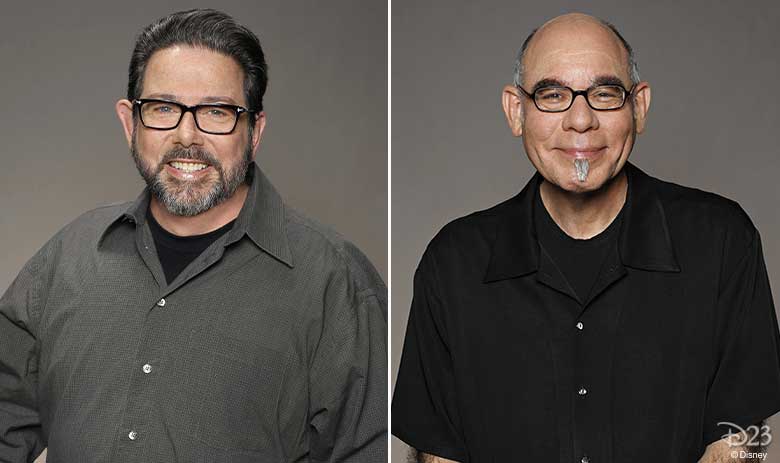 D23: How long did it take to bring Mickey's Tale of Two Witches to life?
MS: What's really nice [about this project] is that we got to concentrate on one story, and we were really able to polish it over the span of a year—a little over a year. And so, we were constantly refining, whereas with a TV series, it's very tight schedule and you have to move things quickly.
RL: Also, we're so used to working on an 11-minute cartoon—and now we're given 45 minutes! And so emotionally, you can [make the journey] a little happier and then get a little sad; you have more time to really work with the emotions of the story, which is great.
MS: And we were able to really push the suspense—start kinda slow and then build to the big moments toward the end of the film. That's hard to do with short-form [animation].
D23: What would you say was one of the biggest challenges with creating this animated movie, especially over the last year-plus with so many things in flux due to the COVID-19 pandemic?

MS: Well, one of the first big challenges was working with the actors, because we're used to always being in a recording studio [with them], and now all the actors had to record from their own homes. They all had to make their own home studios, so you don't have the energy of the room, like when you're all together. It took a little while for us get used to that, doing it all through Zoom, but it worked out—it worked out really well!
RL: Certain [voice actors] didn't necessarily have the right equipment, so we did have to go back in when we were doing post-production and re-record some of the dialogue. But I was surprised at how well things went…[When] we got into the sound mixing room, sitting six feet apart… It was so nice to see the movie on the big screen—a color-correct screen, and with the correct sound.
D23: Is there a moment in the movie that you just can't wait for audiences to see?

MS: In our story, Pete [Mickey's occasional nemesis] is a ghost—he goes through this transformation, and it's really fun to watch him become bigger than life!
RL: Pete getting magical powers was a scary thought to begin with, but he takes the ball and runs with it—until, of course, he trips.
MS: The other thing I want to say about the Halloween movie is there's two very special guests that will show up in the film that are relatives of Pete, that might look familiar—maybe even a little like Rob and myself…
D23: Oh, we love Easter eggs! We'll make sure to keep our eyes peeled. Is there anything else you want to tell the readers of D23.com about Mickey's Tale of Two Witches?
MS: It's really about the themes of friendship and family and loyalty and love, and working together—caring for each other. I mean, we really focused on [the fact that] families would be watching this movie… Minnie and Daisy want the same thing in Mickey's Tale of Two Witches, and they're working together—they're making it happen by working together… The friendship of Minnie and Daisy has never been better.
RL: We really wanted to make [this movie] special, because we had the extra time to make it a little more cinematic—make the shadows a little deeper, the highlights a little brighter. To go a little more Technicolor so it really plays like a movie, y'know?
MS: And the music is very lush… we really pushed the sensibility and the feel of the film. It's very, very unique… and I've gotta give kudos to [voice actor] April Winchell as "witch master" Clarabelle. She went above and beyond the call of duty. She's absolutely wonderful.
Don't miss Mickey's Tale of Two Witches—premiering Thursday, October 7, at 7 p.m. ET/PT on Disney Junior… and look for it on Disney+ beginning Friday, October 8!