By Courtney Potter
Time to Light the Lights: The Muppet Show is Coming to Disney+
Honestly, we thought Christmas was over—but with news like this, perhaps Santa's still out there… Just this week, our pals at Disney+ announced that The Muppet Show is coming to the streaming service in just a few weeks' time!
It's true: All five seasons of the original Muppet TV series—which debuted nearly 45 years ago and showcases Disney Legend Jim Henson's hilarious puppet creatures—will be available for folks to enjoy whenever their Muppet-y heart desires. (Seasons four and five were never previously available on home entertainment, which makes this news really special for longtime fans!) These shows include all the early antics of Kermit, Miss Piggy, Fozzie Bear, Gonzo, and the gang as they produce their eponymous variety show—featuring sketch comedy, original songs, and guest performances from such legendary stars as Steve Martin, Elton John, Liza Minelli, Alice Cooper, Julie Andrews, Bernadette Peters, Diana Ross, Gladys Knight, Gene Kelly, Mark Hamill, and many more.
Look for The Muppet Show to start streaming on Disney+ beginning Friday, February 19! (Just don't tell Statler and Waldorf; we're not quite sure how they'll react!)
5 Fantastic Things to Watch This Weekend
Another weekend is upon us—along with another chance to don your comfiest sweats, brew up some hot chocolate, and settle in for some great viewing from across the worlds of Disney. Hulu debuts The Sister on Friday, while Saturday sees Disney Channel premiering an all-new episode of Big City Greens and Nat Geo WILD bringing us a new episode of The Incredible Dr. Pol. And there's a lot more where that came from…
Sneak Peek at WEB SLINGERS: A Spider-Man Adventure with Tom Holland
Work on the sure-to-be-incredible Avengers Campus at Disneyland Resort continues apace, heading towards its (still-top-secret) opening date—and to that end, the good folks at Disney Parks just revealed a spidey-sense-tingling new look inside the campus' WEB SLINGERS: A Spider-Man Adventure attraction, featuring Peter Parker himself: actor Tom Holland.
In the brand-new video above, Holland shares more details about his role in the highly anticipated attraction and his excitement for working with Walt Disney Imagineering on this new adventure. In case you need a refresher in what to expect from this incredible attraction: In the Worldwide Engineering Brigade (WEB) workshop, young engineers specialize in developing innovative technologies to equip and empower a new generation of Super Heroes. This workshop showcases the inventions of Peter Parker and the rest of the WEB Tech team, including their adorable Spider-Bots—which are designed to be robotic sidekicks capable of building anything a Super Hero might need. When Peter's demonstration goes awry, the Spider-Bots become stuck in a replication loop, creating even more Spider-Bots!
While wearing 3-D glasses, guests' mission will be to test-drive the aspiring inventor's latest invention—the WEB Slinger vehicle—and discover their own web-slinging super powers. Through specially designed, innovative technology that recognizes body movements and gestures, guests will reach out their hands and sling webs from their wrists, just like Spider-Man. As the WEB Slinger vehicles progress, guests will virtually pass through several other Campus addresses, including Pym Test Kitchen, Avengers Headquarters, and the Collector's Fortress (also home to Guardians of the Galaxy – Mission: BREAKOUT!).
Stay tuned for more Avengers Campus news as it becomes available.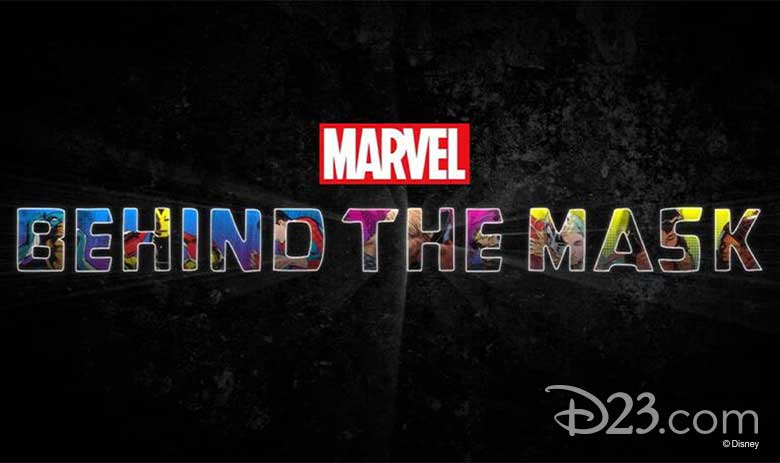 New Disney+ Documentary Special: Marvel's Behind the Mask
In further Marvel-related news, there's a new documentary special to look forward to, coming soon to Disney+. Marvel Entertainment has announced Marvel's Behind the Mask, premiering next month exclusively on the streaming service.
Marvel's Behind the Mask will explore the power of identity behind the world's most iconic Super Heroes we know and love today. From the very inception of comic books, secret identities have been an integral part of both Super Heroes and Villains leading "normal" lives. But it's the characters beneath that resonate with fans, all across generations. Since the advent of the Marvel Age of Comics in the early 1960s, Marvel's writers and artists have used the notion of identities to examine the evolving concept of equal rights. These legendary Marvel creations and stories have not only reflected the world outside our window—they have become a reflection of our own identities and who we truly are.
Marvel's Behind the Mask will feature guests from across Marvel's 80-year legacy, including the writers and artists behind the rise of characters like Black Panther, Miles Morales, Ms. Marvel, Luke Cage, the X-Men, Captain Marvel, and many other characters in the Marvel Universe, highlighting Marvel's impact on pop culture and media. Look for the special on Disney+ beginning Friday, February 12.
Disney Brings Magic to Three Central Florida Hospitals
Going into the hospital can be pretty overwhelming when you're a kid… The Disney children's hospitals program brings Disney characters and stories to children facing serious illness, continuing a legacy that dates back to Walt Disney himself.
In 2020, The Walt Disney Company announced that areas within three Central Florida children's hospitals would be magically reimagined through the program. Now, as a new year begins, these whimsically transformed spaces are officially part of the patient experience at AdventHealth for Children, Orlando Health Arnold Palmer Hospital for Children, and Nemours Children's Hospital—and, as evidenced in the new video above, they're already beginning to make a difference for kids who stay there!
Disney is committed to delivering moments of magic to children when they need it most, and three hospitals are just part of Disney's $100M plan to reimagine the patient experience in children's hospitals and to grant every eligible Disney wish globally.

Pixar Popcorn—Streaming on Disney+ Starting Friday, January 22
Earlier this week, the country celebrated National Popcorn Day… and in honor of such an auspicious (and delicious) occasion, Disney+ has begun streaming some hilarious all-new shorts from our pals at Pixar.
Pixar Popcorn, a collection of 10 mini shorts exclusive to the streaming service, features characters from Pixar favorites like Toy Story, Finding Nemo, Cars, and The Incredibles in new, bite-size stories created by Pixar Animation Studios' talented animators.
Titles to watch include Dancing with the Cars, Soul of the City, Cookie Num Num, Dory Finding, Fluffy Stuff with Ducky & Bunny, and more. Check 'em out this weekend!