By Courtney Potter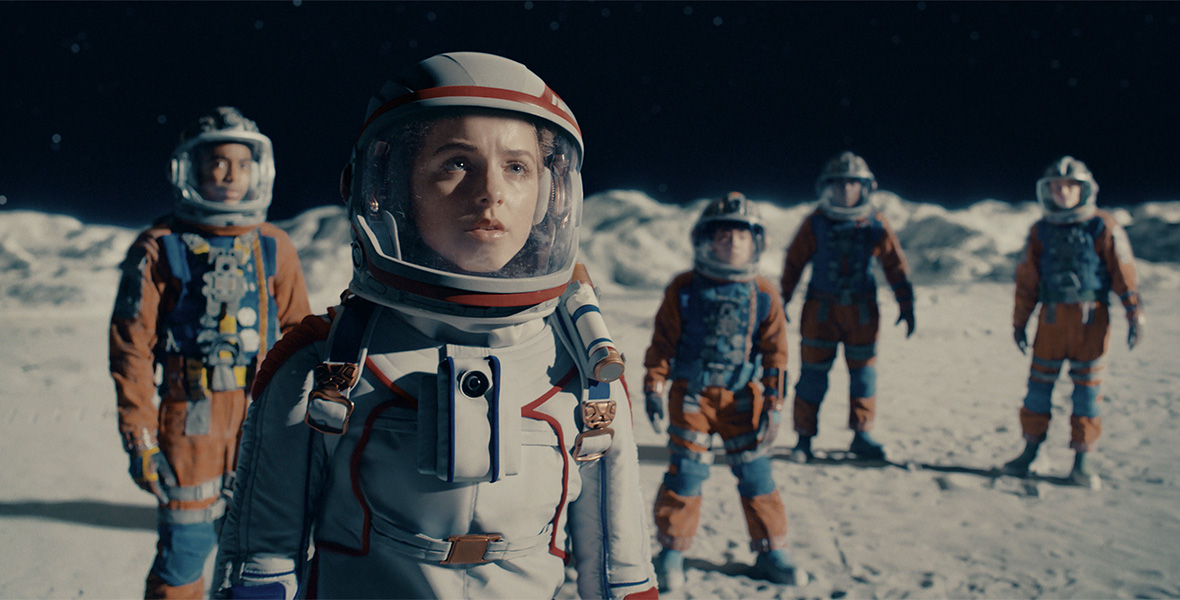 Disney's Crater to Debut Exclusively on Disney+ This May
Ready for some lunar fun? The Disney+ Original Movie Crater will debut exclusively on the streamer on May 12.
Crater follows Caleb Channing (Isaiah Russell-Bailey), who was raised on a lunar mining colony and is about to be permanently relocated to an idyllic faraway planet following the death of his father (Scott Mescudi). But before leaving, to fulfill his dad's last wish, he and his three best friends—Dylan (Billy Barratt), Borney (Orson Hong), and Marcus (Thomas Boyce)—and a new arrival from Earth, Addison (Mckenna Grace), hijack a rover for one final adventure on a journey to explore a mysterious crater.
Directed by Kyle Patrick Alvarez, the coming-of-age sci-fi film was written by John Griffin and produced by Shawn Levy, Dan Levine, and Dan Cohen.
5 Fantastic Things to Watch This Weekend Presented by State Farm®
This weekend marks the beginning of April—so don't joke around with your viewing from around the worlds of Disney! Season 2 The Ghost and Molly McGee kicks off on Disney Channel and Disney XD; Hollywood Week (and all its requisite drama) starts on ABC's American Idol, followed by an all-new episode of The Company You Keep; and so much more…
Freeform's grown-ish to End with Season 6
All good things must come to an end: Earlier this week, Freeform announced that its hit comedy series grown-ish will end with its upcoming sixth season.
Season 6, which will mark the series' milestone 100th episode, will air in two parts; the first will premiere this summer, while the second airs in 2024. Yara Shahidi, who stars as Zoey Johnson, shared the news in a video posted to Freeform's social channels, seen above.
The series currently follows Andre Johnson Jr., aka Junior (Marcus Scribner), as he transitions from Zoey's little brother to big man on campus.
"We've spent nearly a decade telling our stories through the -ish series, and to say it has been an amazing journey would be an understatement," creator and executive producer Kenya Barris recently said. "To be able to watch Yara, Marcus, and our entire grown-ish family grow up in front of—and in many ways alongside—us over these past several years has been both a joy and an honor. From the stories we've told to the talent we've fostered and, most importantly, the memories made, I could not be more proud of everything we've accomplished and the -ish family I've been a part of."
Also announced were the upcoming season's guest stars—which include Lil Yachty, Anderson .Paak, and Free Nationals.
ICYMI: 14 Ultimate Fans from Around the Worlds of Disney
With D23 Member Appreciation Month ending soon, it's a good time to take in some fellow fans from around the worlds of Disney. Check out our rundown of some favorite "ultimate fans"—from Coco's Miguel (and his idol, Ernesto de la Cruz) to Lilo & Stitch's Lilo and her love of all things Elvis, and so many in between!
Disney and Pixar Reveal New Elemental Trailer and Announce New Short
Disney and Pixar have premiered a sizzling new trailer for Elemental, opening in theaters Friday, June 16!
Elemental, directed by Peter Sohn, transports moviegoers to an extraordinary place called Element City, where a host of elements live and work. The trailer showcases each element—air, earth, water, and fire—and what sets them apart… according to Ember, a quick-witted and fiery woman who has always stayed close to home in Firetown. In the film, she finally ventures out of her comfort zone to explore this spectacular world born from the imaginations of Pixar's filmmakers and specifically crafted for the big-screen experience. Element City is inspired by big cities around the globe and embraces theorized contributions from each elemental community—from giant pine-tree-like buildings and waterfall skyscrapers to a tornado-shaped arena called Cyclone Stadium.
Joining the previously announced voice cast—including Leah Lewis and Mamoudou Athie as Ember and Wade, respectively—are Ronnie del Carmen as Ember's soon-to-be retired dad, Bernie; Shila Ommi as Ember's love-seeking mom, Cinder; Wendi McLendon-Covey as Wade's stormy and Air-Ball-loving boss, Gale; Catherine O'Hara as Wade's welcoming mom, Brook; Mason Wertheimer as Ember's admiring earth neighbor, Clod; and Joe Pera as an overgrown city bureaucrat, Fern.
They also announced that a brand-new animated short, Carl's Date, will run ahead of the film—resuming Pixar Animation Studios' moviegoing tradition of pairing their features with short films.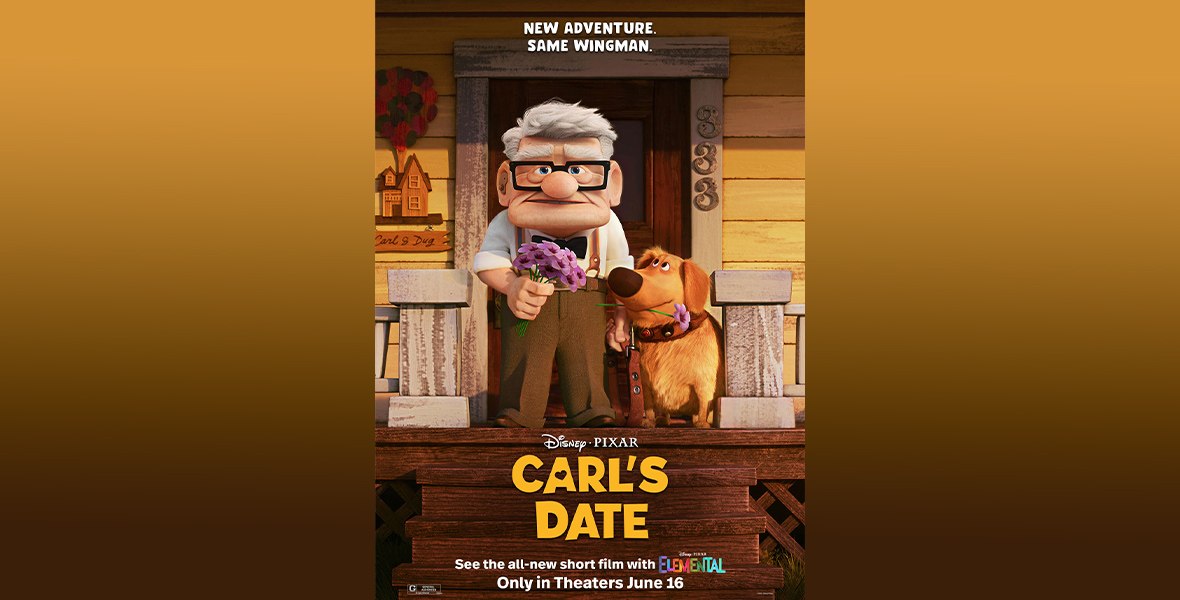 The new short catches up with Carl Fredricksen (voiced by the late, great Ed Asner) and his lovable talking dog Dug (voiced by Bob Peterson), who were introduced in Pixar's Oscar®-winning feature Up. Written and directed by Oscar nominee and Emmy® Award winner Peterson and produced by Kim Collins, this all-new short finds Carl reluctantly agreeing to go on a date with a lady friend—but admittedly with no idea how dating works these days. Ever the helpful friend, Dug steps in to calm Carl's pre-date jitters and offer some tried-and-true tips for making friends… if you're a dog.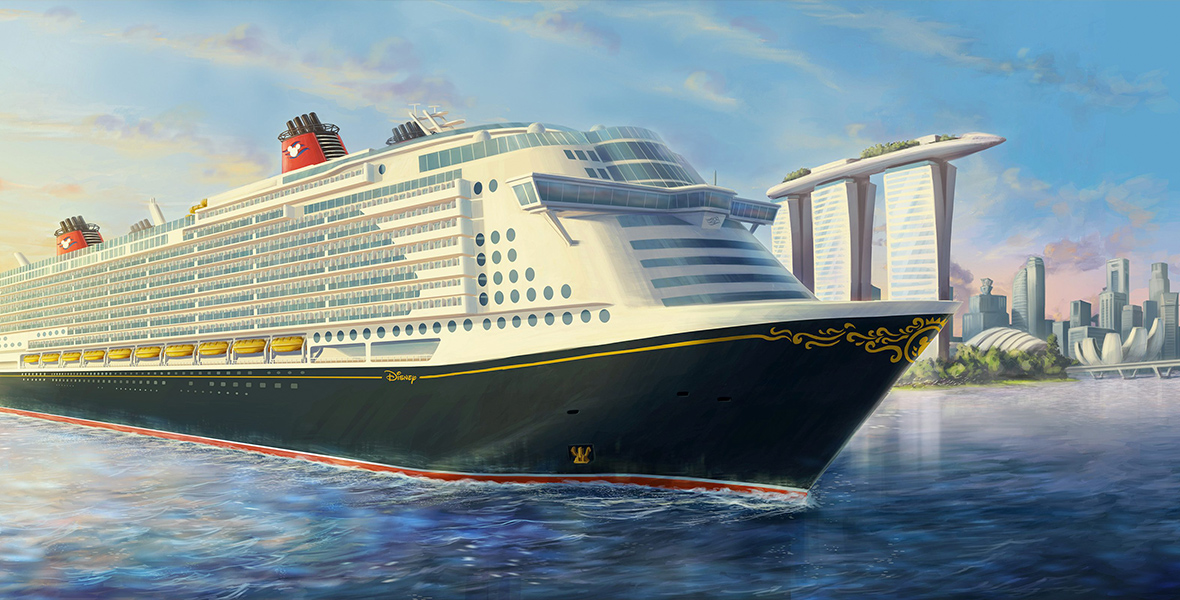 New Disney Cruise Line Ship Will Sail from Singapore in 2025
Big news for cruise fans around the globe: Disney Cruise Line and Singapore Tourism Board have announced magical cruise vacations to Southeast Asia for the first time! The info was recently revealed by Disney Parks, Experiences and Products Chairman Josh D'Amaro and Singapore's Minister for Transport and Minister-in-charge of Trade Relations, S. Iswaran.
Under a new Memorandum of Understanding, Disney Cruise Line and Singapore Tourism Board agreed to collaborate to homeport a brand-new Disney cruise ship exclusively in Singapore for at least five years beginning in 2025.
The new ship will feature innovative Disney experiences along with all the dazzling entertainment, world-class dining, and legendary guest service that set Disney Cruise Line apart. Guests young and young at heart will find dedicated spaces and activities designed just for them, and families will create unforgettable memories with beloved characters including Captain Mickey Mouse and Captain Minnie Mouse, Disney Princesses, Marvel Super Heroes, and more.
Disney Cruise Line estimates the passenger capacity of the 208,000-gross-ton ship to be approximately 6,000, with around 2,300 crew members—and it's expected to be among the first in the cruise industry to be fueled by green methanol, one of the lowest emission fuels available. Construction is projected to be completed at the MV Werften shipyard in Wismar, Germany, under the management of Meyer Werft, the Papenburg-based company that built the Disney Dream, Disney Fantasy, and the Titan-class Disney Wish (and is constructing two additional Titan-class ships).More details about the maiden voyage, itineraries, and onboard experiences will be announced at a later date.
ABC News Presents New Diane Sawyer Interview with Jeremy Renner
This week, the good folks at ABC News announced that anchor and Disney Legend Diane Sawyer will sit down with actor Jeremy Renner in an exclusive interview—the first since his life-threatening accident on New Year's Day.
Renner, who was run over by his seven-ton snowplow in an attempt to save his nephew's life, was critically injured―breaking more than 30 bones and puncturing a lung and his liver. He opens up to Sawyer about the harrowing details of his accident; the critical hours that followed; and his time in the hospital. He also provides a behind-the-scenes look at his ongoing recovery.
The special also features interviews with Renner's family members, including the nephew he was trying to protect, and the first responders who saved his life.
Jeremy Renner: The Diane Sawyer Interview – A Story of Terror, Survival and Triumph airs Thursday, April 6, at 10:01 p.m. ET/PT on ABC and the next day on Hulu.
Lucasfilm Debuts New Shorts Ahead of Star Wars: Young Jedi Adventures Premiere
Ahead of the series' debut on May the Fourth—Star Wars Day—Lucasfilm recently shared a sneak peek at the upcoming series Star Wars: Young Jedi Adventures with the release of several animated shorts that introduce the Jedi younglings and their friends on planet Tenoo. Check out Meet the Young Jedi, above! (The other two shorts, Lys' Creature Caper and Kai's Daring Droid Rescue, can be found here and here, respectively.)
Set during The High Republic era, the animated series—the first Star Wars series created for preschoolers—follows Jedi younglings as they study the ways of the Force, explore the galaxy, help citizens and creatures in need, and learn the valuable skills needed to become Jedi along the way.
Star Wars: Young Jedi Adventures stars Jamaal Avery, Jr. as Kai Brightstar, Juliet Donenfeld as Lys Solay, Dee Bradley Baker as Nubs, Emma Berman as Nash Durango, Jonathan Lipow as RJ-83, and Piotr Michael as Master Yoda.
Three additional shorts will debut on YouTube over the coming weeks, with all six shorts available to stream on Disney+ on Wednesday, April 26, ahead of the series debut on Thursday, May 4, Star Wars Day, on Disney+ and Disney Junior.