By Jessica Benda
Stars—they're just like us! Especially if the "stars" are our favorite Disney characters, and the "like us" is our fierce love of Disney.
The worlds of Disney are full of fans devoted to their own passions—whether it be musicians, movies, or a certain snowy holiday. Some Disney characters show off a huge collection of their idol's merchandise, while others may take their fandom to other extremes. To celebrate D23: The Official Disney Fan Club's 14th anniversary, we've rounded up 14 of the ultimate fans from some of our favorite Disney films and series.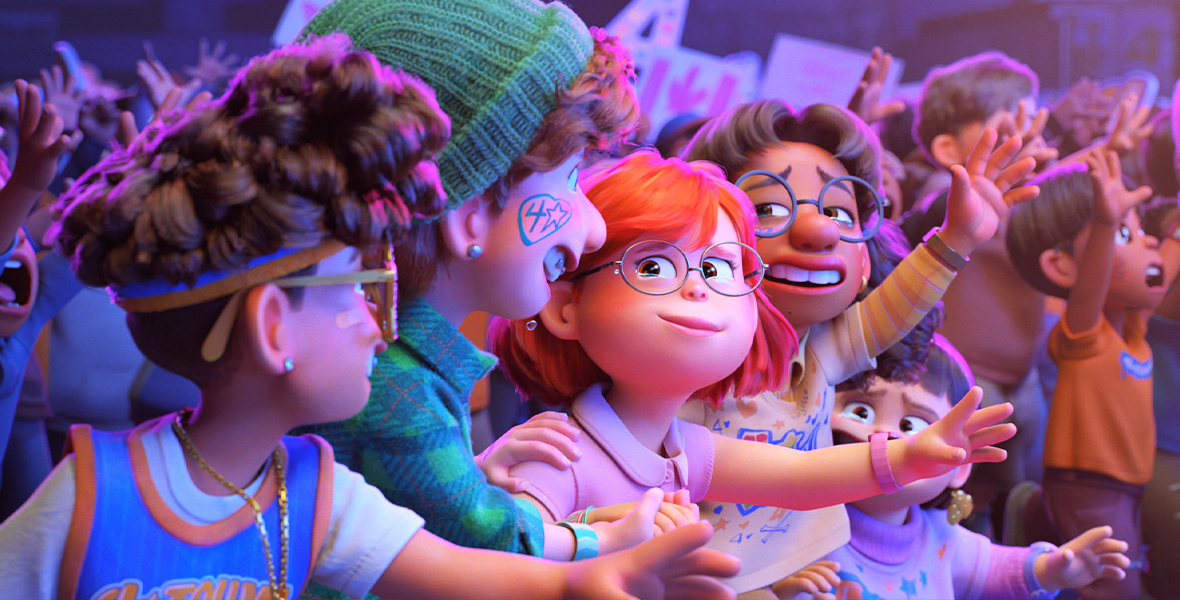 Turning Red's Mei: 4*Town
Magazine covers, fan art, a CD of the '99 Australian Tour with the Girl I Love Your Jeans remix—Mei might be the most accurate depiction of tween fandom yet. In Disney and Pixar's Turning Red, Mei and her friends are deep in a one-sided relationship with boyband 4*Town… so obviously, they have to attend their upcoming concert at the SkyDome!
Ms. Marvel's Kamala Khan: Marvel
Kamala Khan (a.k.a. SlothBaby to her fan fiction readers) is the ultimate Marvel fan, in her Disney+ series Ms. Marvel. With a fierce adoration of Captain Marvel and a mental encyclopedia of Avenger knowledge, she's thrust into the life she writes about when she activates her own powers. Kamala ultimately takes on her own Super Hero identity as Ms. Marvel—and surely comes full circle as the new source of other teens' fan fiction.
The Incredibles' Syndrome: Mr. Incredible
Metroville hath no fury like a Syndrome scorned… Once the self-proclaimed Incrediboy—and the state-proclaimed Buddy Pine—Syndrome was Mr. Incredible's No. 1 fan in Disney and Pixar's The Incredibles. As an active member of the fan club, he often seeks out autographs and pictures, and eventually endeavors to make himself Mr. Incredible's sidekick. But after he's brushed aside, he makes it his personal mission to extinguish all superheroes. Syndrome takes "ultimate fan" to new (and kinda scary) heights!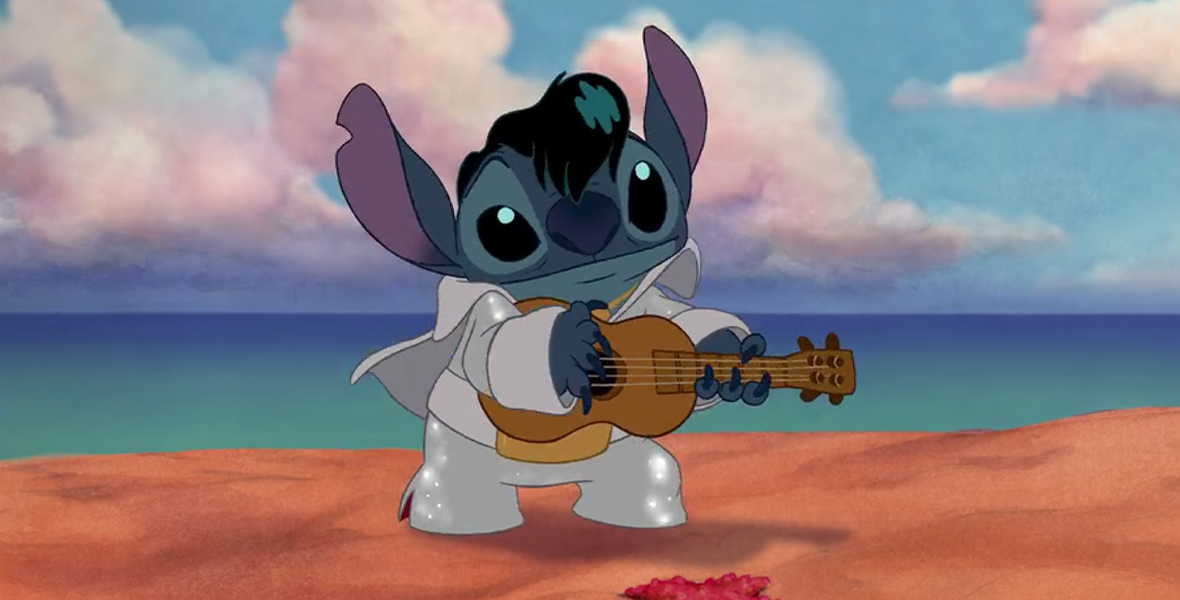 Lilo & Stitch's Lilo: Elvis Presley
The only thing Lilo loves more than Stitch? Elvis Presley. Okay, maybe not quite that much, but no one can deny that Elvis is Lilo's idol. In Walt Disney Animation Studios' Lilo & Stitch, she spends a fair amount of time lying on the hardwood while cranking "Heartbreak Hotel." And when Stitch needs shaping up into a "model citizen," Lilo knows the ultimate model citizen: Elvis (though the 1950s might've disagreed). She takes it on herself to teach Stitch all "the King's" skills: dancing, guitar, and romance.
Zenon: Girl of the 21st Century's Zenon: Proto Zoa
In 2049, Microbe is one of the biggest groups in rock—and Zenon is one of their biggest fans. Much of the momentum in the Disney Channel Original Movie Zenon: Girl of the 21st Century is driven by Zenon's love of the group and its lead singer, Proto Zoa. Amid stopping mass destruction, she even wins a "Dance with Proto Zoa" contest, and travels with him to the first live concert in space!
Teen Beach Movie's Brady: Wet Side Story
In the Disney Channel Original Movie Teen Beach Movie, teen surfer Brady loves the fictious 1960s movie musical Wet Side Story, a Disney Channel rendition of Jerome Robbins' West Side Story. Brady's ultimate fan dreams come true when he and his girlfriend, McKenzie, are swept into the movie by a storm. Radical!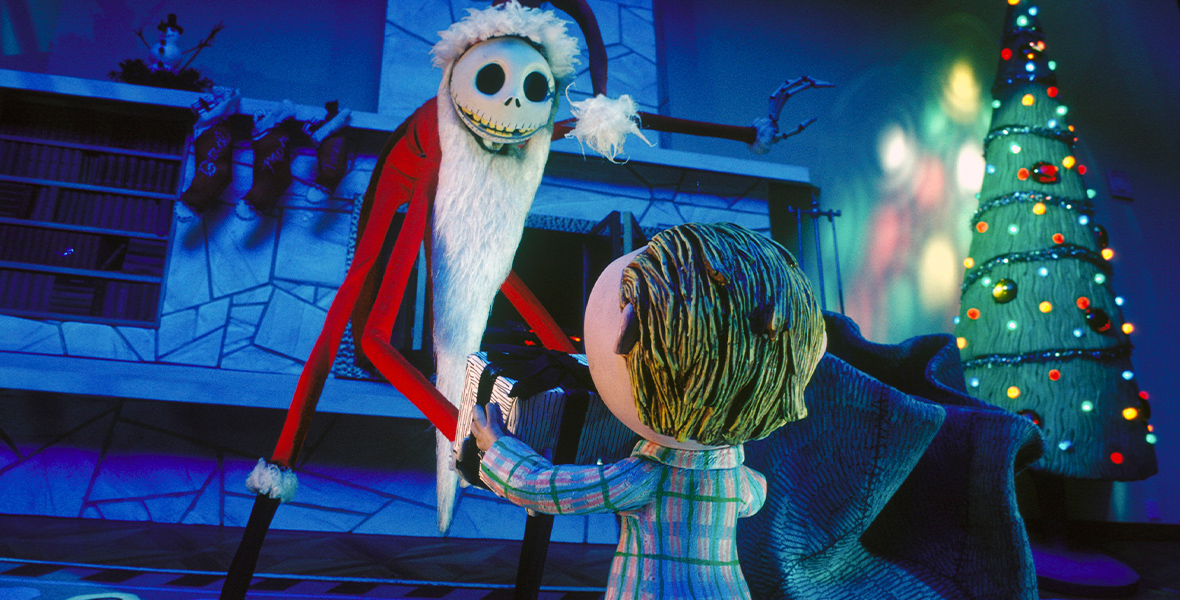 Tim Burton's The Nightmare Before Christmas' Jack Skellington: Christmas
Few fans take their obsessions as far as Jack Skellington, and that's probably for the best. After Jack discovers Christmas, he commits identity theft, kidnapping, and surely infringes on Christmas Land copyright… but surely, it's just because it loves it so much! He spends the bulk of Tim Burton's The Nightmare Before Christmas attempting to transform Halloween Town into a winter wonderland and himself into "Sandy Claws." The expression "crash and burn" becomes literal—in a good way—as, thankfully, he eventually reignites his passion for Halloween and his role as the Pumpkin King.
The Little Mermaid's Ariel: The Human World
As shown by her cavern of collectables, Ariel is a huge fan of the human world. She collects thingamabobs and whatzits to her heart's contents, and she's not afraid to break the rules by breaching the ocean's surface. Her passion for the above world pays off when she becomes a human herself! It's a little dicey at first, but—spoiler alert—there's a happy ending after all.
Coco's Miguel: Ernesto de la Cruz
As an aspiring musician, Miguel idolizes the late singer and (supposed) songwriter Ernesto de la Cruz—so much so that he built a secret tribute to him in his family's attic. In Disney and Pixar's Coco, Miguel breaks into Ernesto's tomb to borrow his guitar, and inadvertently turns himself into one of the dead. Luckily for him, being dead has its perks—as he can now track down his deceased idol. Worth dying for? TBD.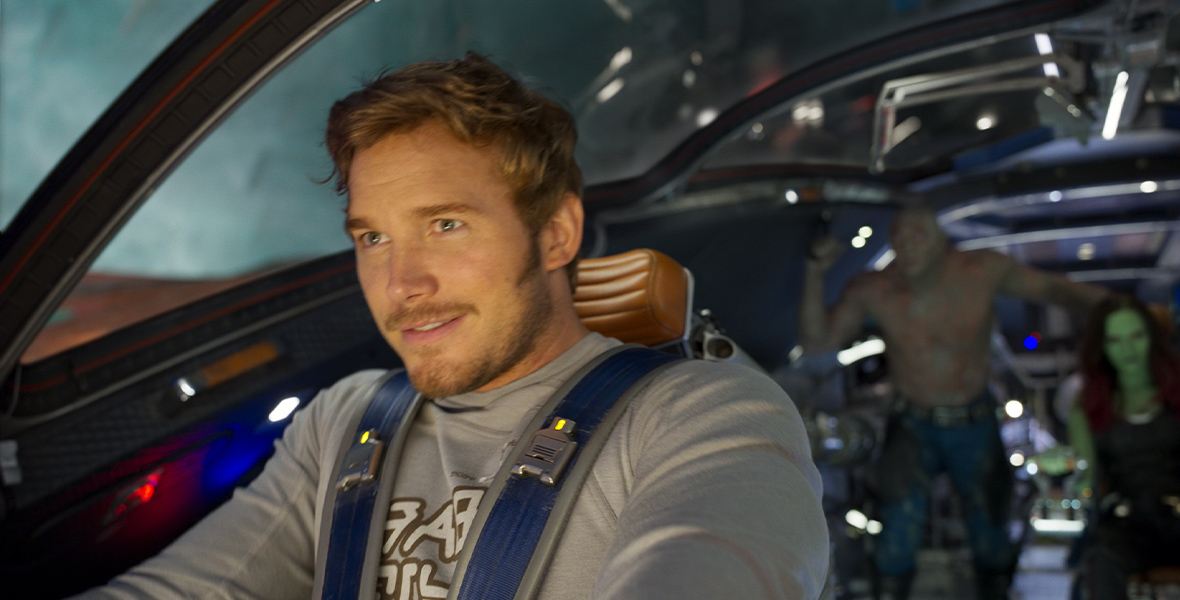 Guardians of the Galaxy's Peter Quill: Kevin Bacon
Kevin Bacon saved a small town through the power of dance in Footloose, so it's understandable why he's Peter Quill's hero! Though Peter mentions his love of the '80s megastar a few times in the Guardians of the Galaxy franchise, Bacon appears in all his Los Angeles glory in Disney+'s The Guardians of the Galaxy Holiday Special. Mantis and Drax abruptly kidnap Bacon to present him to Peter as a Christmas present. But unlike Jack Skellington, Peter knows better than to hold his hero hostage…
Sonny with a Chance's Sonny Munroe: Chad Dylan Cooper
In Disney Channel's Sonny with a Chance, small-town Sonny Munroe is starstruck when she meets Chad Dylan Cooper, the star of hit tween series MacKenzie Falls. As she starts as a new cast member of a rival TV show, she's only dazzled for an episode before she realizes the enormity of his ego. As in any fan's ultimate dream, Chad goes from Sonny's celebrity crush, to her nemesis, to her boyfriend, and so on and so on.
A Goofy Movie's Max Goof: Powerline
Max Goof first proves his love of Powerline in Walt Disney Animation Studios' A Goofy Movie by hijacking a school assembly to perform as the pop star. He spends the rest of the film on a wayward road trip with his father, Goofy, ultimately trying to steer the course toward Los Angeles. There, he not only gets to attend Powerline's concert, he performs in it!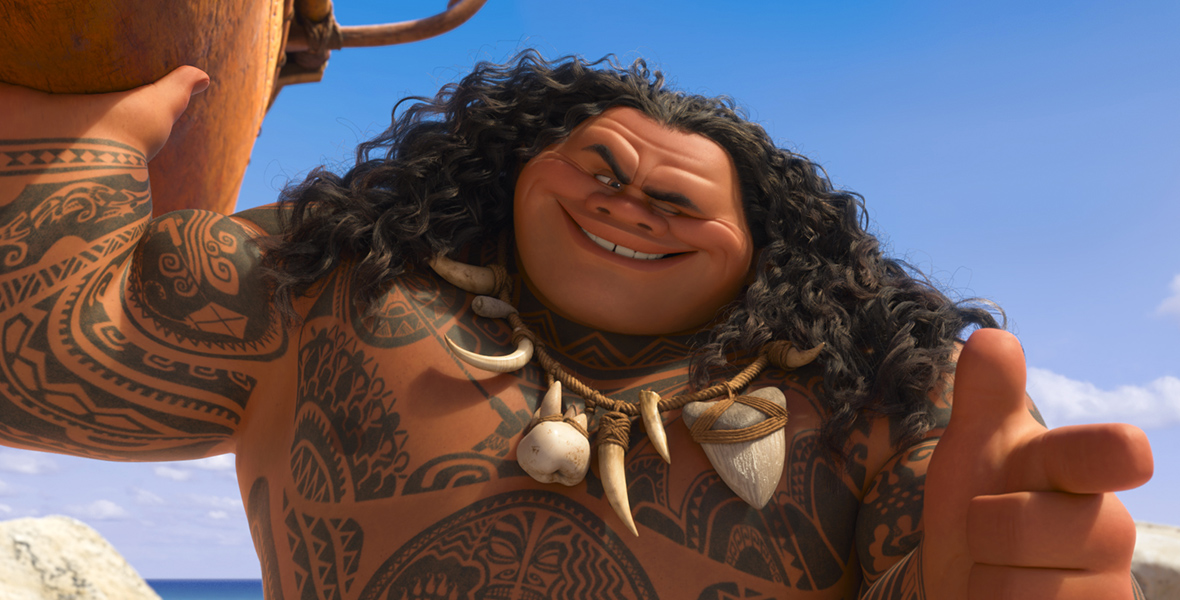 Moana's Maui: Maui
The hair! The bod! In Walt Disney Animation Studios' Moana, the demigod Maui makes it clear that he knows his own worth—perhaps a bit too much. Then again, he harnessed the breeze, pulled islands from the ocean, and made a coconut tree out of a dead eel. Can you blame him?
Toy Story 2's Al: Woody's Roundup
Original hand-painted face; natural-dyed blanket-stitched vest; hand-stitched polyvinyl hat! It's love at first sight for toy store owner Al when he finds Woody at Andy's family garage sale. When he can't buy Woody, he lets his inner crazed-fan loose and steals him… it's the final piece Al needs for his prized collection based on the classic TV show Woody's Roundup. But that said, Al might be a bigger fan of the profit than the collection.