By Jim Frye,
Get ready, because Lucasfilm's Solo: A Star Wars Story blasts into theaters this Memorial Day weekend, telling the early tales of Han Solo, the most iconic space cowboy in cinema history. Directed by Ron Howard, Solo finds Han, an orphaned scam artist who, after being kicked out of the Flight Academy for, as he says, "having a mind of my own," dreams of being the best pilot in the galaxy. He gets mixed up with a colorful group of gangsters in the galactic underworld, taking him on an adventure that eventually introduces him to some of the most beloved characters in the Star Wars universe.
Han Solo: Alden Ehrenreich
Finding a new Han Solo was no easy task—Harrison Ford, who originally played the character, cast a very large shadow. "Harrison Ford is so unique and has embodied the character for so many years that they were gigantic shoes to fill," says Producer and Lucasfilm President Kathleen Kennedy. "We weren't looking for someone who looked like Harrison; we didn't want an impersonation of him nor his Han Solo. We wanted an actor who could find those traits that are so loveable, so roguish about Han Solo."
Alden Ehrenreich, from films such as Hail, Caesar! and Rules Don't Apply, was excited to land the role. "It's really special to be part of a franchise that has so much heart and that means so much to people," he says, "and to play such a multi-dimensional character in the Star Wars universe."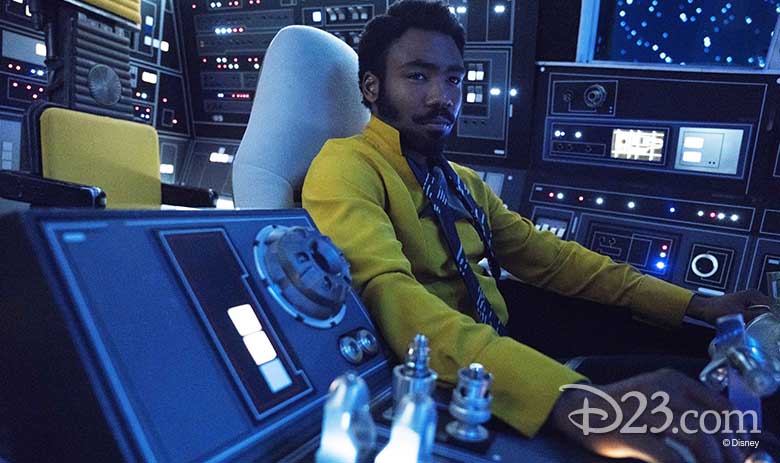 Lando Calrissian: Donald Glover
Donald Glover is an award-winning writer, director, musician, stand-up comedian, and actor. Fans might recognize him from Community, Atlanta, and 30 Rock. "Lando was my first action toy," he says. "The character really spoke to me, and I am honored to dig a little deeper into him. I think he's a really intriguing character. Sometimes he's good, sometimes bad, and really only beholden to himself. These are interesting and honest traits."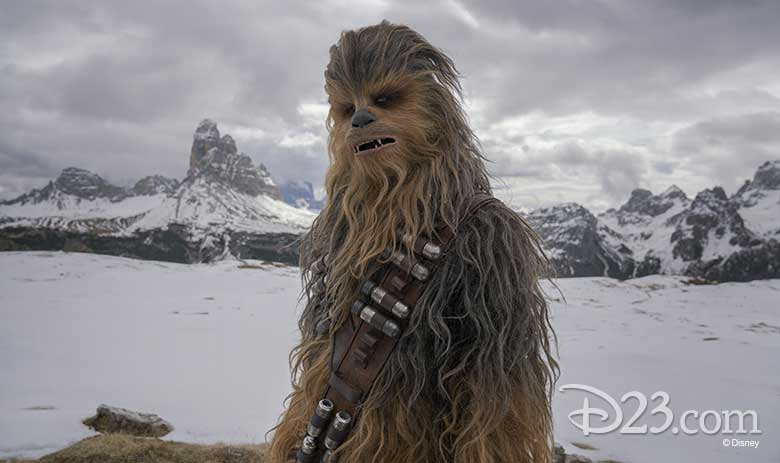 Chewbacca: Joonas Suotamo
Starting with Star Wars: A New Hope back in 1977, Chewbacca has been the faithful best friend and co-pilot for Han. Solo explores the beginnings of that relationship, with Chewbacca played by former college basketball player Joonas Suotamo. "Chewbacca is truly the most loyal companion," says Suotamo. "He's very attentive, always alert to danger because he's lived such a long, dangerous life, always on the watch. He is the perfect partner to have watching out for you. It becomes clear to Chewbacca that Han needs someone to take care of him."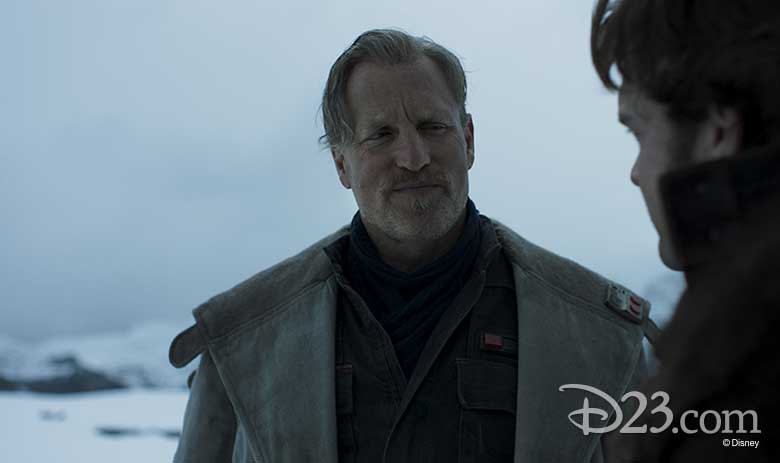 Beckett: Woody Harrelson
Three-time Academy Award® nominee Woody Harrelson plays Beckett, a career criminal who takes young Solo under his wing. "Han joins forces with Beckett and his group," says Harrelson. "They're trying to pull off these heists, but there are a lot of complications and, during the course of them, I think Beckett does teach Han a thing or two about how to live—perhaps not the most positive things, like don't trust anyone, but things that become codes he lives by."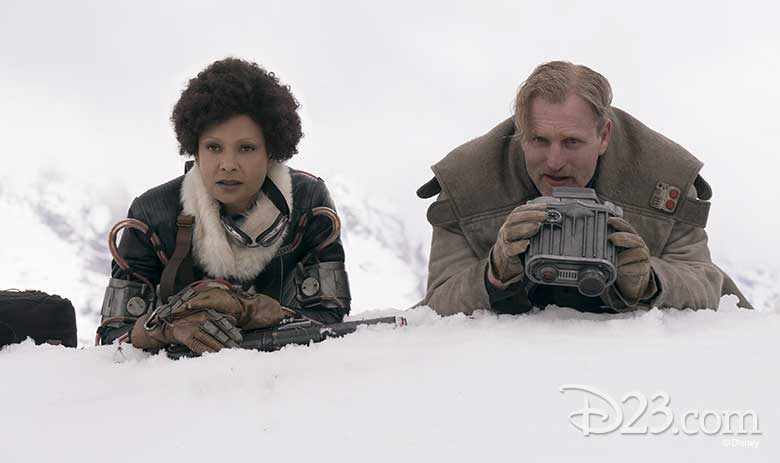 Val: Thandie Newton
British actress Thandie Newton, known for roles in TV series such as Westworld and Line of Duty in addition to films such as Crash, The Pursuit of Happyness, and The Chronicles of Riddick, plays Val, a tough, no-nonsense gangster with Beckett. "Val's so calm, nothing fazes her," says Newton. "Even when she's in the most threatening situation, she remains calm. She's incredibly sure of herself."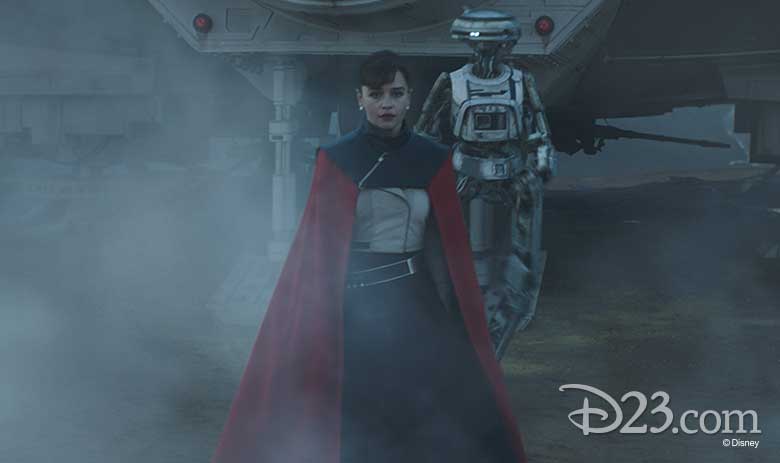 Qi'ra: Emilia Clarke
The enigmatic Qi'ra, an early love of Han, is played by Emilia Clarke, perhaps best known as Daenerys Targaryen from HBO's hugely popular Game of Thrones. "It's really exciting to be creating a new, strong, female character in the Star Wars universe," says Clarke, "especially one who is integral to the story of such a beloved character in cinema history."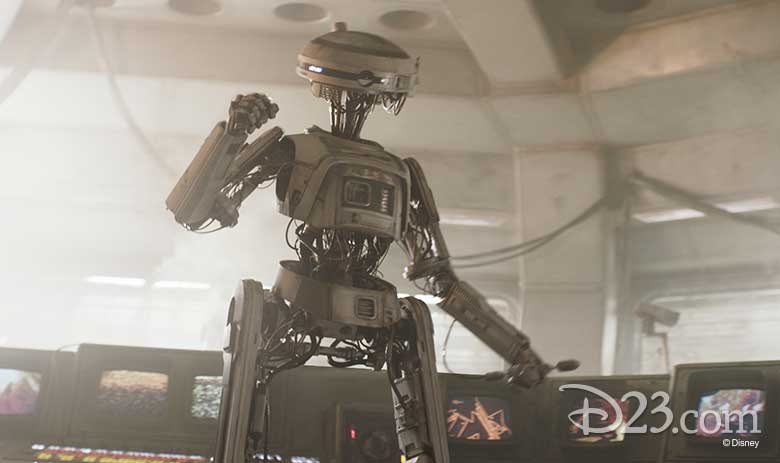 L3-37: Phoebe Waller-Bridge
L3-37, Lando's co-pilot and the first leading female droid in the Star Wars universe, is perfectly played by English actress and writer Phoebe Waller-Bridge, best known for her comedy TV series Fleabag. "She reconstructed herself," says Waller-Bridge. "She started out as an astromech droid like R2, gave herself a voice and limbs and is able to do lots of things that she wouldn't otherwise have been able to do. She's very revolutionary, very determined."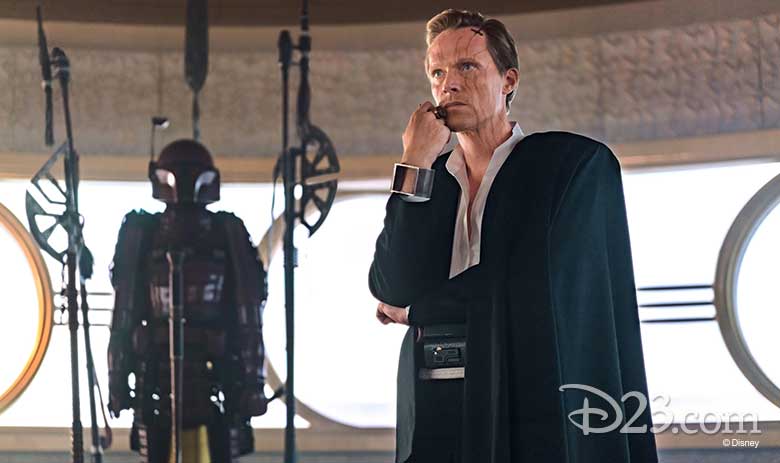 Dryden Vos: Paul Bettany
Star Wars is legendary for its great villains, from Emperor Palpatine and Kylo Ren to the iconic Darth Vader. In that same fashion, Solo gives us Dryden Vos, played by actor Paul Bettany. "He is a sociopath, unpredictable, anarchic," says Bettany. "He's like one of those characters that appeared post-perestroika, after the introduction of the free market economy into a country that culturally had no system of ownership. Some people were trodden on, and some people did the treading. Dryden is like one of those guys who clawed his way up."
Director Ron Howard says that Solo is a character study—maybe the first for Star Wars films—about everyone's favorite scoundrel. "This is a rite of passage story, consistent with Star Wars, with many themes that will resonate with audiences," he says. "It's about one character's journey, the way that he is tested by the unique challenges that he faces and by the people he meets to become the character we know so well."
Solo: A Star Wars Story rockets into theaters May 25.