By Courtney Potter
It's the reimagining of a beloved holiday film franchise, and it starts jingling its proverbial bells on Disney+ Day—this Friday, November 12! In Home Sweet Home Alone, married couple Pam and Jeff McKenzie (Ellie Kemper and Rob Delaney) are more frazzled then usual during the holiday season; Jeff has lost his job, and they find themselves contemplating selling their beloved Winnetka, Illinois, home to make ends meet. But when they realize they own a family heirloom that could fetch a lot of money, they believe their prayers have been answered. However, during an open house, someone takes said heirloom… and that someone is annoying 10-year-old Max Mercer (Archie Yates), whose family has recently moved in next door. Over at the Mercer residence, things are just as nutty—and in the ruckus of his large family leaving for their holiday trip to Japan, Max is left behind… The separation from his mother Carol (Aisling Bea) and the subsequent freedom and solitude is, surprisingly, not all that he dreamed it could be.
Having few options left, Pam and Jeff decide to track Max down and retrieve their heirloom—which, as you might imagine, is mucheasier said than done. With the McKenzies' sights set on the Mercer home, it's up to Max to protect it from these innocent-seeming trespassers… and he'll do whatever it takes to keep them out! Hijinks of epic proportions ensue—but despite the chaos around him, Max soon comes to realize there really is no place like home sweet home.
D23 was lucky to hear directly from some of Home Sweet Home Alone's delightful cast—including Yates, Kemper, Delaney, Bea, and Ally Maki (Jeff's sister-in-law, Mei)—during a rollicking virtual press conference. Read on for a few of their memorable stories from the making of the film…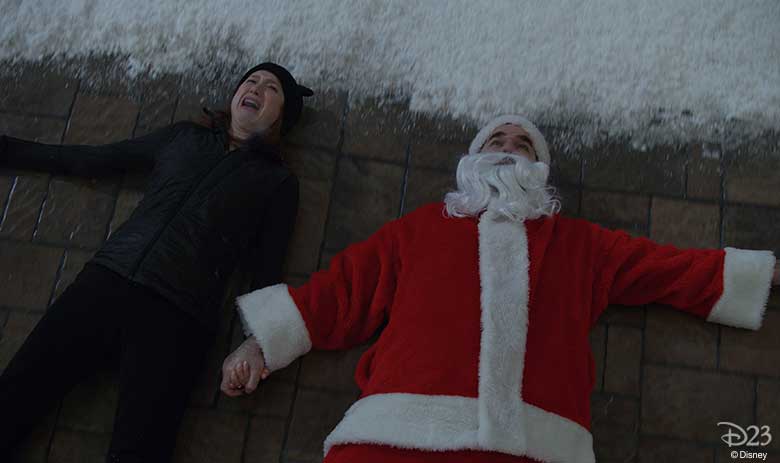 Kemper and Delaney on the physical demands of their roles:
"They were comprehensive," Delaney admitted. "I mean, we started stunt training well before we started shooting—thank goodness. And we were really required to do most of the stunts in the film! Professional stunt people did them as well," he added, chuckling, "and they edited them in. But they really put us through the paces! Which, frankly, was shocking to me because I thought that I would just have to dip in for a humorous rejoinder now and then—but they're like, 'No, we're going to require you to be in the entire film and do the stunts.' Which was scary, educational, and really very fun."
Kemper agreed, adding, "It turned out to be a lot of fun. I hadn't done anything like that before! It was challenging, but also funny—and athletic in a way that I wasn't expecting."
Yates on honoring the original films while making the role of Max his own:
"Well, I did take a lot of inspiration from the original Home Alone movies," the Jojo Rabbit star said. "I mean, I religiously watch them every year at Christmas, so it was pretty easy for me to relate [to the character of Kevin McCallister]. But then again, Max is supposed to be a completely different character from Kevin—so while I did want it to [honor] the classic, I also wanted it to be original and a bit different. Because that's what this film is all about. It's the same universe, but it's a completely different story."
Bea and Maki on bringing Home Alone's heartfelt hilarity to their film:
"[We wanted to highlight] that emotional moment of seeing your son again," Bea explained, recalling a favorite moment from the original film, "and that moment to the door. I think that's because you [as the audience] get such a feeling from that moment."
Added Maki, "The hijinks! I feel like we all grew up on this movie—and just seeing the booby traps being set; I think we all wanted to have like a booby-trap house growing up!"
The cast on switching up who you "root for" in this iteration:
"Our mission was one inspired by, I think, goodness," said Kemper. "Our motives were good: We want to save our family."
"That said though, for me, there is a villain in the film, and he's played by Archie Yates and his character is named Max Mercer!" Delaney continued, laughing. "Because if we're trying to get back our stuff, that we need to save our family—I don't think of myself as like a method actor, but the whole time we were filming, I was like, 'Oh, Max is the enemy.' But when I watched the [finished] film, and you felt sympathetic towards Max, I was like, 'Oh, this must be a different film than the one I appeared in.'" With his fellow cast members cracking up, he added, "So, certainly in watching it, I think there's no [true] 'antagonists.'"
Bea agreed, adding, "I think, like Rob and Ellie were talking about, there's a bit of a change in the balance of 'evil versus good.' In [the earlier Home Alone films], you were very aware of who was bad and who was good. And now this time 'round, you can sort of understand the 'burglars'—where are they coming from, emotionally, in the movie."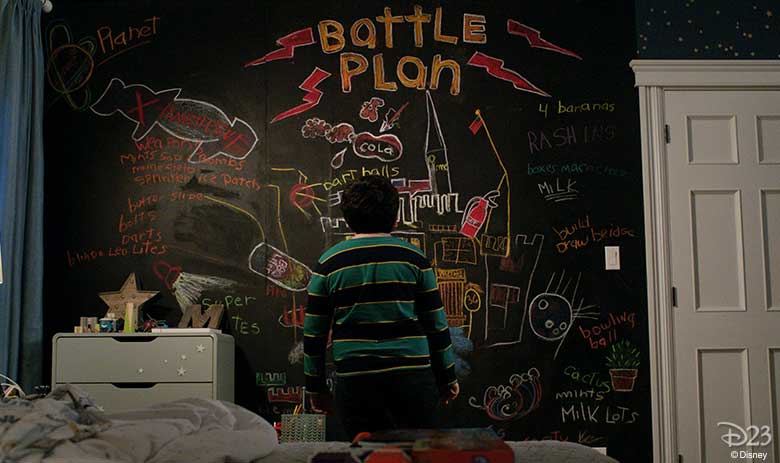 … and on working with Devin Ratray, who portrayed Kevin's bratty older brother Buzz McCallister in the original films:
"The one day I worked with him, he was so cool," said Yates. "He was [particularly] awesome to work with. I was actually like really nervous at first, because I thought I was like looking at a [VIP]!" "We sadly didn't get to take a photo with him," continued Kemper, "because it was so cold outside that day—I think the cameras froze that day… He's a fantastic actor. And I was so happy that [he] could do this film; he's brilliant." Added Delaney, "Seeing his scene with [Maki], and I'm watching him… and he's so great and so charming. And the thing is, it's not a 'stunt' to have him [in this film]—yes, you're thrilled to see him come back, but he's so good in this. It's a very special performance."
Look for 20th Century Studios' Home Sweet Home Alone when it begins streaming on Disney+ during Disney+ Day—Friday, November 12!