By Courtney Potter
Mark Your Calendars for Soul, Coming to Disney+ Later This Year…
"Life is full of possibilities, you just have to know where to look." So says Joe Gardner (voice of Jamie Foxx) in the brand-new trailer for Disney and Pixar's Soul, coming to Disney+ in just a few months' time. If you haven't taken a gander, check out the ridiculously colorful clip, above. (Seriously, is that animation amazing or what?!)
Pixar Animation Studios' Soul introduces audiences to Joe Gardner, a middle-school band teacher who gets the chance of a lifetime to play at the best jazz club in town. But one small misstep takes him from the streets of New York City to The Great Before—a fantastical place where new souls get their personalities, quirks, and interests before they go to Earth. Determined to return to his life, Joe teams up with a precocious soul named 22 (voice of Tina Fey), who has never understood the appeal of the human experience. As Joe desperately tries to show 22 what's great about living, he may just discover the answers to some of life's most important questions. The film also features the voices of Daveed Diggs, Phylicia Rashad, Angela Bassett, and Ahmir "Questlove" Thompson.
Directed by Academy Award® winner Pete Docter (Inside Out, Up), co-directed by Kemp Powers (One Night in Miami), and produced by Academy Award nominee Dana Murray, p.g.a. (Pixar short Lou), Disney and Pixar's Soul is streaming only on Disney+ beginning December 25!
5 Fantastic Things to Watch This Weekend
Y'all, it's a great weekend to stay inside; continue prepping those Halloween costumes (even if they're actually just fancy pajamas—we are definitely not here to judge!); and bake up some early fall, preferably pumpkin-flavored treats. To that end, the worlds of Disney have you covered in terms of what to watch while doing all of the above. A new season of ABC's Shark Tank? Check. The reimagining of beloved game show Supermarket Sweep, hosted by the hilarious Leslie Jones? You betcha! Be sure to see what else is in store this weekend.
Have a Ghoulishly Good Time with New Disney Channel Halloween House Party
Speaking of "costume prep," Disney Channel is premiering an all-new Halloween special tonight (Friday, October 16), and it sounds like a simply fa-boo-lous time!
Disney Channel Halloween House Party will feature a slew of fan-favorite stars taking on a variety of zany characters and spooktacular spoofs in a sketch comedy show. Filmed remotely, and hosted by Tobie Windham (Just Roll With It), the cast transforms themselves and their homes for a hilarious party filled with wacky sketches—including a befuddled monster, a pet goldfish's virtual celebration, and other ghostly surprises and treats for kids and families. The show is from creators/executive producers Adam Small and Trevor Moore, the ingenious minds behind Disney's hit shows Just Roll With It and Walk the Prank.
Look for Disney Channel faves including Ramon Reed, Kaylin Hayman, Kylie Cantrall, and Trevor Tordjman—and they're all (plus Windham) featured in the fun behind-the-scenes clip, above.
So gather the fam and get ready for some hilariously happy hauntings beginning at 8 p.m. EDT, only on Disney Channel and DisneyNOW…
New Animated Series Hamster & Gretel Coming Soon to Disney Channel
We're big fans of Phineas and Ferb 'round these parts, so we were ridiculously excited to find out that Dan Povenmire—the co-creator and executive producer of that beloved animated series—is bringing some all-new fun to Disney Channel in the near future! Disney fans heard from the man himself all about what to expect from Hamster & Gretel—check it out.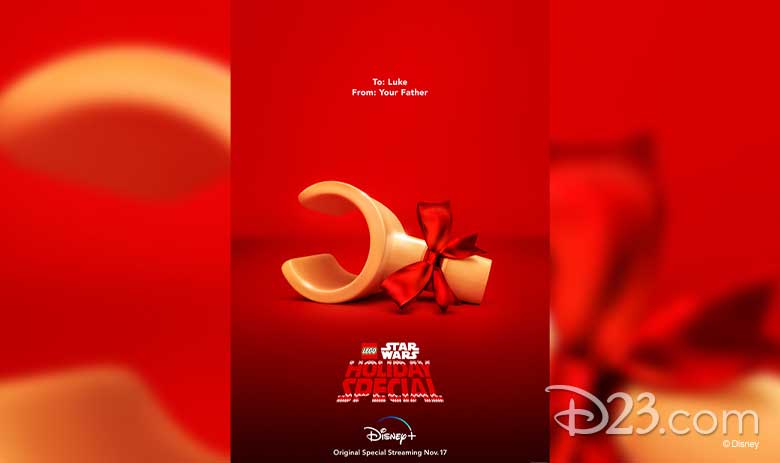 LEGO Star Wars Holiday Special: New Details Revealed
We've had November 17 circled in red on our calendar (yes, an actual paper calendar) ever since news of the brand-new LEGO Star Wars Holiday Special broke a few weeks ago. And just this week, Disney+ shared some out-of-this-galaxy info about what to expect from the event, which will bring together some of the brightest stars in the Star Wars galaxy for the ultimate holiday family reunion… Franchise stars just announced to be reprising their roles in the LEGO Star Wars Holiday Special include—drum roll, please!—Kelly Marie Tran (Rose Tico), Billy Dee Williams (Lando Calrissian), and Anthony Daniels (C-3PO), as well as Star Wars: The Clone Wars vets Matt Lanter (Anakin Skywalker), Tom Kane (Yoda, Qui-Gon Jinn), James Arnold Taylor (Obi-Wan Kenobi), and Dee Bradley Baker (clone troopers).
The special will see Rey, Finn, Poe, Chewie, Rose, and the droids coming together for a joyous feast in celebration of Life Day. Rey sets off on a new adventure with BB-8 to gain a deeper knowledge of the Force. At a mysterious Jedi Temple, she is hurled into a cross-timeline adventure through beloved moments in Star Wars cinematic history, coming into contact with Luke Skywalker, Darth Vader, Yoda, Obi-Wan, and other iconic heroes and villains from all nine Skywalker saga films. But will she make it back in time for the Life Day feast and learn the true meaning of holiday spirit?
We also got a sneak peek at some cool new art for the special (seen above), set to premiere on Disney+ on Tuesday, November 17—which, as you know, Star Wars fans have embraced as Life Day ever since it was introduced in the 1978 Star Wars Holiday Special. Wait, we cannot!
Freeform's "Kickoff to Christmas" Announced
Well, we've already spent some time talking about fun Halloween-related news, so why not look a little further ahead? Just this week, Freeform announced their "Kickoff to Christmas" programming event, which takes the month of November and stuffs it—much like a stocking—full to the brim with fan-fave, feel-good films. See the whole list of what you can expect (subject to change, naturally).
WHO and Disney Junior Team Up for Doc McStuffins Handwashing PSA
This week found the entire globe celebrating Global Handwashing Day—which sounds like a very specific reason for a holiday, but in actual fact it's of utmost importance. Good hand hygiene can help prevent all manner of germs and diseases from spreading. So, our pals over at Disney Junior teamed up with the World Health Organization (WHO) to create a super-adorable public service announcement for kids of all ages.
In the clip, Doc McStuffins—a young girl who aspires to follow in her doctor mother's footsteps and practices by treating whatever ails her toys—is joined by friends Hallie, Lambie, Chilly, and the rest of the Doc McStuffins gang to offer young viewers a gentle reminder to wash their hands with soap… all in the form of a very catchy tune called "Wash Your Hands."
Millions of children around the world follow the adventures of Doc McStuffins and her toys, which encourage good personal hygiene habits and health—including thorough handwashing—alongside messages of care, friendship, and compassion. And through the Hand Hygiene for All initiative, Disney Junior and WHO are joining, well, hands with international partners, national governments, public and private sectors and civil society organizations who are raising awareness about the importance of keeping hands clean.
Now, get to scrubbin'!