Click here to purchase tickets!
By D23 Team
Mark your calendars! On Thursday, August 23, D23: The Official Disney Fan Club will begin selling tickets for the next D23 Expo, which will take place August 23–25, 2019, at the Anaheim Convention Center. The largest Disney fan event in the world, D23 Expo celebrates all the wonderful worlds of The Walt Disney Company under one roof, including the best of Disney, Marvel, Pixar, and Star Wars across film, television, theme parks, products, online, music, live entertainment, and more. D23 Expo 2019 marks the sixth biennial Expo held in Anaheim.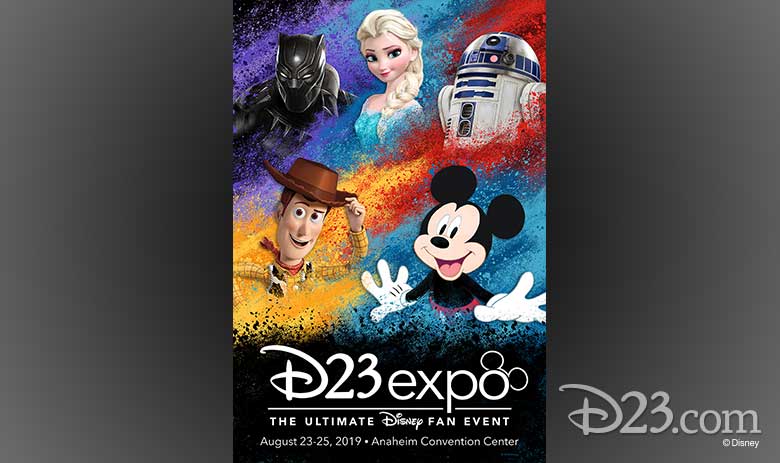 Everything You Need to Know About Tickets
Tickets for D23 Expo 2019 go on sale on August 23. This year, discounted single-day and multi-day tickets for D23 Expo 2019 will be available exclusively to D23 Gold Members, and Gold Members who purchase their tickets from August 23–November 20, 2018 will enjoy an additional special "Early Bird" discount. Gold Members can purchase up to two discounted tickets and Gold Family Members can purchase up to four discounted tickets.
D23 Gold Family Members can save as much as $288 off the price of admission, based on the purchase of four three-day tickets at the D23 Gold Member "Early Bird" rate.
General admission tickets are $89 for a one-day adult admission and $69 for children. Three-day money-saving tickets are also available.

If you're already counting down the days until D23 Expo 2019, start your Disney celebration early with exclusive merchandise available from August 23 until December 31, only when you buy your tickets to D23 Expo 2019!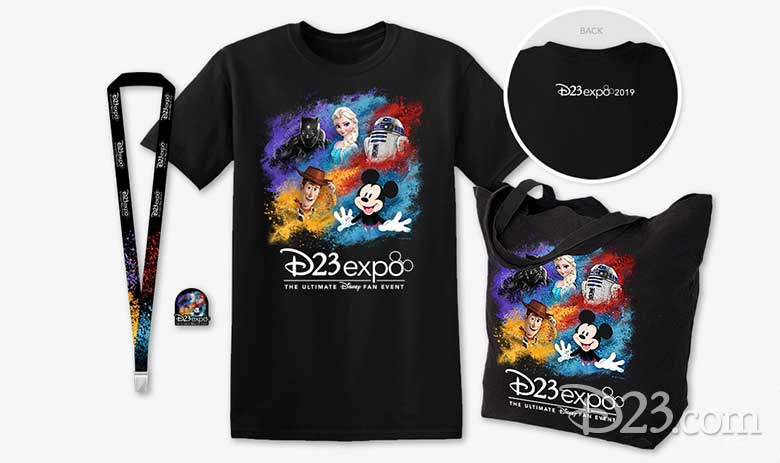 Discounted hotel and Disneyland Resort park tickets are available to all D23 Expo 2019 ticket purchasers. For more information on tickets and the ticket prices for Gold Members and general admission, visit D23expo.com.
A limited number of VIP Sorcerer Packages for D23 Expo 2019 will be available exclusively to both D23 Gold and Gold Family Members at $2,500 per ticket. The full list of Sorcerer benefits can be found here.
Members can purchase up to two Sorcerer tickets. Additional details and a complete list of Sorcerer Package benefits are highlighted at D23expo.com.
D23 Gold and Gold Family Members will also be entitled to special benefits throughout the weekend including exclusive discounts and offers at select Disney retail and partner locations; a commemorative gift; and limited priority queueing for Hall D23 and the Expo Arena. Stay tuned for announcements about these magical opportunities in the coming months—but if you're looking for more Disney magic right now, visit D23.com/join to join D23 and enjoy these future benefits.
Every year, D23 Expo 2019 brings more and more Disney magic to the fans who come from all around the world to celebrate. Next year promises to be just as magical as 2017's D23 Expo. Here are some of the exciting things you can look forward to, just announced today: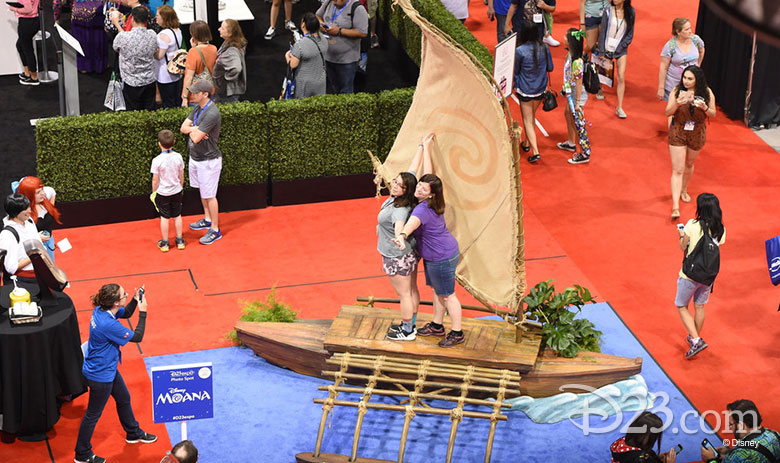 All the Magic of Disney on One Show Floor:
Once again, the Expo will celebrate the past, present, and future of Disney with signature entertainment, celebrity appearances, panels, presentations, sneak peeks, and immersive experiences. A massive show floor will feature exhibits, shopping, and photo opportunities from all across Disney and its partners.
The Disney magic extends from the show floor to the stage, as D23 Expo 2019 will showcase all of the latest stars in the Disney universe in a variety of panels and experiences that fans can't miss. In 2017, celebrity appearances included Oprah Winfrey, Reese Witherspoon, Whoopi Goldberg, Jordan Fisher, Robert Downey Jr., Mark Hamill, Kristen Bell, Chris Hemsworth, Mandy Moore, and the stars of Disney's Descendants. Additionally, Disney executives and creative talent came together to deliver special presentations, announcements, and experiences to Disney fans throughout the three-day extravaganza.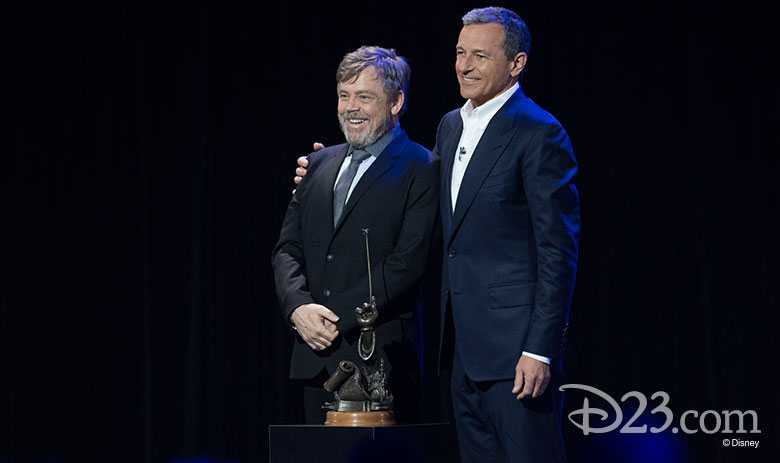 New Disney Legends, Archives Exhibit, and More
One of the essential traditions of D23 Expo is the Disney Legends Awards Ceremony, honoring the talented men and women who have made indelible contributions to the Disney legacy. Last year, we honored Mark Hamill, Oprah Winfrey, Whoopi Goldberg, Carrie Fisher, and more of the magic makers who have helped shaped Disney through the years. Who will be announced as Disney Legends next? Stay tuned for future announcements on D23 Expo 2019's honorees.
Additionally, one of D23 Expo's can't-miss experiences is an extraordinary exhibit presented by the Walt Disney Archives. D23 Expo 2017 featured a swashbuckling look at the history of Disney and pirates and our friends at the Walt Disney Archives are hard at work right now putting together an exhibit for D23 Expo 2019 that is sure to be packed full of stunning Disney history and memories.
Also returning to D23 Expo 2019 is Talent Central, where fans can meet their favorite Disney stars, and a daily parade on the show floor, which debuted at D23 Expo 2017 to rousing celebration.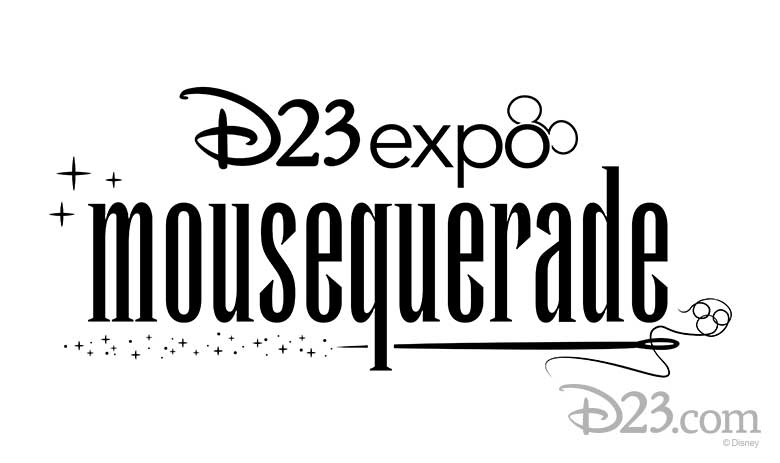 Ashley Eckstein and Yvette Nicole Brown Return to Judge Mousequerade
One of the most stunning parts of every D23 Expo is seeing the talented Disney fans in their amazing costumes, celebrating their favorite characters from Disney's broad history. For D23 Expo 2019, the Mousequerade costume contest is back with actress Yvette Nicole Brown and fashion designer Ashley Eckstein returning as judges for the popular event, which includes dozens of eye-popping creations from fans around the world.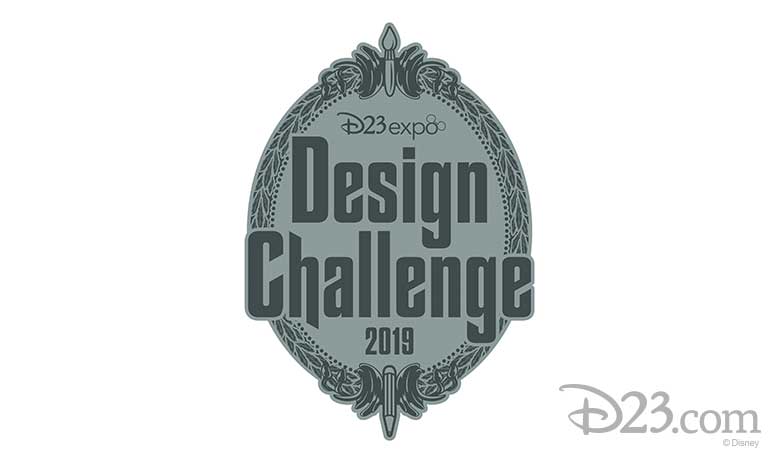 A Ghoulishly Delightful Design Challenge
The D23 Expo 2019 Design Challenge will be themed to the fan-favorite attraction Haunted Mansion, which first opened at Disneyland in 1969 and will be celebrating its 50th anniversary next year. Fans are encouraged to create ghoulishly delightful designs—from paintings and drawings to sculptures and models—inspired by the beloved attraction and its 999 happy haunts. Twenty-three pieces of finalist artwork will be on display throughout D23 Expo weekend at a gallery on the show floor. The winning artist will be chosen prior to the start of D23 Expo 2019 and will receive a cash prize of $2,300. Details for Mousequerade and the Design Challenge will be revealed this fall, so make sure to check back and find out more about this frighteningly exciting opportunity.
So much exciting news was announced today, but wait—even more announcements about the ultimate Disney fan event will be coming, so stay tuned! For the latest news and updates about D23 Expo 2019, visit D23expo.com.