By Beth Deitchman
For a Disney fan, it's hard to think of a more magical place than Hall D23 at the Anaheim Convention Center on this, the first day of D23 Expo 2017. The ultimate Disney fan event kicked off this morning with a spectacular D23 Expo tradition: the Disney Legends Awards Ceremony, where a small group of very special individuals were honored for their extraordinary contributions to the Disney legacy.
Taking the stage as host of this eagerly anticipated event, Disney Chairman and CEO Bob Iger said, "With Disney, Pixar, Marvel, Lucasfilm, ESPN, and ABC under one roof, we've got a lot to celebrate, but there's even more to look forward to."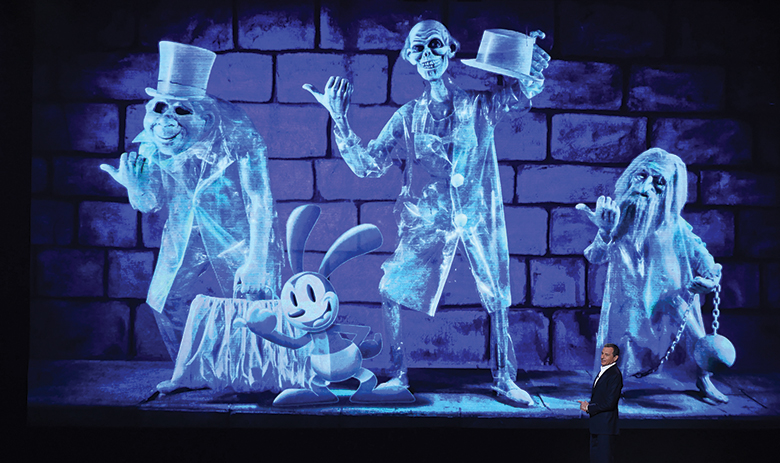 But the Disney Legends Awards Ceremony is a perfect time to look back on Disney's past and spotlight talented creators and beloved Disney characters. Iger gave special mention to Oswald the Lucky Rabbit—the character that came before Mickey Mouse—and assured the packed house that Disney has big plans for Oswald's future, revealing some of the "interesting ideas" being floated around. Disney fans laughed heartily to see Oswald the Lucky Rabbit alongside the Avengers, on Jakku with Rey and BB-8, and joining the 999 Happy Haunts of the Haunted Mansion.
Of the Disney Legends Awards, Iger said, "It's the highest honor our company can bestow on anyone—presented as a celebration of talent, a recognition of achievement, and, above all, a sincere expression of our deep gratitude."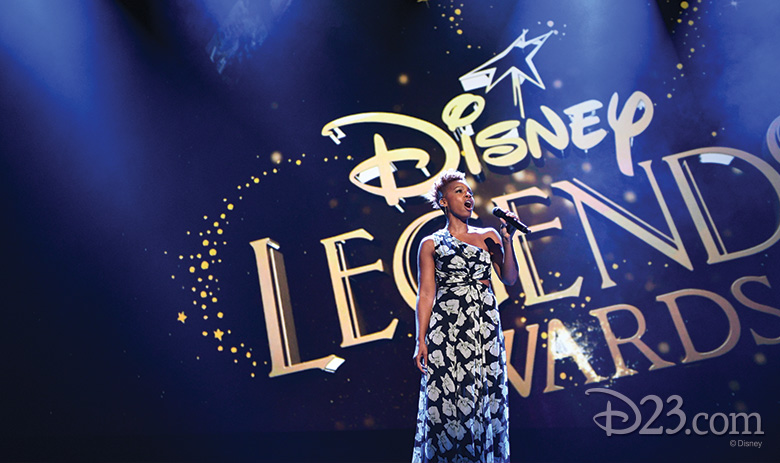 Before the new honorees were recognized, Disney Legend Anika Noni Rose paid tribute to the first 267 Disney Legends in song, performing "Go the Distance" while Disney fans enjoyed a montage of these Disney luminaries. And the 6,800 people in Hall D23 rose to their feet to give a standing ovation to animator Ruthie Thompson—inducted in 2000—who, just days away from her 107th birthday, is the oldest living Disney Legend.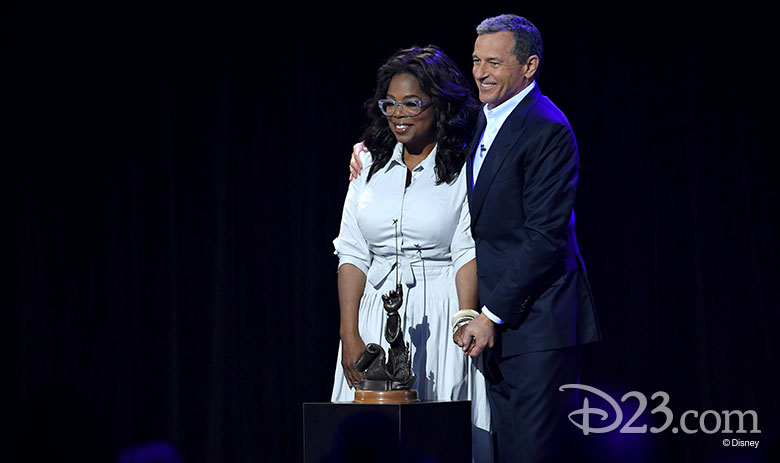 The inimitable Oprah Winfrey was the first new Disney Legend to take the stage. She received a welcome befitting an icon who came into fans' homes for 25 years as the host of The Oprah Winfrey Show. The award-winning producer, actress, talk show host, and philanthropist reflected back on her long relationship with Disney, which began in 1984, when she first appearing on ABC's station in Chicago. Winfrey said, "Every day, Disney, ABC7, let me be me," and she treasures having been allowed to tell our 'common story.'"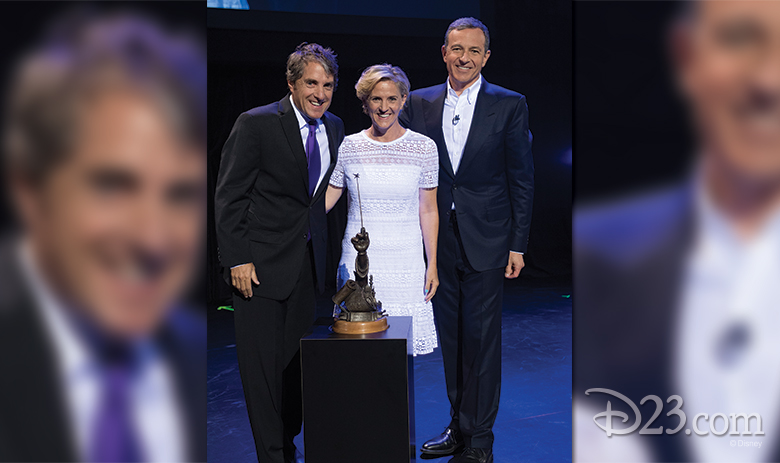 A legend in TV and Film, the late Garry Marshall brought joy to Disney fans through ABC series such as The Odd Couple and Happy Days, and feature films that include Pretty Woman and The Princess Diaries. His son, Scott, and daughter, Kathleen, accepted the Disney Legends Award on behalf of their father, who passed away last year. Scott Marshall shared that their father, like Walt Disney himself, had a love for benches. Garry Marshall appreciated the oft-told tale that Walt Disney first conceived of Disneyland while sitting on a bench, and he took great pleasure in having "the Garry Marshall Bench" stand in his honor on the Burbank Studio lot. Scott said, "Walt and Garry would want you to sit on a bench and daydream, because you might change the world."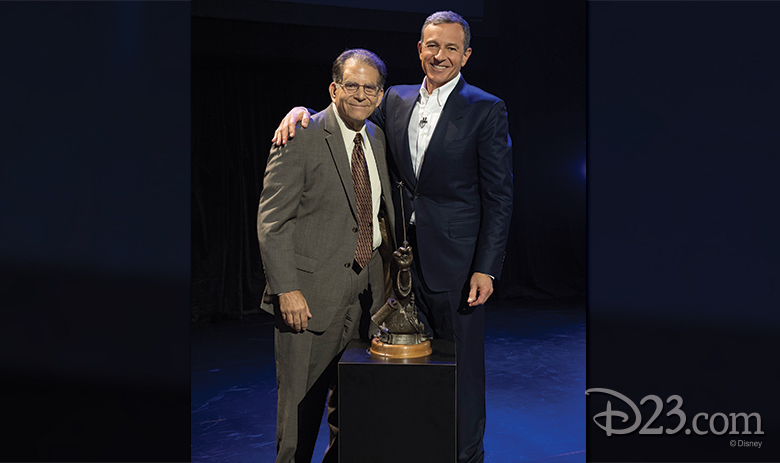 Pioneering comic creator Jack Kirby, known as "the King," created new characters who leapt from the page and defined the Marvel comic style. His son, Neal, represented his late father, and said he "didn't create super heroes or super humans. He created super people."
Stan Lee was honored for his remarkable accomplishments over his enduring career, which began when, as a teenager, he joined a comic book publisher called Timely Comics—a forerunner to Marvel—and continues through his fan-favorite cameos in Marvel Studios' recent films and his voice work on the upcoming animated Disney XD series Big Hero 6. A visibly moved Stan Lee shared with the crowd how much it meant to him to save up to buy the book The Art of Walt Disney. He explained, "I loved Walt Disney. He was more than a man, he was an inspiration. He was something to reach for, to be like him. To think that today I'm standing here in the house that Disney built, that paid tribute to Jack [Kirby] and all things Disney—it is so thrilling, I can't tell you."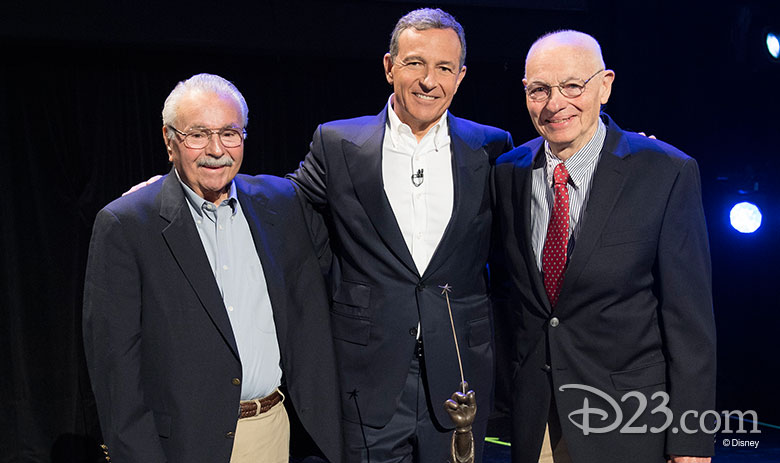 Animator Clyde Geronimi, whose extensive body of work for Disney includes work on The Silly Symphonies, One Hundred and One Dalmatians, and segments of the original Mickey Mouse Club, was remembered as a gifted director. His son Gary (who, along with his brother Lyn, accepted the award on his father's behalf) told Hall D23 attendees, "He loved animation, and he loved working for Walt Disney. It is my strong belief that this love shows in the quality of the many films he helped make for the studio."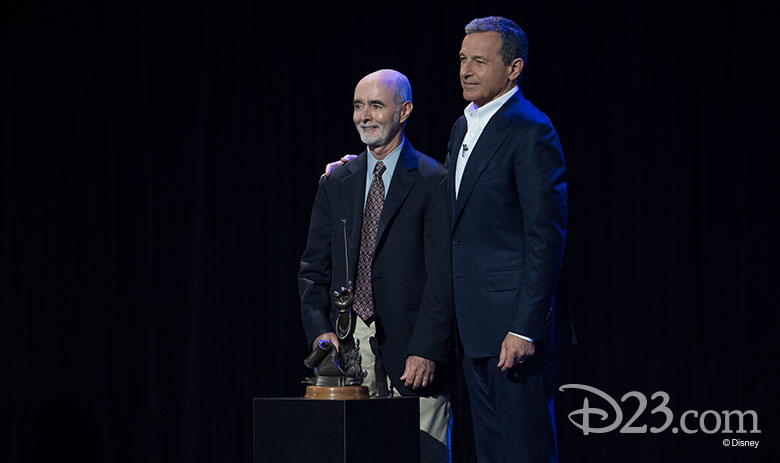 Mickey Mouse comics artist Manuel Gonzales' son, Dan Gonzales, recounted how his father and Walt Disney shared a love for cars. In fact, Gonzales' 1939 Packard was nearly identical—but a year newer—than Walt's own beloved 1938 Packard. The two cars looked so similar that Manuel was once directed to park in Walt's space—only to have to move when the boss arrived at the Studio lot. The moment inspired a warm relationship between Gonzales and Walt, who would occasionally ask the artist which car they should buy next.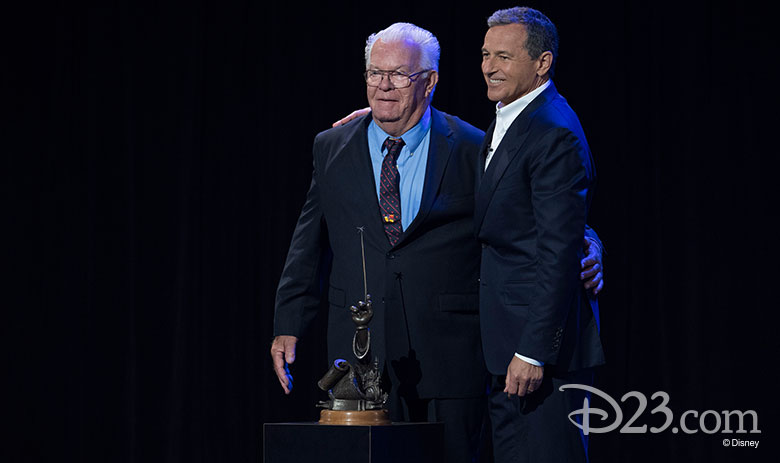 As a Walt Disney Imagineer, Wayne Jackson was instrumental in rebuilding the shows from the 1964–65 New York World's Fair that were slated for installation at Disneyland, and he also helped create Pirates of the Caribbean and Haunted Mansion at the park, as well. After walking on to the stage, accompanied by "Yo Ho (A Pirate's Life for Me)," Jackson said, "In my 37 years of working with MAPO and Walt Disney Imagineering, I had the honor of working with many talented creative personnel, architects, engineers, and technicians who made and created these attractions that have been enjoyed by millions of people over the world, and will continue to enjoy them in the future."
Carrie Fisher, beloved by Disney fans as Princess Leia from the Star Wars saga, but also an accomplished author, playwright, screenwriter, and outspoken advocate for mental health awareness, was honored as a Disney Legend. Iger read a letter from Fisher's daughter, actress Billie Lourd, who was unable to attend. "She secretly always wanted to be a Disney princess so getting to be a Disney princess and a Disney Legend would have been her ultimate dream," Lourd wrote.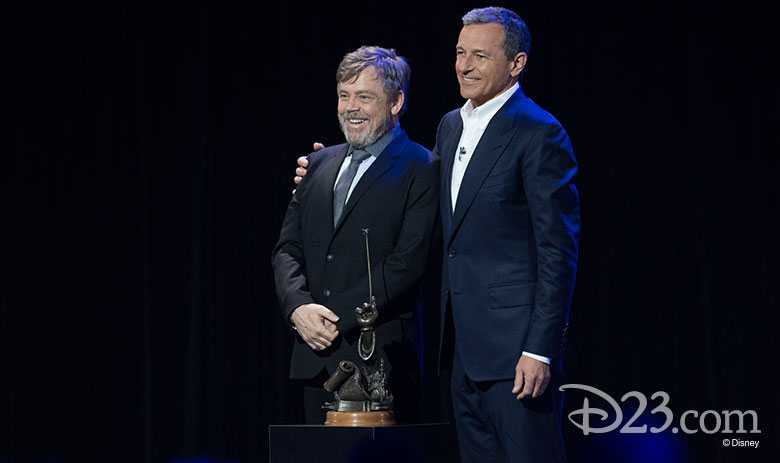 Luke Skywalker himself, Mark Hamill—who, in addition to his portrayal of the iconic Jedi and hero of the Star Wars saga, has lent his voice to Disney animated TV series such as Miles from Tomorrowland and Milo Murphy's Law—spoke about his vast collection of Disney memorabilia and mentioned that he is such a devotee of all things Disney that his son's middle name is Elias, in honor of Walt. He said it is impossible to truly express his gratitude, confessing that he feels like Lou Gehrig, referencing the baseball player's famous quote, "Today I consider myself the luckiest man on the face of the earth."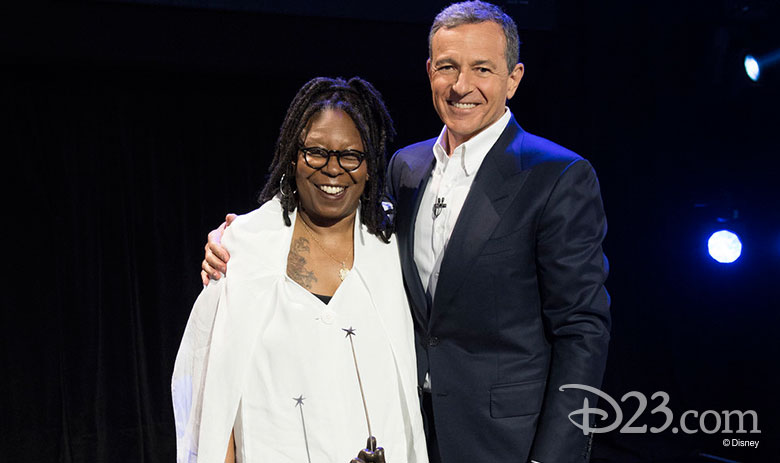 Of course, it wouldn't be a D23 Expo—or a Disney Legends Awards Ceremony—without moments of surprise, delight, and unparalleled fan-demonium. Disney fans who entered Hall D23 expecting to see 10 new Disney Legends take their rightful places alongside such names as Dick Van Dyke, Richard Sherman, and Angela Lansbury were thrilled to learn that an 11th Disney Legend would be honored today, as well. Whoopi Goldberg, who has a long list of Disney credits that include films like Sister Act, roles in the voice cast of animated blockbusters such as The Lion King and Toy Story 3, and who serves as one of the hosts of ABC's The View, can now add Disney Legend to her impressive list of accolades. Goldberg, already an "EGOT,"—a winner of an Emmy®, Grammy,® Oscar,® and Tony®—is now the first-ever "LEGOT" with today's honor.
Wearing spectacular shoes that would make Minnie Mouse ooh and ahh, Goldberg recalled watching The Wonderful World of Disney throughout her childhood, and shares that she was born the same year that Disneyland opened. "My mother always said, 'One day I'm going to take you kids [to Disney].' Instead, I got to take her," Goldberg shared, adding, "Disney made you feel that no matter where you came from, you were welcome."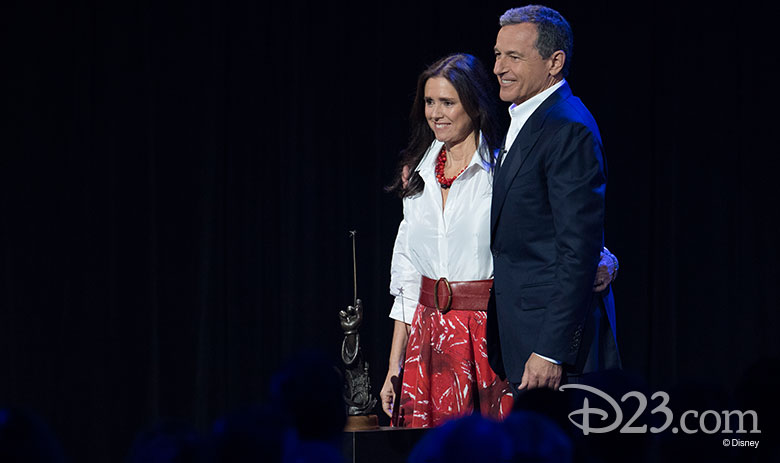 The final Legend to be honored, Tony®-, Emmy®-, and Grammy®-winning and Oscar®-nominated theatrical director and filmmaker Julie Taymor, made her mark on Broadway—and the Disney legacy—with her breathtaking direction of The Lion King. Taymor was honored for the lasting impact she has had on Disney's theatrical legacy, but she shared stories of how the story has resonated with fans and brought people together over the world.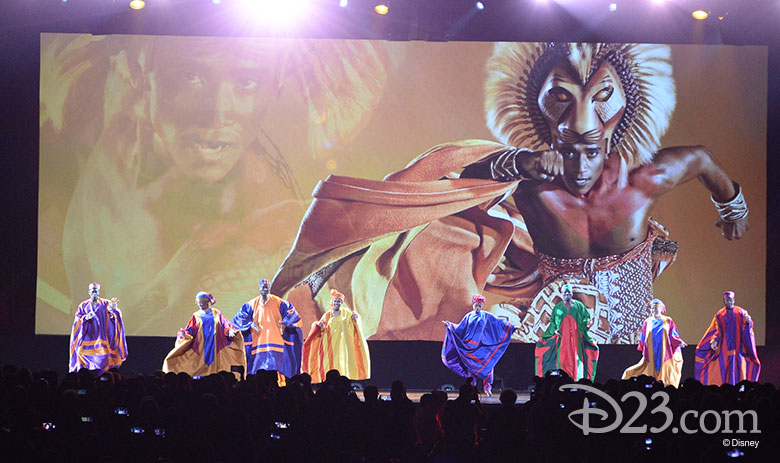 A spectacular morning came to an equally spectacular close with the final surprise: a performance by the cast of The Lion King of the song, "He Lives in You." It was a fitting send-off for all of the Disney Legends, whose impact on The Walt Disney Company will live on for generations to come.