By Max Lark
The Walt Disney Archives, which has preserved Disney history for more than 47 years, opens its vaults once again at D23 Expo 2017 to curate a brand-new 12,000-square-foot exhibit on the Expo show floor. "Walt Disney Archives Presents—A Pirate's Life For Me: Disney's Rascals, Scoundrels, and Really Bad Eggs" honors some of Disney's most beloved pirates from 1927 to the present—from Captain Hook and Captain Jack Sparrow to the classic Disney parks attraction Pirates of the Caribbean, which celebrates its 50th anniversary this year. If ye be seekin' pirates, the Walt Disney Archives exhibit is the place to be!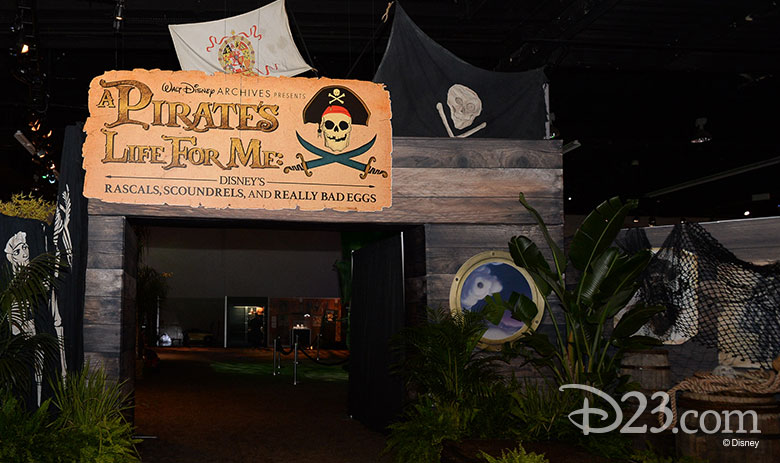 Stepping inside this shadowy space chock-full of pirate treasure is to leave the Expo show floor behind and be utterly transported into a mysterious—and always highly entertaining—world of seafaring scallywags. Immediately you come face to bow with the Black Pearl shooting "bigature"—the opposite of "miniature" in movie parlance—which stands shrouded in mist (you can even hear it creak). This bravura piece of prop-making is so detailed, so formidable, and so finely wrought that guests will be forgiven if the sight of the ship makes them say, à la Captain Jack Sparrow, "Now, bring me that horizon." It's a dramatic start to a feast-for-the senses exhibit that reminds guests of everything they love about Disney pirates.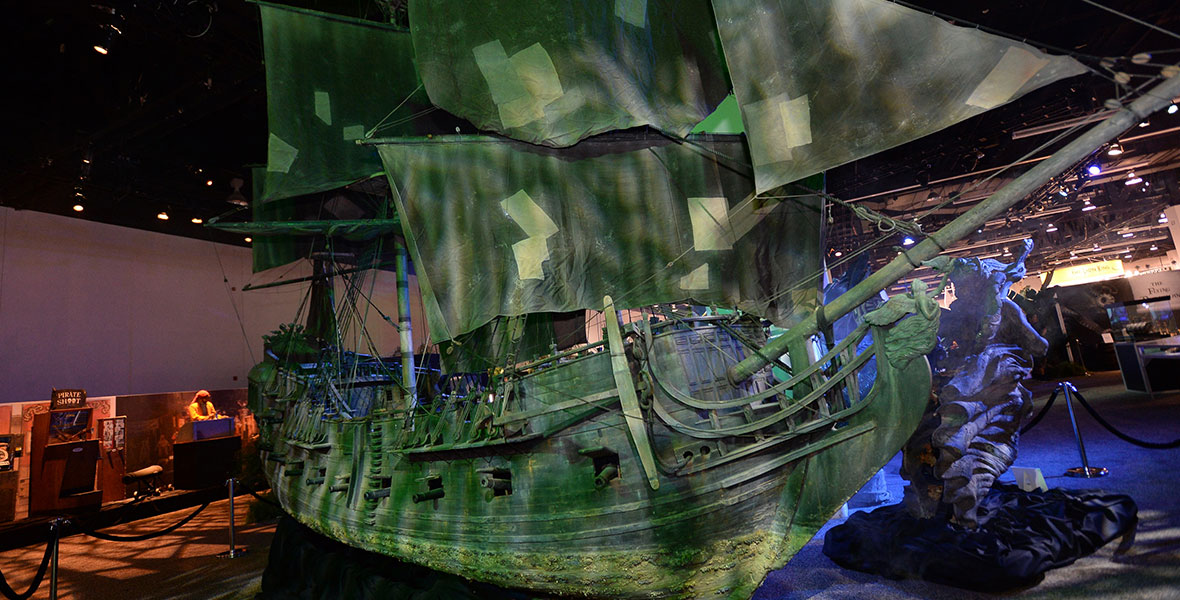 There are three other bigatures on view due east—the Endeavour, the Hai Peng, and the Empress—but there's no need to rush. "Walt Disney Archives Presents—A Pirate's Life For Me: Disney's Rascals, Scoundrels, and Really Bad Eggs" showcases iconic artifacts that no Pirates fans will want to miss: There are original Audio-Animatronics® figures from the Disneyland attraction, a ride vehicle from Peter Pan's Flight, and artwork and imagery from Treasure Island, Peter Pan, and more, along with an impressive array of booty from the blockbuster Pirates of the Caribbean franchise, including costumes, props, and set pieces.
As you process through each of the exhibit's nine galleries, you'll notice each has its own musical soundtrack. and every nine minutes or so the impressive Flying Dutchman pipe organ seen in Pirates of the Caribbean: Dead Man's Chest and Pirates of the Caribbean: At World's End plays a ghostly tune.
"I've always loved pirate stories, and I've wanted to do a big pirate exhibit since the day I first saw Jack Sparrow step onto the dock of Port Royal!" says Walt Disney Archives Director Becky Cline. "This is a dream come true. And this is a chance to showcase some of the fascinating and very cool things in our collections—items that haven't been shared publicly before."
More than 350 artifacts are on display, but Walt Disney Archives Collections and Exhibits Manager Nick Vega says that number is somewhat deceiving.
"We have, for example, iconic costumes on display from all five of the Pirates films," he says. "Captain Jack Sparrow's costume counts as one asset, but it features more than 30 elements." Indeed, Captain Jack Sparrow is one fully accessorized pirate. "The costume features a baldric, two belts, a monkey claw, multiple rings and more," Nick says.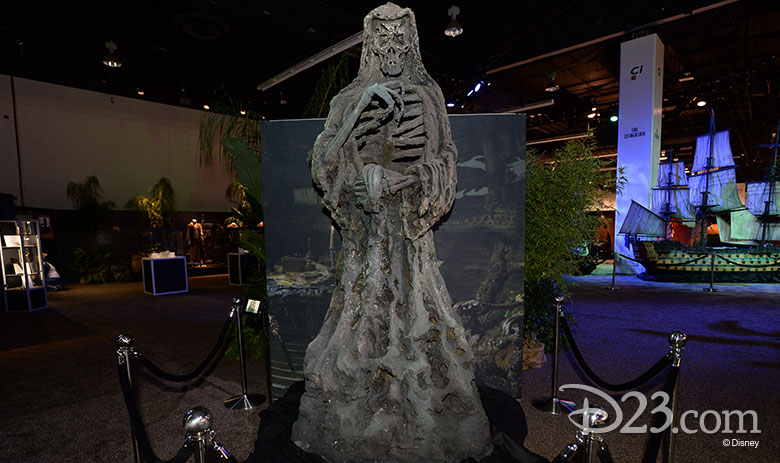 But also keep a weather eye open, Nick says, for an array of artifacts from the early days of Disney, treasures that have never been seen that also reveal how long the world of pirates swirled inside Walt's imagination. There are visual assets from the earliest days of The Walt Disney Studios, featuring the 1927 Alice Comedy Alice Foils the Pirates, the 1934 Mickey Mouse cartoon Shanghaied, an amazing set of four original pencil-and-color storyboard panels—made for an unreleased Disney cartoon called Morgan's Ghost—and much more. "When we decided our exhibit was going to focus on Disney pirates," Nick explains, "we scoured our collections to identify every possible asset that could tell the story. We're proud to share never-before-seen artifacts like these that reveal the inspiration—and perspiration—involved in the creative process."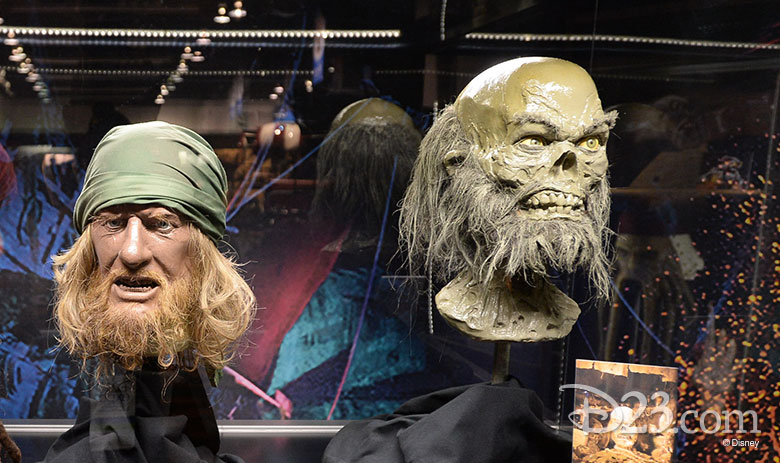 Guests can all see that same dedication to detail and authenticity that helped make the Pirates film franchise such a hit with fans around the world. "In gallery 3, we show a vast range of props and models from the Pirates franchise," Nick explains, "a stunning reminder of the talents of artists and craftspeople that design elements that bring the Pirates films so magically to life. In our exhibit, we wanted to show Audio-Animatronics® figures, attraction vehicles, costumes, and props that fans will love and know—and at the same time pay homage to the creative process that makes it all possible."
"We are so excited to share this brand-new exhibit created just for the D23 Expo 2017," says Walt Disney Archives Director Becky Cline. "Disney has told so many exciting pirate stories over the last 90 years, from our earliest silent cartoons and the iconic park attractions to the high-energy blockbuster film franchise, and they are all represented here… so please join us as we share 'all things Pirate' at the Walt Disney Arrr-chives exhibit at D23 Expo!"
Drink up me hearties, yo ho.
Nick's Five Picks
Walt Disney Archives Collections and Exhibits Manager Nick Vega picks his five favorite treasures from "Walt Disney Archives Presents—A Pirate's Life For Me: Disney's Rascals, Scoundrels, and Really Bad Eggs."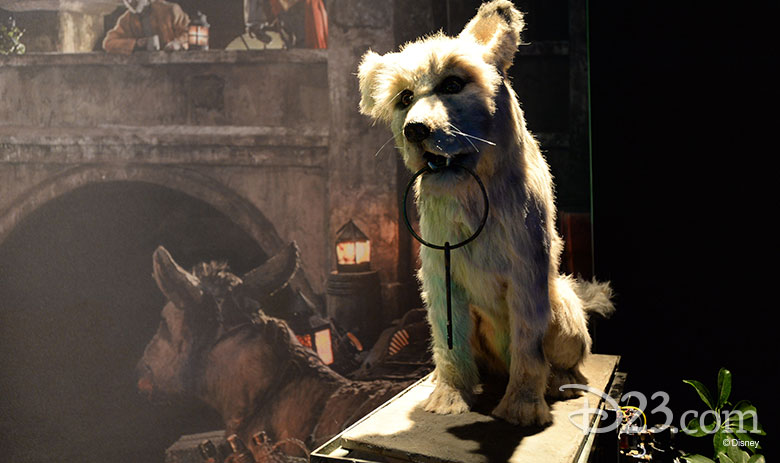 1. Disneyland Pirates of the Caribbean attraction Audio-Animatronics® dog "One of the most iconic characters in the Disney Parks canon."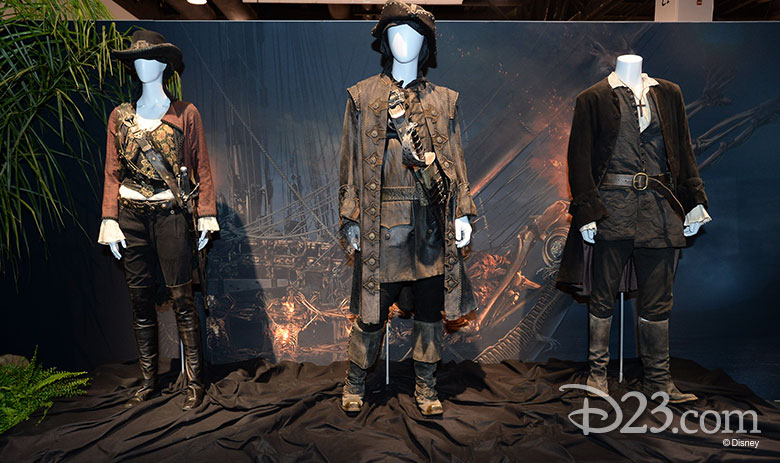 2. Captain Jack Sparrow, Will Turner, Elizabeth Swann, Pintel, and Armando Salazar's hero costumes. "It's all about the details."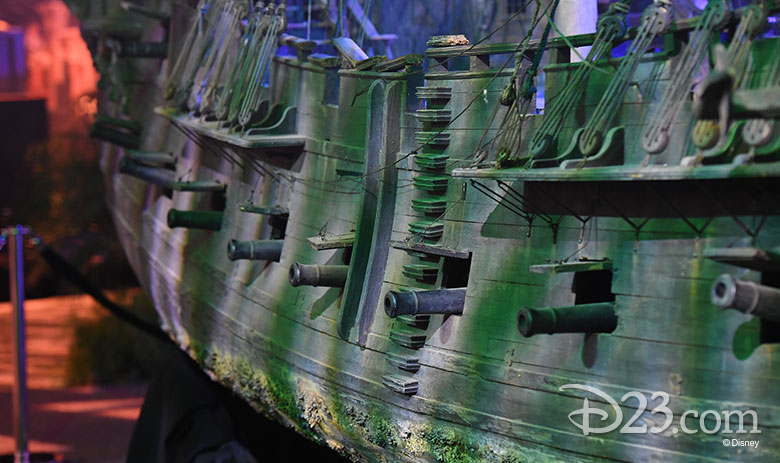 3. Black Pearl, Endeavour, Hai Peng, and Empress "bigature" ships. "When you look at them you can almost hear Hans Zimmer's score and smell the sea!"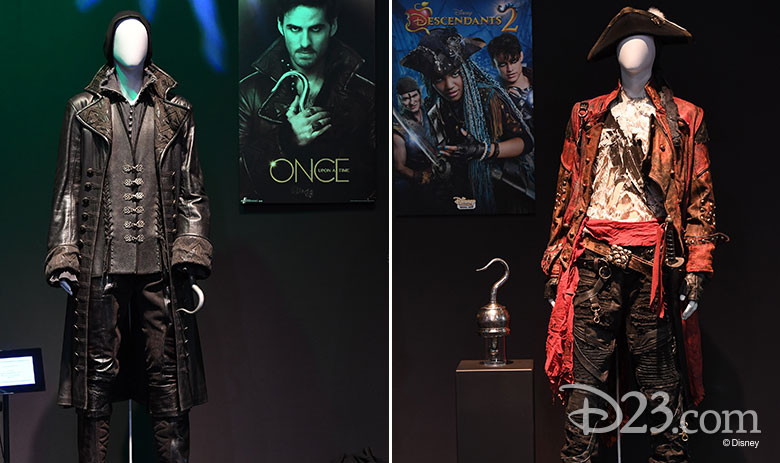 4. Captain Hook costumes from Descendants 2 and Once Upon a Time. "I like these two new takes on a well-known, classic Disney character."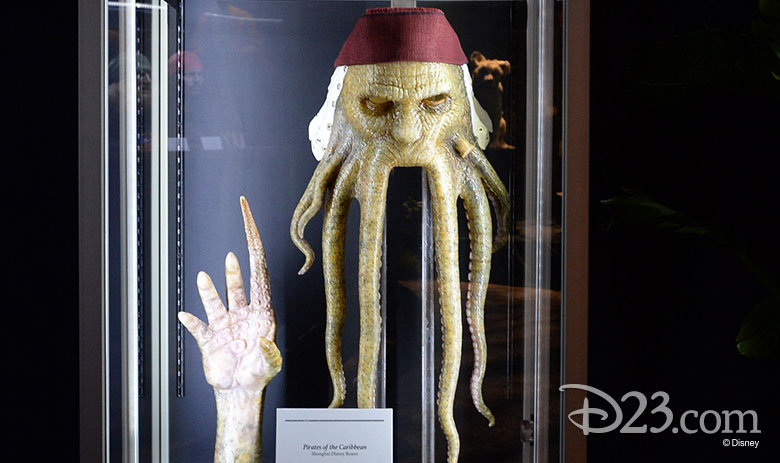 5. Davy Jones Audio-Animatronics® figure used to develop Pirates of the Caribbean: Battle for the Sunken Treasure at Shanghai Disneyland. "Guests can see how complex these figures are. We wanted to show how these beloved characters come to life."