By the D23 Team
D23 Exclusive Cheshire Cat Plush – Alice in Wonderland by Mary Blair – Limited Release
D23 Exclusive Mad Hatter Plush – Alice in Wonderland by Mary Blair – Limited Release
You'll lose your head—proverbially speaking, of course—for D23's exclusive Alice in Wonderland plush modeled after pre-production art by Disney Legend Mary Blair. The September release includes the Cheshire Cat and the Mad Hatter. These collectible, uniquely detailed plush toys commemorate the film's 70th anniversary.
You'll receive a Certificate of Authenticity along with each plush, which arrives in a collector's display box complete with the D23 logo. They'll be available for purchase beginning September 24 (starting at 7 a.m. PT) at shopDisney.com for ALL D23 Members.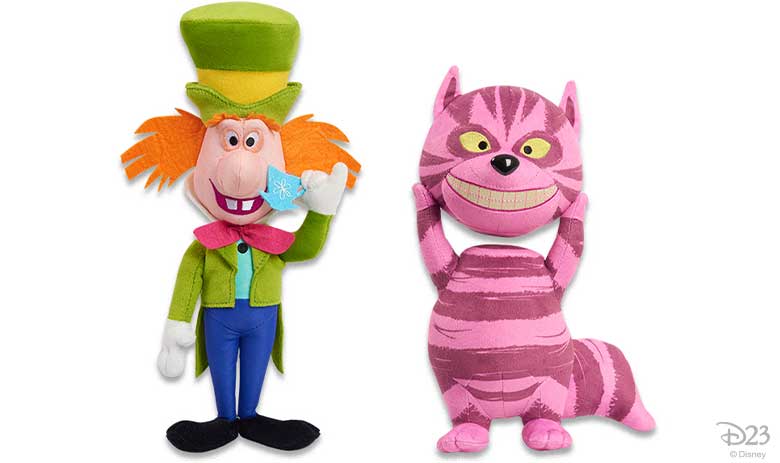 The Cheshire Cat
This plush is quite unusual, much like the Cheshire Cat himself… notice how he's holding up his head!
The Mad Hatter
The Mad Hatter plush is particularly colorful, with varied fabrics—and a teacup, of course.
Remember: Our D23-exclusive Alice in Wonderland by Mary Blair 70th Anniversary Plush will be available for ALL D23 Members at shopDisney.com beginning September 24 at 7 a.m. PT! Don't miss out!
About the Alice in Wonderland by Mary Blair Collection
Celebrate the 70th anniversary of Walt Disney's Alice in Wonderland with this one-of-a-kind collection featuring the works of Disney Legend Mary Blair. Blair began drawing at The Walt Disney Studios in 1940; a pioneer and leading female artist in her field, she was an imaginative color stylist, concept artist, and designer, and worked on some of Walt Disney's most popular animated classics.
Her topsy-turvy, upside-down art style lent itself masterfully to the film Alice in Wonderland (1951). Create your own wonderland with this distinctive collection of items!
The bare necessities:
Polyester
Cheshire Cat: 9 1/2" H
Mad Hatter: 12" H
Imported
To purchase, log in to shopDisney with the Disney account tied to your D23 Membership.
Not a D23 Member? Click here to join.
Plush available only to D23 Members. Available for purchase starting September 24, 2021, while supplies last at shopDisney.com (online or via phone orders). Not valid on purchases made at Disney store and Disney Baby Store retail and outlet locations or Disney Parks and Resorts locations or on Disney store merchandise purchased from other retailers or using third- party websites. Must be logged in to your Disney Account to purchase, using an account linked to your D23 Membership. Maximum one of each plush per D23 membership. Items not eligible for any additional promotional discounts or offers except available shipping offers. Offer subject to restrictions and to change without notice. Void where prohibited.