By D23 Team
As we anticipate the induction of nine new Disney Legends at the D23 Expo, 40 D23 Gold Members and their guests gathered on May 12, 2017, for an intimate luncheon to celebrate an individual whose contributions earned him the prestigious Disney Legend Award in 2001: Imagineering Ambassador Marty Sklar!
The former vice chairman and principal creative executive, who oversaw concepts and planning for Epcot and other memorable Disney experiences around the world, made a special visit to Disney's Grand Floridian Resort & Spa at Walt Disney World for the occasion, and he even brought along some guests and close colleagues to meet with D23 Members: Disney Imagineers Jason Grandt and Daniel Joseph; Mouse Silverstein from Walt Disney World Design & Engineering; Ryan March from Disney Vacation Club; and the 2017-18 Walt Disney World Resort Ambassador Team, Ken Facey and Brandon Peters.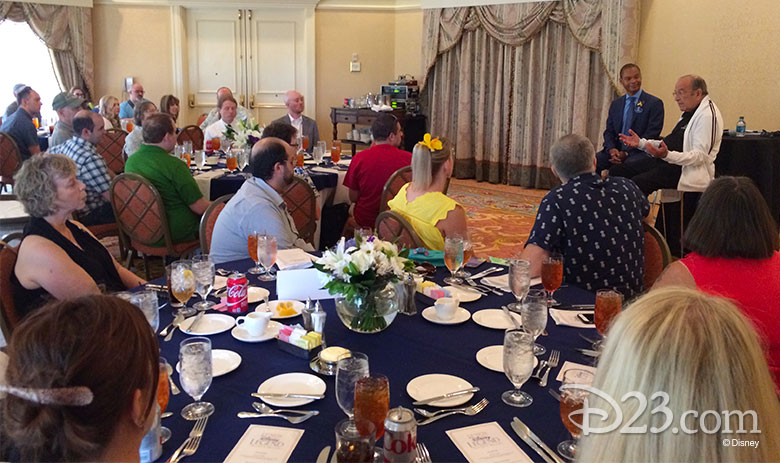 This event—the latest in D23's Lunch with a Disney Legend series—began with a question- and-answer session, in which Marty shared fascinating stories from his 53-year career, from his first role writing The Disneyland News in 1955 to finding his way to WED Enterprises (now Walt Disney Imagineering) and leading the creative teams who continue to share Walt Disney's sense of optimism and happiness in exciting and innovative ways.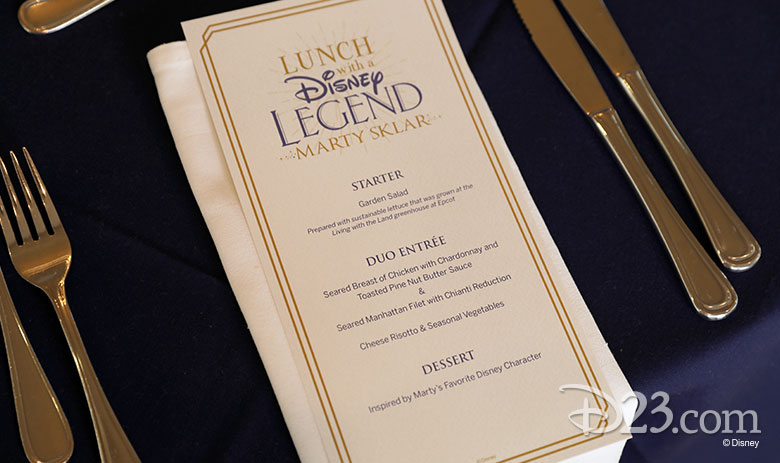 While interacting with Marty and other special guests, D23 Members enjoyed a delicious three-course meal, beginning with a garden salad prepared with ingredients harvested at Living with the Land—an attraction that the Disney Legend helped develop and which he still considers one of his favorite experiences at Walt Disney World.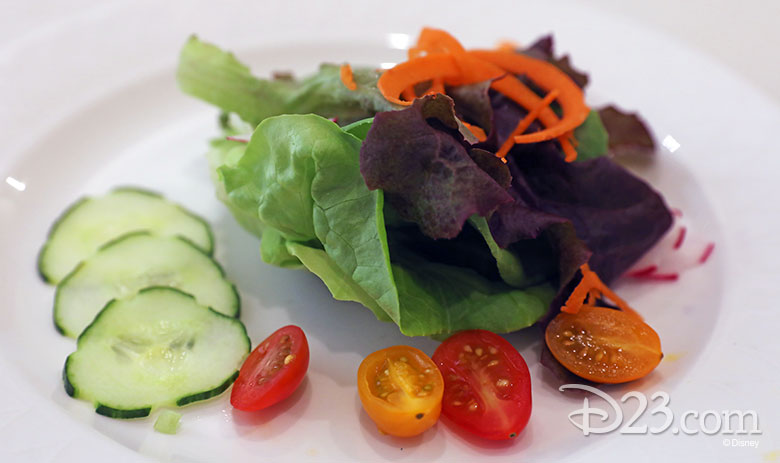 Attendees particularly enjoyed a story that Marty shared about the development of that attraction. "We worked with Carl Hodges, who was the head of the environmental research lab at the University of Arizona, doing very advanced work in various kinds of agriculture," said Marty. "We got him involved in doing the growing area of The Land pavilion and walked him through a quarter-scale mock-up of the ride. When we were through, he asked me, 'Where do we put the bees?' And I said, 'Carl, there are people riding through these boats—open boats. We can't use bees!' And he said, 'Well, how are we going to pollinate the food?' And I said, 'Look, we're in show business. You're the scientist. You figure it out!' And so the staff at The Land pavilion to this day hand pollinates all those crops about 15 hours a week."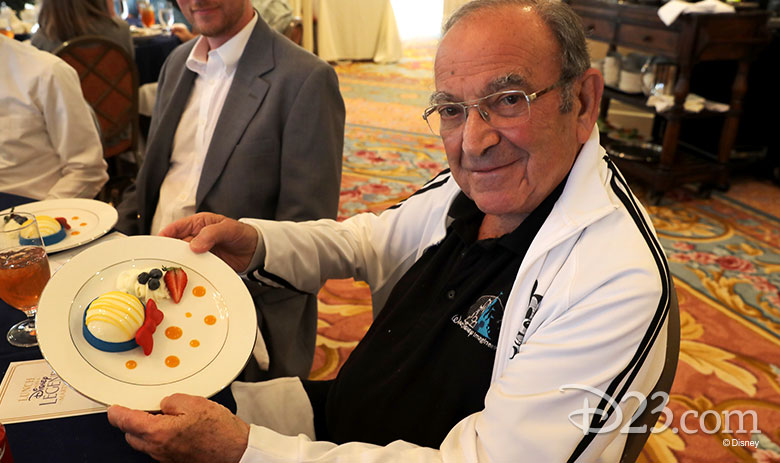 After enjoying a delectable duo entrée of seared breast of chicken and seared Manhattan filet with cheese risotto, members were presented with a dessert inspired by a Disney character that has a special connection to Marty: Donald Duck. They were both born in the same year!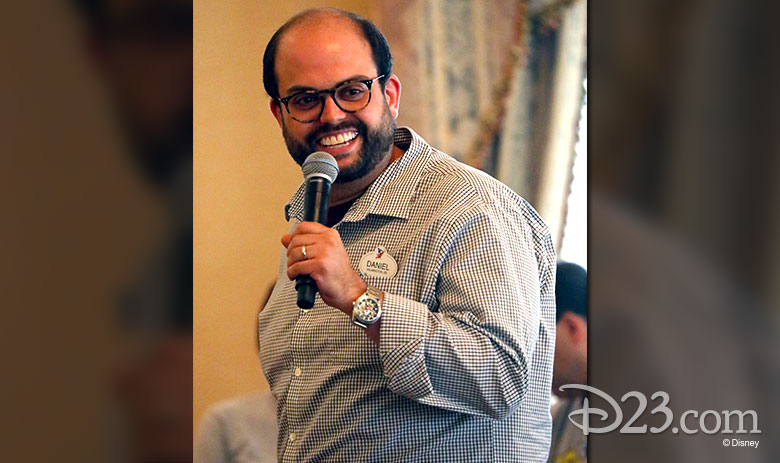 Throughout the luncheon, attendees discussed all things Disney with Marty and his special guests, each of whom shared a favorite personal story about the Disney Legend—some keeping members in stitches and others eliciting a few happy tears.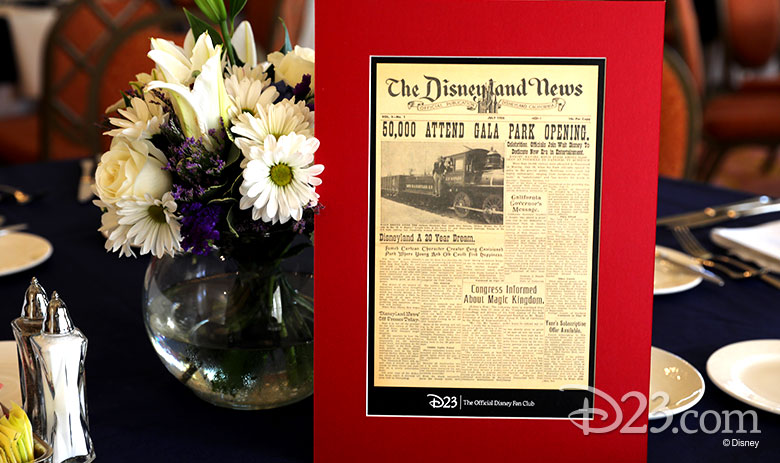 As the memorable event concluded, each guest received a one-of-a-kind gift: a matted print of the first issue cover of The Disneyland News from July 1955, signed by its author. The piece represents the first piece of Disney writing done by Marty, who would go on to script Disney theme park experiences, as well as special films with Walt Disney.
After a group photo on the elegant Whitehall Patio, Marty signed copies of his books and posed for photos with D23 Members. As an extra surprise, all attendees were invited to attend the first showing of Happily Ever After, the brand-new fireworks spectacular that premiered that evening in the Magic Kingdom!
The magical afternoon left smiles on the faces of fans and luminaries alike, reminding everyone of the power of creativity and the invaluable principles that Marty has helped to instill in the Disney culture. To find out about upcoming D23 Member experiences, click here to check out our 2017 calendar of events.