By Jocelyn Buhlman
We've been waiting all season for Dancing with the Stars' Disney Night, and tonight on ABC (8 p.m. ET), we'll finally see this season's stars bring Disney magic to the dance floor. If you're already on the edge of your seat waiting for this fan-favorite night to begin, we have a special sneak peek just for you! Below are sketches of the costumes all your favorite stars will be wearing tonight as they once again compete for that coveted Mirrorball trophy!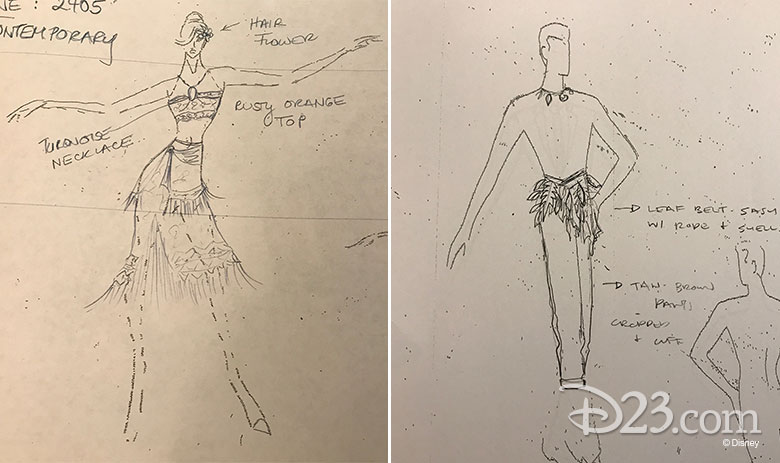 Simone Biles and Sasha Farber
"How Far I'll Go"
For this contemporary dance that will be performed with live accompaniment by actress Auli'i Cravalho, the voice of Moana, Simone and Sasha's costumes take inspiration from the movie. Simone will wear a flower in her hair, as Moana (and Auli'i) often do, and her costume will feature a turquoise necklace reminiscent of the one Moana and Gramma Tala wear to protect the heart of Te Fiti. How far will this dynamic Simone and Sasha go? You'll just have to watch and see!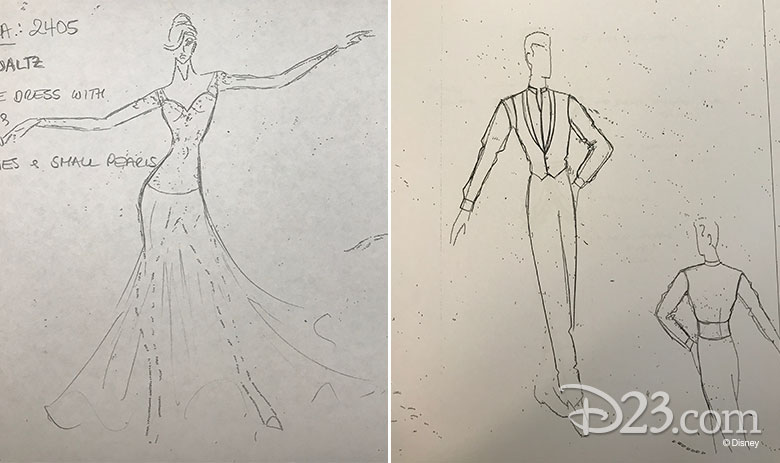 Erika Jayne and Gleb Savchenko
"Unforgettable"
Erika and Gleb will take the waltz under water with their lovely performance to Sia's version of "Unforgettable," from Finding Dory. To match the undersea theme, Erika's gown is accented with small pearls and a flowing skirt reminiscent of water. Hopefully Erika and Sasha's waltz will have them "just keep swimming" into the next round of dances!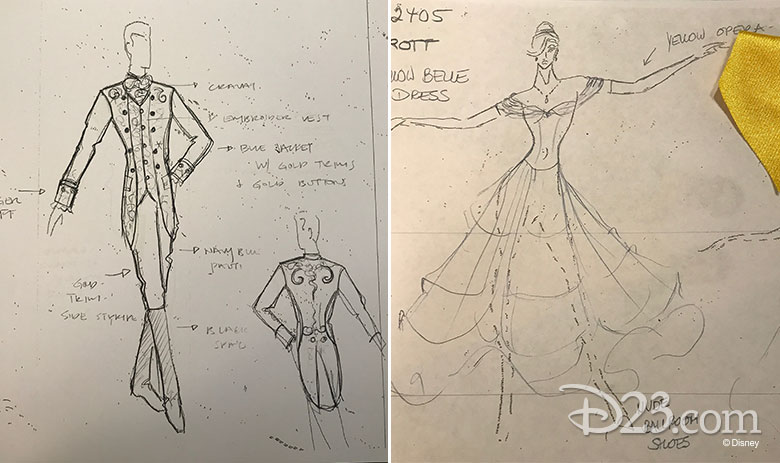 Rashad Jennings and Emma Slater
"Evermore"
The tale as old as time foxtrots on to your TV screens when Rashad and Emma take to the ballroom to the sounds of this new song from the live-action Beauty and the Beast. To bring this fairy tale to life, Rashad and Emma will be decked out in ballroom finery directly inspired by the film, with Rashad charming us in the Beast's suit and Emma twirling in Belle's yellow dress. Last week, Rashad and Emma received the first "10" of the season, and now we'll see if they can once again cast their magic spell over the judges!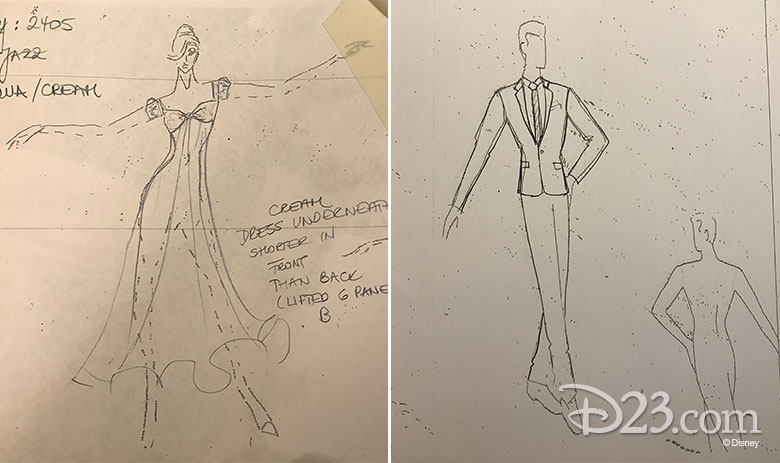 Nancy Kerrigan and Artem Chigvintsev
"That's How You Know"
Are you ready to be Enchanted by this jazz performance? Nancy will channel her inner Giselle in an outfit inspired by the heroine of Disney's 2007 film (although we don't think it will be made out of curtains this time) as she and Artem light up the ballroom with a dance to this fan-favorite song. How will Nancy and Artem know you love them? Make sure to tune in tonight and let them know!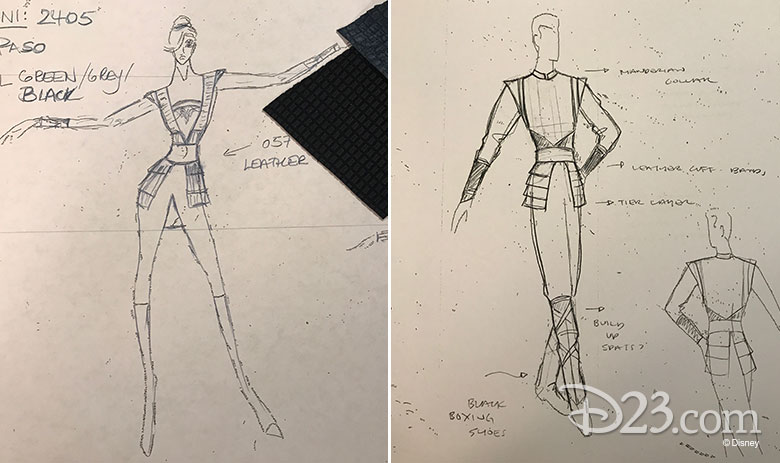 Normani Kordei and Valentin Chmerkovskiy
"I'll Make a Man Out of You"
Let's get down to business: We're excited to see Normani and Val Paso Doble to this beloved song from the animated classic Mulan. While Donny Osmond (no stranger to Dancing with the Stars himself) performs the song live, Normani and Val will dance in daring, armor-inspired costumes. With such bold costumes and live accompaniment, we hope that Normani and Valentin can defeat the Huns (and low scores) with their Paso Doble.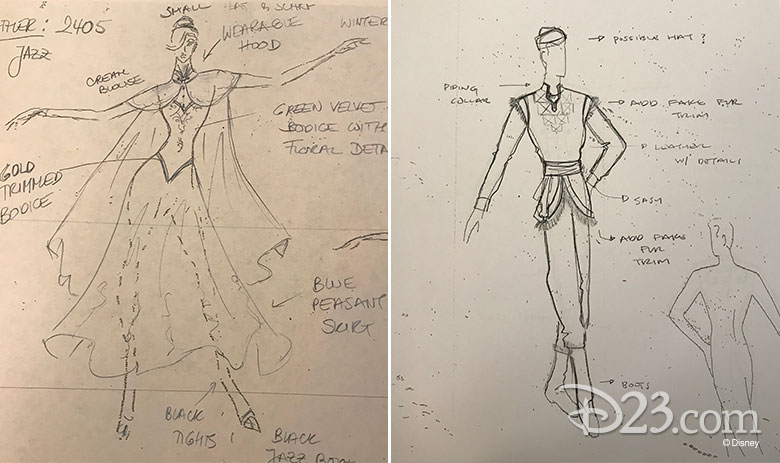 Heather Morris and Maksim Chmerkovskiy
"For the First Time in Forever"
The cold couldn't bother Heather and Maks anyway, not in these Frozen-inspired costumes for their jazz performance. Heather channels her inner-Anna in a gown complete with a gold-trimmed bodice and a cape with a wearable hood! Maks' costume prepares him for any surprise snowstorms with fake fur trim along the edges of his ensemble. Will they melt the judges' hearts? We'll find out tonight!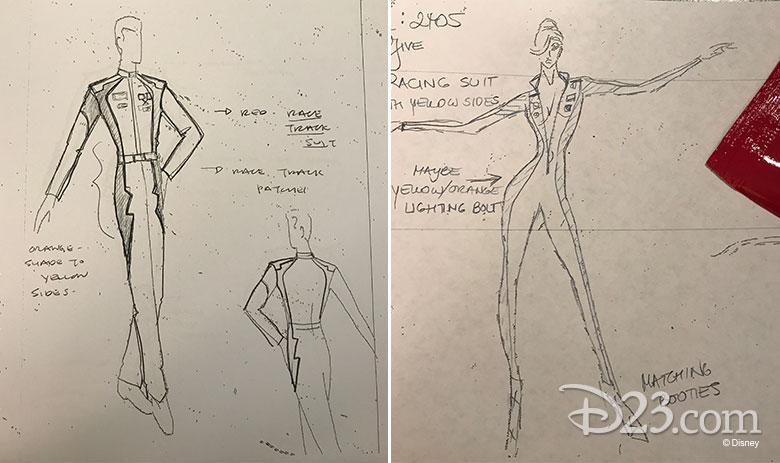 David Ross and Lindsay Arnold
"Ride"
Rev up your engines for this jive number to a brand-new song from Cars 3, coming to theaters June 16. David and Lindsay will dance to live accompaniment by ZZ Ward, and will be geared up for speed in their racing suits. Decked out in bright reds and yellows like Lightning McQueen himself, David and Lindsay are ready to race across the ballroom with their quick-footed performance.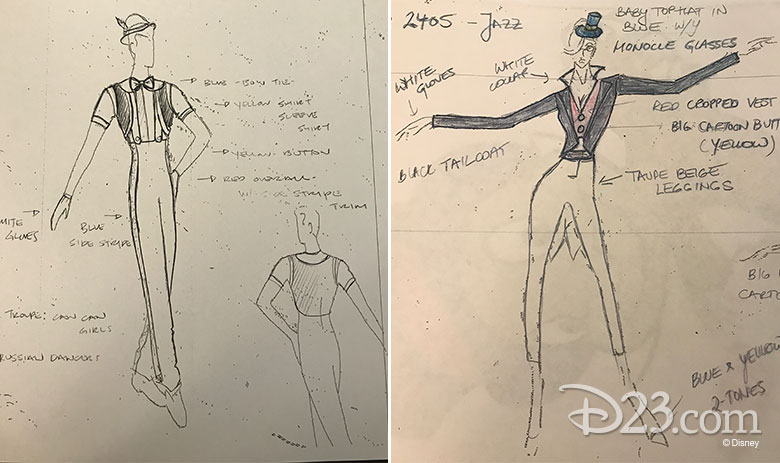 Nick Viall and Peta Murgatroyd
"I've Got No Strings"
Nick may soon be tying the knot with his fiancée, Vanessa, but for this jazz routine he'll have no strings on him! Since he's dancing to the Pinocchio classic, Nick channels our favorite puppet in an ensemble that's complete with Pinocchio's hat. And tonight, they're wishing upon a star for a high score from the judges for their lively routine!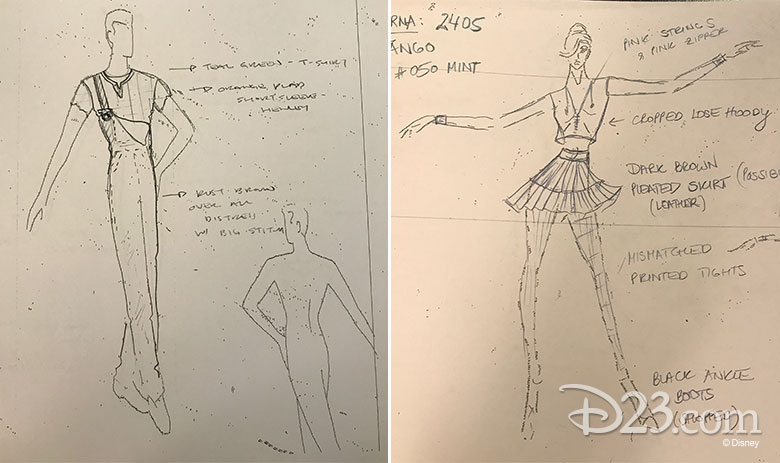 Bonner Bolton and Sharna Burgess
"When Can I See You Again?"
Bonner and Sharna are ready to level up when they tango to this classic from Wreck-It Ralph. Bonner will channel Ralph in his classic overalls, while Sharna adds some sugar to the performance with Vanellope Von Shweetz' hoodie and pleated skirt. Are you ready to see them again? Because they're performing tonight, live, on Dancing with the Stars at 8 p.m. ET, on ABC!