You can hardly miss Sandy Powell.
Not just for her fiery red hair and cool disposition, but also for her avant-garde and elaborate sartorial vision that's fit for royalty, old Hollywood, and just about any other time period you can imagine.
The three-time Oscar® winner has been a force to be reckoned with when it comes to costume design. And that statement holds true for this year's Academy Awards®—airing Sunday, February 28 (7 p.m. ET/4 p.m. PT) on ABC—where Powell's nominated for not one, but two Oscars for Best Costume Design. It's a safe bet that she's a shoo-in to bring home the gold.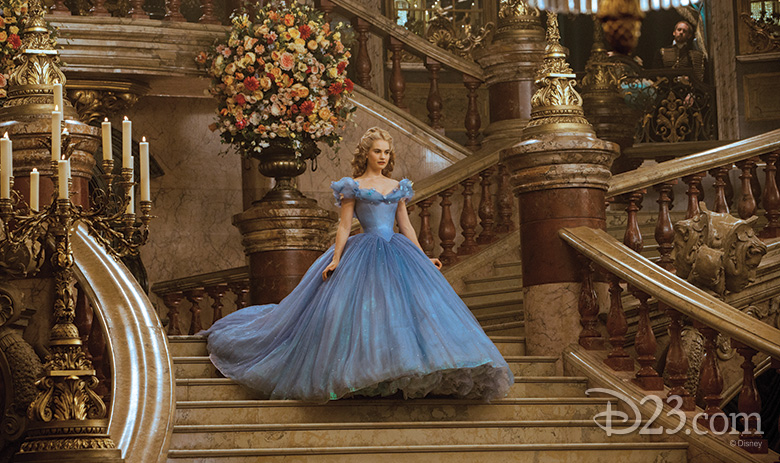 Weeks before Hollywood's Biggest Night, the Cinderella costume designer sat down with D23 to talk about the gown, what it's like to accept an Oscar on the actual stage, and what Cinderella would wear on the red carpet.
D23: When hear your name announced as a winner at the Oscars, what's the first thing that crosses your mind? How do you keep it together on stage?
Sandy Powell (SP): I don't know. It's been so different for the three occasions where it happened. I guess the first time was like an out-of-body experience; I have no idea how I got to the stage. But I think the first thing that crosses your mind is, "How do I get to that stage without falling?" You're sitting in a room of nervous people, and you can actually feel the nervous excitement in the room and that's contagious. I think when you get up, you end up going somewhere else, and afterwards, you ask, "How did that happen?"
D23: Is the statue heavy?
SP: It is heavy. It sort of brings you down to earth a little, actually.
D23: Where do you keep them?
SP: They're in my office!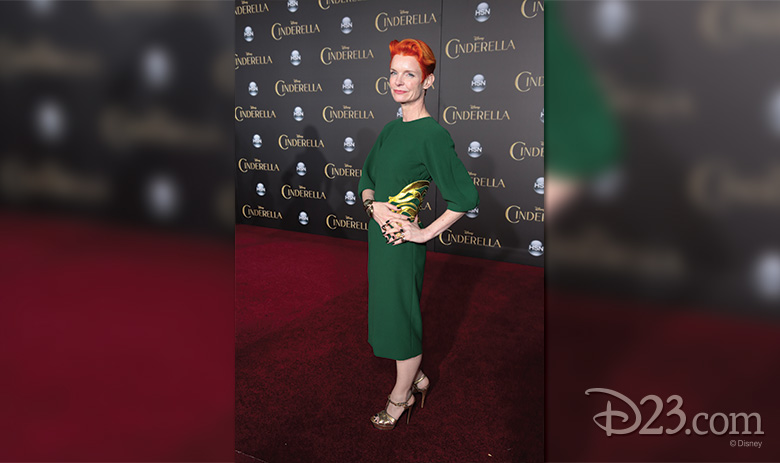 D23: What does a costume designer wear to the Oscars? Can you tell us who or what you will be wearing?
SP: I think I might make something myself. I haven't made a final decision yet, but that's the plan.
D23: What would winning for your work on Cinderella mean to you?
SP: The biggest thrill is being nominated by your peers, colleagues, and friends—the people I work with, the people who really understand what the job's about. I think that's really the best bit, the bit that means the most.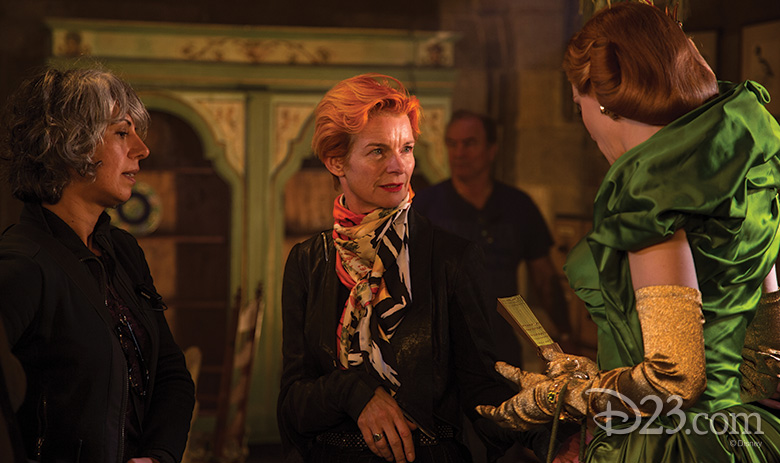 D23: How closely did you work with the directors and the writers for the film, because it seemed that each character's personality was flawlessly represented with his or her wardrobe?
SP: Not so much the writers, because the script was already done when I started working on the film, so I was following the script that I already had. But none of it described what the characters were actually wearing—which is good, because then it's up to me to come up with that. I worked with the director, Ken [Branaugh], anytime I had an idea for fabric, color, or silhouette. I would show him and discuss my thoughts and concepts with him. Ken, to his credit, gave me carte blanche and let me do what I wanted. Knowing you've got the trust of your director is very nice.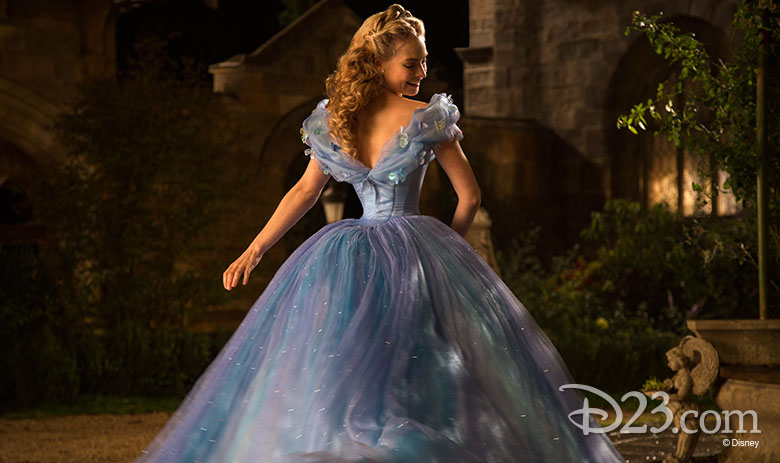 D23: Your interpretations of Cinderella's blue dress has become incredibly iconic in a very short amount of time. Did you have a sense the dress was going to become an instant smash when you were designing it?
SP: Well, if I thought about it too much, I would have been too terrified to start it. That probably was the most challenging aspect of designing this film. I had to remind myself every now and then just how popular this fairy tale is and how important it is to a lot of people. I couldn't think about it too much or else it would have crippled me. I'm glad it has become popular, but that is down to the fact that the film is successful and popular. I don't think the dress would have been iconic on its own without the backup of a popular film behind it.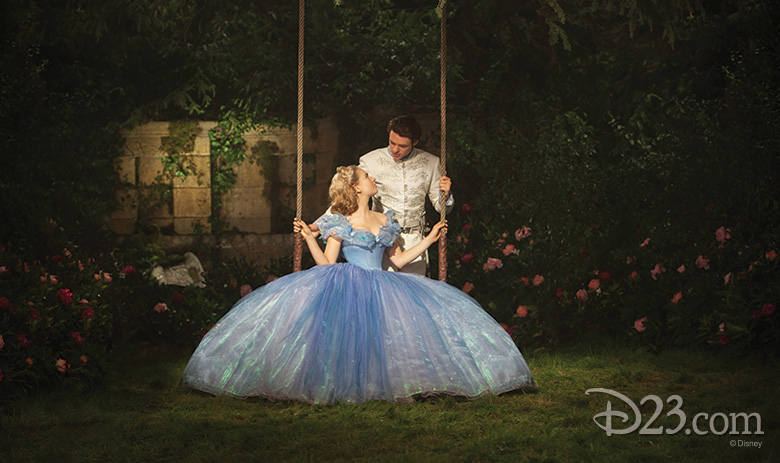 D23: The male characters sometimes don't get the attention they deserve because of the elaborate designs women wear. How do you work to make a man's costume stand out without being garish?
SP: The men are just as important. Make it fit well, that's what it's about with the men.
D23: Do you ever grow an attachment to the costumes or pieces that you create?
SP: Yes, I do. I get very possessive. I think they're mine in the end, but they're not. And sadly, I can't steal them!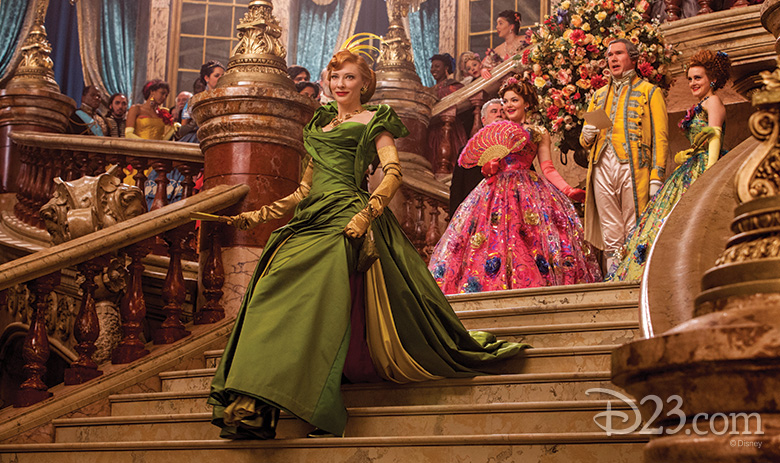 D23: If you were able to keep a prop or costume from the Cinderella set, what would it be?
SP: Oh gosh! That's a tricky one because I love all of the stepmother's costumes. I really like those, and I'd love to have one of those. If I was keeping it for me to look at and have, one of those. But you can't not say the ball gown… I did make eight of them, so you'd think they could spare one! [laughs]
D23: Do you have a favorite moment from designing Cinderella that you recall fondly?
SP: I think it was the very first time that Lily [James] put on the ball gown and it was completed. In the fitting room, it wasn't on set. And she put it on and she had tears in her eyes and said she felt like a little girl being like a princess again. It was a magical moment.
D23: If Cinderella were going to the Oscars, what kind of dress would you design for her—because she can't wear the same thing twice!
SP: Probably something not as big as the ball gown. The same color, though. I like the color a lot. Maybe a much more wearable version. She'll take up too many seats in that dress!
The Oscars will be presented on Oscar Sunday, February 28, 2016. The ceremony will be broadcast live on ABC, beginning at 7 p.m. ET/4 p.m. PT. To view the full list of nominees and for more information about the telecast, visit Oscar.com.