By D23 Team
Witches. Heroes. Enchantments. Curses. Love. Loss. Disney fans know and love these better than most; they've embraced them from timeless classics like Snow White and the Seven Dwarfs through contemporary fairy tales like Frozen. But five years ago, Disney opened up this magical world in new ways. For those unfamiliar with the musical, Into the Woods takes the traditional tales of Cinderella, Jack and the Beanstalk, Rapunzel, and Little Red Riding Hood and ties them together with a new story, that of a Baker and his Wife who wish to have a child but learn they have been cursed by "the witch next door." To break the curse, the pair must gather four special objects within three days: a cape as red as blood, hair as yellow as corn, a slipper as pure as gold, and a cow as white as milk. Thus, the beloved stories begin to intertwine. 
So, we're celebrating the anniversary of the timeless tale with five fun facts about the making of Into the Woods.
1. Into the Woods was almost an animated film.
Book writer James Lapine's Into the Woods was a huge success on Broadway, earning Tony Awards® for Best Score and Best Book. But for over 20 years, talk of a movie would come and go with various ideas in mind—including an animated version.
"I thought [an animated film] would have been perfect," Lapine said. "But now that we've gotten a live-action, I'm thrilled there wasn't one." It was actually director Rob Marshall's idea to bring the project to Disney, with producing partner John DeLuca. "It's something that we always wanted to do," Marshall, who also helmed the musical Chicago, as well as Disney's Pirates of the Caribbean: On Stranger Tides, said. "We were finishing up Pirates, and we had a wonderful time with Disney. We were thinking, What's next? And we'd always wanted to do Into the Woods. I've always been such a huge fan of it and just thought it had such a powerful statement."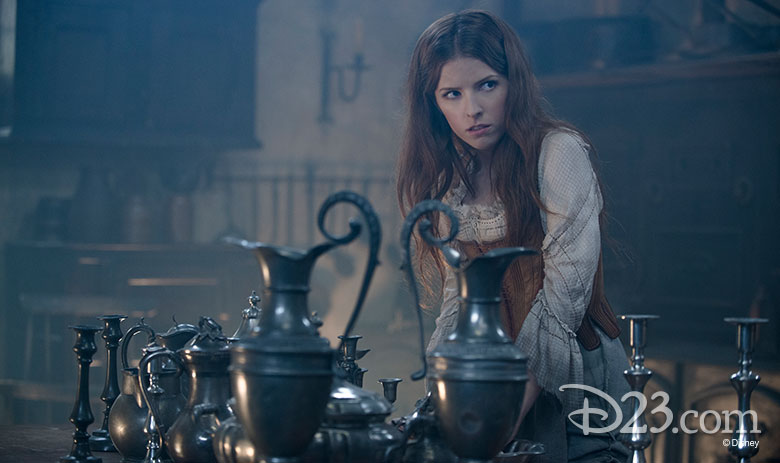 2. Anna Kendrick thought she would be cast as Little Red.
Kendrick was surprised she was being considered to play the belle of the ball—literally. "I initially thought I would be auditioning for Little Red because normally Little Red is played by a grown woman, and I have a kind of belt-y voice." Learning she'd be trying out for the role of Cinderella, she said, was "terrifying. I don't think of myself as a sort of big-hearted ingénue. I think of myself as a weird, little girl."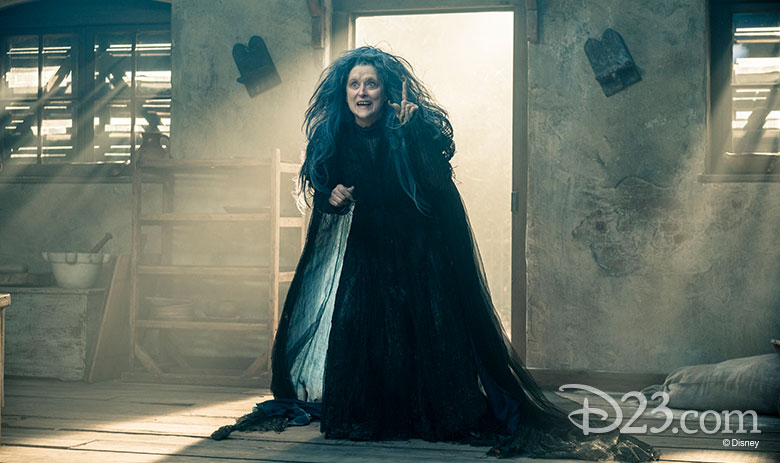 3. One song posed a big challenge for Meryl Streep.
Perhaps Streep's biggest challenge was mastering a section of the film's prologue sometimes known as the "Witch's Rap," during which the sorceress explains, through spoken rhyme, how the Baker and his house came to be cursed. The verbal intricacies of the rap would likely leave Kanye West tongue-tied.
"I learned it while walking through Richmond Park," she explained. "The parks in England are unlike parks here. They're real wild spaces and they're kind of scary." Streep would walk at the pace of the rap to learn the song, while listening to her iPod. "I can still remember every single word!" she said with a laugh. "That's the problem when you do a musical, you can't lose the music. But I never got sick of doing it. I mean, it's just so much fun."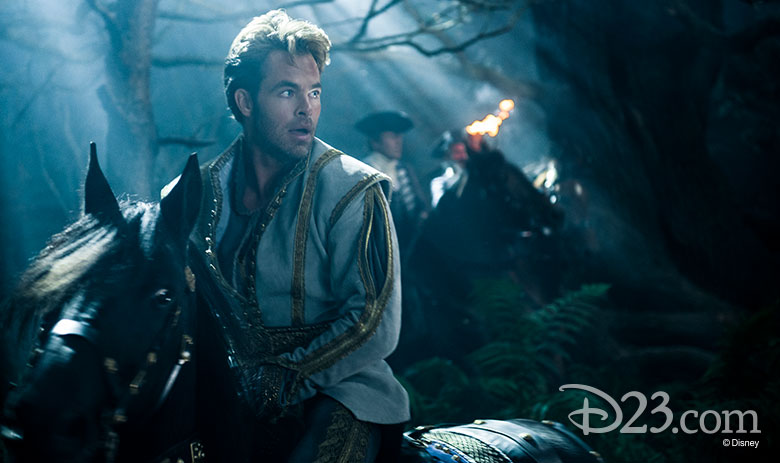 4. Time stood still for Chris Pine during one particular scene.
Another song that had basically been sung to the audience in the stage production was "On the Steps of the Palace," where Cinderella flees from the Prince's castle for the third night in a row (following the Grimm Brothers' version of the story, which sees the would-be princess attending a ball that lasts three nights).
For the film, time stops, giving Cinderella the opportunity to assess the situation, leaving Pine—in all his princely regalia—frozen at the top of the stairs. "I'm sure everyone assumes he would be CGI'd in the background, but the poor man had to stand there frozen for the entire two days we filmed," Kendrick said. "I didn't realize how hard it would be to stand still for so long," Pine added. "Thank God Anna has a beautiful voice." "I was running around like a little rabbit on the steps," Kendrick remembered, "so he was very, very accommodating."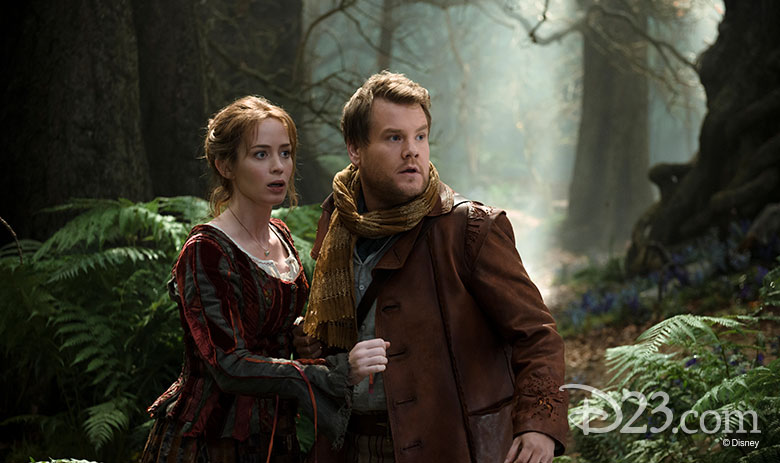 5. Emily Blunt, aka the baker's wife, secretly had her own bun in the oven.
The costume department's biggest challenge was likely the surprise Emily Blunt was carrying in her belly. "When we did rehearsals, I was being kind of careful," recalled Blunt, who was in the first months of her pregnancy with baby Hazel, who was born in February of 2014. She did, however, let some of her co-stars and Marshall in on her happy secret—especially Pine, with whom she shares a dance. "By the time we shot, it was about two months later and I said to Chris Pine, 'You need to add 15 pounds to what you felt before. When you dip me, you gotta get yourself in a deep lunge because there's more weight coming down!'"
Disguising the pregnancy was a task for Marshall and the costumers to handle. James Corden, the Baker, would always be positioned in front of her belly, as well as placing Blunt's apron higher and higher up. "I was hiding behind every tree in that wood!" Blunt said, giggling.
This article originally appeared in a slightly different form in the Winter 2014 issue of Disney twenty-three and was modified for D23.com.