By D23 Team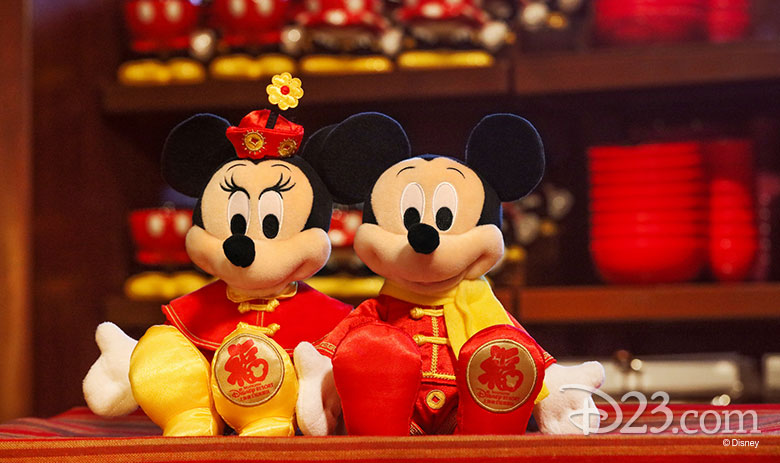 Shanghai Disney Resort:
From January 22 through March 4, guests will be immersed in the Lunar New Year atmosphere throughout the Shanghai Disney Resort, where they'll discover new entertainment honoring Chinese traditions with charming Disney surprises. Here are some of the experiences and offerings guests can expect:
On Mickey Avenue, guests can take photos with Mickey Mouse and his pals dressed in their Chinese New Year outfits in front of themed photo backdrops.
In an extra-special themed photo opportunity, Pluto will bring canine commotion to the Year of the Dog celebration while dressed in his "God of Fortune" costume.
Guests can enjoy a daily drum ceremony in the Gardens of Imagination—an authentic Chinese New Year tradition—led by none other than Mickey, Minnie, and Pluto. The ceremony, which welcomes guests as they arrive to Shanghai Disneyland, features classic rhythms to fill each day with wishes for prosperity and happiness.
Inspired by the Lunar New Year and Shanghai's historic jazz and swing traditions, Mickey and friends will gather in Celebration Square for Shanghai Swing, a jazzy show featuring characters and dancers in beautiful vintage Shanghai costumes.
Guests can write down their new year wishes on special wishing cards in the Garden of the Twelve Friends, which has been transformed into a magical "Wishing Garden" for the holiday.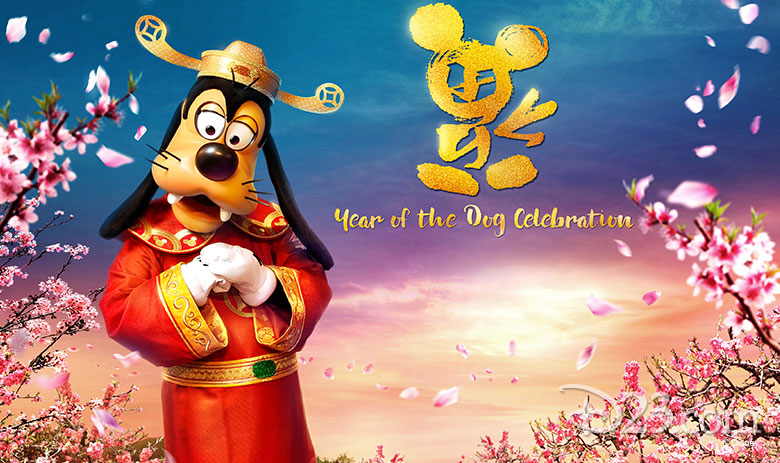 Hong Kong Disneyland Resort:
From now through March 4, guests can enjoy a Lunar New Year celebration at Hong Kong Disneyland Resort, featuring traditional festivities mixed with Disney magic. Activities include:
Special character experiences with "God of Fortune" Goofy and playful Pluto, showering blessings on guests for the Year of the Dog.
Lands all over the park will feature colorful New Year's decorations! Main Street, U.S.A. will feature charming Lunar New Year's adornments, while Pluto-themed decorations can also be found.
As night falls, Main Street, U.S.A. and the Plaza will be transformed into a special Night Market for Chinese New Year, inspired by Hong Kong's unique Lunar New Year fairs. This is a special market filled with mobile stalls that offer sumptuous delicacies and specialties. Indulge in local Hong Kong snacks with a Disney theme, along with special exclusive merch.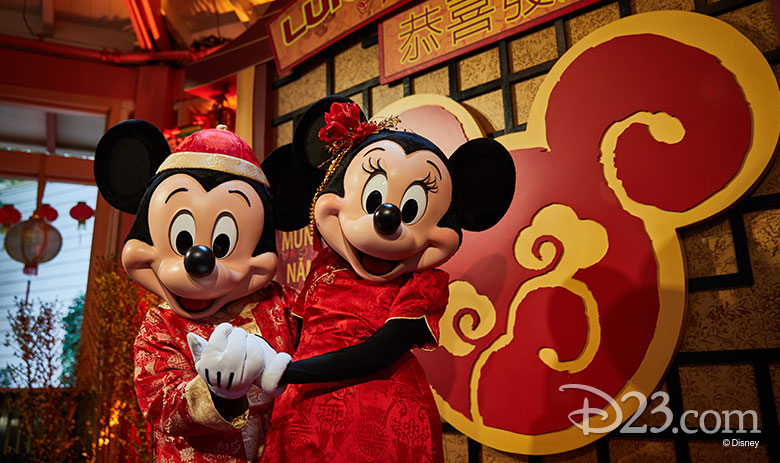 Disneyland Resort:
This year's festival will run from January 26 through February 18 at Disney California Adventure, and features specialty Chinese, Korean, and Vietnamese cuisine. Click here to see the full list of food options at the park. For all the wonderful celebration activities guests can enjoy, Parks Blog also details everything that will be returning for this year's celebration.
Tokyo Disney Resort:
The New Year celebrations have already come to a close at Tokyo Disney Resort, but from January 1–5, guests enjoyed special decorations, new food, and merchandise, and two New Year's greeting processions featuring Mickey Mouse, Minnie Mouse, and, of course, Pluto wishing guests a happy new year.
While Tokyo's New Year's festivities are over, their Disney fun has just begun. D23 Expo Japan takes place February 10–12, bringing the ultimate Disney Fan experience once again to all our Disney fans in Tokyo.