By Jim Frye
With just weeks to go before Marvel Studios' next big-screen adventure, Captain Marvel, drops into theaters (and through the roof of a Blockbuster video store), there's one purr-ticular character in the film that fans just can't wait to meet—that adorable cat!
"We have an awesome cat in this movie named Goose," says executive producer Jonathan Schwartz. The name "Goose" is a tongue-in-cheek reference to the classic action flick Top Gun, which featured the fighter pilot buddies Maverick and Goose. And considering Captain Marvel features fighter pilot friends Carol Danvers (Brie Larson) and Maria Rambeau (Lashana Lynch), the name fits perfectly.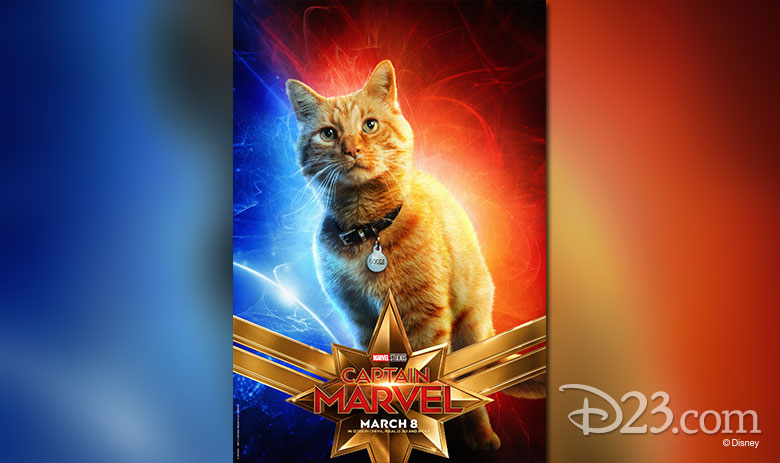 The adorable orange tabby made his semi-stealth debut on the first poster for Captain Marvel, where, alongside Larson's title character, eagle-eyed viewers were quick to point out his barely discernable tail and backside in the shadows. Next, Goose charmed a young Nick Fury at the "tail"-end of the second Captain Marvel trailer, causing the S.H.I.E.L.D. agent to kneel down and pet him, proclaiming, "Aren't you just the cutest thing?!" And in a move that delighted viewers the world over, the fan-fave feline was honored with his very own character poster! (shown above)
THOSE DARN CATS
"Goose is played by a team of four cats who all have their own specialty," says Schwartz. "There's Reggie, there's Archie, there's Rizzo, and there's Gonzo. They're an A-team of cats who can all do one trick—because you can't teach cats to do that much."
Ain't that the truth!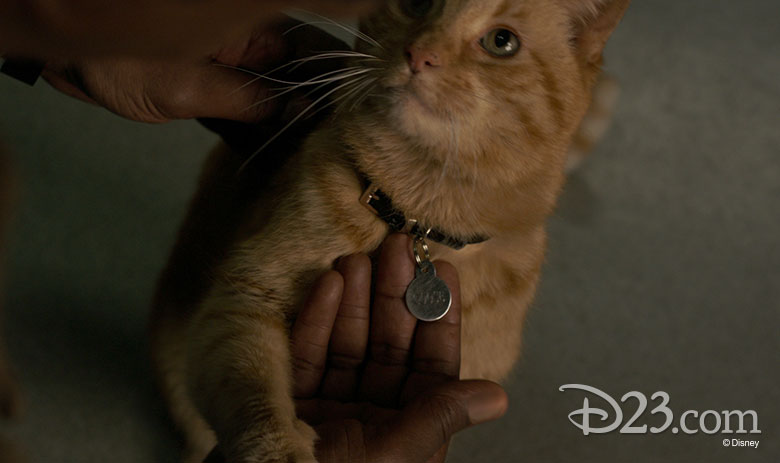 Schwartz continues, "I learned all about cats during the course of this movie. One of them is the face cat, a pretty cat—that's Reggie. One of them is the holding cat, who only can be held. One of them is the nuzzling cat who will walk up to your leg and nuzzle it. And one of them is the cat who will paw you."
He takes a pause (paws), then adds, "If you told me before this movie started that I would be auditioning cats, I would not have believed you."
There's one actor, though, who was excited about the cats—Gemma Chan, who plays Minn-Erva in the film. "I got to work with the cats!" she says, grinning from ear-to-ear. "I got to hold one of the cats (the 'holding' cat). They're so well-trained—they're amazing. There were actually two that I worked with. It was great—and I didn't get scratched!"
Of course, in true Marvel fashion, there might be more to Goose than what meets the eye. Just ask Lashana Lynch. "It's a cat, but a mysterious cat," she says. "And although I don't hold the cat, I'm around it a lot. The cat does things that we didn't expect for it to do and it's very surprising."
To find out exactly what she means—and to meet, perhaps, the cutest new member of the Marvel Cinematic Universe—we'll have to wait until Captain Marvel lets the cat out of the bag on March 8.