By Beth Deitchman
What's your go-to karaoke song—the one you've perfected in the shower and practiced singing into your hairbrush microphone? In "Okay Karaoke," the latest episode of Big City Greens—premiering Saturday, February 6 (9 a.m. EST/PST), on Disney Channel and in DisneyNOW—a family karaoke outing finds all of the Greens pondering exactly that question. For Cricket; his parents, Bill and Nancy; best friend Remy; and Gramma; choosing the perfect song is a pretty easy decision, but sister Tilly can't quite settle upon a melody and lyric that embody who she truly is inside. Her dilemma—and the rest of the Greens' lack thereof—leads to a toe-tapping, laugh-inducing collection of five original songs, as well as an equally unique assortment of videos that accompany them. A digital soundtrack—Big City Greens: Don't Think, Just Sing!—was released today on Walt Disney Records and features six tracks, including the hit "Stuck at Home" along with the five original songs from this week's music-filled episode.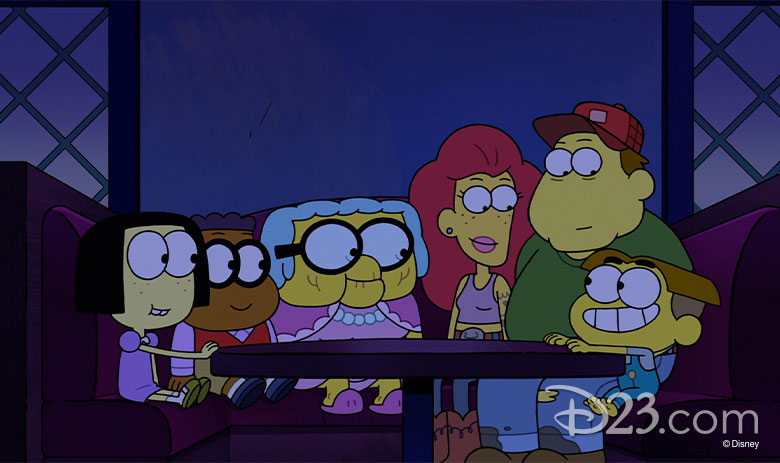 Series creators and executive producers, brothers Chris and Shane Houghton, have had a blast bringing original songs into the world of their animated series, including in the 2019 holiday special Green Christmas. "We had so much fun with that and there was such a great response from the fans and from people at the studio that we just decided we had to do more with songs," Shane tells D23.
The Big City Greens team is a musical bunch, and Chris shares that when the writers first begin to discuss incorporating a song into an episode, the process typically leads to "someone going into some closet somewhere and singing into their phone." After they have something to work off of, in terms of the lyrics and jokes, they call in series composer Joachim Horsley. "He is just such a talent, he can really help take our rough demos and flesh them out," Chris says. "It's kind of down to a science, but it's a creative science where each song is a little different. Some songs come together very quickly, others need to be hashed out more and more over time… But it's all within the crew and our composer."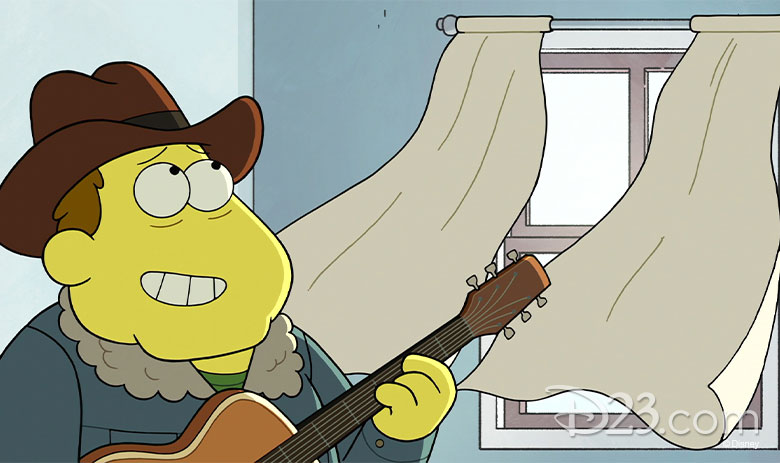 For "Okay Karaoke," the Houghtons emphasize how much fun they had exploring the songs performed by the Big City Greens characters and creating a music video for each. Green family patriarch Bill sings a countrified love song… to his pickup truck. "We immediately leaned into the visuals of Bill singing and having his jean jacket open and blowing in the wind, with the sky and mountains in the background. Just these very grand visuals that we kind of associate with that dramatic, 'I lost my wife, dog, and truck in one week' sort of vibe," Chris says with a laugh. Nancy's song reflects her unconventional, anti-establishment persona, and the Houghtons admit that they might have kept Pink Floyd's The Wall in the back of their minds as they were devising her anarchic number. Gramma chooses to sing what Shane describes as an "old-time, kind of Betty Boop-style song," and you can check out her zany number "Ask My Kazoo" in this exclusive clip:
Of course, Chris Houghton isn't just one of the series' executive producers—he's also one of its stars. As the voice of Cricket, Chris teamed up with Zeno Robinson, who voices Remy, for a song that's a little bit pop, a little bit rap, and 100-percent fun. Chris assures us that he had as much fun recording the song as fans will have watching the sequence. "I've had the absolute pleasure now to record a few different pop songs as the voice of Cricket and it's been a great creative challenge to go in and really give it my all," he says. "I break out in a sweat, really trying to make Cricket as believable of a pop star as possible, because I think the better he sings, the funnier it is."
The Houghtons also enlisted two music V.I.P.s for the episode. Aaron Barrett, lead singer for the ska band Real Big Fish—a Houghton brothers favorite—guest stars as the voice of Ska Guy. "We saw Real Big Fish in concert way back when, in like 2005, and just had such a blast. So when we had a 'Ska Guy' role, it just had to go to the front man of our favorite ska band." And singer/songwriter Macy Gray lends her voice to the role of Kara Karaoke, host of the club visited by the Greens, who believes karaoke to be one of "the purest forms of self-expression." "Kara Karaoke is a very Zen character who has a very philosophical look on what karaoke can do for the soul and how the song you pick has to truly represent who you are," Shane shares, explaining, "We wanted somebody who could do this kind of laid-back character and Macy Gray has this very chill vibe and very unique voice that we both just love."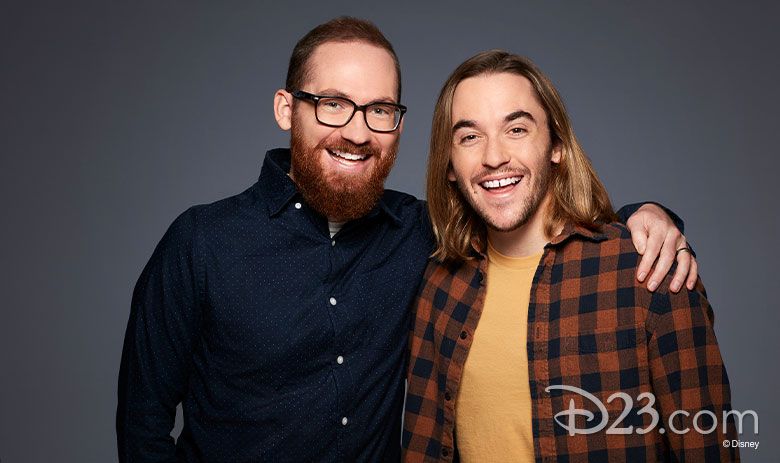 Disney Television Animation recently announced that the Houghtons have entered into an overall deal to create new animated series, shorts, and movies for Disney Channel and Disney+—along with a third season of Big City Greens. "The episodes that are airing right now are some of the biggest and funniest that we've done," Shane says. "Season three continues that trend of really pushing the comedy, pushing the characters, and pushing the heart—and in season three, Big City Greens is just getting bigger!