By Beth Deitchman
He was whistling a happy tune when we met him and now, more than 90 years later, Mickey is still the most musical mouse we know. The new animated shorts series The Wonderful World of Mickey Mouse continues a rich musical legacy with its Disney+ debut on Wednesday, November 18—which, not coincidentally, happens to be Mickey's birthday. These new shorts find Mickey and his best pals embarking on their greatest adventures yet and all feature a spectacular musical soundtrack from Emmy® Award-nominated composer Christopher Willis, the maestro whose score and songs accompany the "Sensational Six" on a musical journey that ranges from ragtime to roller disco… and everything in between.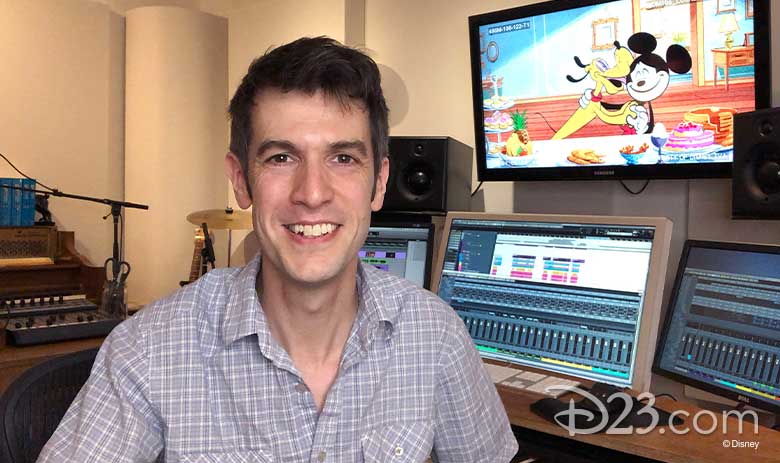 Over the past few years, Willis has enjoyed his own immersive foray into Mickey Mouse's world, having also composed the music for Disney Channel's Emmy-winning Mickey Mouse shorts as well as the Mickey & Minnie's Runaway Railway attraction at Walt Disney World Resort. "Lots of homework" goes into the job, shares Willis, who enthusiastically delves into both music history and Disney history to inform his approach for every short. "Mickey has this existence all across the landscape of the 20th century, ever since the 1920s," he says, and some of the musical milestones that have influenced his compositions include the vaudeville and jazz of the late 1920s and '30s, when Mickey first came on the scene; and Disneyland's early days in the 1950s and '60s. He adds, "One of the major aspects of [the research process] is looking at the history of Disney and winking and nodding at all sorts of things: Disney rides, Disney attractions—lots of ones, perhaps, that don't even exist anymore, but which people have a vague memory of or they heard about somewhere—and classic Disney movies and characters that you don't see so much anymore."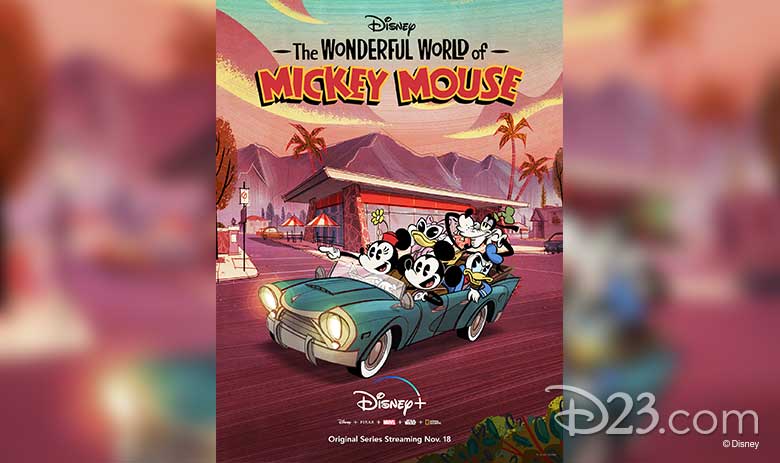 The Wonderful World of Mickey Mouse will feature numerous nods—both musical and visual—to iconic attractions and lands. One of the two shorts debuting on November 18, "Cheese Wranglers," is set within the Big Thunder Valley (with a certain Disneyland mountain vista making an appearance), and the following week, on November 27, Disney fans will join Mickey, Donald, and Goofy in the Tomorrowland-inspired "House of Tomorrow" short. "We know that there's a lot of love for the Disney Parks out there and we feel that, too," Willis says.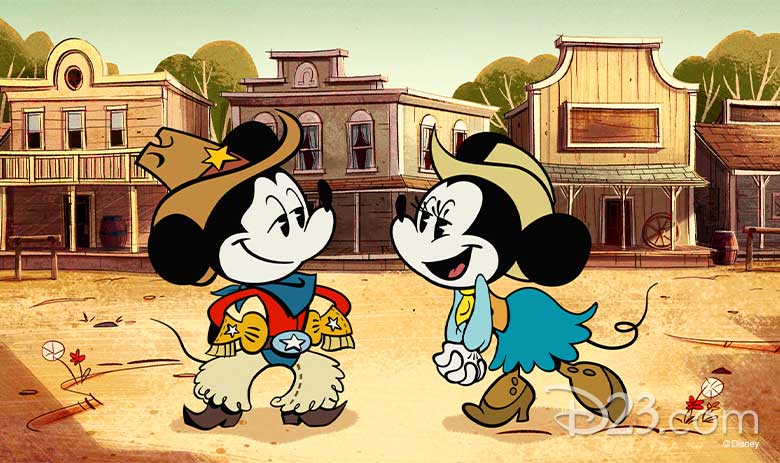 For Willis, that love is a delightful but relatively recent discovery. The composer grew up in England and while he's always had a deep knowledge and appreciation for the music of Disney films, he'd never been to a Disney park until about 10 years ago when he and his wife, Elyse, had just begun dating. "When we were getting to know each other, we went to the Disney parks quite a bit," he shares. "She had that typical Californian thing of having come to the parks a lot and having friends who worked there, so we would go [to Disneyland] and meet her friends who were working there behind the scenes and might take us on rides. I really started to fall in love with it and talk to them about the history and the mythology. Then I started working on Mickey Mouse and discovered that was actually something that was going to be useful. So over the course of this past decade, I've now really, really sort of fallen in love with the parks and all of the lore and history they have."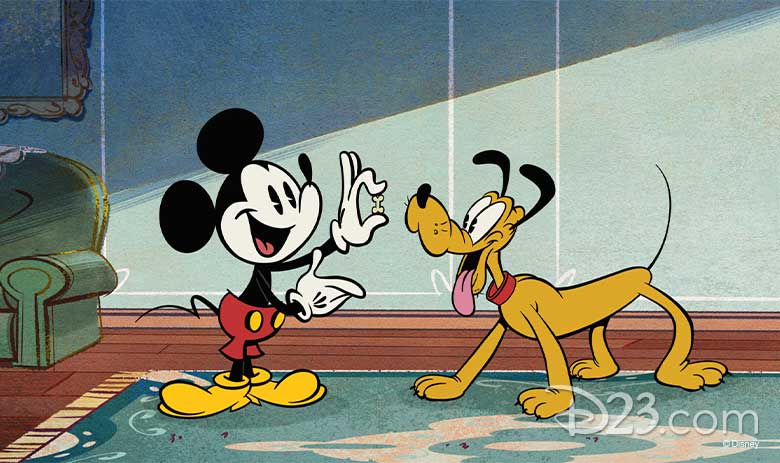 In addition to musical cues that will transport fans to favorite Disney Parks locales, Willis has also hidden Easter eggs intended to remind Disney fans of beloved films. He hints, "You might hear 'When You Wish Upon a Star' turning up here and there. You might hear an old Pluto theme that you really don't hear very often. You might hear 'Who's Afraid of the Big Bad Wolf?' Lots and lots of those kind of things."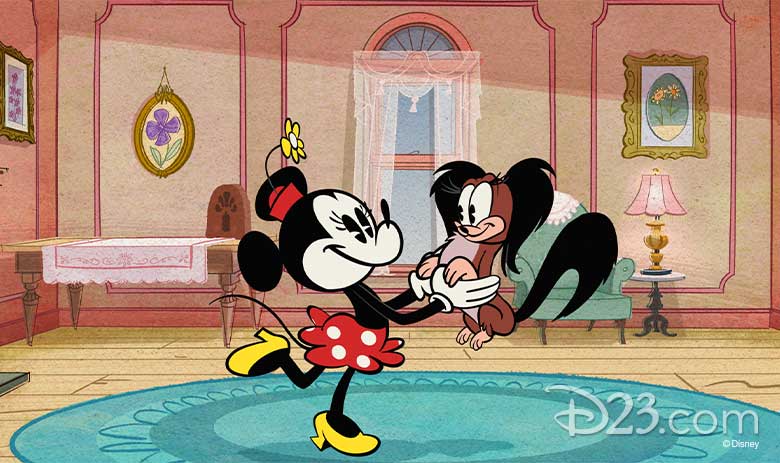 The characters themselves also guide Willis' compositions, he points out. "You very often have a slightly more sort of countrified, twangy music for Goofy. I'll often have a banjo, a kind of old time-y clarinet, some things like that," he explains. "Mickey gets a lot of jazz—a lot of New Orleans jazz. And with Minnie, things tend to be much sweeter—stylistically similar, but it's more orchestral, more woodwinds, more sort of flourishes. The characters very much have their own slant, depending on what we're doing."
"Chris is really good about thinking about story and how music tells a story," Paul Rudish, executive producer and supervising director of The Wonderful World of Mickey Mouse, says. The score usually follows animation in the production process, but Willis notes, "Sometimes if the story and the music are completely intertwined, I might get involved even before there's an animatic, when it's just an idea." Rudish and the animators also bring in Willis early when the characters will be performing a song, as was the case for "Cheese Wranglers," in which Mickey, Donald, and Goofy bring a cowboy spin to the ballad "The Wranglers' Code." "In that case they already had an idea that Mickey might yodel," recalls Willis, who co-writes many of the songs with Elyse, who serves as lyricist. "We knew that they were going to keep talking about 'the code' in the episode—it was going to be this mysterious thing that was talked about a lot. But the exact shaping of that and the rhyme scheme and the way that the song ended up was then up to us."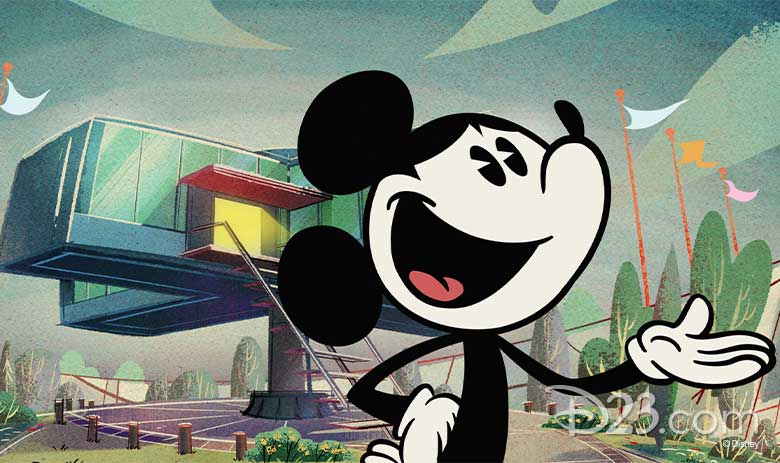 Over the course of the season, the music featured in The Wonderful World of Mickey Mouse will take inspiration from bluegrass, from classic Disney films, from storybooks, and even the classic disco sound of the 1970s. Storyboard artist Kristen Morrison believes that fans will find themselves drawn to the tunes again and again, describing them as "ear worms" in the best possible way. "I can be boarding to one of those songs, listening to it nonstop for over a month, and still never get tired of it," she says. "I think that speaks to Chris Willis' immense talent."
Hear more about The Wonderful World of Mickey Mouse from Willis, Rudish, and Morrison in the Winter 2020 issue of Disney twenty-three.