By Nicole Carroll, Walt Disney Archives
Everyone knows that a dog is man's best friend and classic companion. And, as Walt Disney once said, "Dogs are known and loved in every land." This is certainly the case in the many worlds created by The Walt Disney Company. Countless new and old Disney favorites include a lovable pup: there's Nana in Peter Pan (1953); the title characters in Lady and the Tramp (1955); Chiffon in The Shaggy Dog (1959); Pongo, Perdita and 99 Dalmatian puppies in One Hundred and One Dalmatians (1961); Copper in The Fox and the Hound (1981); Max in The Little Mermaid (1989); Dug in UP (2009); Dante in Coco (2017); and even Footstool in Beauty and the Beast (1991). But perhaps the most iconic Disney dog debuted much earlier—and he's none other than the loyal companion of Mickey Mouse himself, Pluto!
Today, with the 90th anniversary of the Mickey Mouse cartoon The Chain Gang (1930), we also celebrate 90 years since the first bow (or, bow wow?) of our favorite pup! The character that would become Pluto made his first appearance in the cartoon as two identical (and unnamed) bloodhounds. He appeared in The Picnic that same year as Minnie Mouse's dog, this time named Rover. And just a year later in The Moose Hunt (1931) he landed the role of Mickey's dog Pluto, quickly making a household name for himself. Pluto would go on to appear in countless Disney cartoons, starring in 48 shorts beginning with Pluto's Quin-Puplets in 1937. Pluto's starring turn Lend a Paw (1941) won the Oscar® for Best Cartoon of the Year, and Pluto himself was the 1940 recipient of the Tailwaggers' "Academy Award" for Most Promising Dog Actor, presented by the Tailwagger Foundation of America. Today, this award is proudly displayed in Walt's office, which was restored by the Walt Disney Archives in 2015.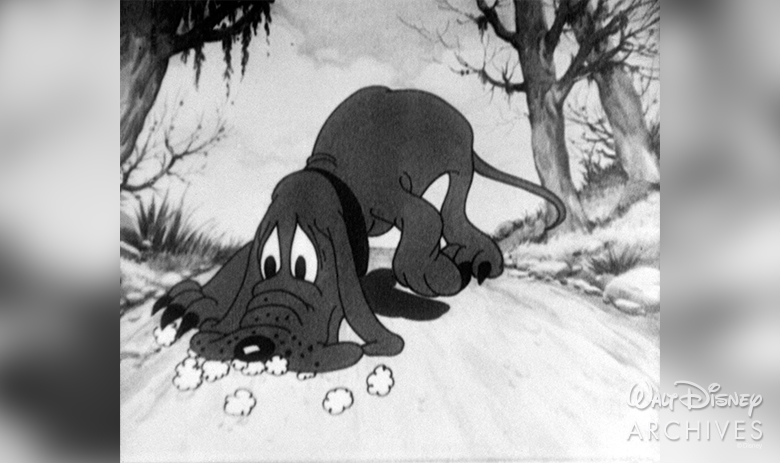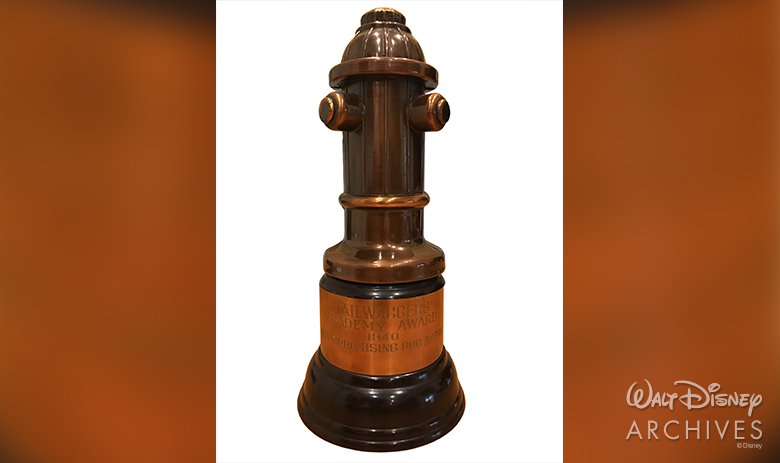 Even though he's a character of few words, Pluto is still incredibly expressive. Audiences can see the love and loyalty he emotes towards Mickey, his frustrations at times with Chip and Dale, or even a bit of fear when we find him hiding behind Mickey and the gang during the occasional misadventure. Although he does not speak, the trained ear might recognize the "voice," or "bark," of Mickey' pal Pluto — Disney Legend Bill Farmer!
Fans around the world know and love Bill as the voice of Goofy, but may not know about his additional canine creative side. This unique connection between Pluto and Goofy did not begin with Bill, but rather, it goes back to Bill's predecessor and fellow Disney Legend, Pinto Colvig. As he recently recalled for the D23 Inside Disney podcast back in May of this year, Bill was already voicing Goofy and was on the set of one his first jobs for Disney in 1987 when he was reminded that Pinto did Pluto from time to time and was asked to audition his bark. So, Bill studied Pinto's Pluto, imitated it the best he could, and has been the voice of Mickey's lovable pal ever since. A lot of work goes into Pluto's barks, as Bill is often tasked with expressing a range of emotions in one simple woof!
In a recent D23 premiere interview with actress Yvette Nicole Brown, Bill noted that his favorite memories of Mickey and Pluto are always the emotional scenes: "The emotions we put into a scene are kind of the difficult thing with Pluto. Where rather than just a bark that everyone can do, [we] say 'Okay, now make him kind of soulful,' 'make him frightened,' 'make him happy,' [or] this is a 'let's go' kind of bark—those are the tough things to do with Pluto. But probably the more emotion we get to put in with Pluto, the better."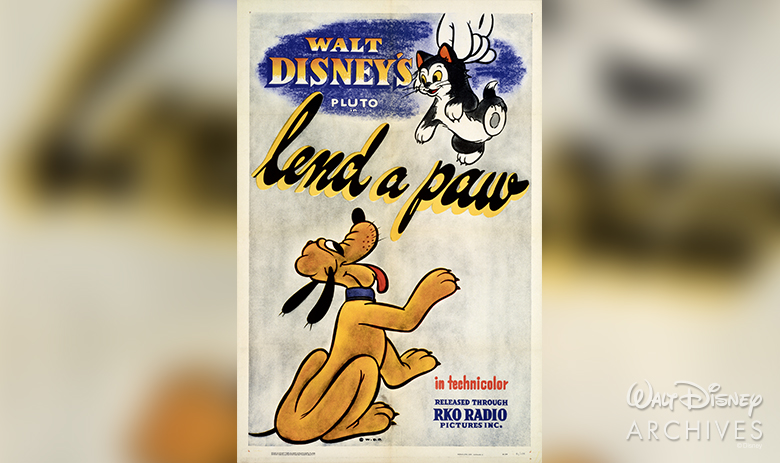 It should come as no surprise that Bill, a dog lover himself, created and stars in the new hit series It's A Dog's Life with Bill Farmer on Disney+. Each episode highlights notable pups and the various jobs they may have, from serving as rescue dogs, to working with cats, or even tracking orcas! And our favorite pal, Pluto, plays an important role as mascot on the show. This isn't the only place you can find Pluto; today, Guests can meet Pluto at various Disney Parks and Resorts around the world, interact with him in Kingdom Hearts video games, see him in episodes of Mickey Mouse Mixed-up Adventures, or catch some of his early cartoon appearances on Disney+.
And so, we hope that with your own canine companions, you'll play fetch, tug-o-war, or go for a walk to celebrate 90 years of the ever-popular Pluto!