By D23 Team
For anyone who's curious about The Walt Disney Company, this comprehensive encyclopedia is your one-stop guide! Filled with significant achievements, short biographies, historic dates, comprehensive lists, and tons of trivia, this newly updated collection covers all things Disney—from A to Z—through about 8,000 entries and more than 800 images.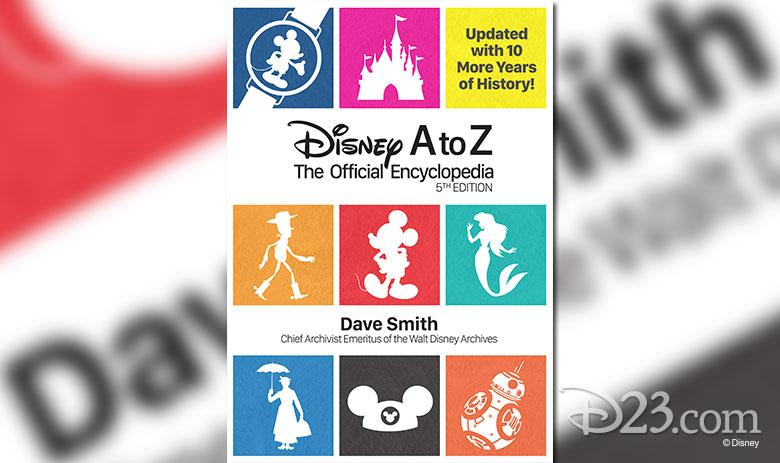 Dave Smith, chief archivist emeritus of the Walt Disney Archives and the ultimate authority on all matters Disney, adds and enhances thousands of entries based on 10 years of historical perspective since the encyclopedia's last wide release.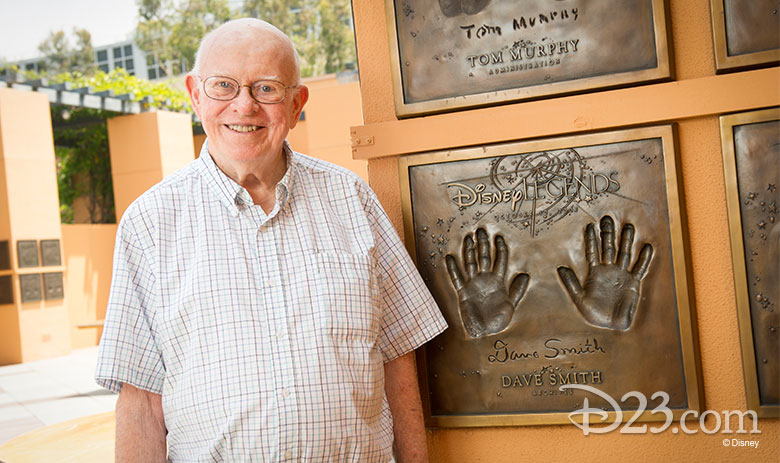 D23's Steven Vagnini sat down with Dave for a conversation about the origins of Disney A to Z and a peek behind the scenes at crafting this new and expanded edition. Get a copy of the latest edition, here.
Steven Vagnini (SV): Let's go back in time. Can you tell us a little bit about how Disney A to Z came to be in the first place?
Dave Smith (DS): I had a meeting set with the head of Hyperion Books—the entity that used to publish Disney books, now it's Disney Editions—to get suggestions for books that might include information from the Archives. One of the ideas was to do a Disney encyclopedia. Well, my first thought was that would be a horrendous job, and it was not something that I would want to get involved in. But that was just my first impression. Over the next couple of days, I gave this a little bit of thought and realized that having an encyclopedia would be very useful for the Archives. It would put a lot of the information we have in the Archives out where people could have it at their fingertips. I also realized that we had been collecting materials in the Archives for more than 20 years and it would probably be easier than I thought to compile the information into an encyclopedia. I said, 'Okay, I'll be glad to do it.' Two years later, it was completed. I got a couple of people to help write some of the entries for the original edition, but I did most of it myself. What I would do would be to take a list of all of the television shows, a list of all of the feature films, a list of the educational films, a list of park attractions, and then write entries and check these off as I wrote them. So it just grew, piece by piece, until it became an encyclopedia. And now that we've gotten through five editions, we've been able to improve on it each time a new edition comes out. Things that we found that we left out that really should have been there, we can add them. And also we've had the opportunity to keep it up to date. It's important to continue to create new entries for the new films and television series and so forth that Disney gets involved in, but also to change the ones that are no longer exactly as they were stated in the previous edition, like a TV series ending or a park attraction closing.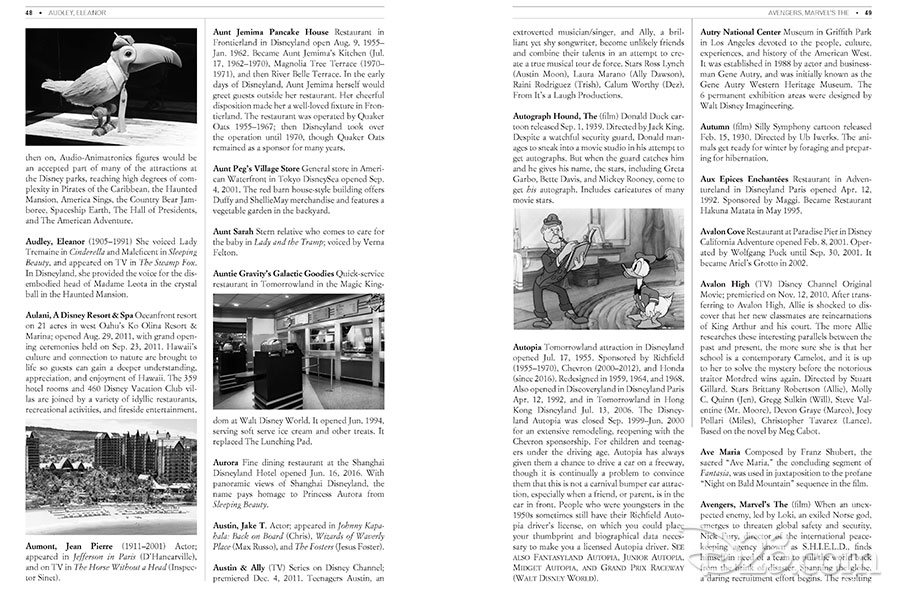 SV: Two decades have passed since the first release in 1996, so we're celebrating the 20th anniversary of Disney A to Z, with 8,000 new entries added in that period! We have seen The Walt Disney Company grow in those years, so now Disney A to Z includes the worlds of Marvel Studios films and the new productions from Lucasfilm and Pixar. So as you hear the announcement of a brand-new acquisition of this nature, do you at all first think, 'Oh my goodness, I have to update the encyclopedia.'?
DS: I do. And I keep an update on my computer at home and as soon as I hear of new television series or a new attraction at the parks, I'll see if I can find enough information to do an entry.
SV: A limited fourth edition was also recently released. Can you tell us about that?
DS: Yes, Sam's Club decided to pay for a new edition of Disney A to Z in 2014. The problem was this was a limited distribution, and it was very hard for a lot of the Disney fans to acquire copies. It was not sold online, and you had to actually go to a Sam's Club store, and they sold out quickly. So there was immediate demand for another edition of the book that would be available much more widely. Of course, because we did the work updating the third edition to the fourth edition, it was quite easy to update the fourth edition to the fifth edition. And all of the information is totally up to date up through July 1, 2016, which is when we submitted the final text.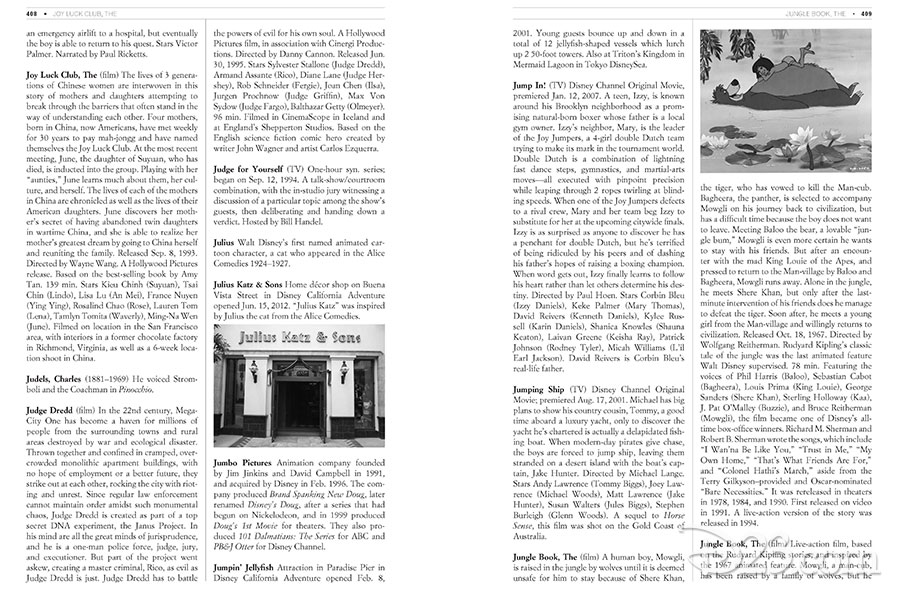 SV: So comparing this brand-new fifth edition to the last wide release in 2006, what have been some of the major additions?
DS: As you say, Disney has acquired other companies, such as Marvel and Lucasfilm, so while the encyclopedia is not going back and doing the entries for, say, all of the earlier Star Wars films, we are starting with the acquisition date and from then on creating entries on any films or TV series or so forth that are created by those entities. So you don't look in there if you want to find out information on the first Star Wars films or ABC series before Disney bought ABC because that was never the purpose of the encyclopedia. Certainly with Shanghai Disney Resort, we made an effort to do entries on all of their attractions and restaurants and shops as we had done for all of the other parks. One thing that we did as we were working on the fourth edition was to increase greatly the number of entries regarding the parks. We had been selective in earlier years and not listed every single restaurant and shop. With the fourth edition, we decided we wanted to include everything, and so we went back and created entries for the shops and restaurants that had not been included in the third edition.
SV: So that touches on one of the challenges of assembling a book such as this: being able to determine what warrants a new entry. Can you share your perspective on that?
DS: I include the items that I think are important and that people may want to have more information about. There is a limit to what you can do and you just can't have an entry on every single thing in the "Disney universe." I should say that, to my knowledge, there has hardly been anything that was removed from the book. I think maybe one or two entries that I can think of that were deemed irrelevant and were dropped. But other than that, it's been a steady growth of the encyclopedia, not a drastic change and certainly not dropping entries to get within a page count that would be reasonable.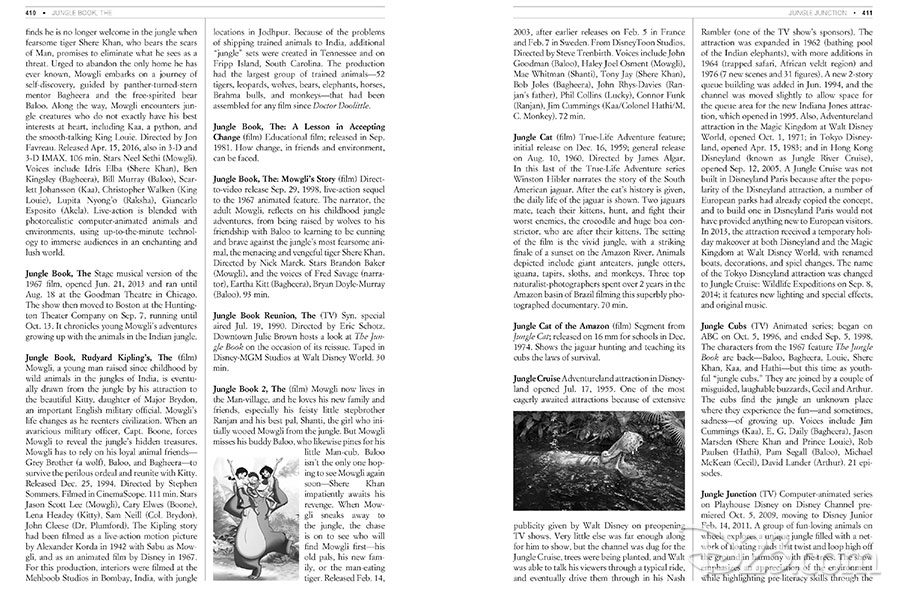 SV: And that brings us to another question: in what ways do you see people using this book?
DS: Probably the same way I use the book [laughing]. A lot of people have said that I was the top Disney expert in the world. Well, I've never known that I've really deserved that label because, in my job, I had to be a generalist. I had to know something about everything that Disney got involved in. So I didn't specialize and I didn't try to learn all of the dates and the spellings and the names of people and the names of actors in films and where films were shot and all that sort of thing. So a lot of that information is in the encyclopedia, so I—just like anybody else—look up an answer when I get a question. I keep that book on my desk, and I am opening it up and referring to it almost every day. Well, let me say one thing that I do a lot of proofreading of publications for the Company. And every once and a while, when I'm reading through the text of a new book or a major magazine article, or something like that, something won't look right. Did they spell the name of that actor right or not? And I flip open my book and check. And it's just so easy to have the information at your fingertips without having someone in the Archives walk across the room and pull out a file drawer and look something open up. So that's one thing that really was a great help for the Archives was to have this material compiled into one book so that the Archives staff could use it as much as anybody else. Just recently, I was talking a reporter that covers Disney for the Los Angeles Times, and he said he's got Disney A to Z on his desk and refers to it all the time.
SV: What I really enjoy about the book is sometimes just flipping through it. It's fun to stumble upon an entry and learn something new that I didn't know before about a film or an animated short or a random subject.
DS: Well, Disney has just expanded so far, so widely, that it's not possible to remember everything. Back in the early days of the Company and on up through the 1970s, we weren't making a lot of movies; we'd make two or three movies maybe in a year. And you would remember those movies because they didn't come out that often and you were looking forward to the next Disney movie so that you could go see it in the theaters. Well, starting in the 1980s, we started doing a lot more movies each year; we'd do 15 to 20 movies in a year. The Company's expansion makes the existence of an encyclopedia so much more important, and it's an easy place to look up that information.
SV: What do you hope readers get out of the new fifth edition?
DS: I hope people will realize that's it's an important new edition because even if you have the third edition, that one is very much out of date today. As I've said, I have more than 250 pages of additions and changes to that edition, so it's really important that people use the latest edition if they want the most accurate information and certainly if they want any information on what Disney has done in the last 10 years.