By Courtney Potter
A first glimpse of Scott Lang and Hope van Dyne's return, and new music from Frozen on Broadway… Read more, along with other news from around Disney, in this week's news briefs!
It's Here! Check Out the Official Ant-Man and the Wasp Trailer
The tiny heroes of Marvel Studios' Ant-Man, who first buzzed into our hearts in 2015, are set to return this summer in Ant-Man and the Wasp… and we simply cannot wait for the further (hilarious) adventures of Scott Lang/Ant-Man (Paul Rudd), Hope van Dyne/Wasp (Evangeline Lilly), and Hank Pym (Michael Douglas). Thankfully, we've now caught a glimpse of what's in store via the film's brand-new official trailer; check it out, above!
Set in the aftermath of Captain America: Civil War, Ant-Man and the Wasp follows former criminal Scott as he grapples with the consequences of his choices as both a Super Hero and a father. Struggling to rebalance his home life with his responsibilities as Ant-Man, Scott is confronted by Hope and Hank with an urgent new mission… ultimately, he must once again put on the suit and learn to fight alongside the Wasp as the team works together to uncover huge secrets from the past.
Directed by Peyton Reed—and also starring Michael Pena, Walton Goggins, Bobby Cannavale, Judy Greer, Laurence Fishburne, and Michelle Pfeiffer—Ant-Man and the Wasp zooms into theaters on July 6.
Save the Date!
Be sure to mark these upcoming Disney events on your calendar:
D23 and Walt Disney Archives


February 2, 2018


D23 Member Night at Disney's Aladdin at the Hollywood Pantages Theatre


February 3, 2018


D23's Magical Screening Series: Peter Pan on the Lot


February 10, 2018


D23's Magical Screening Series: Peter Pan in Florida


February 14, 2018


Tour Turner Studios in Partnership with TCM Backlot!


February 14, 2018


Enjoy Complimentary Tickets to a Special 3-D Advance Screening of Marvel Studios' Black Panther


February 20, 2018


D23 Member Night at Disney's The Lion King in Orlando


March 8, 2018


Be a Warrior During a Complimentary Advance Screening of A Wrinkle in Time


March 24, 2018


Celebrate the Opening Weekend of Frozen on Broadway in New York City
Parks


January 12–February 19, 2018




Epcot International Festival of the Arts




January 26–February 18, 2018




Lunar New Year Festival at Disney California Adventure




February 28–May 28, 2018




Epcot International Flower & Garden Festival




March 2–April 12, 2018




Disney California Adventure Food & Wine Festival




April 13, 2018




Pixar Fest begins at the Disneyland Resort




April 26, 2018




Disney•Pixar Toy Story Land opens at Shanghai Disneyland




May 27, 2018




Star Wars: Galactic Nights Returns to Disney's Hollywood Studios




Summer 2018




Pixar Pier opens at Disney California Adventure




Summer 2018




Toy Story Land opens at Disney's Hollywood Studios




2019


Star Wars-Themed Lands Opening at Disneyland and Walt Disney World



Studios




February 16, 2018


Marvel Studios' Black Panther opens in U.S. theaters


March 9, 2018


Disney's A Wrinkle in Time opens in U.S. theaters


May 4, 2018


Marvel Studios' Avengers: Infinity War opens in U.S. theaters


May 25, 2018


Solo: A Star Wars Story opens in U.S. theaters


June 15, 2018


Incredibles 2 opens in U.S. theaters


July 6, 2018


Marvel Studios' Ant-Man and the Wasp opens in U.S. theaters opens in U.S. theaters


August 3, 2018


Disney's Christopher Robin opens in U.S. theaters


November 2, 2018


The Nutcracker and the Four Realms opens in U.S. theaters


December 19, 2018


Mary Poppins Returns opens in U.S. theaters


Television




March 4, 2018


The Oscars air live on ABC (8 p.m. ET/5 p.m. PT)


March 11, 2018


American Idol premieres on ABC (8–10 p.m. ET)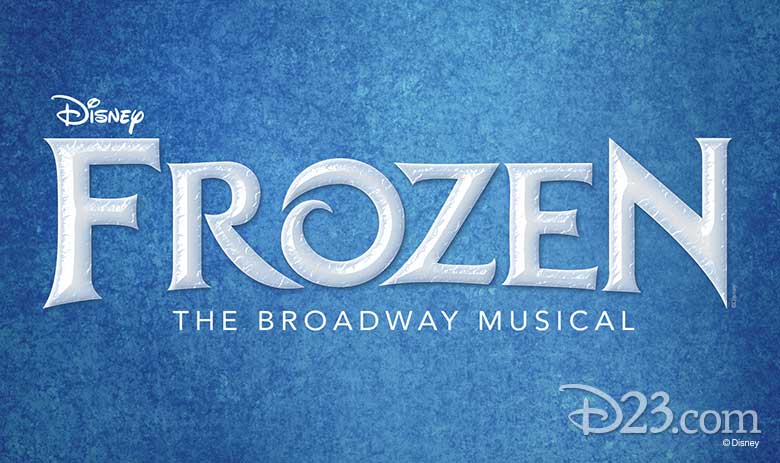 New Music from Broadway's Frozen Will Debut in Late February
Love is an open door… to brand-new music you just have to hear! Disney Theatrical Productions' Frozen is set to begin previews at Broadway's St. James Theatre on February 22—and just one day later, the first of several new songs from the show will be released online at FrozenTheMusical.com and wherever music is sold or streamed.
As announced at the recent BroadwayCon in New York City by Frozen songwriters (and recent Oscar® nominees) Robert Lopez and Kristin Anderson-Lopez, four ditties written especially for the much-anticipated Broadway show will debut on consecutive Fridays beginning February 23. Fans can expect to fall in love with "Monster," a new Act Two solo for Elsa; "What Do You Know About Love?," a new duet for Anna and Kristoff; "Dangerous to Dream," a new interior monologue sung by Elsa; and "True Love," a new Act Two solo for Anna. The songs will be recorded by the Broadway cast, featuring Caissie Levy (Elsa), Patti Murin (Anna), and Jelani Alladin (Kristoff).
For all the news that's fit for frosty print, follow Frozen on Facebook, Twitter, Instagram and at FrozenTheMusical.com—and make sure to keep your eyes peeled here at D23.com for updates as opening night grows near.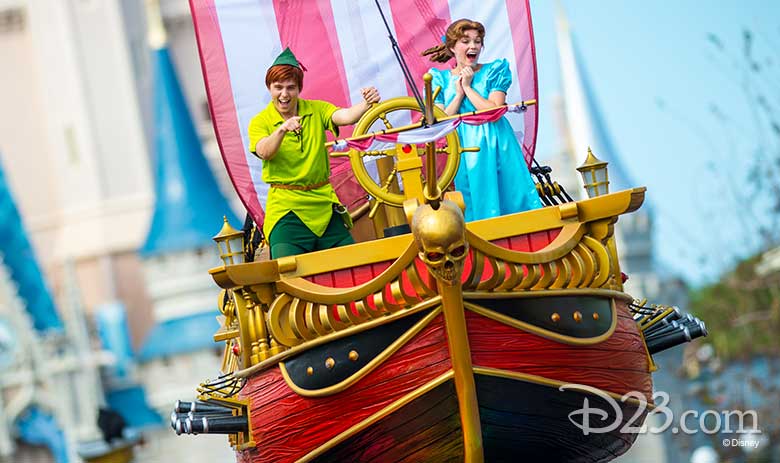 Celebrate Peter Pan's 65th with Disney PhotoPass at Magic Kingdom Park
Walt Disney's animated classic Peter Pan celebrates its incredible 65th anniversary on February 5… and if you're heading down to Walt Disney World Resort in the next week, you'll be pleased to learn there's a very special way guests can help honor the occasion!
From February 4 through 10, Disney PhotoPass Service at the Magic Kingdom will salute all things "second star to the right" throughout the park. For instance, Captain Hook and his sidekick Mr. Smee will come ashore to meet guests in Fantasyland intermittently from 9 a.m. to 6:15 p.m. Plus, the PhotoPass photographer next to the Captain Hook and Mr. Smee Character Experience will offer up some extra magic in the form of locating Peter's wily shadow for a few nifty shots.
Looking for some pics with a little extra pixie dust? Visit the photographer on the bridge next to Sleepy Hollow Refreshments to bring out your "inner fairy," or have the most famous fairy of them all appear in your photo when you visit a photographer on Main Street, U.S.A. And over by the Partners Statue in front of Cinderella Castle, the PhotoPass photog will have a fun Peter Pan-related prop to include in your snaps. "Off to Never Land!"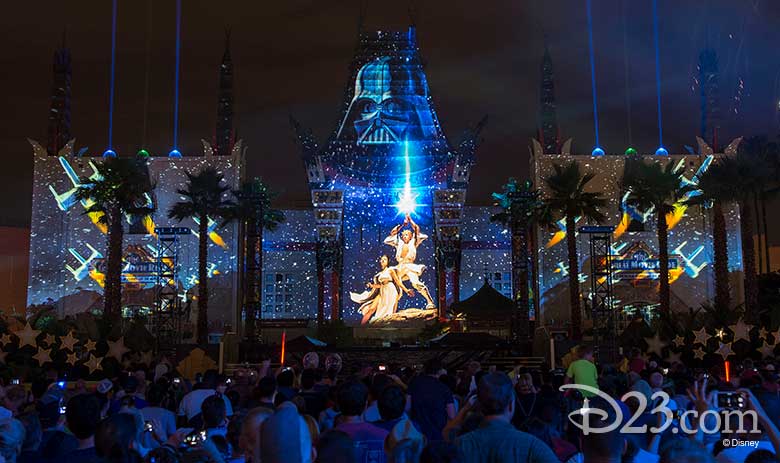 Star Wars: Galactic Nights Returns This May
Speaking of Walt Disney World Resort, an amazing event is returning to Disney's Hollywood Studios—and we think you'll definitely want to mark your calendars. Star Wars: Galactic Nights, a one-night-only special event, is coming back on May 27… and it's a must for any fan of "a galaxy far, far away."
For the uninitiated, Star Wars: Galactic Nights is an electrifying Star Wars-themed event held after park hours from 7 p.m.-midnight, and it celebrates the entire Star Wars saga with incredible entertainment, special photo opportunities, event-exclusive merchandise and food/beverage offerings, as well as encounters with rarely seen characters that guests can only experience during the event. Expect Star Wars projections to transform the Hollywood Tower Hotel with fave film moments, special effects, and amazing music—all night long. Additionally, the park's existing Star Wars: A Galactic Spectacular fireworks and the Star Wars: A Galaxy Far, Far Away stage show will both include new saga elements for the very first time. Plus, select attractions will be open to all guests—and some may even offer a special Star Wars twist on May 27 only. How can you go wrong?!
Stay tuned for more info, including ticket on-sale dates, about Star Wars: Galactic Nights as the event approaches.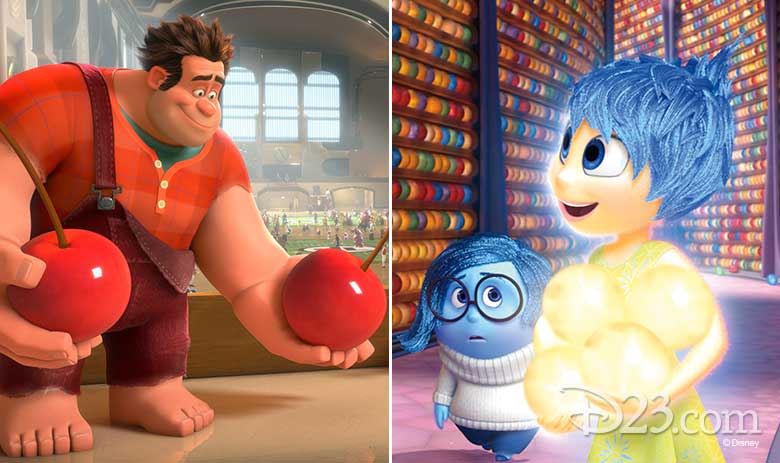 Inside Out and Wreck-It Ralph Coming to ABC
Animation fans, listen up: Two of Disney's recent hits are coming to ABC in just a few weeks!
Making its broadcast TV debut on Wednesday, February 7, at 8 p.m. ET is 2015's Oscar® winner Inside Out, directed by Pete Docter (Monsters, Inc., Up). The film goes inside the mind of 11-year-old Riley; in her "control center"—called Headquarters—five Emotions are hard at work, led by lighthearted optimist Joy (voice of Amy Poehler), whose mission is to make sure Riley stays happy. Fear (voice of Bill Hader) heads up safety; Anger (voice of Lewis Black) ensures all is fair; and Disgust (voice of Mindy Kaling) prevents Riley from getting poisoned—both physically and socially. Sadness (voice of Phyllis Smith) isn't exactly sure what her role is, and frankly, neither is anyone else. When Riley's family relocates to a scary new city, the Emotions are on the job, eager to help guide her through this bewildering transition…
Later in the month, ABC will feature 2012's Wreck-It Ralph—a perfect way to get in the (early) mood for the film's sequel, Ralph Breaks the Internet: Wreck-It Ralph 2, coming to theaters this November. Arcade character Ralph (voice of John C. Reilly) has been overshadowed by Fix-It Felix Jr. (voice of Jack McBrayer), the good-guy star of their game who always gets to save the day, for years. Tired of playing the role of a bad guy, Ralph takes matters into his own massive hands and sets off on a journey across the arcade—through multiple generations of video games—to prove he's got what it takes to be a hero. Also featuring Sarah Silverman as Vanellope von Schweetz, Wreck-It Ralph airs on Friday, February 16, at 8 p.m. EST.