By Alison Stateman
In just two days, the live-action reimagining of the beloved Academy Award®-winning animated classic The Little Mermaid will debut exclusively in movie theaters worldwide! The film, helmed by Oscar-nominated director and producer Rob Marshall (Mary Poppins Returns, Into the Woods), stars beguiling newcomer Halle Bailey in the title role voiced in the original film by Disney Legend Jodi Benson. With music by original composer and Disney Legend Alan Menken and lyrics by the late Disney Legend Howard Ashman, along with new lyrics by Lin-Manuel Miranda, the film brings to stunning life the beloved story of Ariel—a beautiful and spirited young mermaid with a yearning for life beyond her father's underwater kingdom. In the new film, the youngest and most defiant daughters of King Triton (Javier Bardem) visits the surface world, where she falls for Prince Eric (Jonah Hauer-King), setting into motion a romance that will change both of their worlds. Longing to learn more about the human world, Ariel makes a deal with Triton's sibling, the evil Ursula (Melissa McCarthy).
Before heading to your local multiplex, Marshall, Bailey, and David Diggs (Sebastian) share memorable highlights from working on the movie.
Reimagining a Classic
David Magee (Finding Neverland) wrote the screenplay for the new film, which, like the animated movie, is based on the 1837 fairy tale by Hans Christian Andersen.
"I love that Disney tackles and looks to projects that have strong original materials," Marshall tells D23. "With Hans Christian Andersen, you have this classic writer of fables and tales. The reason it stands the test of time is because everyone can relate to someone who doesn't feel like they belong in the world they're in. …That's why it resonates."
About his new film, Marshall says he was "just as protective as the fans" of the original and "preserved all the great things that we love about The Little Mermaid, all the iconic moments and songs. We've just fleshed it out into a live-action piece that has more depth, more meaning, more scope."
He continues, "When you have the tools to create a reimagination of something, the goal is to lift it up into something even more spectacular, even more beautiful, even more emotional. …There's great color and light and joy to it."
Casting About
To bring the film to life required finding actors capable of taking on and making iconic characters their own. Marshall and producer John DeLuca first sensed that Halle Bailey could be Ariel upon witnessing her performance of "Where Is the Love" with her sister as part of their R&B duo Chloe x Halle at the 2019 Grammy Awards.
Bailey was asked to audition and, according to Marshall, was the first actor they saw for the role. A fan of The Little Mermaid since childhood, Bailey shares what that first audition was like. "I remember being both thrilled and overjoyed and excited, because this movie has been something that I have always loved since I was a baby," she says. "And to get a chance to kind of reinvent Ariel was such a beautiful experience. …It was really an exciting time."
After seeing "every single person for this role," Marshall says it was undeniable that Ariel was meant for her. "She did that thing that you pray actors do as a director… that someone comes in and claims the role and says, 'This is mine,'" he shares. "And that's what she did when she sang 'Part of Your World' and read some of the scenes. It was so emotional. It was so deep."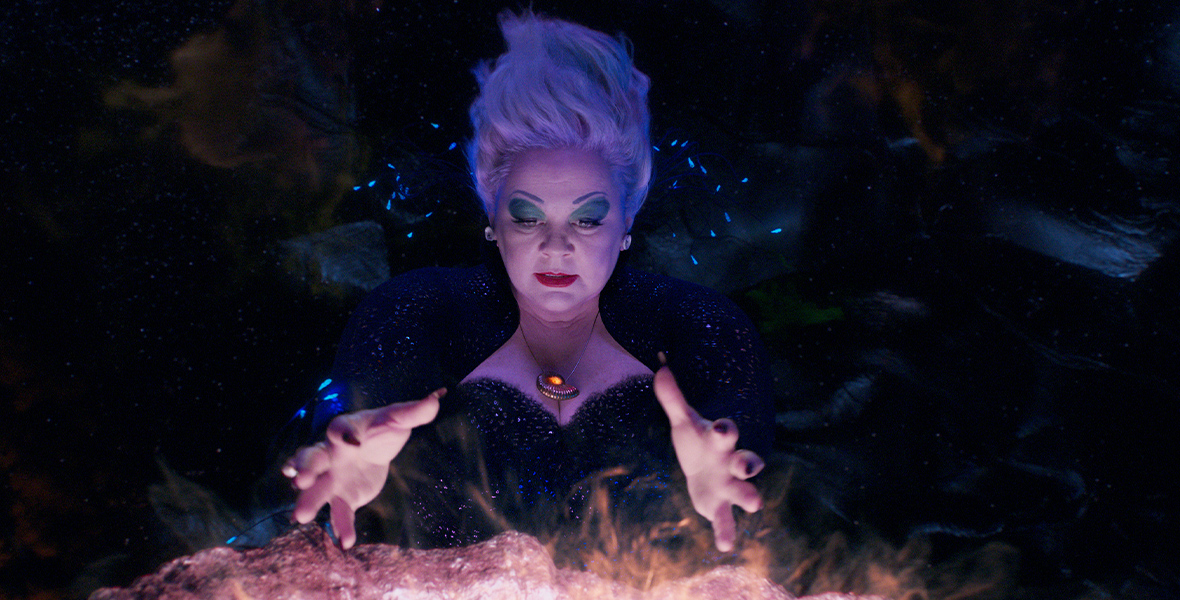 For Ursula, Marshall says that Melissa McCarthy, who he had met and known peripherally, made "such perfect sense…It just seemed like she was so right for this."
He continues, "I had a wonderful meeting with her and just knew we were on the same track. I just felt like we connected. And I think what's interesting about this role—she's very funny, which she always is, and brings such life and spontaneity to things—but she's such a great actress. She brings such depth to this role as well. And I think people are going to see her in a way they've never seen her before. I don't think they're going to expect what they're going to see here. She's spectacular. And the voice is incredible."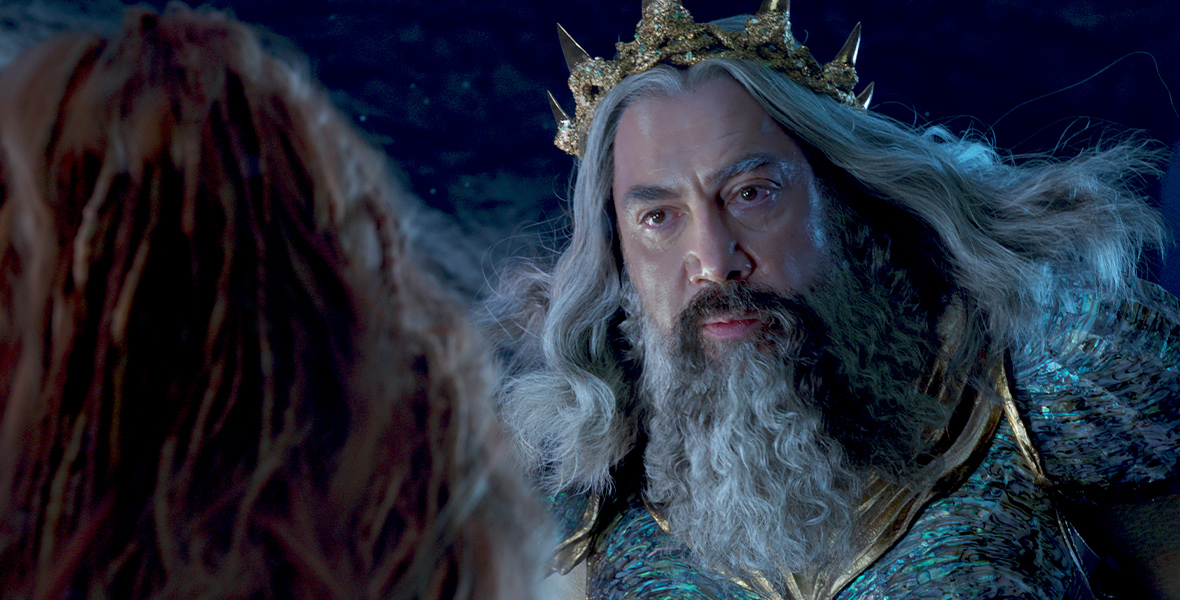 For Triton, Marshall recalls grocery shopping at Ralphs with DeLuca as they discussed whether their good friend Javier Bardem might consider the role. "He's so right for it. He's such a brilliant actor. He has such depth and such nuance, and literally my phone rang and it was Javier," Marshall marvels. "And he said, 'Have you cast the role of Triton?' It was like mental telepathy."
Having actress and comedian Awkwafina play Scuttle, the seabird and self-proclaimed expert on "human stuff" memorably voiced by Disney Legend Buddy Hackett in the original film, was DeLuca's idea. (Awkwafina previously voiced the dragon Sisu in Walt Disney Animation Studios' Raya and the Last Dragon.)
Marshall recalls, "John said, 'What about making her a female bird and what about Awkwafina?' She's so funny and such a great actress and I thought that was perfect." For Sebastian, they asked Daveed Diggs to audition. They were fans of Diggs from his Tony Award®-winning dual portrayal of Marquis de Lafayette and Thomas Jefferson in Miranda's Hamilton. "We had never met him. He came in and claimed the role of Sebastian for his own. He's so original. He's so funny. He's so creative and he's so wonderful and we just felt that in the room," says Marshall. "Wait till you see him in this movie. He's just brilliant."
Diggs, like Bailey, was a fan of the original film and says "it's still shocking to me that anyone would think that I should be Sebastian, but I love that character. I love this film. I'm super happy and grateful to be a part of it." Working with Awkwafina was also a highlight for Diggs. "I was a big Scuttle fan always, so getting to work with Awkwafina on her rendition of it was really special for me. She's so funny," he adds.
For Flounder, Ariel's steadfast fishy friend, Marshall thought of Jacob Tremblay (Room) because he's a "marvelous actor." In art, like life, timing is everything and Marshall says he was "at just the right age, just before his voice was about to change," when they started recording the voice actors for the film. "He's adorable as Flounder," Marshall promises.
Menken adored working with the assembled cast: "I was thrilled with the experience of working with Halle and Jonah and Melissa and Daveed… and every other brilliant actor in this film. And the results were amazing. Plus, they were all total pros and easy to work with."