By Courtney Potter
Disney Channel Announces New Animated Series Kiff
Big news from our pals at Disney Channel: They've just announced a brand-new animated series called Kiff—a nutty animated buddy-comedy from South African creators and executive producers Lucy Heavens (Space Chickens in Space) and Nic Smal (Caillou), set to debut in 2023. Emmy® Award-winner Kent Osborne (SpongeBob SquarePants, Phineas and Ferb) is co-producer and story editor. This scoop was recently revealed at the Annecy International Animation Film Festival, which celebrates African animation this year.
The series follows Kiff, an optimistic squirrel whose best intentions often lead to complete chaos, and her best friend Barry, a sweet and mellow bunny. Set in the bustling mountains—where animals and magical creatures live together in harmony—the series features the duo taking their town by storm with endless adventures and zest for life. Each half-hour episode, comprised of two 11-minute stories, will include a new original song.
As Heavens and Smal revealed, "Kiff, a slang word for 'cool' in South Africa, was inspired by the people and places we experienced when we were growing up in Cape Town, with many of the characters reflecting the personalities of our own family and friends. It's really 'kiff' that we can now share a bit of our world with kids and families everywhere." Keep your eyes peeled for more information on the series in the coming months…
5 Fantastic Things to Watch This Weekend
Depending on where you live, you may be privy to some real hot weather this coming weekend—which includes Juneteenth and Father's Day!—so why not stay inside, keep cool, hang with your friends 'n' family, and enjoy some fantastic content from around the worlds of Disney? There's a new episode of BUNK'D  on Disney Channel; the premiere of Rise Again: Tulsa and the Red Summer (from National Geographic Documentary Films and Trailblazer Studios) on National Geographic; and so much more.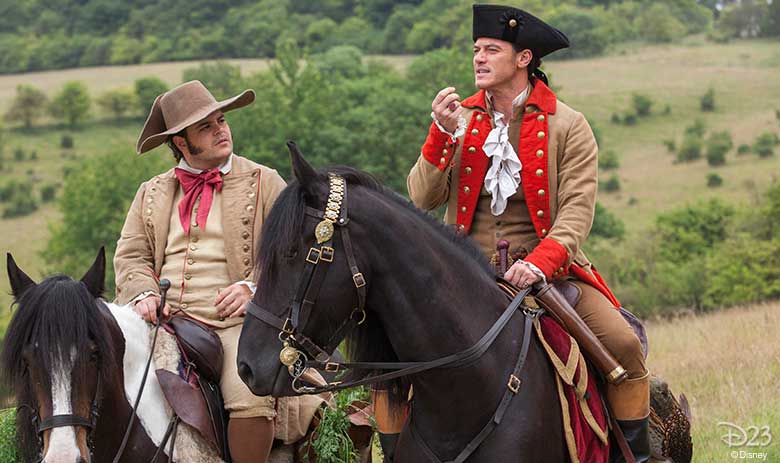 Coming Soon: Disney+ Reveals Beauty and the Beast Limited Musical Series
Much like how charming candelabra Lumiere felt during a certain culinary cabaret, it is with greatest pride and deepest pleasure that Disney+ earlier this week announced some truly delightful news: The streaming service has greenlit a new limited musical series, Beauty and the Beast (working title), from Disney Branded Television and ABC Signature!
An eight-episode prequel to the 2017 live-action film, Beauty and the Beast will star Luke Evans and Josh Gad, reprising their roles as Gaston and LeFou (Louie)—respectively—and will introduce Briana Middleton as Louie's stepsister, Tilly. The series will follow this unlikely trio after a surprising revelation about Tilly's past comes to light, sending them on an unexpected journey filled with romance, comedy, and adventure. While the mysteries of the past are uncovered and the dangers of the present grow, old friends and new enemies reveal that this familiar kingdom harbors many secrets.
Beauty and the Beast is developed, executive produced, and written by Gad, Edward Kitsis, and Adam Horowitz, each serving as a co-showrunner; the series' creative team also set to include Tony® Award-nominated director Liesl Tommy, who will serve as an executive producer and direct the first episode. The project will feature an original soundtrack from Disney Legend and EGOT Award-winning composer Alan Menken, who will also serve as an executive producer; plus, Academy Award® nominee Glenn Slater will write the lyrics for the first episode. (And musical fans, never fear: a soundtrack for the series will be released by Walt Disney Records.)
Production on Disney+ Beauty and the Beast (working title) is slated to begin in spring 2022.
Check Out the Opening Title Sequence for Chip 'n' Dale: Park Life
In further Disney+ headlines: Take a peek at the cute opening title sequence just revealed for their series Chip 'n' Dale: Park Life, now premiering Wednesday, July 28.
Comprised of three seven-minute stories, each episode follows those iconic tiny troublemakers Chip and Dale as they try to live the good life in a big city park while still having giant-sized, sky-high adventures. Nervous worrier Chip and laid-back dreamer Dale make the perfect odd couple: they're best buddies and they drive each other nuts. In their perpetual pursuit of acorns, these ultimate underdogs are joined by Pluto, Butch, and other fan-fave Disney characters as they face down bullies great and small.
Filled with laugh-out-loud cartoon comedy, wacky adventures, and heartfelt storytelling, the 12-episode series—produced by Xilam Animation—will debut new episodes weekly on Disney+.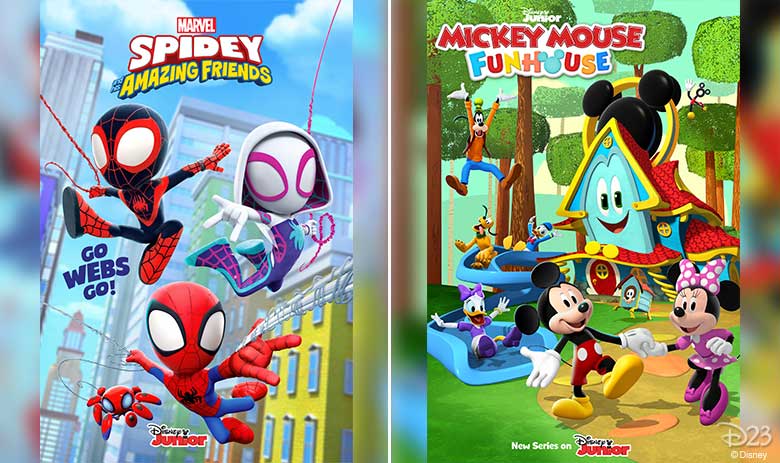 Get Ready to "Jump into Wow" This Summer with Disney Junior
Prepare for summer fun as Disney Junior invites viewers to "Jump into Wow" with premieres of two new series: Marvel's Spidey and his Amazing Friends and Mickey Mouse Funhouse—both featuring beloved characters starring in all-new adventures sure to delight kids and families alike.
Premiering Friday, August 6, with a simulcast on Disney Channel and Disney Junior at 9 a.m. ET/PT, Marvel's Spidey and his Amazing Friends is the first full-length Marvel series for preschoolers! The series follows Peter Parker, Gwen Stacy, and Miles Morales and their adventures as the young heroes team up with Hulk, Ms. Marvel, and Black Panther to defeat foes like Rhino, Doc Ock, and Green Goblin… all while learning that teamwork is the best way to save the day. The series voice cast includes Benjamin Valic as Peter Parker, Lily Sanfelippo as Gwen Stacy, and Jakari Fraser as Miles Morales. Prior to the series premiere, a series of animated shorts titled Meet Spidey and his Amazing Friends will debut on Monday, June 21, on Disney Channel (9:25 a.m. ET/PT) and Disney Junior (7:25 p.m. ET/PT).
Meanwhile, premiering Friday, August 20—with a simulcast on Disney Channel and Disney Junior at 8 a.m. ET/PT—Mickey Mouse Funhouse continues Disney Junior's legacy of showcasing the legendary Mickey Mouse and his pals for a preschool audience. The series introduces a new character, Funny, an enchanted talking playhouse voiced by Harvey Guillén, who takes the gang on adventures to unique lands that inspire the imagination, introducing a whole new generation to the captivating world of these beloved characters. The series guest cast includes Jenifer Lewis (black-ish) and Grammy® Award nominee Mickey Guyton.
In advance of the series premiere in August, Mickey Mouse Funhouse will debut with a primetime special Mickey the Brave! on Friday, July 16, on Disney Junior at 7:30 p.m. ET/PT.
Mark those calendars!
New Premiere Date and Trailer for Disney+'s Monsters At Work
A return to Monstropolis is just over the horizon! Earlier this week, Disney+ revealed its original animated series Monsters At Work will now begin streaming July 7, with new episodes dropping every Wednesday. The official, and suitably rollicking, trailer was also released—check it out, above.
Monsters At Work takes place the day after the Monsters, Incorporated, power plant started harvesting the laughter of children to fuel the city of Monstropolis, thanks to Mike and Sulley's discovery that laughter generates 10 times more energy than screams. The series follows the story of Tylor Tuskmon, an eager young monster who graduated top of his class at Monsters University and always dreamed of becoming a Scarer… that is, until he lands a job at Monsters, Incorporated, and discovers that scaring is out and laughter is in! After Tylor is temporarily reassigned to the Monsters, Inc. Facilities Team (MIFT), he must work alongside a misfit bunch of mechanics while setting his sights on becoming a Jokester.
Produced by Disney Television Animation and inspired by the world of Disney and Pixar's Academy Award®-winning feature Monsters, Inc., the series introduces new monster characters alongside returning favorites. Ben Feldman voices Tylor Tuskmon, alongside other new cast members including Mindy Kaling as Val Little, Henry Winkler as Fritz, Lucas Neff as Duncan, and Alanna Ubach as Cutter. Disney Legends Billy Crystal and John Goodman reprise their respective roles as Mike Wazowski and James P. "Sulley" Sullivan.
ICYMI: Fireworks Spectaculars Returning to Disney Parks This Summer
It's news we've all been clamoring to hear, and it officially came to pass this week: Nighttime fireworks spectaculars are returning to Disney Parks this summer! Skies will once again glimmer and gleam beginning in July, just in time for the nation's Independence Day celebrations; for more info on what you can expect, at both Walt Disney World and Disneyland Resorts, read our rundown here at D23.com.