By The D23 Team
Cool news from our pals at Disneyland Resort: A Touch of Disney—a brand-new, limited-capacity ticketed experience—begins March 18 at Disney California Adventure park (DCA)! A Touch of Disney will serve up some of the world-famous, fan-favorite food and beverages from around the resort, plus offer guests a chance to see Disney characters; shop for the latest Disney merchandise; and pose at unique photo locations.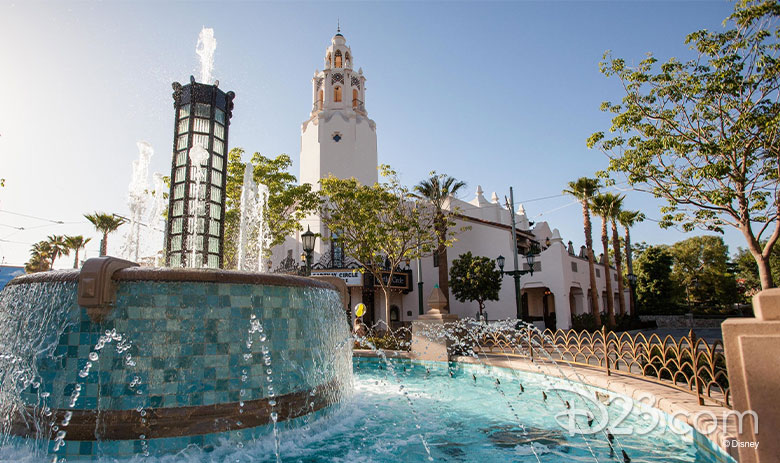 Food and fun truly go hand in hand at Disneyland Resort—so A Touch of Disney will feature a selection of iconic food and drink from both Disneyland park and Disney California Adventure park… Guests will be able to enjoy everything from churros and lobster nachos (that's a big fave 'round these D23 parts!) to the classic Monte Cristo Sandwich usually found in New Orleans Square. And many items will be served snack-sized—so you can savor a variety of bites and sips from mid-day into the night! You'll find these treats at locations around DCA, including Smokejumpers Grill, Adorable Snowman Frosted Treats, Award Wieners, Cocina Cucamonga Mexican Grill, and more—as well as six seasonal and creatively themed marketplaces.
Additionally, select retail locations also will be open—selling all the latest goodies in apparel, accessories, and souvenirs (including those adorable new Disney NuiMos!). You'll get to shop 'til you drop in the shops along Buena Vista Street, or even head over to Bing Bong's Sweet Stuff at Pixar Pier for a themed candy apple.
But that's not all: While exploring the park, guests can capture photos at iconic locations and discover new photo-worthy spots—some that are available only if you attend A Touch of Disney. Wanna catch a "howdy-do" wave from Mickey Mouse and see some of his pals in unexpected settings? Looking for a glimpse of Mater and Lightning McQueen in Cars Land? Or Joy and Sadness at Pixar Pier? They'll all be there! And to help set the auditory stage for A Touch of Disney, a cool new curated soundtrack of reimagined Disney songs will be broadcast throughout the park—along with updates and reminders about all the can't-miss A Touch of Disney experiences. (FYI: Attractions remain closed for now.)
Sounds like a blast, right? Here's all the pertinent info*:
Dates: Beginning Mar. 18; offered Thursdays – Mondays from noon to 8 p.m.
Pricing: The introductory $75 ticket includes admission, parking for the experience at Mickey & Friends parking structure, unlimited downloads of Disney PhotoPass photos taken during the day of the experience, and a $25 A Touch of Disney dining card valid towards the purchase of food and non-alcoholic beverages (subject to restrictions including not being valid for alcohol). Ticket prices are subject to change.
Tickets: A Touch of Disney tickets will be available on Disneyland.com beginning March 4, for select days from March 18 through April 5, 2021. Tickets for this experience will then be released for dates on a rolling basis until the experience ends. Tickets must be purchased in advance and online at Disneyland.com for a specific date (subject to availability).
Dining: Table reservations for Lamplight Lounge and Carthay Circle Lounge – Alfresco Dining will be made available beginning March 11. Table reservations do not provide admission to A Touch of Disney and dining at those locations requires A Touch of Disney ticket that is valid on the same day as the table reservation. Reservations are recommended, and additional details are coming soon.
Downtown Disney District will remain open seven days a week with dining and shopping that includes Black Tap Craft Burgers and Shakes, Ralph Brennan's Jazz Kitchen, Naples Ristorante e Bar, World of Disney, and Star Wars Trading Post, which recently opened in a new location. Buena Vista Street will remain open as an extension of the Downtown Disney District through March 14, and will be closed beginning March 15. Beginning March 18, Buena Vista Street will become part of A Touch of Disney.
With health and safety in mind, A Touch of Disney will operate with limited capacity and enhanced health and safety measures in place based on guidance from health authorities, such as the Centers for Disease Control and Prevention (CDC) and appropriate government agencies.
Visit Disneyland.com/ATouchofDisney to learn important details about the experience and about health and safety measures prior to arrival, such as the requirement for temperature checks and for all guests, ages 2 and older, to wear an appropriate face covering. You'll find everything you need to know before you go!
*Tickets for the experience will not be available at the Resort, are non-refundable, and may not be resold or transferred for commercial use. The number of tickets available are limited and no discounts apply. Each guest may purchase up to eight tickets. Tickets not required for Guests ages 2 and under. Disney PhotoPass is subject to the Disney PhotoPass terms and conditions. Online registration required. Experience elements and information including, but not limited to, offerings, menu items, merchandise, and services, are subject to restrictions, change or cancellation without notice. No refunds given for any such changes or cancellations whether due to inclement weather or otherwise.