By Karina Schink
The 2019 Disney California Adventure Food & Wine Festival begins today! This year, the fan-favorite Festival expands to 54 days.
From March 1 to April 23, Festival Marketplaces will line the path all the way from Buena Vista Street to Paradise Gardens Park, brandishing flavors and fare that range all the way from Pepperoni Pizza Egg Rolls to Salmon Poke and Cauliflower Ceviche. But, no matter which dish catches your nose, each and every one has the same thing in common: California.
"Food & Wine is a focus on California cuisine and basically everything California, from Southern California and that melting pot, all the way up through Napa and its wine," Chef de Cuisine Jimmy Weita told us when we sat down to discuss all things foodie- and Festival-related. "Produce, cheeses, dairy, anything that comes out of California."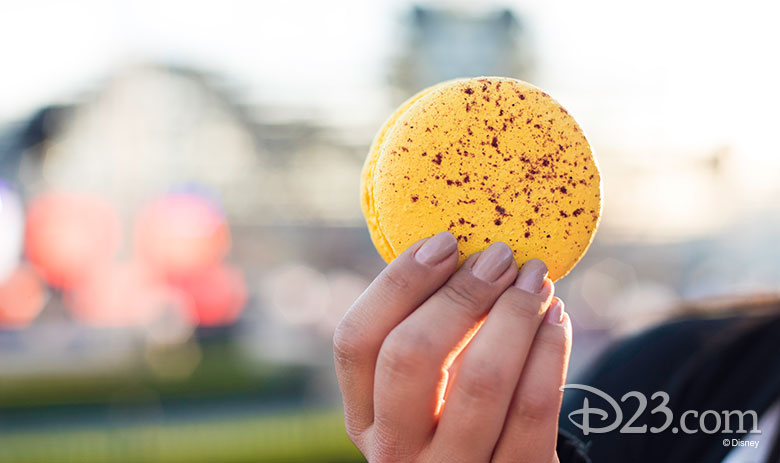 From the appropriately named Avocado Time Marketplace to the Meyer Lemon Blue Diamond Almond Macaron, it's not hard to find culinary traces of the Golden State.
But, it isn't just California that inspires Weita and his team; it's something as simple as finding unique combinations, or as he puts it "a Disney twist." In previous years, the hit combinations were scrumptious items such as Bagel Chip Nachos and the Thanksgiving Tamale. And, this year, that "touch of Disney" tradition continues. For 2019, you only have to travel to the Golden Dreams Marketplace by the Redwood Challenge Trail to taste two of the treats created with pixie-dusted magic: the Deconstructed Teriyaki Chicken Musubi with Pineapple Relish and the Anaheim Chile Relleno Bites with Salsa Verde.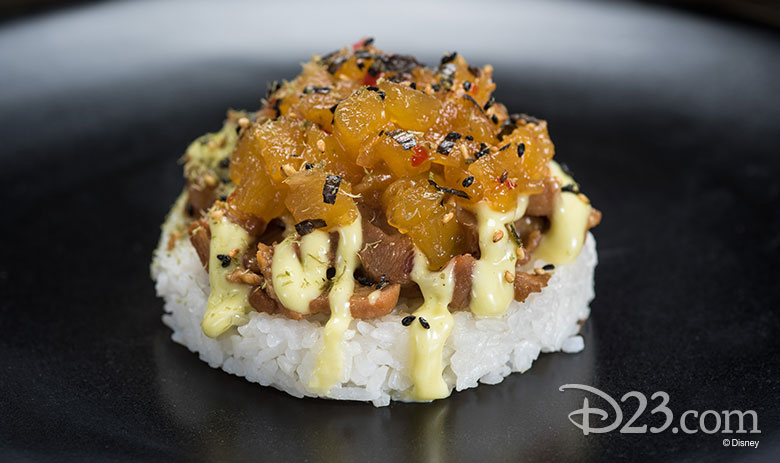 If you've visited Disneyland Resort recently, you may have stopped by the new Tropical Hideaway and tried one—or more—of the tasty baos. Or, maybe you've found yourself filling up on ramen and other vegetarian delights that have been popping up around the park. The Disney California Adventure Food & Wine Festival will be no different. In keeping up with the recent trend, Weita and his team have included several brand-new vegetarian options that everyone (yes, even meat lovers) will enjoy.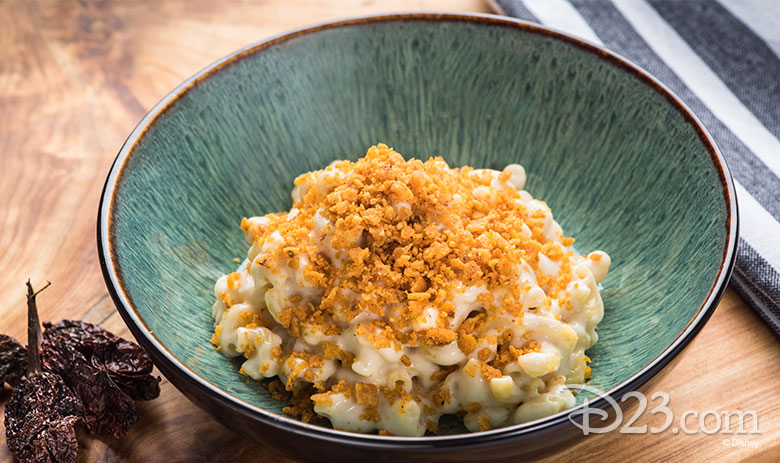 One vegetarian option you'll find at the Peppers Cali-ente near Wine Country Trattoria is the Ghost Pepper Mac and Cheese with Chili Cheese Corn Chip Dust. The macaroni and cheese, as all Festival aficionados know, is something that keeps coming back every year, just a little bit different every time. "It's a really cool dish, because there's a new incarnation of it every year," Weita says. And the spice level? Well, he says, with some mischief in his eyes, "It'll light you on fire!"
New to the Festival this year is the Dinner with the Disney Chefs event, held on March 28. Weita, along with Chef John State and Pastry Chef Jean-Marc Viallet, have put together a cookbook with recipes from the Festivals they've had a hand in creating, and at the Dinner with the Disney Chefs event on March 28, you'll be able to hear all about the creation of the book and enjoy a four-course dinner inspired by Festival recipes. Perfectly paired with hand-selected wine and cocktails, the four courses will showcase flavors, cooking techniques, and beautiful presentation.
Each year, the Festival gets better and better, from offering all the familiar favorites to new ones guaranteed to please the palate. "Now that we've had so many Festivals under our belt, we have a lot of choices," Weita says. "There are those fan favorites that we always bring back, but then we supplement those with all-new recipes, because we always come up with wacky and crazy ideas."
The Disney California Adventure Food & Wine Festival starts today, so be sure to check out our foodie guide and plan out everything you want to see while you eat. We can't wait to try all of those wacky and crazy ideas.
Bon appétit!