By Karina Schink
While we can barely believe that March is almost here, we're overjoyed that it means the annual Disney California Adventure Food & Wine Festival is almost here, as well! And, this year, the festival is longer than ever, with 54 whole days of food, delicious drinks, and fun!
From March 1 to April 23, 2019, Disney California Adventure will become home to flavors and fare inspired by the Golden State. There will be new eats, unforgettable treats, and so many things to see and do.
Lucky for you, we've got the roundup of everything you can partake in during the festivities. Be sure to keep checking back here for updates on all things food-related.
Culinary Curiosities
While your taste buds will be tantalized with all the flavors there are to try, you'll also be able to learn more about how the treats came to be. On Fridays, Saturdays, and Sundays you can witness culinary demonstrations by some of the most celebrated chefs in the industry, who will share their own go-to recipes (that we may very well attempt to re-create at home) and their tips and tricks for preparing a perfect, seasonal dish. Family-friendly seminars will also be presented on these days by Chef Daniella Malfitano, who will give you and yours the opportunity to discover how preparing and sharing a meal together makes for a wonderful time to spend as a family.
At the Junior Chef experience on the Backlot Stage in Hollywood Land, your young aspiring foodies, with some help from Chef Goofy, will be able to participate by following a recipe until it leads them to a tasty surprise.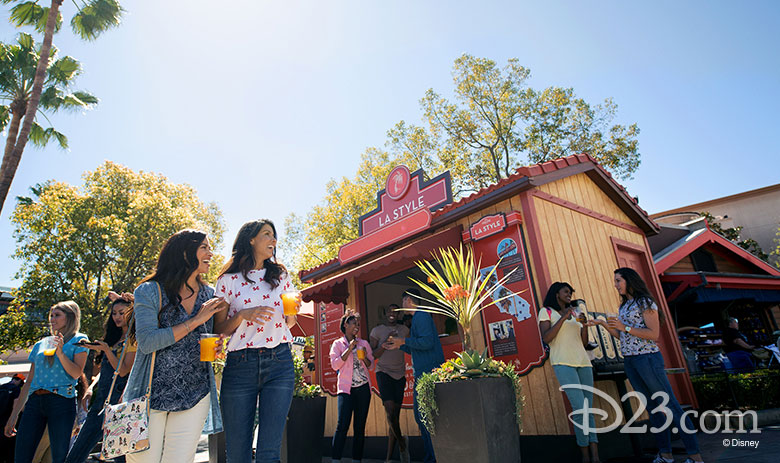 Flavored Festivities
While the full list of food offerings is still to come, we already know of a couple ways you can get your grub on during the festival. This year, there will be new tastes to satisfy all of your culinary cravings. Dinner with Disney Chefs and Winemaker Receptions at Carthay Circle Restaurant are new this year, and we'll also welcome some favorites back like Sweet Sundays, which will be held at the Palisades Stage in Paradise Gardens Park from 11 a.m. to 1 p.m.
Plus, this year's festival will also feature some special events, each for one day only—so make sure to plan now! Click here to learn more, and for reservation and ticketing information.
March 9 — Celebrity Chef Guy Fieri will be at Palisades Stage in Paradise Gardens Park
March 10 — Jean-Marc Viallet, Disneyland Resort Executive Pastry Chef*
March 22 — MacMurray Ranch Vineyards Winemaker Reception with Kate MacMurray at Carthay Circle Restaurant
March 24 — Matt Lewis, Baked NY and Tokyo, Baked: New Frontiers in Baking*
March 28 — Dinner with Disney Chefs at The Vineyard Room at Wine Country Trattoria
April 7 — Emily Ellyn, Food Network Star and Cutthroat Kitchen*
April 19 — Silverado Vineyards Winemaker Reception with Jonathan Emmerich at Carthay Circle Restaurant
April 21 — Keegan Gerhard, Food Network Challenge*
*Sweet Sunday event
There will be new eats, unforgettable treats, and so many things to see and do.
On Thursday, March 28, you can also partake in a very special event, Dinner with the Disney Chefs. From 6:30–9 p.m. in the Vineyard Room at Wine Country Trattoria, you'll be able to meet the Disneyland Resort chefs and sommeliers featured in the new Disney Festivals Cookbook, all while feasting on a delicious four-course dinner with Festival-inspired dishes, paired with hand-selected wines and cocktails.
Marvelous Merchandise
We all know that no trip to a Disney Park is complete without stocking up on all of the limited-time goodies that we can carry home with us! From accessories and a new spirit jersey to the perfect match for your kitchen, check out all of the merchandise you can snag at this year's festival.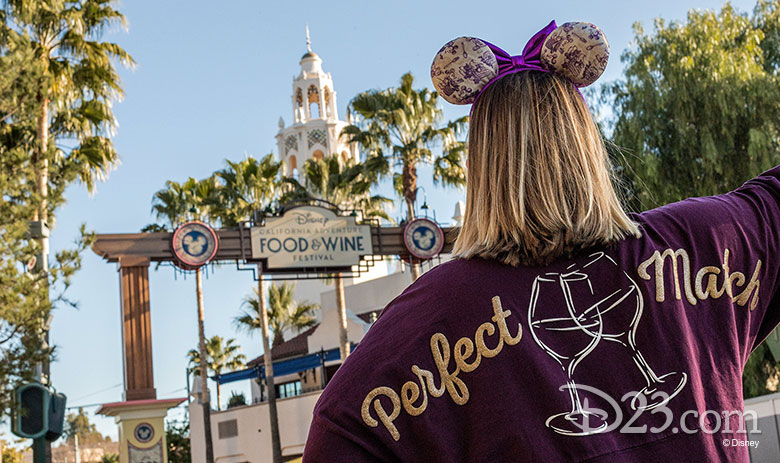 Appetizing Attire
In this year's selection of merchandise, there is something to please every palate. Show your love for all things tasty by adding another spirit jersey to your collection (or perhaps this can be your inaugural one!), plus you can also grab another pair of ears (adorned with a dinglehopper, no less!) to be the perfect condiment to your ensemble.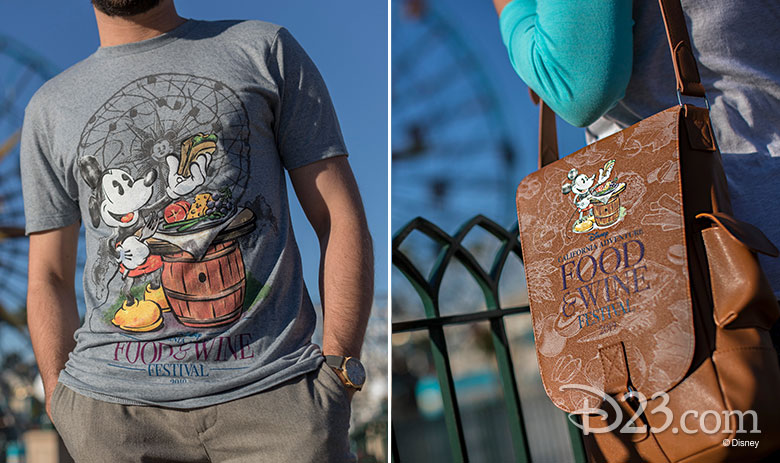 Accessories a la Carte
Display your tasteful Disney style with themed merchandise that ranges from tees and hats, to bags. There's a little something that'll please every kind of taste bud.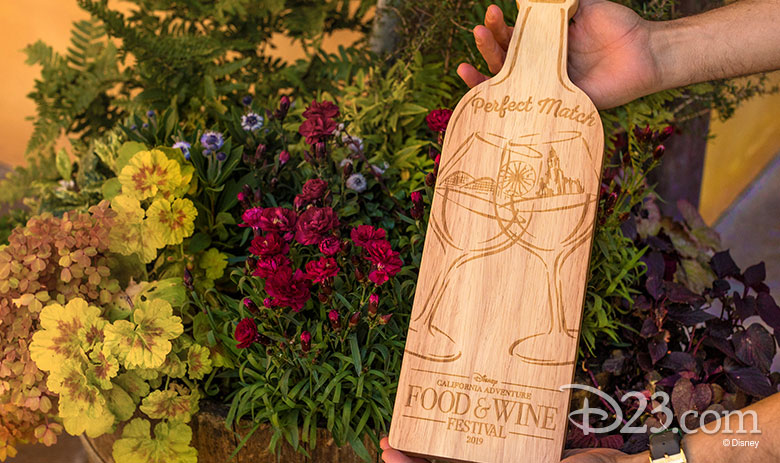 Kitchenware with some Kitchen Flair
If you take part in any of the Festival's seminars (or if you're already a chef yourself), you know that the kitchen is at the heart of all the most delicious magic! Add a dose of pixie dust to your meal prep with a cutting board that we're sure will make a perfect match to your kitchen aesthetic.
Please note that many of the Disney California Food & Wine Festival events are included with admission to Disney California Adventure park. Special signature events, demonstrations, and seminars will require a separate fee. Additional details and reservation information for the select signature events and seminars can be found at Disneyland.com/FoodandWine. You can also check for the latest information and schedules as they become available at Disneyland.com.