By Zach Johnson
We're nuts about Chip and Dale here at D23: The Official Disney Fan Club... and so is Akiva Schaffer, director of the Disney+ Original movie Chip 'n Dale: Rescue Rangers! Before the hybrid live-action/CG animated action-comedy premieres Friday, May 20, Schaffer answered our burning questions about this 30-years-in-the-making comeback!
Before we get to the Q&A, a bit about the film... Chip 'n Dale: Rescue Rangers catches up with former Disney Afternoon television stars Chip (voice of Jon Mulaney) and Dale (voice of Andy Samberg) in modern-day Los Angeles. It's been decades since their successful television series was canceled, and Chip has resigned himself to a life of suburban domesticity as an insurance salesman. Dale, meanwhile, got CGI surgery and works the nostalgia convention circuit, desperate to relive his glory days. After one of their former cast mates mysteriously disappears, Chip and Dale must repair their fractured friendship and resume their Rescue Rangers detective personas to rescue their co-star!
The conversation below has been edited and condensed for clarity.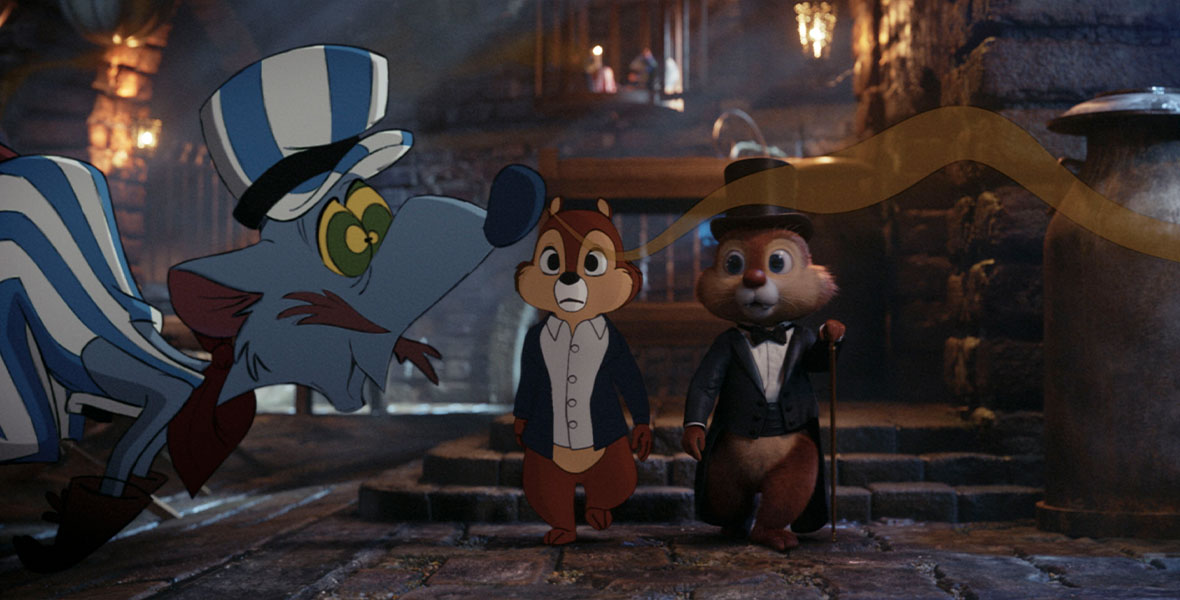 D23: What made you want to direct this and take these chipmunks in a new direction?
Akiva Schaffer (AS): First, there was the technical aspect that intrigued me—learning the world of animation. A lot of my friends make animated films, like Phil Lord and Christopher Miller, and I've always wanted to know how to do that. Second, I grew up with all these characters—especially from Disney Afternoon, which was a big part of my childhood. I'd get home from school every day, and they'd mix up which shows I was going to see. DuckTales and Chip 'n Dale: Rescue Rangers were probably my favorites, but I have younger siblings, and we watched Gummi Bears probably the most of any of them. And so, the idea of getting to be part of that legacy was super exciting—and so was doing it in a Roger Rabbit world. I saw Who Framed Roger Rabbit in theaters, and it was probably the coolest thing I've ever seen in my life. Who would've thought that one day, I'd be in a recording studio with Charles Fleischer voicing Roger Rabbit? One of the artists who worked on that movie animated the character for our movie. Anytime I could get legacy people for voices, for character work, or for artists work, I did; that was always my first task. Third, the script [by Dan Gregor and Doug Mand] was really funny. It was really inventive and self-aware. On a comedy level, I thought, 'This is a funny movie that I'd actually want to see.' It's one of those the whole family can enjoy.
D23: From Flounder to Pumbaa, there are so many cameos in this film—and not just Disney characters, either! How did you manage to pull that off and include all that IP?
AS: I owe a big thank you to the Disney legal department! It's easy for me to just say, 'What if we have the My Little Ponies in a stampede, like a running of the bulls?' It's another thing for them to get me on a Zoom with Mattel to pitch them the movie, tell them we're not going to make fun of their characters, and show them how it's going to fit in, just so we can get approvals. It is a big undertaking. I didn't want it to be all Disney characters, because I wanted this film to be a general love letter to animation.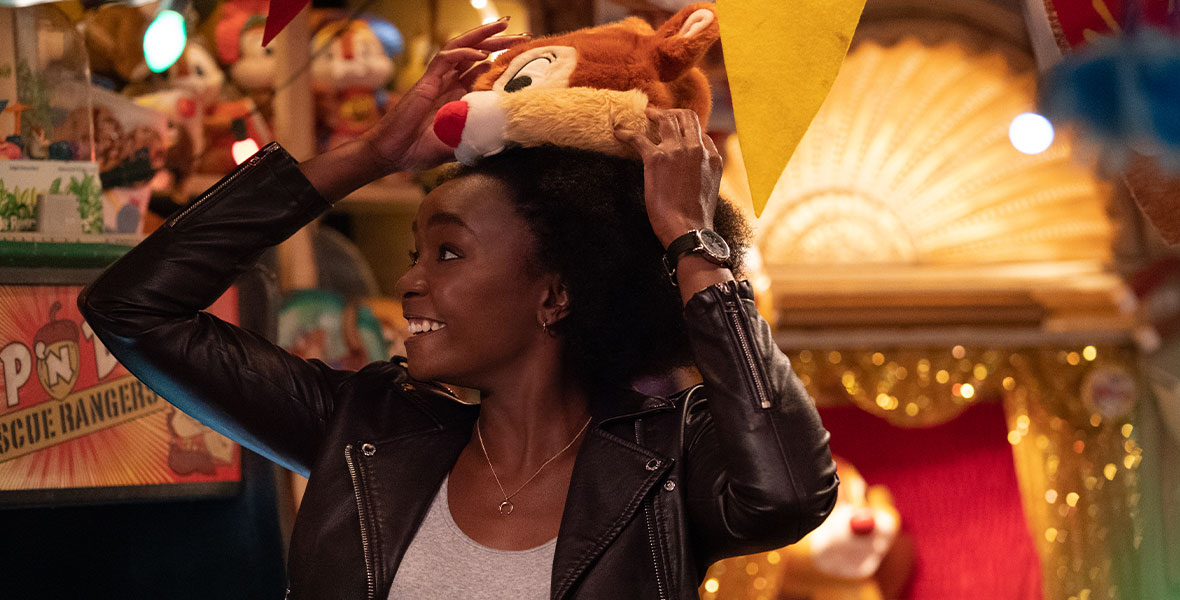 D23: In writing that love letter to animation, how were you able to blend live-action footage with CG animated elements? Obviously, Disney has a long history with that.
AS: We know what it looks like in Mary Poppins or Roger Rabbit, but we didn't know what it would look like to have our main two characters appear in different 2D and 3D animation styles. That was a big question, and it was part of what made this film exciting to me. It felt experimental in a way that would keep my attention for the years required to make this. Then, you ask: What does a scene look like with them and Captain Putty [voice of J.K. Simmons], a stop-motion clay police chief? Then there's a guy who walks away from him, Officer Toad; you barely see him, but he's got a kind of Pixar style. And then there's a human being [Detective Ellie Whitfield, played by KiKi Layne] talking to them through the window. When you read that on a page, you think, 'How will all that look together?' It was exciting to experiment. We pulled it off pretty well.
D23: What do you hope Disney fans—particularly those who grew up with the Chip 'n Dale: Rescue Rangers television series—take away from this Disney+ Original movie?
AS: I am no fool: I know that anybody who grows up with IP has their own feelings about how they want it to go. There are 10 different Batman movies at this point, and someone's favorite is someone else's least favorite. People have their own ideas of what that is. You have to know that going in. Just know that I'm a fan of the original, and I tried to honor legacy characters, the original artists, and the original voices whenever possible. But we also had to tell a story that could expand the universe and not just be for people who grew up watching it. This is for children and adults, so I put a lot of stuff for people around my age in there. I hope they come in with an open mind and can enjoy it—it's 90 minutes of pure joy! I made the movie to please a crowd