By Justin Arthur
The colorful 2021 D23 Collector Set pays tribute to a half century of Walt Disney World with a collection of classic theme park souvenirs which, of course, had to feature a vintage-inspired lunchbox! Completely reimagining a 1973 original, this lunchbox features all-new artwork inspired by all four of Walt Disney World's theme parks and beyond. There are dozens of characters, icons, and attractions to see on the lunchbox, from the classic Electrical Water Pageant to Star Tours – The Adventures Continue and Mickey and Minnie's Runaway Railway!
We caught up with the artists behind the lunchbox, fan-favorites Kevin Kidney and Jody Daily, as they took us on a journey into their imaginations!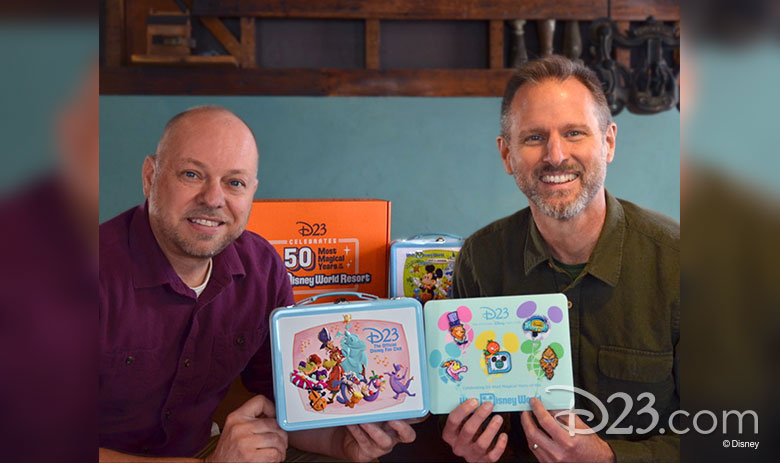 What got you excited about this project?
Kevin: We were little kids in the 1970s when the original lunchbox was released, and it was hugely popular at my elementary school. I never got one, but I wanted it SO badly. I remember sitting in the cafeteria across the table from a girl who had one. I just stared at Mickey on that train! I laugh to think the first time I probably ever heard of Walt Disney World was from this lunchbox! Each year my mom would buy me a new lunch kit for school, and I had a fairly impressive collection by the time I was in 4th grade. My favorite was the Walt Disney World America on Parade lunch box which came out in 1976 for America's bicentennial. It made me want to design parade floats!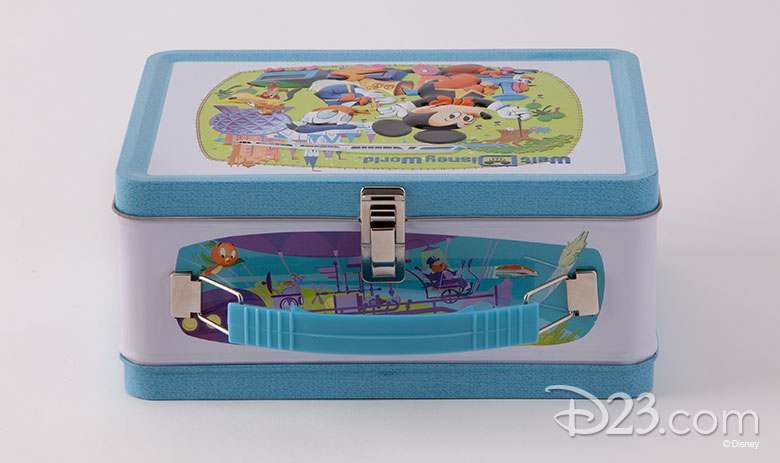 How did you fit 50 years of Walt Disney World history into this?
Jody: We love to mimic different vintage art styles, whether it's the soft watercolor backgrounds from Snow White or the bold graphics of Mary Blair, so this project was a new challenge. At first glance it looks like the lunch box we're all familiar with, but most of the artwork is entirely new, with each of the Disney Parks in Florida represented with newly added icons and characters. The reverse side of the lunchbox originally showed the Country Bear Jamboree, but we've added a band of favorite characters from everywhere in the Resort—from the Haunted Mansion and Pirates of the Caribbean, to Kitchen Kabaret and the original Journey into Imagination.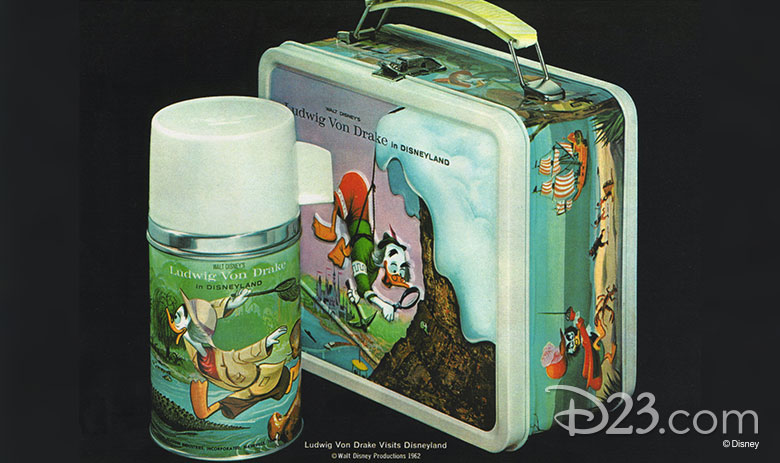 Did you research any other classic Disney lunchboxes for inspiration?
Kevin: The very first character-licensed lunch box featured Mickey Mouse in 1935, but metal lunch kits took off in the 1950s and '60s thanks to Aladdin Industries in Nashville, Tennessee. They introduced the full-color lithography on all sides of the box and, later, embossed the front and back panels to give a 3D effect. One of the first embossed Disney-licensed lunch kits featured Ludwig Von Drake in Disneyland, released in 1962.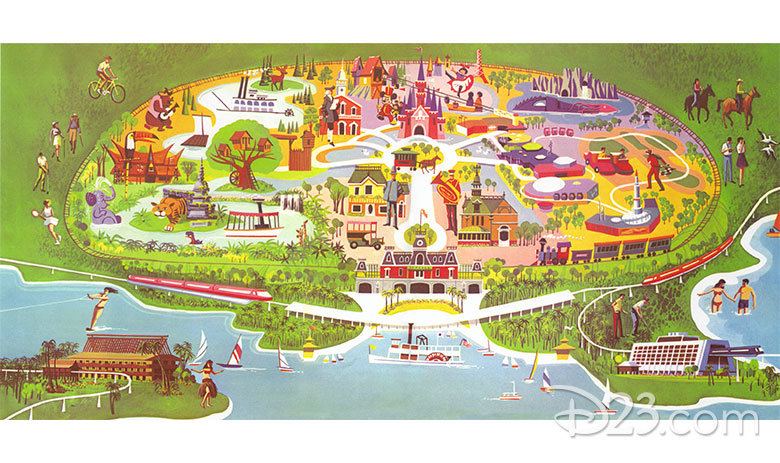 How did you capture that 1970's Walt Disney World look?
Jody: Here's some neat trivia about the original Walt Disney World lunch box. The sides were decorated with colorful icons representing the Contemporary Resort, the 20,000 Leagues Under the Sea attraction, the Swiss Family Treehouse, and several others. All of these icons were lifted from a colorfully stylized map in a 1970 booklet called Preview Edition of Walt Disney World. The map offered a peek at the "2,500 acres of resort and recreationland" before the construction was completed. If you compare the lunch box with this map, you'll see where all the original designs came from! Ten years ago, to commemorate Walt Disney World's 40th anniversary, Kevin and I created a dinnerware set based on this same map. It's long been our favorite graphic depiction of Walt Disney World, and a big reason why this lunch box is so special to us. In the same art style, we designed brand new icons representing newer attractions for this lunchbox, such as DINOSAUR, Remy's Ratatouille Adventure, and Star Wars: Galaxy's Edge.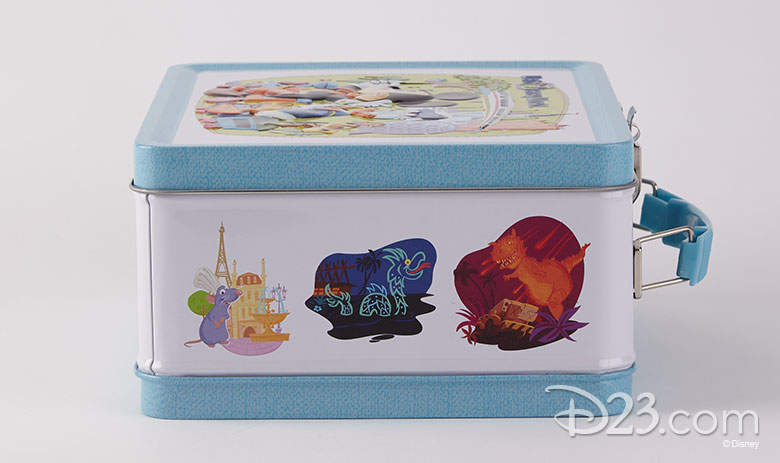 The lunchbox's cover now features embossed icons from all four of Walt Disney World's theme parks, along with the addition of D23 favorites Chip and Dale. And the bottom features two classic 1971 icons that we just couldn't resist keeping from the original—the Nautilus from 20,000 Leagues Under the Sea: Submarine Voyage, and the Walt Disney World Monorail gliding through the iconic A-Frame of Disney's Contemporary Resort. My personal favorite Easter egg? A penguin from the orchestra of Muppet*Vision 3-D!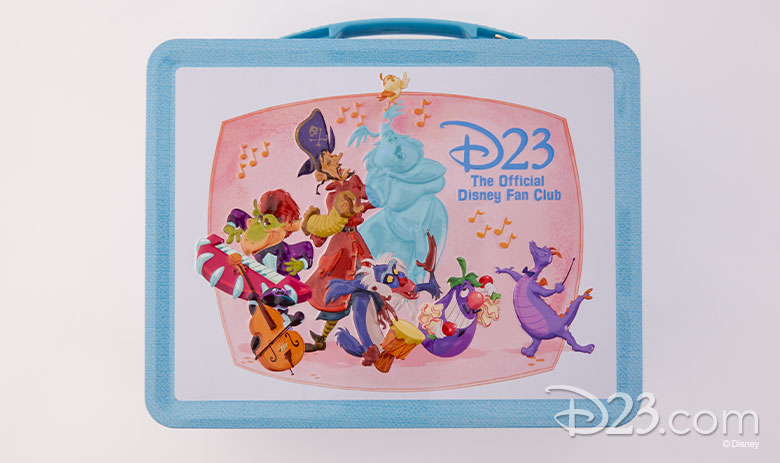 There are so many incredible things to see on this lunchbox that you'll want to take it everywhere you go and dream that you're on a Walt Disney World vacation! So what are you waiting for? Get your lunchbox, along with a stunning custom-designed set of five retro pins, a colorful D23 pennant, and a vinyl record featuring music from the parks as part of the 2021 D23 Collector Set , only for new and renewing D23 Gold Members in 2021!