By Zach Johnson
Soon, fans will get two Thors for the price of one!
Opening in U.S. theaters on Friday, July 8, Marvel Studios' cosmic adventure Thor: Love and Thunder finds Thor (Chris Hemsworth) embarking on a new journey—one of self-discovery. But his journey is interrupted by Gorr the God Butcher (Christian Bale), who is killing the gods one by one. To stop this new threat, Thor recruits King Valkyrie (Tessa Thompson), Korg (Taika Waititi), and ex-girlfriend Jane Foster (Natalie Portman)—who, much to his surprise, wields his hammer, Mjolnir, as the Mighty Thor!
Last week, the aforementioned actors joined writer, director, and co-star Waititi, along with producer Kevin Feige, to share some behind-the-scenes stories with D23: The Official Disney Fan Club and other media outlets during a virtual press conference.
Here are seven highlights from that event: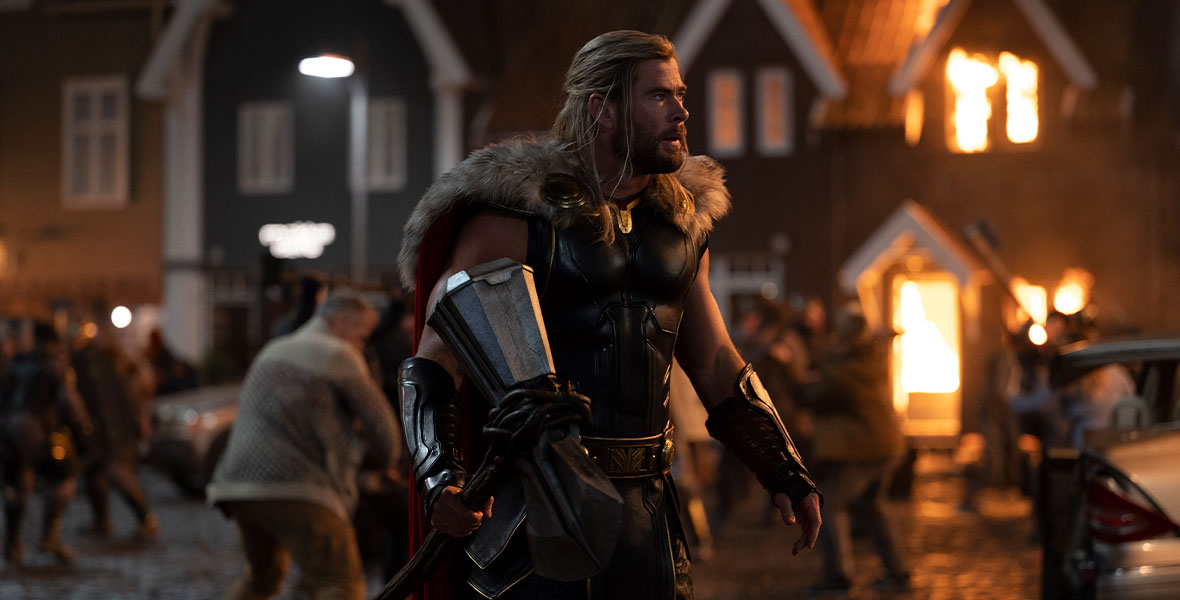 1. Thor rediscovers his purpose after a series of setbacks.
Thor is the first character to lead four franchise films in the Marvel Cinematic Universe (MCU). Naturally, he's evolved quite a bit since he was introduced onscreen 11 years ago—and Hemsworth, who with Waititi reinvented his character for Thor: Ragnarok (2017), believes this iteration is more in line with his own persona. "Taika brought out the immature, young, adolescent quality that I embody," Hemsworth said. Feige added, "Taika certainly brought another dimension that was always there within Chris."
The inspiration behind Thor's new attitude lies in the actor who brings him to life. According to Waititi, Hemsworth is "the kind of person I'd want to be on an adventure with—someone you can trust will be there to look after you, like a real-life Super Hero."
For this film, Hemsworth said, "The North Star was about having fun: embodying this space as a child would, enjoying all of it, being caught up in the wonder and the fascination of it, and not getting bogged down in the serious nature of making films."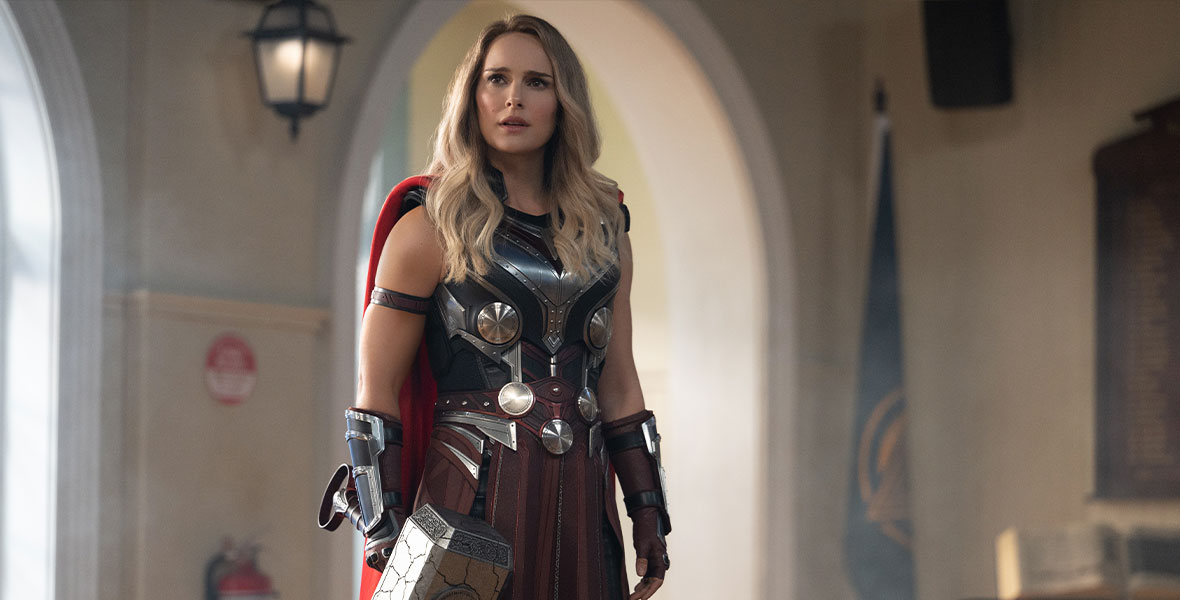 2. Jane Foster proves her worth as a Super Hero.
After portraying world-renowned astrophysicist Jane Foster in Thor (2011) and Thor: The Dark World (2013), Portman was excited to be asked back to the MCU. "I was especially grateful to everyone's imagination to cast a 5-foot-3 actress in a 6-foot role," Portman joked. "I think that takes a real leap of possibility in your mind." She relished the opportunity to play a Super Hero amongst friends: "Tessa and Chris obviously had a lot of experience in that world, so I got to learn a lot from them."
Although she is now known as The Mighty Thor, Jane's transformation masks a very personal battle. "This gave me an incredible opportunity to explore a female Super Hero who can be quite vulnerable and weak and find strength in that," Portman said, adding that playing The Mighty Thor "gave me renewed respect for what Chris has been doing for over a decade, and what Tessa has been doing, because I saw how much work goes into it. I wasn't aware of it in the first [film]."
When Thor reunites with his ex, he learns that Jane hasn't been The Mighty Thor for very long. "She's new at it and keeps reverting to human form," Portman explained. "There's always a danger that it might be her last moment getting to experience that."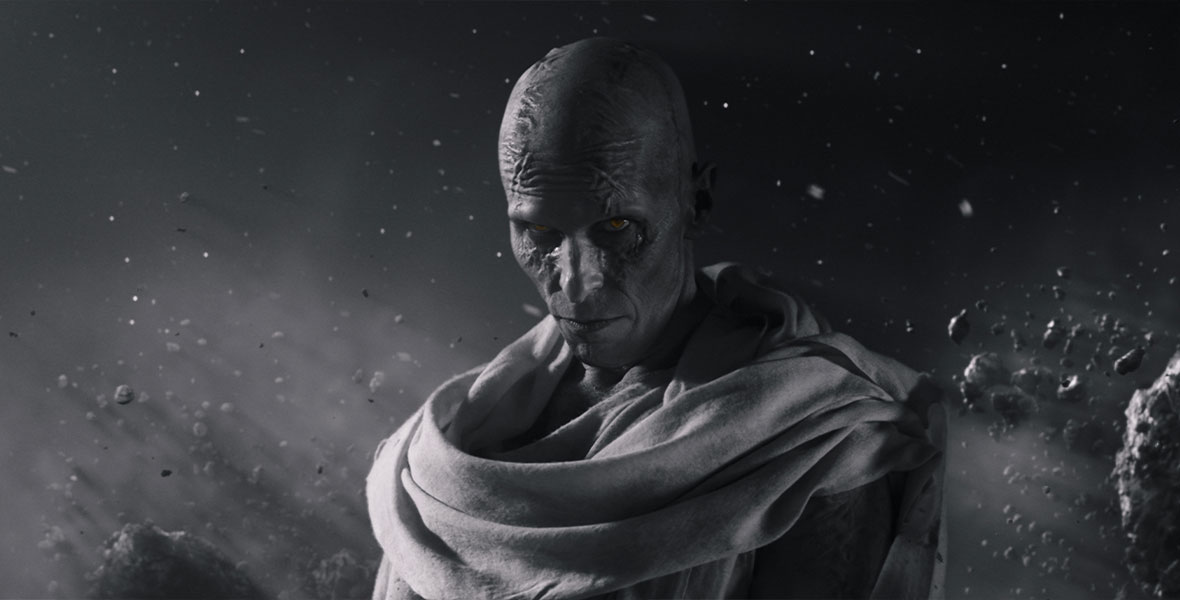 3. Gorr the God Butcher is a villain unlike any other.
Thor has faced off against countless enemies—from Laufey, King of the Frost Giants (Colm Feore), and Malekith, leader of the Dark Elves (Christopher Eccleston), to Hela, the Goddess of Death (Cate Blanchett), and Thanos, the Mad Titan (Josh Brolin)—but none of them is nearly as "creepy" as Gorr, said Bale, who also described his character as a "loner." According to Bale, "There's great pleasure in playing a villain; it's a lot easier to play a villain than it is to play a hero. Chris had a much tougher job." As the story unfolds, Bale promised, fans will "understand" why Gorr "makes awful decisions."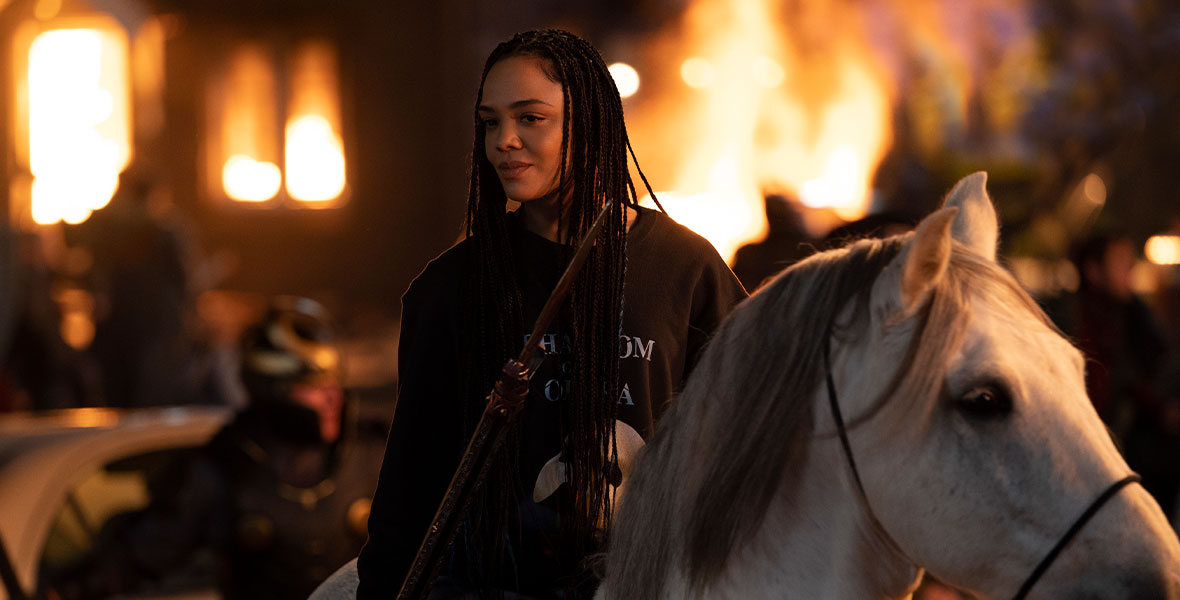 4. King Valkyrie misses being on the front lines.
Heavy is the head that wears the crown—just ask King Valkyrie, who has grown tired of her leadership role and misses the thrill of battle. So, when Gorr brings the battle to New Asgard, King Valkyrie doesn't miss the opportunity to fight alongside Thor again. "When we first met Valkyrie, she had a tremendous amount of trauma, and she was dealing with that by drinking a lot," Thompson explained. "[Back then], Taika and I talked a lot about upending what a female Super Hero looks like... It was really fun to both try to inhabit the spirit and the physicality that it takes to be a hero, which is its own skill, and to allow her to be fun and goofy. We also talked about the idea of someone who has a job she really loves but is also kind of disgruntled. She was a professional soldier for thousands of years and now finds herself stuck in bureaucracy. She really misses being on the battlefield and she misses her sisters. It's been fun for King Valkyrie to have that with Natalie, in particular, as The Mighty Thor."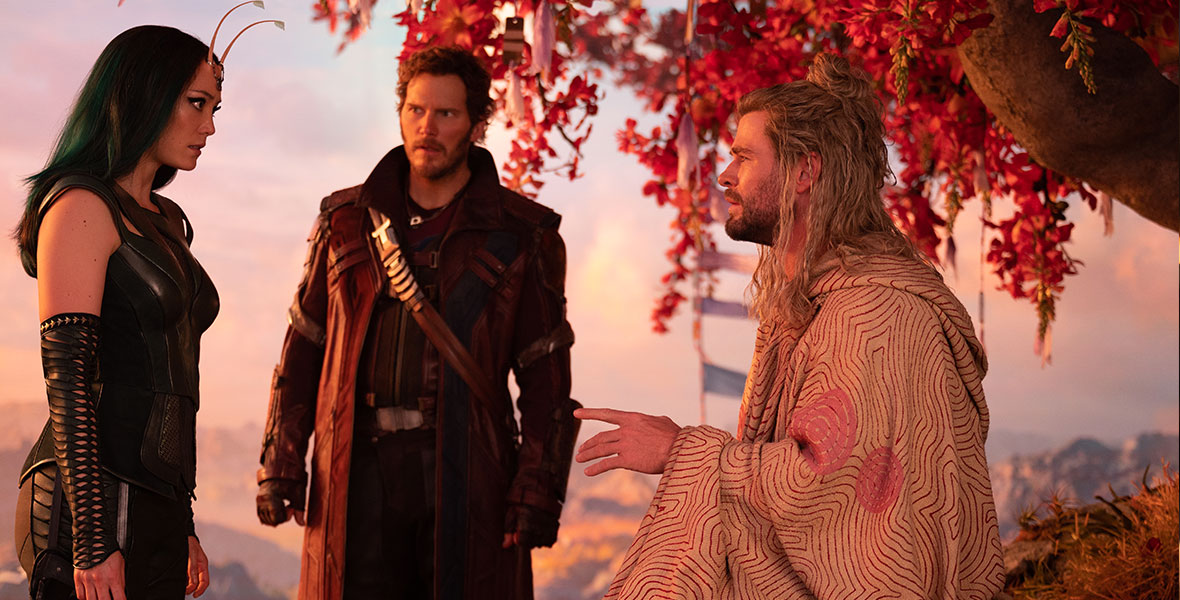 5. '80s music sets the scene for Thor's epic journey.
The film's soundtrack features a number of iconic rock songs, including the Guns N' Roses classics "Sweet Child 'O Mine" and "Welcome to the Jungle," to name just a few. "We wanted the film to have this bombastic, loud, colorful palette, which is reflected in spray-painted panel vans from the '80s and rock album covers," Waititi said. "Even the title treatment for the film is the kind of thing I would have drawn on my schoolbook in class when I wasn't listening. I remember spending months and months perfecting the Metallica logo at school, and Guns N' Roses was one of my all-time favorite bands. To be able to use that [kind of music] to reflect the crazy adventure we're presenting visually was yet another one of my dreams that came true."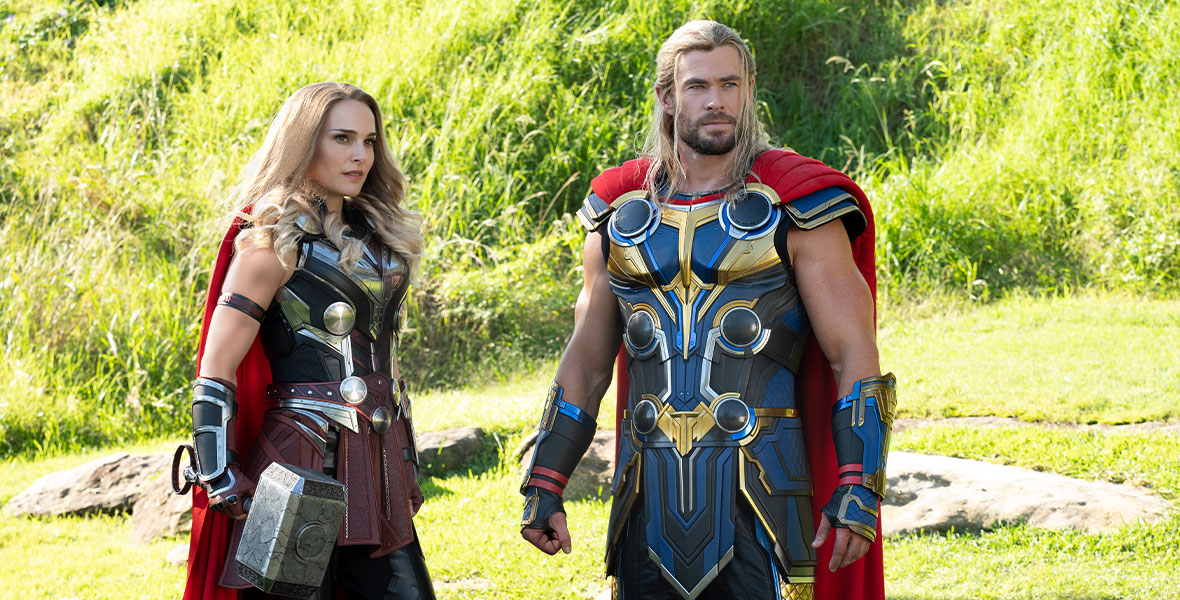 6. Stormbreaker becomes envious of Mjolnir.
After Hela crushed Mjolnir in Thor: Ragnarok, Thor was in dire need of a new weapon. Assisted by Eitri (Peter Dinklage) in Avengers: Infinity War (2018), Thor used the heart of a dying star to forge Stormbreaker, which has the power to summon the Bifrost. So, imagine Thor's surprise when he sees Jane wielding a reassembled Mjolnir in Thor: Love and Thunder. "Look, it's hard to see his ex-girlfriend turn up dressed as him; that's a shock," Hemsworth said. "All of a sudden, the weapon he held so dear for so many years now belongs to someone else... Stormbreaker starts to get a little jealous."
Stormbreaker's jealousy isn't solely used for comedic effect, Waititi clarified. In fact, it has roots—literally—in how Groot (voiced by Vin Diesel) contributed to its creation. "I don't know if this is how anyone else thought about it, but the handle of Stormbreaker is made of Groot's arm, and Groot was a teenager when he did that," Waititi said. "Since Stormbreaker had only been born about five or six years ago, it had to feel a little bit like an adolescent, like it was going through changes or having mood swings."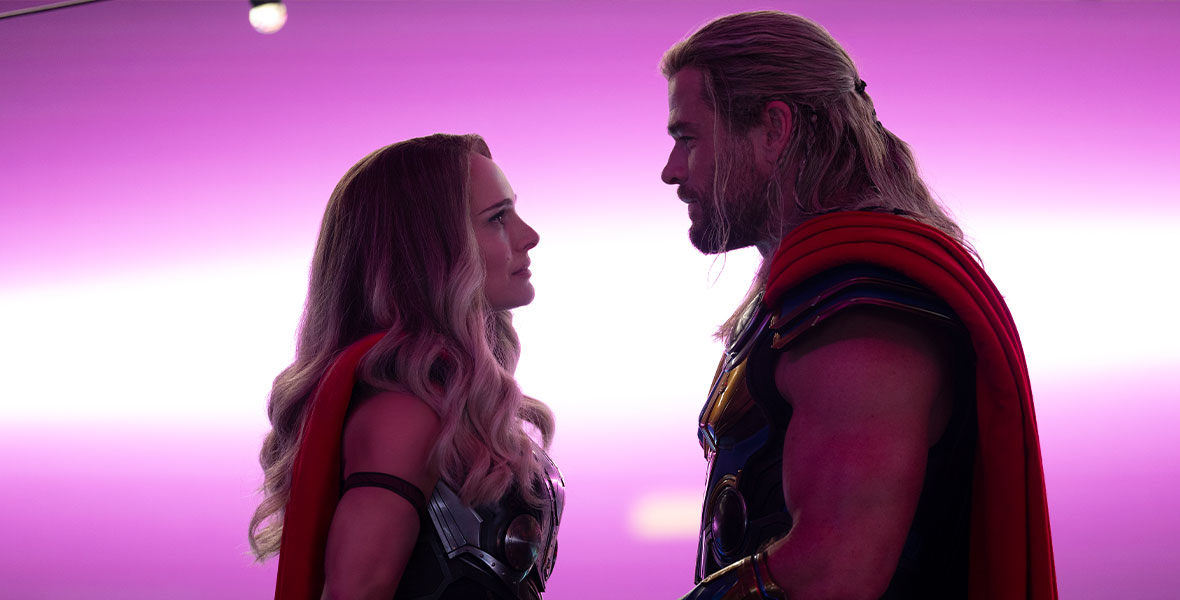 7. The rest of Thor's story remains unwritten... in the MCU, at least.
What does Thor's future look like after Thor: Love and Thunder? "Well, there are these things called comic books that have a lot of stories in them," Feige teased. "And that's where all of our stories come from. Is the question, 'Have you told all the great Thor stories from the comics and movies?' The answer in no. There are lots of them." Careful not to give too much away, the executive producer added, "If we look at the comics as our guide, there are plenty of other incarnations of Thor we have yet to see."