By Zach Johnson
Not only is Thor worthy, but The Mighty Thor is, too!
Marvel Studios' Thor: Love and Thunder, the 29th film in the Marvel Cinematic Universe (MCU), finds Thor (Chris Hemsworth) on a new kind of journey: one of self-discovery. Directed by Taika Waititi, who wrote the screenplay with Jennifer Kaytin Robinson, the film also stars Natalie Portman as Jane Foster aka The Mighty Thor, Tessa Thompson as King Valkyrie, Christian Bale as Gorr the God Butcher, Waititi as Korg, and Russell Crowe as Zeus. Below, we've rounded up everything you need to know about the cosmic action-adventure before it bolts into U.S. theaters on Friday, July 8.
After taking big, bold swings with Thor: Ragnarok (2017), Hemsworth and Waititi were excited to blaze new trails together. "There was a huge amount of pressure coming into this. Thor is the only character to make a fourth film so far, so I wanted to do something different," Hemsworth says. "I want to always do better with this character."
And that's just what they've done. "Thor: Love and Thunder feels similar to Ragnarok in terms of tone and style," Waititi says, "but we wanted to double down on how vibrant and crazy the worlds are and the situations we put Thor in." It helped that producers Kevin Feige and Brad Winderbaum, along with executive producers Louis D'Esposito, Victoria Alonso, Brian Chapek, Todd Hallowell, and Hemsworth, encouraged Waititi to let his imagination run wild. "One of the cool things about Marvel films is this ability to embrace various genres within a single film," Waititi says. "It keeps audiences guessing, and the characters within these different genres then feel different all the time."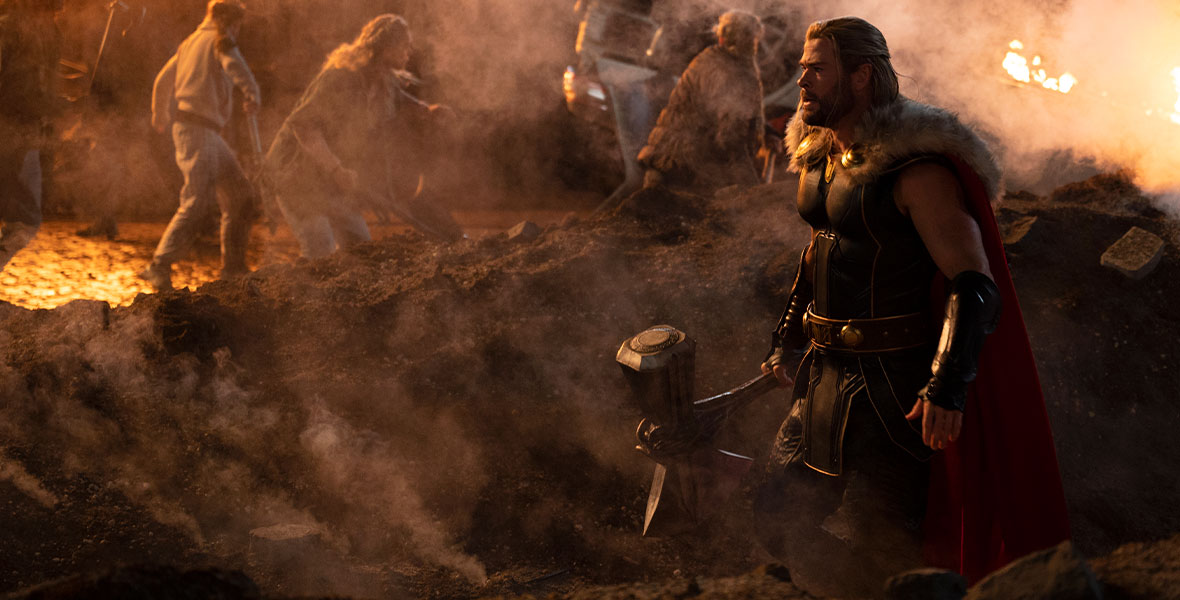 It's not an understatement to say that, in spite of being thousands of years old, the past few years have been especially hard for Thor. He's lost his parents, his brother, his friends, his home world, his magical hammer—not to mention his will to lead, his fight with Thanos (Josh Brolin), and his god-like physique. "In Avengers: Endgame, we see a pretty confused, lost version of Thor," says Hemsworth. "He's certainly better at the end of the film than he was at the start, but he still doesn't really know who he is or what his place is in the universe. And he decides he needs to search and take some time for himself." So, after crowning Valkyrie King of New Asgard, he hitched a ride with the Guardians of the Galaxy. "Thor travels off with the Guardians and—much to their discomfort and irritation—plants himself firmly in the center of their posse and tries to dictate how things should be run," says Hemsworth. And yet, in Thor: Love and Thunder, the eccentric band of misfits—half-human, half-celestial Peter Quill aka Star-Lord (Chris Pratt); former assassin Nebula (Karen Gillan); insect-like empath Mantis (Pom Klementieff); aloof warrior Drax (Dave Bautista); cybernetic raccoon Rocket (voiced by Bradley Cooper); and humanoid tree creature Groot (voiced by Vin Diesel)— are instrumental in helping Thor confront the pain he's been working so hard to ignore.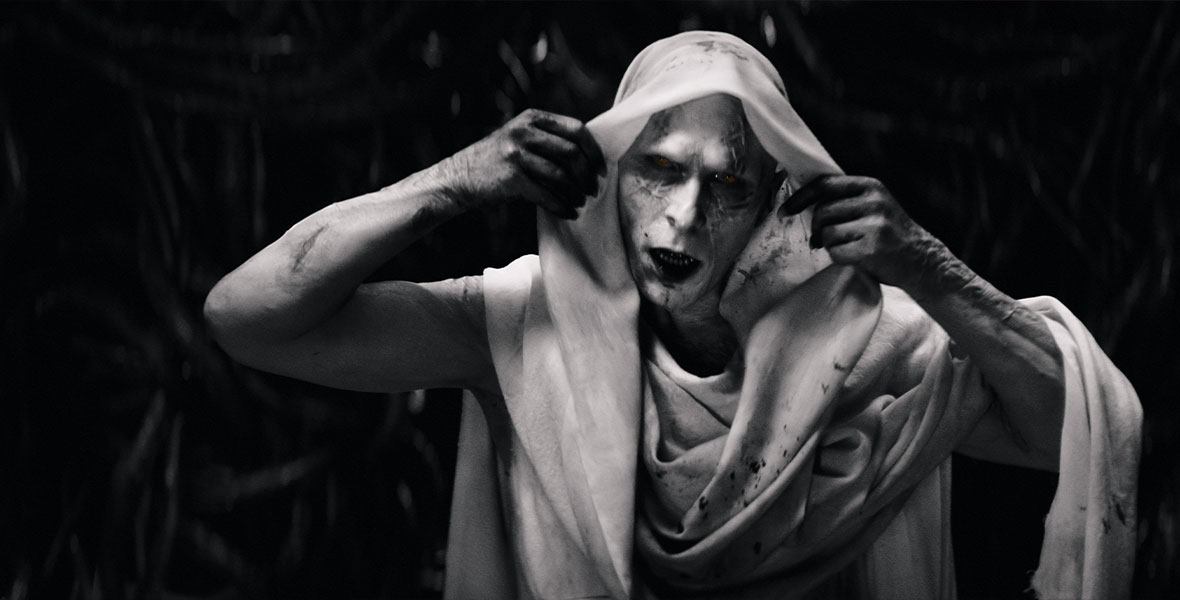 But Thor doesn't have much time to face his existential crisis, as a terrifying new foe threatens to upend the galaxy. Gorr the God Butcher has waged a war on the gods, hunting and killing them in a carefully plotted course that's headed for New Asgard. Thor has faced off against countless enemies, but Waititi felt it was imperative to raise the stakes even higher for Thor: Love and Thunder. "We needed to step up from Hela [Cate Blanchett] and find a villain who was somehow even more formidable," says Waititi, "and we found that in Gorr, who is played by the remarkable Christian Bale."
"The name kind of tells you who he is," Bale says of his character. "Straight away, you know he's a serial killer bent on killing gods." But Gorr is anything but one-note. "The character is fascinating because, like all good villains, Gorr has a point," Hemsworth explains. "He may not be going about it the right way, but there's empathy in the script, and Christian brought so many more layers and so much more depth to Gorr."
Back on New Asgard, Thor is surprised to see that Jane, his ex-girlfriend and a renowned astrophysicist, has returned... but there's something different about her. Jane has proven herself worthy of wielding his hammer and is now the Mighty Thor. What he doesn't know, however, is that her transformation masks a personal battle. Portman, who originated the role of Jane in Thor (2011) and reprised it in Thor: The Dark World (2013), was thrilled about her big return to the MCU. "Taika came over to my house to talk because I'd been out of the Marvel world for a while," she says. "When he explained how Jane would become The Mighty Thor, it was fascinating to consider what that experience could be like. Working on the film was an exciting challenge because it was so improvisatory, and Taika really keeps you on your toes."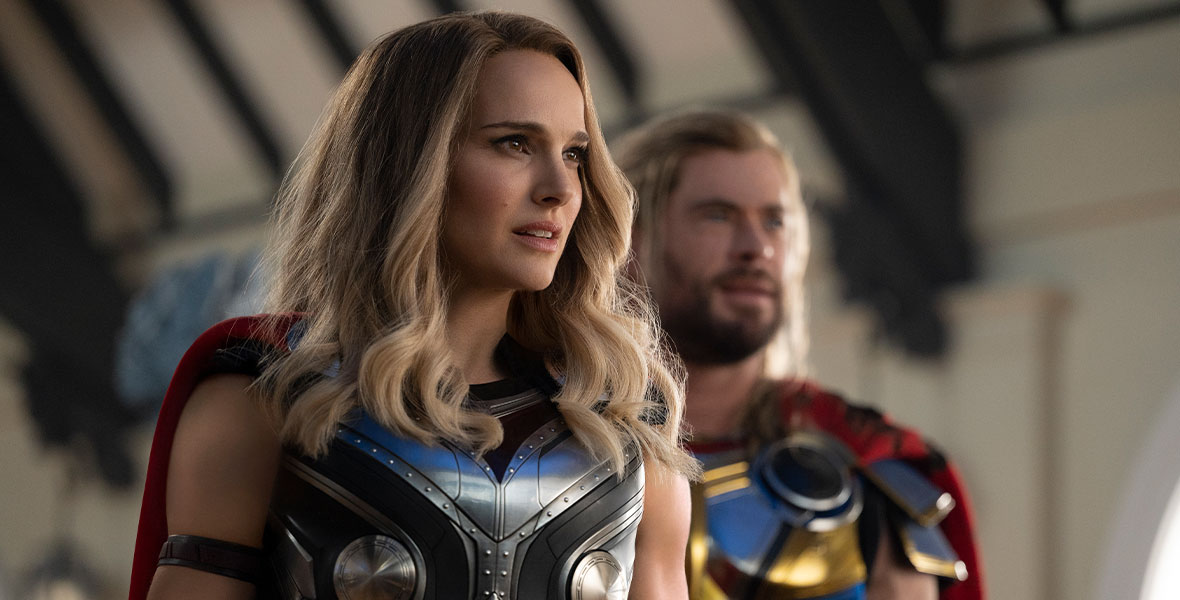 For Jane's arc, Waititi sourced inspiration directly from the pages of Marvel Comics, particularly The Mighty Thor (2014-15). "It's brilliant to see Natalie in a way that we don't expect. She's such a great actor, and in keeping with reinventing this franchise again and again, we didn't want to go back to seeing her in the same role," says Waititi. "We don't want to see her just being a scientist on Earth waiting for Thor."
And for that reason, Portman was all-in. "In previous films, Jane was a scientist who needs help being saved by Thor, but in this film, she's seeking her own solutions and taking her own journey. She's fighting alongside Thor and they're a team," explains Portman, "but Jane is very much paving her own path, which has been really exciting."
Meanwhile, in the village of New Asgard, King Valkyrie has quickly grown tired of her leadership role. As the last surviving Valkyrie, Asgard's elite force of female warriors, she misses the glory days of fighting alongside her sisters. So, when Gorr brings the battle to New Asgard, she leaps back into battle with Thor to take on the God Butcher.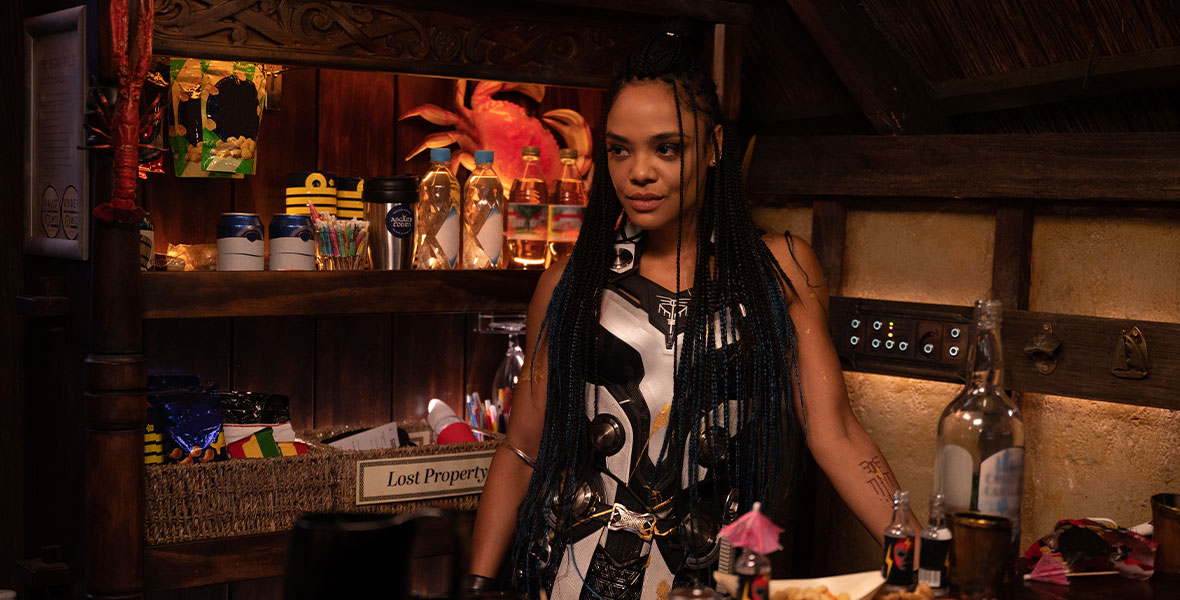 "When we saw Valkyrie in Thor: Ragnarok, she was struggling with a lot of guilt and pain," says Thompson. "She didn't really have much that she wanted to live for, besides what was at the bottom of a bottle. I think, this time around, you get to see her rediscovering her sense of purpose." Of course, playing a Super Hero "who bucks convention, who is so strong and resilient, is amazing," she adds. "The truly exciting thing about the Marvel Cinematic Universe is the idea that your superpower derives from the things that have happened to you, the traumas, the things that make you ostracized. But the things that make you different are also what make you spectacular."
As for Korg? "He's still loyal to Thor," Waititi promises. "He's still got that innocence about him, where he always sees the positive in people. He's a very uplifting presence to have in the film, and I think that every film needs that." Whereas Thor, Jane, and King Valkyrie, have been "evolving and changing," that's not true for his own character. "Korg has not changed at all," Waititi says. "He's a very grounding force."
Did we mention the goats? They're the newest additions to Thor's trusted circle of allies. "In my opinion, the goats are going to be the fan-favorites of Thor: Love and Thunder," Robinson predicts. "Toothgnasher and Toothgrinder are absolute stars."
As Gorr continues to kill the gods one by one, Thor appeals to his allies—including Zeus, who spends his days living in excess in the Grand Pantheon in Omnipotence City and seems oblivious to the growing number of gods gone missing. "I never thought I'd see the day where Russell would appear on screen with hints at Gladiator imagery, yet with a wink, totally self-deprecating," says Hemsworth. "He didn't hold back. I'm such a fan. I have been since I first started acting. There's such a weight and a seriousness to his performances and to him, as an individual, from afar. But meeting him, he has a great sense of humor and did whatever Taika asked on set, which was mind-blowing."