By William Keck
Hong Kong Disneyland celebrated the continuing expansion of its popular Marvel-themed experiences in Tomorrowland with the opening of Ant-Man and The Wasp: Nano Battle! The storyline of this hotly anticipated attraction ties in directly to the exciting battle taking place in the adjacent (and already insanely popular) Iron Man Experience. Here's a checklist of some of the familiar faces to look for—along with some exciting new allies, adversaries, and artillery.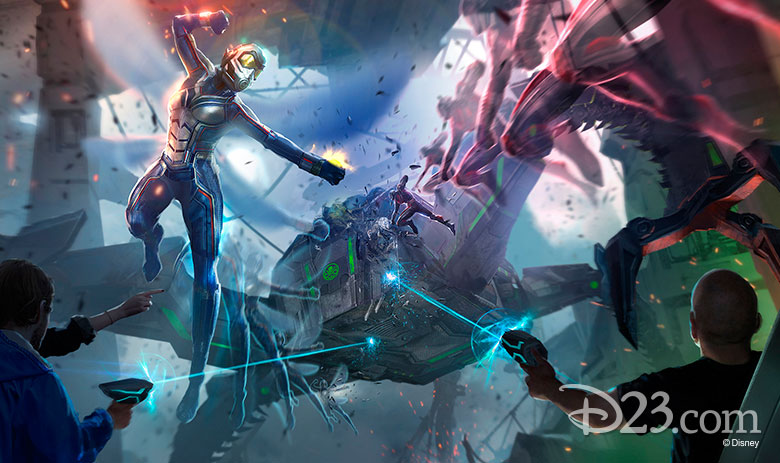 1. Ant-Man and The Wasp are actually part of this ride!
The actual stars of the Ant-Man films—Paul Rudd (Scott Lang/a.k.a. "Ant-Man") and Evangeline Lilly (Hope Van Dyne/"The Wasp") are featured throughout the attraction in fresh footage shot just for this experience. The two real-life pals slipped back into their Super Hero costumes and recorded their new scenes together on their last day of reshoots for 2018's Ant-Man and The Wasp and were allowed to banter at will. They are the ones who welcome us, train us, and fight right alongside us until the threat is defeated.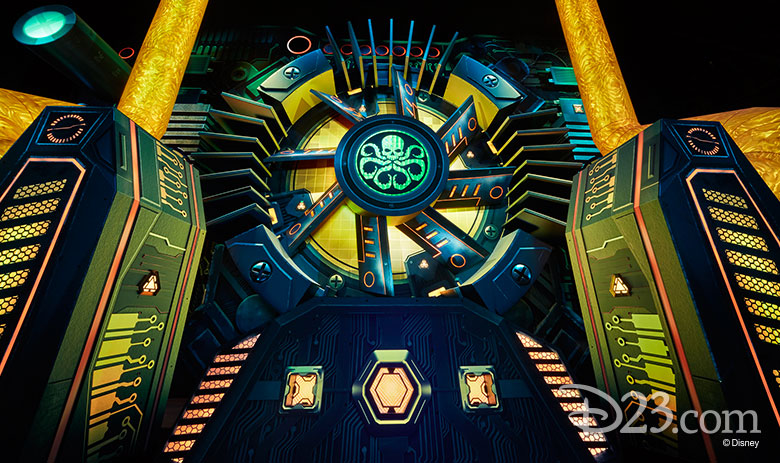 2. Esteemed English thespian Toby Jones reprises the villainous Dr. Arnim Zola!
Toby Jones, a Golden Globe® and Emmy® nominated actor, also enthusiastically agreed to lend his voice to former Red Skull scientist Dr. Arnim Zola, a diabolical Hydra villain who has been terrorizing the Marvel Super Heroes since his introduction in 2011's Captain America: The First Avenger. Zola, an entirely digitally animated character, makes an Easter egg cameo at the very end of Iron Man Experience that ties him to this majorly expanded role. He interjects many times to taunt and banter with Ant-Man and The Wasp—and also to dissuade us from completing our mission.
3. New S.H.I.E.L.D. scientist Leslie Lam makes her debut!
The attraction introduces brand-new character Leslie Lam, the S.H.I.E.L.D. Science and Technology Pavilion's chief scientist, who assists Ant-Man and The Wasp in preparing us for battle. She's the one who informs us that the threat we are experiencing is directly linked to the epic showdown Iron Man is dealing with in downtown Hong Kong. One of Lam's drones serves as a guide to help Ant-Man and The Wasp navigate the dark pavilion corridors. Lam possesses the most knowledge of what's happening at the pavilion but leaves all the difficult combat to us. Thanks, Leslie.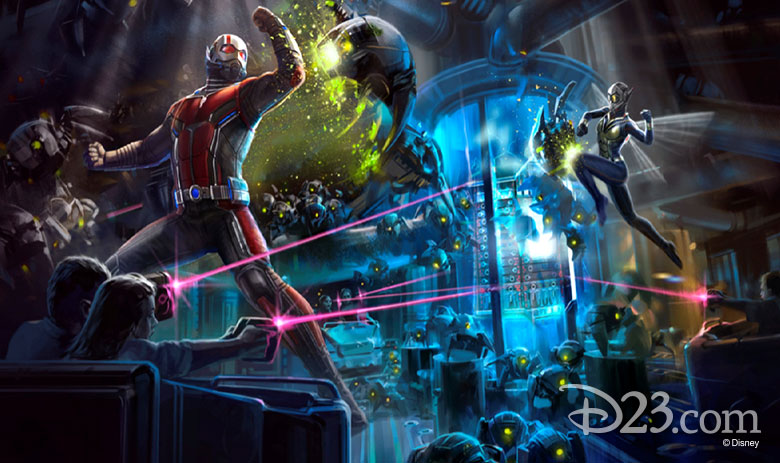 4. The introduction of Hydra's treacherous swarmbots!
The threat we are being called to combat involves defeating thousands of little Hydra-created robots called swarmbots that have been sent to physically steal sensitive S.H.I.E.L.D. company secrets. Ant-Man and The Wasp are specifically recruited for this mission because their unique downsizing abilities enable them to squeeze inside the swarmbot armor and destroy them. But can they be defeated before the expanding swarm unites to form an even more dangerous hivebot?
5. A fun Honey, I Shrunk the Audience connection!
If you're among those who remember the theme parks' Honey, I Shrunk the Audience attraction (retired in 2010), you'll appreciate that the new material Rudd, Lilly, and Jones shot for Ant-Man and The Wasp: Nano Battle! was directed by Peyton Reed, who besides directing both Ant-Man films, previously worked on Honey, I Shrunk the Audience early in his career. The word "nano," by the way, refers to the fact that the audience is shrunk down to ant or nano-scale proportions.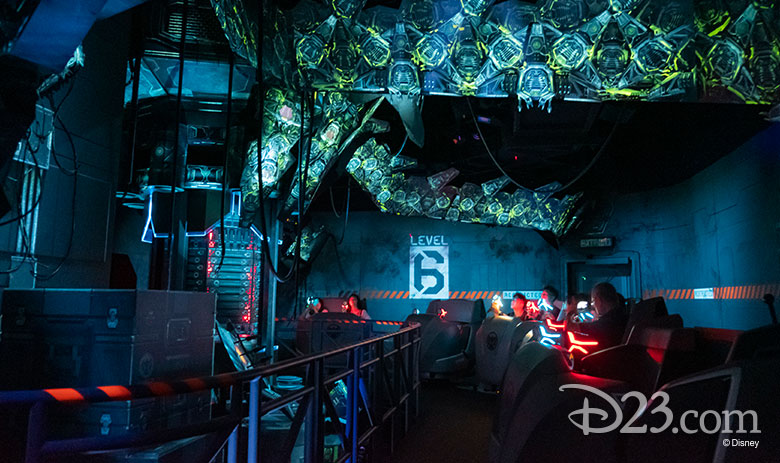 6. The debut of D/AGR vehicles and EMP blasters!
As we set off to take out the swarmbots, we will ride in style in true state-of-the-art transportation. Defense Assault Ground Rovers (D/AGR) are inspired by other S.H.I.E.L.D. ground vehicles and specialize in ground defense. Additionally, each D/AGR rider is equipped with his or her own EMP (electro-magnetic pulse) blaster to defend against as many swarmbots as possible, with onboard video screens informing every rider of his or her progress and how their scores compares to others.
7. Iron Man makes an appearance!
Since this new attraction's storyline connects to a concurrent event taking place at the adjacent Iron Man Experience, we can see Iron Man actually transmit into the S.H.I.E.L.D. Science and Technology Pavilion from downtown Hong Kong to help prepare Ant-Man, The Wasp, and us for the battle we are about to wage. In case you were wondering, no, it doesn't matter which attraction you hop on first. It'll all make sense either way, including when a third Marvel-themed attraction opens in 2023.