By Tim Lammers
Seventy-eight years after the Walt Disney animated film classic Dumbo debuted in theaters, director Tim Burton and his troupe of performers are bringing a new big top spectacle to the big screen with their live-action reimagining of the flying elephant tale. Here are five things D23 learned about Dumbo from Burton, stars Danny DeVito and Colin Farrell, screenwriter/producer Ehren Kruger, and producer Derek Frey.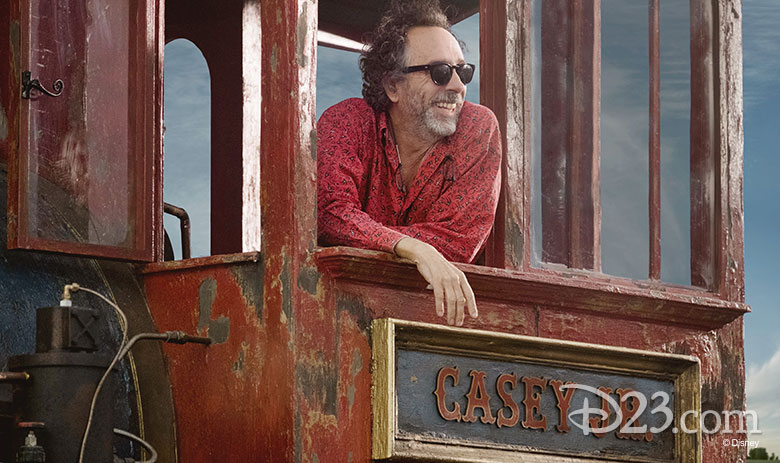 1. Dumbo hinged on Tim Burton directing it.
Given Burton's affinity throughout his career for stories about outsiders, Kruger says there was no one else in his mind other than the acclaimed filmmaker directing the film: "Tim was the first and ultimately only director to receive the screenplay, so it was our dream for him to say yes to it. We could surmise that perhaps he had fond affection toward the animated classic knowing of his early animation background, but we didn't know for sure, and it turned out it was a movie that was near and dear to his heart, and he saw the potential of adding a new dimension to it. I have no doubt that if he had read the screenplay and didn't like it, he would have attached himself to the movie anyway and commissioned an entirely different screenplay."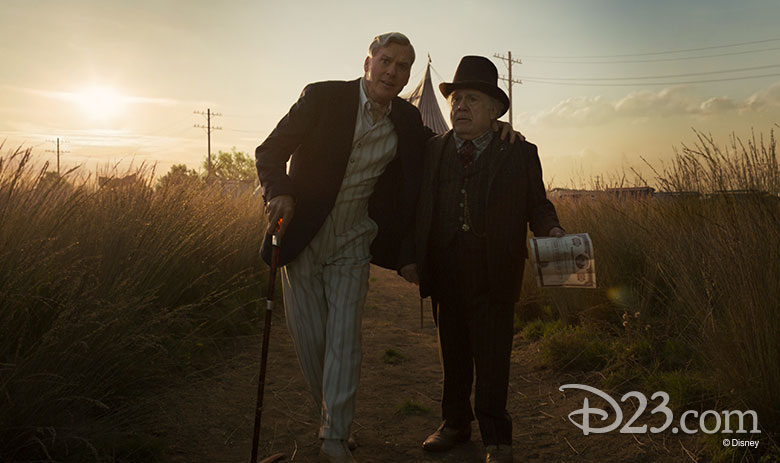 2. Dumbo marks a role-reversal for Danny DeVito and Michael Keaton.
Dumbo is the first Burton film that Danny DeVito and Michael Keaton have worked on together since 1992's Batman Returns, which pitted Keaton's Caped Crusader against DeVito's waddling nemesis, the Penguin. Their role-reversal in Dumbo wasn't lost on DeVito, who plays struggling circus owner Max Medici opposite Keaton's V.A. Vandevere—a shifty entrepreneur looking to exploit Medici's large-eared baby pachyderm's magical ability to fly.
"It's great to be playing the good guy and Michael's playing the bad guy, since I was the bad guy as the Penguin in Batman Returns. I love working with Michael, and I think one of the first things I said to him was, 'How does it feel to be playing the bad guy in the movie?'" DeVito says, punctuating the memory with an almost villainous chuckle. "We have a good relationship, Michael and I, and we have always been very good friends, and it is a joy to work with him and Tim."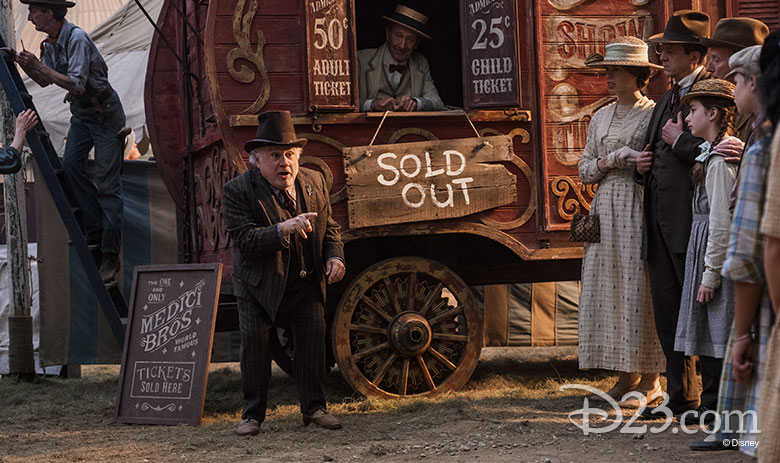 3. Max Medici was originally written as a younger character.
Kruger says in his original script for Dumbo, the pivotal role of Medici was "a younger character who was trying to keep a small-time circus afloat in the age of the declining influence of the entertainment world of the circus." However, Kruger says, he's glad Burton envisioned an older and wiser version of the character and found exactly who he was looking for with his longtime collaborator DeVito.
"Sometimes Tim's instincts on casting will reveal things that I didn't even see in my own screenplay… By casting Danny, an older actor in the role, Tim got this sense of wistfulness and emotion of the glory days that have been lost; that this character is trying to hang on to and trying to rekindle in a way that the original character on the page might not have had," Kruger says. "Tim is constantly thinking about what is not in the text and what can be there between the lines by casting this person as opposed to that person, and Danny's just brilliant in the movie."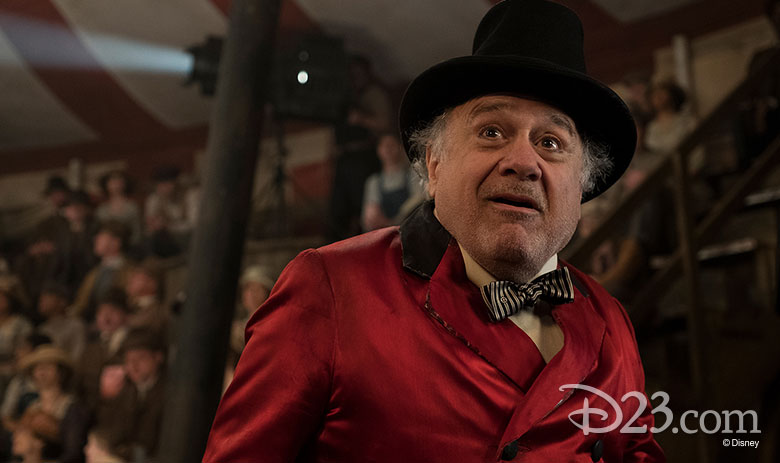 4. Dumbo rounds out Danny DeVito's 'Circus Trilogy'
DeVito says he found familiarity playing a circus owner for Burton. It began 27 years ago when the actor's Penguin character was a de facto ringleader who commandeered a band of ex-circus performers to take over Gotham City in Batman Returns; and in 2003, DeVito stepped right up to play the ringmaster who recruits Edward Bloom's (played by Albert Finney) misunderstood giant friend in Big Fish. Burton says the long wait to work with DeVito again was worth it.
"I told Danny, 'After Big Fish and Batman Returns, this finishes your Circus Trilogy,'" Burton says, laughing. "It was great seeing him after such a long time. I've learned so much from him. He's got such amazing energy, and he's so good with people. I need to take 'Learning How to Deal with People' courses from Danny. He's really a great spirit to be around and a great collaborator."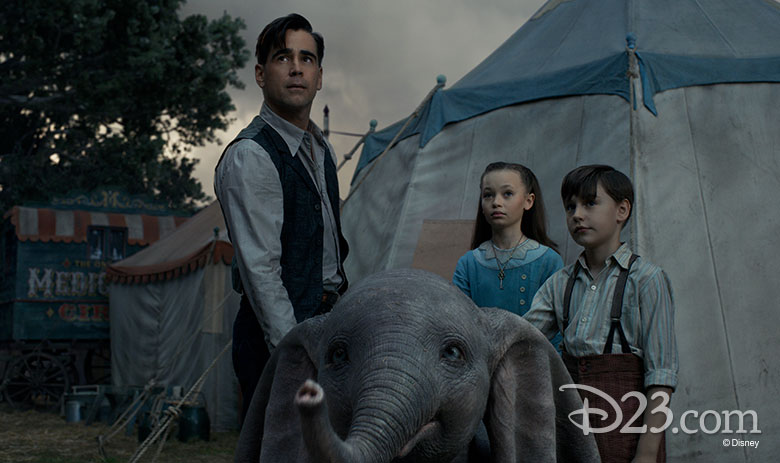 5. Colin Farrell did his own horse-riding stunts for the film.
Farrell stars as Holt Farrier in Dumbo, a widowed and wounded war veteran who returns from battle to work for the Medici Circus, where he once entertained crowds as a stallion performer. Holt's new job with the circus is to care for Dumbo, but other circumstances find him getting back in the saddle. "Colin saved our butts because he's incredible at riding a horse," says Frey. "We didn't even have to use a stuntman. That's aside from his acting skills, that he can ride a horse, amazingly, and had to do it with one hand."
While Farrell previously rode horses in Alexander and A Winter's Tale, he says his equestrian work on Dumbo was hardly a trot in the park: "There were a few things that were harder on Dumbo, because we were dealing with fire. There's a scene in the film where a lot of flames were present in the frame, and horses—like humans—find the flames scary. But I had a great horseman and a great stunt crew to work with and we choreographed everything very, very carefully, and it was fun to do."
Read more interviews with the cast and crew of Dumbo in the Spring 2019 issue of Disney twenty-three.