By Andie Hagemann
Adventure-loving weasel Buck Wild (voiced by Simon Pegg) is back, along with your favorite Ice Age pals, for more hilarious escapades in The Ice Age Adventures of Buck Wild. In this new animated film, thrill-seeking possum brothers Crash (voiced by Vincent Tong) and Eddie (voiced by Aaron Harris) set out on a journey to assert their independence and find a place of their own. However, trouble ensues when they find themselves trapped in a massive cave inhabited by dinosaurs, including a revengeful Orson (voiced by Utkarsh Ambudkar). Can the band of unlikely pals save the Lost World from dinosaur domination?
The Ice Age Adventures of Buck Wild premieres Friday, January 28, exclusively on Disney+. Before you stream the film, read on for five things you need to know—straight from the cast and crew!
1. Buck Takes Center Stage
Beloved Ice Age character Buck Wild makes his triumphant return as viewers are transported to the Lost World—and in this adventure, viewers get a glimpse at Buck's backstory. The one-eyed weasel, who made memorable appearances in Ice Age: Dawn of the Dinosaurs (2009) and Ice Age: Collision Course (2016), earned his spinoff thanks to his zany personality. "He's clever, he's an adventurer, he's a swashbuckler, he's a protector, and he's guardian of the Lost World," says executive producer Lori Forte. "It's such a great, great character to have. We love to go on adventures with him because he's just not afraid of anything."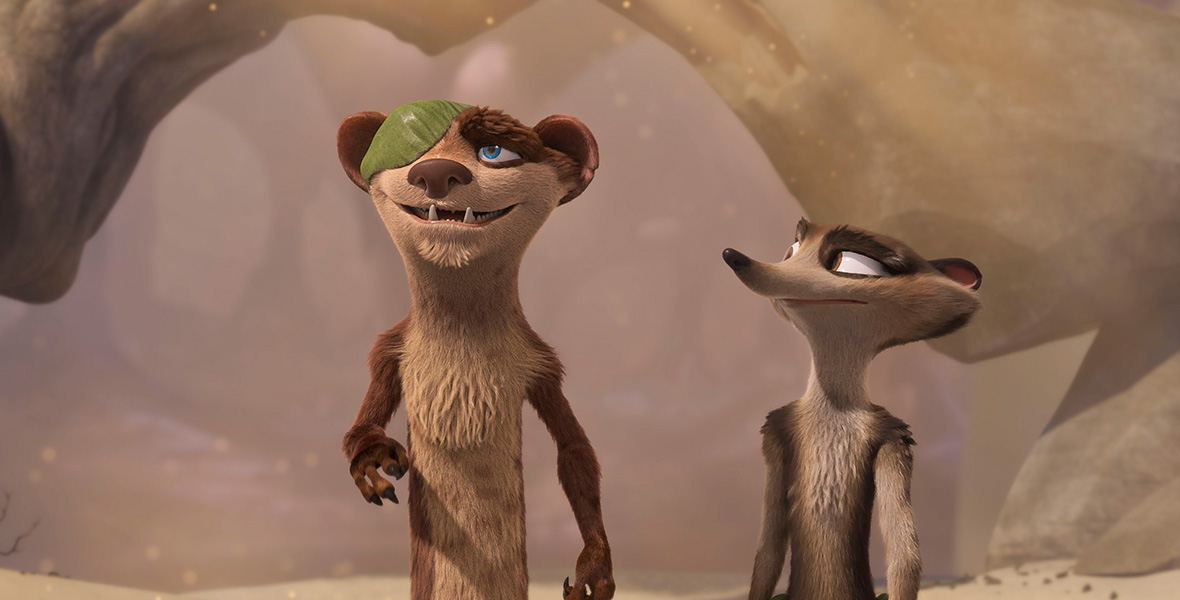 2. A Bold New Character Joins the Crew
Justina Machado voices Zee, a zorilla often mistaken for a skunk thanks to her killer scent—which has become her superpower. As Buck's counterpart, Zee is graceful, independent, courageous, and not fazed one bit by Orson and the raptors. Machado was excited to be part of the Ice Age family and to be afforded the opportunity to voice a strong female character like Zee. "She's just a lot of fun, and it was so much fun going into the studio and working on her," says Machado. "She's very funny, and as you can see, all the characters that she's surrounded by are so great. No one is funnier than the other, so it just was great fun to be a part of this." Not only did Machado voice Zee, but she also served as inspiration for Zee's spirit. "We started taking traits from her, like her strength and her personality and her in-your-face kind of thing, and it wove into the character itself," says Forte. "Zee was very much part of who Justina is."
3. Family Is Forever
As with the other installments of the Ice Age films, the dynamics between family and friends—both what keeps them apart and what brings them together—is at the heart of The Ice Age Adventures of Buck Wild. "We loved the idea that once you're in a herd, which is our family, it's a herd," says director John C. Donkin. "They're equivalent. Once you're in a herd and you have that connection, it's OK if there's some physical separation between you, because there's always going to be shared love and support." The creators felt it was important to incorporate these elements, especially with so many across the globe separated from their families and chosen families amid the COVID-19 pandemic.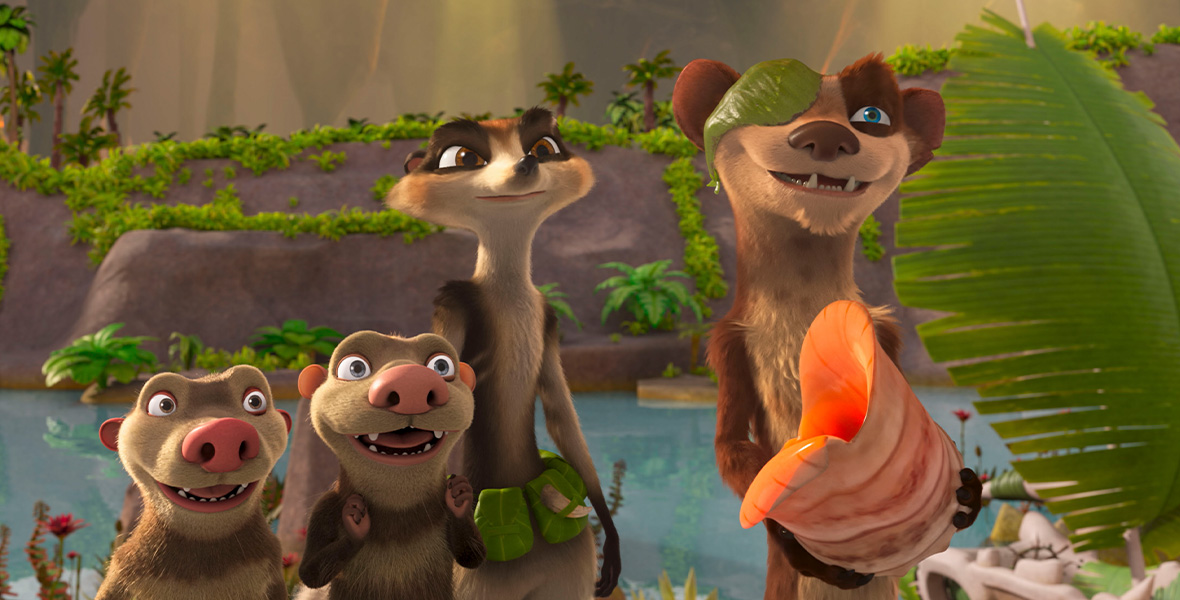 4. A G.O.A.T. Inspired Zee's Movement
When animating Zee, Donkin and the crew were inspired by superstar Olympic gymnast Simone Biles and her graceful and powerful movements. Says Donkin, "We looked at gymnastics, and she's very physically able. There's this great moment in the third act where Buck sees Zee go off and handle [Orson]." Machado says it was thrilling to see her character come to life and do spectacular stunts as Zee saves the day.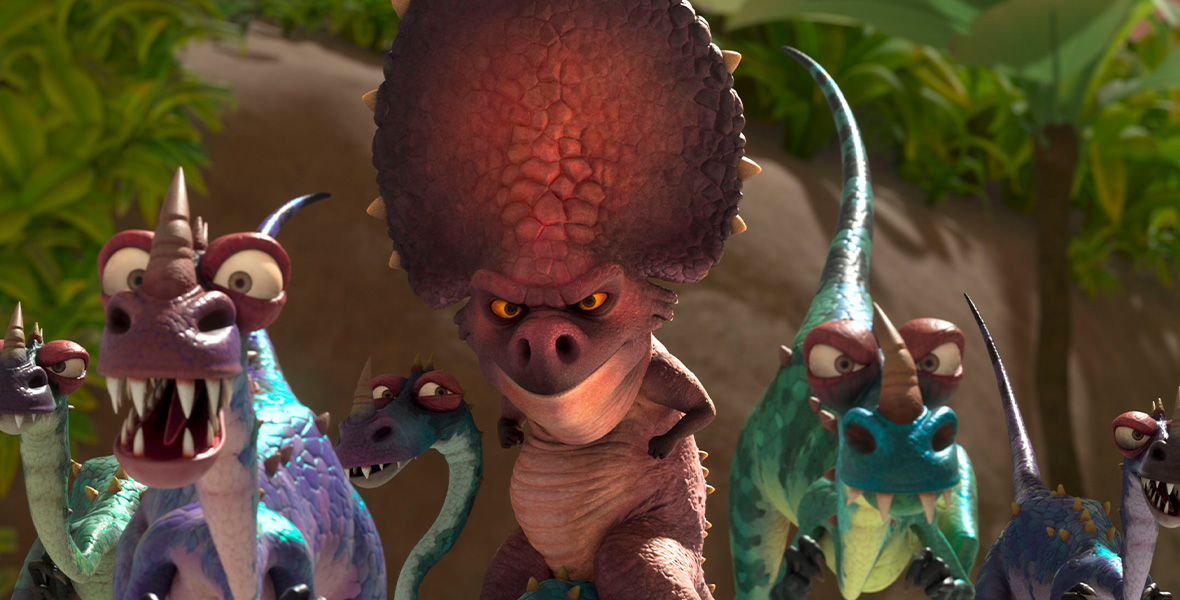 5. Buck's Independence Is Challenged
Buck is considered a loner—after all, his many inanimate friends include rocks and tree stumps. In this film, he shakes up his solitary life to help the possums, which requires him to ask for help. Pegg says Buck learning how to be vulnerable and connect with others is an important lesson for the young and young at heart. "He's so used to doing everything by himself that the idea of relying on his friends, or trusting someone to do something else, is a little bit uncomfortable for him," says Pegg. "In this movie, he learns that it's not only OK to ask for help, it's also OK to ask for help as a guy from your female friends, and to trust in them to take over."