By Beth Deitchman
The circle of friends continues to grow for Mickey's favorite bear, Duffy, who has not one but two new friends you may have yet to meet: The curious and inventive Cookie, an adorable puppy who loves coming up with new recipes, is greeting guests at Hong Kong Disneyland; while the tenderhearted turtle 'Olu (pronounced "Oh-loo") can now be found at Aulani, A Disney Resort & Spa, where an exclusive new line of merchandise becomes available to guests today.
Disney fans agree with Mickey, who discovered years ago, when he set out on his inaugural voyage with a teddy bear made for him by Minnie to keep him company during his travels at sea, that Duffy is one special little bear. As the story goes, Minnie filled the bear with happy memories and love, and Duffy came to life in Mickey's dreams, comforting him and chasing away his feelings of homesickness—and becoming the best travel buddy Mickey could ever ask for. By delivering smiles and joy to guests around the world, Duffy lives in their imaginations, too, and now new friends Cookie and 'Olu join ShellieMay, Gelatoni, and StellaLou in this delightful story world. Charlie Watanabe, Senior Story Editor for Walt Disney Imagineering, recently chatted with D23 about Duffy's newest friends, who are sure to become your favorite cuddly companions, too.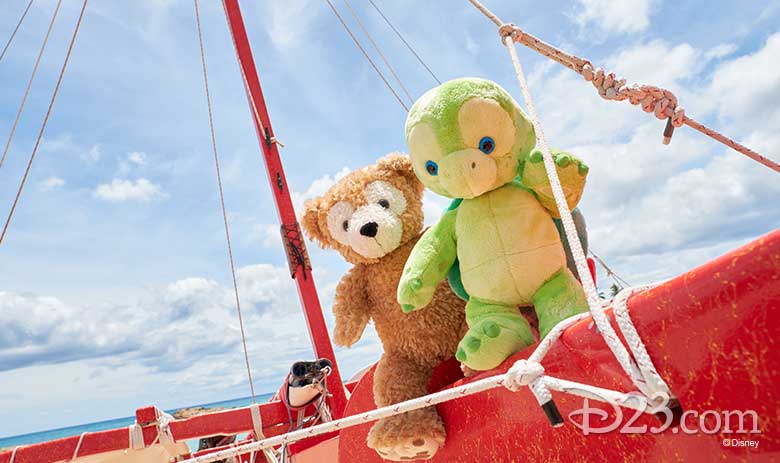 The kindhearted turtle 'Olu sang his way into Duffy and Mickey's hearts.
Mickey and Duffy were sailing the islands in search of a perfect birthday present for ShellieMay, who was also made by Minnie Mouse (and filled with joy) so that Duffy could have a best friend by his side. The pair was drawn to the sounds of an 'ukulele, played by a sweet turtle with an affinity for songs of love. 'Olu then accompanied Duffy and Mickey to ShellieMay's birthday party, where the trio serenaded the guest of honor with 'Olu's special song. "He's a bit shy," says Watanabe, "but he loves to play music for his friends."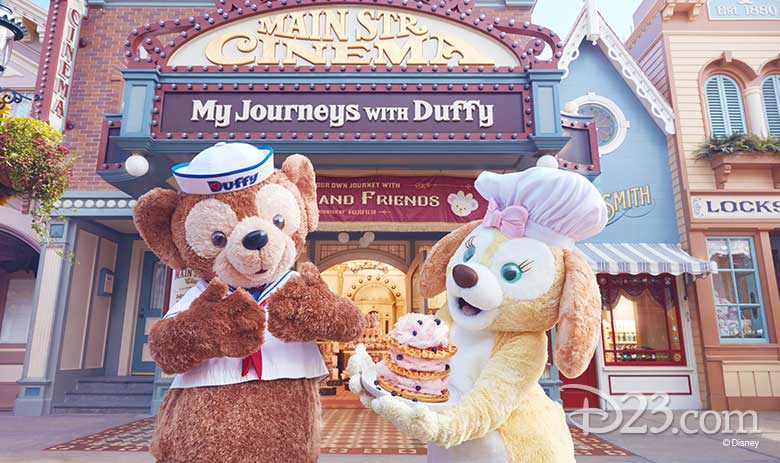 A most appetizing accident made Duffy and Cookie forever friends.
Duffy met Cookie, a darling floppy-eared puppy with a penchant for wearing a chef's hat with a pink bow, under equally unexpected circumstances. Their paths collided—literally—and the cotton candy Duffy was about to take a bite of went flying, only to be caught by Cookie, who had already seen her own stack of waffles fly through the air, as well. Cookie—an avid foodie with a talent for combining ingredients and making culinary magic—was inspired and came away from her encounter with Duffy with a brand-new friend and a new recipe for a cotton candy waffle sandwich.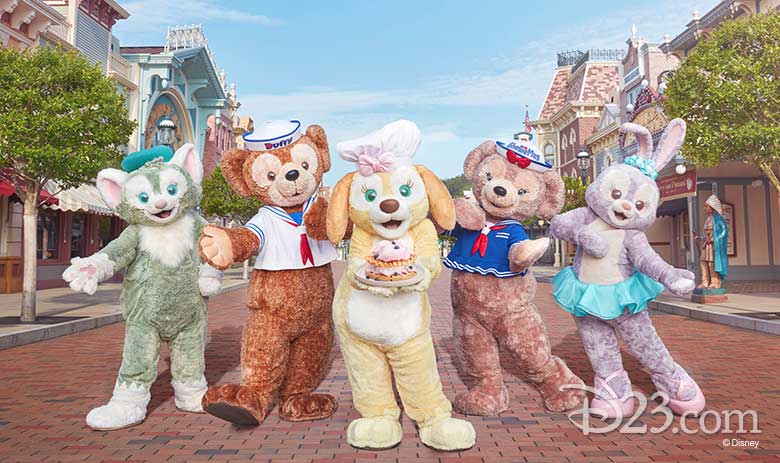 Duffy learns something from all of his friends… and so do we.
"Gelatoni sees the world with his heart," explains Watanabe about the cat who loves to paint and draw, and who sees beauty in everything he sees. StellaLou, a hard-working girl with dreams of dancing on Broadway, danced her way into Duffy's heart in New York in American Waterfront, teaching him that dreams aren't just something we have when we're asleep. Duffy and his friends' stories come to life in books, in the parks, and on the hangtags that accompany plush dolls that guests purchase to take home. "Through reading the stories, we feel the innocence, the pure dedication, and the pure inventiveness," says Watanabe. "As guests, we learn something from Duffy and his friends that we often fail to see or fail to feel in our everyday lives, and we all get a sense of comfort, security, and friendship from Duffy and Friends."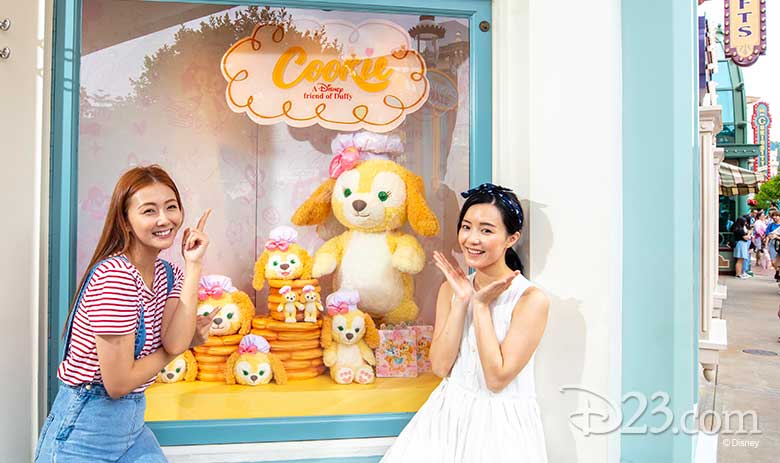 That cotton candy-waffle concoction isn't Cookie's only "first"…
In addition to being the first puppy to ponder the pairing of two delicious treats, Cookie is the first of Duffy's friends to make their global debut at Hong Kong Disneyland. She received a warm welcome from guests on July 3, and a host of new food and beverage offerings debuted in her honor, including "Cookie's Cheese Cake," "Cookie Blueberry Cupcake" and a range of desserts with adorable images of the precious pup. Guests at Hong Kong Disneyland have the opportunity to encounter Cookie every day at Main Street Cinema: My Journeys with Duffy. Watanabe notes that Cookie's kitchen creativity stems from her innate curiosity, but he says, "She's very curious about other new things, as well. She loves introducing new things to her friends. She gets so much joy out of her friends trying something she created."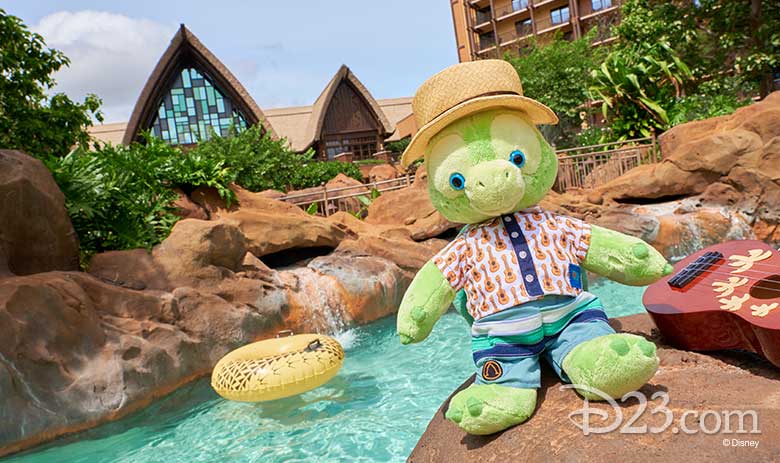 Guests at Aulani, A Disney Resort & Spa will be the first to say "Aloha" to 'Olu.
Since Duffy's first voyage with Mickey, he and his friends have become increasingly popular with guests from all across the globe. With the introduction of 'Olu at Aulani and Cookie's debut at Hong Kong Disneyland, Watanabe says, "More people can enjoy their love and their friendship—because I think Duffy and his friends are all about that message, and I feel like this world needs that more than ever."