By Zach Johnson
In 20th Century Studios' Free Guy, a bank teller discovers he is actually a background player in an open-world video game and decides to become the hero of his own story… one he rewrites himself. Before the film opens in theaters Friday, we joined director Shawn Levy and stars Ryan Reynolds, Jodi Comer, Lil Rel Howery, Joe Keery, Utkarsh Ambudkar, and Taika Waititi at a virtual press conference to learn more about the epic adventure-comedy.
"Making this movie was pretty joyous and fun," said Levy. "We're just really excited to finally get to share a movie that hopefully has that same fun, that same delight and that same warmth that was on set. Hopefully it's translated to the screen. Getting these early reactions has really affirmed that it's all coming through to audiences the way we'd hoped."
What else do you need to know about this "fastball of joy?" Read on…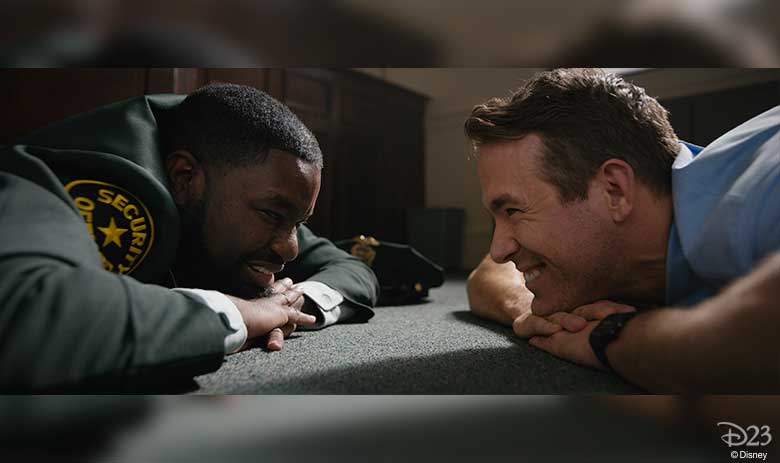 1. The world building will please gamers and non-gamers alike.
Free City is a wildly popular game where chaos reigns. Players live a brazen existence, leveling up by committing unprovoked acts of violence. To ensure the game's authenticity, Levy consulted experts in the gaming industry. "This movie was about threading the needle between wanting to represent the gaming world correctly and accurately," the director said. "For that, I spoke with a lot of game publishers, coders, and game designers, and I played and watched a lot of games in preproduction. Getting that right was really important. But it was also important to make a movie that required no gaming fluency. Trying to tick both boxes was always part of the goal and something we worked really hard to achieve."
2. The cast is as close offscreen as their characters are onscreen.
Guy (Reynolds) and Buddy (Howery) are best friends who share a zest for life. Offscreen, Howery felt the same way about Reynolds—before they actually met. "Ryan Reynolds has been my friend in my head for a very long time," he said with a laugh. "And to this day, I still don't think he believes me. I'm a legit fan. When he started winning [awards] for Deadpool, I was calling people, like, 'I told y'all! I told you Ryan Reynolds was a superstar!'" Likewise, Reynolds said he "was a huge fan" of Howery, and they clicked "from the moment we met." Still, Howery admitted to being starstruck around Reynolds on their first day of filming. "It was surreal," he said. "It was, like, 'I'm gonna take this moment. I don't know if he's going to be my friend after this—but during this movie, we're about to be best friends!'"
3. Like the film itself, the soundtrack is a sweet, sweet fantasy, baby.
Perhaps no song better encapsulates the exuberance of Free Guy than Mariah Carey's "Fantasy"—which is why the No. 1 hit is used so often throughout the film. "Ryan is kind of the maestro of the odd, random—but inspired—song idea," says Levy. "He is obsessive about it, and early on when we were working on the script, Ryan was like, 'You know what I think should be the anthem of this entire movie and marketing campaign?' And he suggested this song by Mariah. Little did we know that by the third act of the movie, we'd have a cover of that song by our very own Jodi Comer." In the earliest draft of the script, Reynolds revealed, Outfield's "Your Love" was slated to be the musical throughline. "It's a great song, but it ended up not fitting right," he explained. "But then Mariah Carey's 'Fantasy' came like a lightning bolt, and that was like an engine for so much of the movie." The film's eclectic soundtrack, out August 11 from Hollywood Records, features four original score tracks by Emmy®-nominated composer Christophe Beck, and songs from Fred Astaire, Mama Cass, Digital Underground, Joey Scarbury, Frankie Valli, and others.
4. Gamers are literally everywhere—along with some other fun cameos.
Some of the video gaming world's most influential figures, including Imane "Pokimane" Anys, Tyler "Ninja" Blevins, Lannan "LazarBeam" Eacott, Seán William "Jacksepticeye" McLoughlin, and Daniel "DanTDM" Middleton—make cameo appearances in Free Guy. But those five names don't even begin to scratch the surface. "Well, it turns out Ryan Reynolds has a lot of really famous friends, and he got a lot of them to be in this movie," teased Ambudkar, who plays Mouser. "I can't give any of it away, but if I wasn't in the movie, I would be so stoked. For all of the people out there like me, I see you—and we're being seen by this film." Ambudkar, who is the biggest gamer of the group, said the surprise cameos and hidden Easter Eggs will make fans "jump out of your seat and scream with joy."
5. The cast is open to returning for a sequel.
Antwan (Waititi), the greedy mogul behind Free City, is working overtime to churn out a sequel to the hit video game. Naturally, there is speculation that a sequel to Free Guy is also in the works. "We all hope we get to do this again, either in the form of a sequel or something else," said Reynolds. "We're lucky. A couple people here, I've had the very fortunate opportunity to work with multiple times." Veering into spoiler territory, Levy referenced one of Waitit's many ad-libs in the movie, saying, "If we make Free Guy 2, it will be titled Albuquerque Boiled Turkey. When you see this movie, you'll understand that joke."