By Zach Johnson
It wasn't a good day—it was a great day for the world premiere of Free Guy!
On Tuesday, stars Ryan Reynolds, Joe Keery, Lil Rel Howery, Tyler "Ninja" Blevins, and Camille Kostek were joined by director Shawn Levy for a walk down the red carpet at the AMC Lincoln Square in New York City's Upper West Side, where they greeted enthusiastic fans in celebration of 20th Century Studios' epic adventure-comedy, in theaters August 13. In the film, Reynolds plays a bank teller who discovers he is actually a background player in an open-world video game. So, he sets out to become the hero of his own story—one he must rewrite himself. Jodie Comer, Utkarsh Ambudkar, and Taika Waititi round out the cast.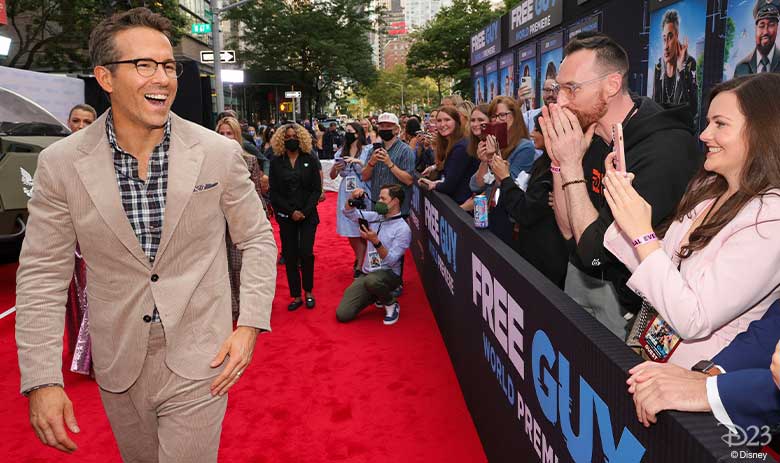 Speaking to the press, Reynolds said, "The movie has a lot of themes that I think resonate with people. For me, it's about when we band together and come out of the shadows, we can do anything—if we're unified agents of change. That's what this movie's about: People who are in the background getting to step into the light and make a difference." Calling Free Guy "a fastball of joy," he added, "It's so exciting to be part of a movie that is non-IP, not a comic book movie, not really based on anything other than an original idea. It's the kind of movie I went to as a kid, and my hat's off to Disney and 20th Century for taking the time and investing in a new concept—especially a big one like this, which is a big swing. The early reactions have been incredible, so we could not be happier. We are so thrilled."
Levy said Free Guy was made with the intention of simply having "a good time at the movies." To that end, he said, "To make a crowd-pleasing action comedy with big heart, that was always the goal—but I feel like it's maybe needed more now than ever before."
"It feels great to have Free Guy actually come to movie theaters now," said Howery, echoing Levy and Reynolds. "Even being on this red carpet is surreal; I haven't been to a premiere in a long time." The movie has "a lot of heart," he added—but that's not all! "We've got some crazy cameos… Expect some random, really dope cameos in this movie."
During the world premiere, Xbox and Hoonigan Industries unveiled a life-sized, scale replica of a Warthog from the Halo franchise. (You might even spot all-terrain vehicles and tanks from the Halo universe in Free Guy.). In addition, Reynolds also revealed Doom's Samuel Hayden as the winner of the first Xbox Game Pass Non-Player Character Awards.