By Zach Johnson
"The World's Most Magical Celebration" begins October 1 at Walt Disney World Resort, and to celebrate, ABC on Friday presents an all-new special, The Most Magical Story on Earth: 50 Years of Walt Disney World, featuring awe-inspiring performances, cherished memories, and famous faces including Anthony Anderson, Tom Brady, and John Stamos. That same night, Disney Channel will premiere Under Wraps, followed by the first episode of the new animated series The Ghost and Molly McGee. Hulu, meanwhile, will add dozens of titles to its library Friday, including the 20th Century Fox film Tooth Fairy. Last but not least, hop over to Disney Channel on Saturday for the season three premiere of Amphibia.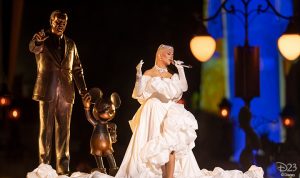 The Most Magical Story on Earth: 50 Years of Walt Disney World—Friday, October 1, at 8 p.m. ET on ABC
In celebration of the 50th Anniversary of Walt Disney World Resort, ABC presents a spectacular television event, taking the young and the young at heart on a historical journey spanning half a century and beyond at Walt Disney World. Hosted by Disney Legend Whoopi Goldberg, the two-hour program features stunning visuals and musical performances from Disney Legend Christina Aguilera and Halle Bailey in front of Cinderella Castle at Magic Kingdom Park, accompanied by the renowned Orlando Philharmonic Orchestra, as well as interviews with iconic actors and actresses, athletes, Walt Disney World cast members, Disney Imagineers, and executives past and present.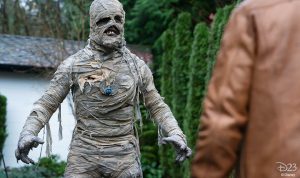 Under Wraps—Friday, October 1, at 8 p.m. ET on Disney Channel
In this contemporary remake of the first-ever Disney Channel Original Movie, three 12-year-old friends—Marshall (Malachi Barton), Gilbert (Christian J. Simon), and Amy (Sophia Hammons)—accidentally awaken a mummy (Phil Wright), whom they affectionately name Harold. Together, they must rush to return him to his resting place before midnight on Halloween. Along the way, they narrowly escape a group of criminals who are determined to sell Harold to the highest bidder. After Harold is captured, Marshall, Gilbert, and Amy must stop the criminals, face their fears, and rescue their new—but rather ancient—friend.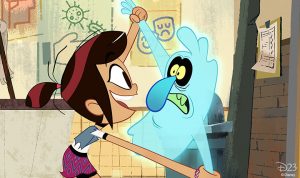 The Ghost and Molly McGee—Friday, October 1, at 9:35 p.m. ET on Disney Channel
In "The Curse," Molly (voice of Ashly Burch) and her family move into their forever home, only to discover that it's already occupied by a grumpy ghost named Scratch (voice of Dana Snyder). Then, in "First Day Frights," Molly is determined to make a good first impression on her first day at a new school. So, she turns to Scratch for help… but he has other plans!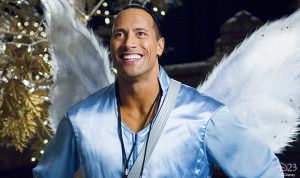 Tooth Fairy—Friday, October 1, on Hulu
Hockey player Derek Thompson (Dwayne Johnson) is a terror on the ice, earning the nickname "Tooth Fairy" for knocking out opposing players' pearly whites. When he dashes the dreams of a young fan, Lily (Disney Legend Julie Andrews), head of the tooth fairies, sentences him to serve time as a real tooth fairy, complete with wings and wand. At first, Derek can't "handle the tooth," but he soon rediscovers the dreams he gave up years ago.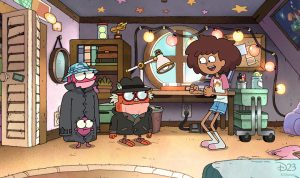 Amphibia—Saturday, October 2, at 9:30 a.m. ET on Disney Channel
In "The New Normal," Anne (voice of Brenda Song) and the Plantars (voices of Disney Legend Bill Farmer, Justin Felbinger, and Amanda Leighton) must adjust to a wild new environment on Earth. Now can someone please explain why there's an evil robot in L.A.?!