By Jocelyn Buhlman
Epcot is the home of original Disney Parks characters that have stolen the hearts of fans around the world. Whether they are part of the world of tomorrow or showcasing the wonders of countries all over Earth, the Audio-Animatronics® figures of Epcot are known for their whimsy, their educational value, and their innovation. To celebrate 35 years of Epcot, we've rounded up some of our favorite Audio-Animatronics® characters from the park.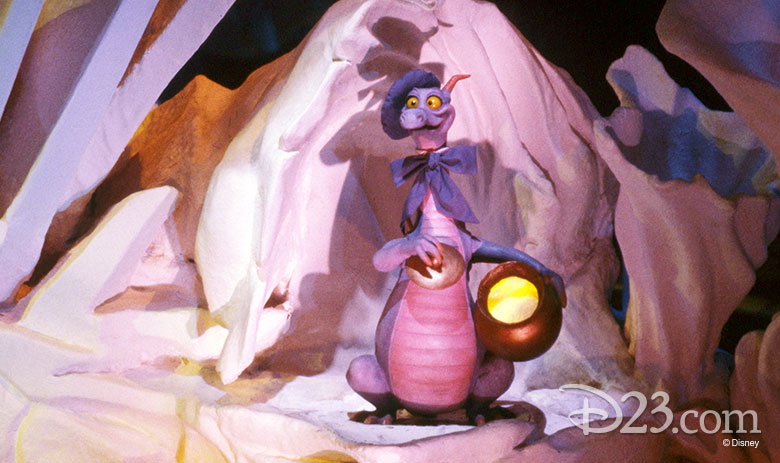 1. Dreamfinder and Figment, Journey into Imagination (1983–98)
One little spark of inspiration is at the heart of all creation, or so said Dreamfinder, one of Epcot's most beloved original characters. Riding along on his Dream-Catching Machine, this jolly journeyer traveled the universe collecting the stuff dreams are made of. By gathering two tiny wings, big yellow eyes, horns of a steer, the nose of a crocodile, and a dash of childish delight, he created Figment! Together, Dreamfinder and Figment took guests on an amazing adventure into the imagination—collecting, storing, and recombining ideas in the worlds of literature, music, fine arts, and science. Guests fell in love with the duo, and to this day, Dreamfinder and Figment are still inspiring Disney fans to find the magic spark to make dreams come true.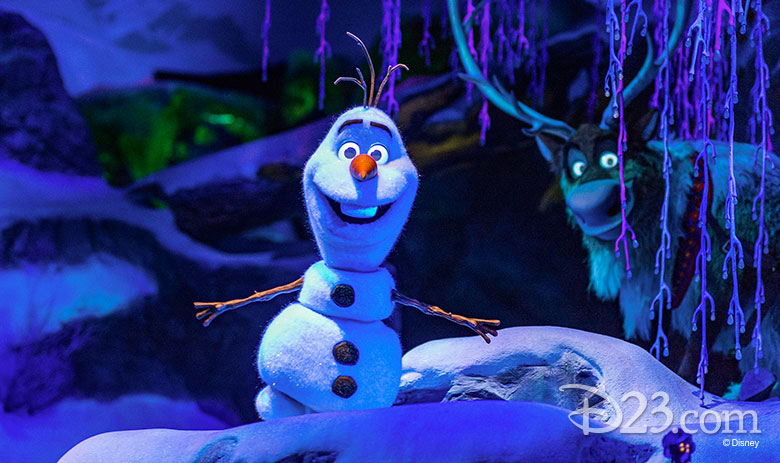 2. Olaf, Frozen Ever After (2016)
His name is Olaf, he likes warm hugs, and he's one of the most technologically advanced Audio-Animatronics® figures at Walt Disney World® Resort! Guests may feel like Olaf walked right out of the film Frozen and into the attraction with his fluid movements and facial expressions as he sings to guests, "Do You Want to Build a Snowman?" His ability to walk, talk, and sing is not just a sign of Elsa's amazing magic, but also the talent of the Imagineers who help shape our amazing experiences at Disney parks all over the world.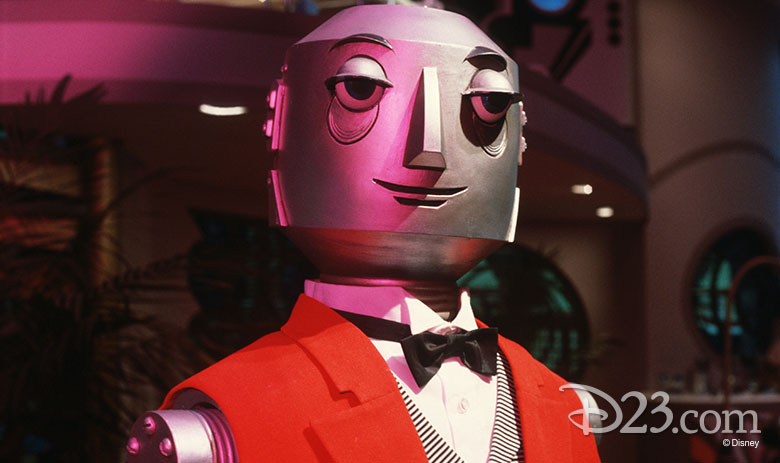 3. "Looking Back at Tomorrow" robots, Horizons (1983–99)
While Horizons is beloved for its optimistic view of our potential futures, it also features a whimsical "Looking Back at Tomorrow" sequence that offered a glimpse at past visions and views of yesterday's future. As the attraction's narrators state, "People have been dreaming about the future for centuries," and in this sequence, guests explored scenes of Jules Verne's science-fiction adventures and retro-futuristic vehicles, such as blimps and zeppelins, conceived in the mind by French illustrator and novelist Albert Robida. These aren't the only past visions that guests could marvel at. In an art deco-themed sequence, guests could glimpse at a smug robot butler (with vacuum cleaner and feather duster in hand) and giggle at a multi-armed robotic chef making a mess of the kitchen. These robots have become beloved icons for Horizons, occasionally featured on park merchandise and even popping up in other Disney attractions. Guests love both the exciting potential of robots who can do our chores, and the silliness of the robots themselves, reminding us that the future is not just about progress, but also fun. (Remember fun?)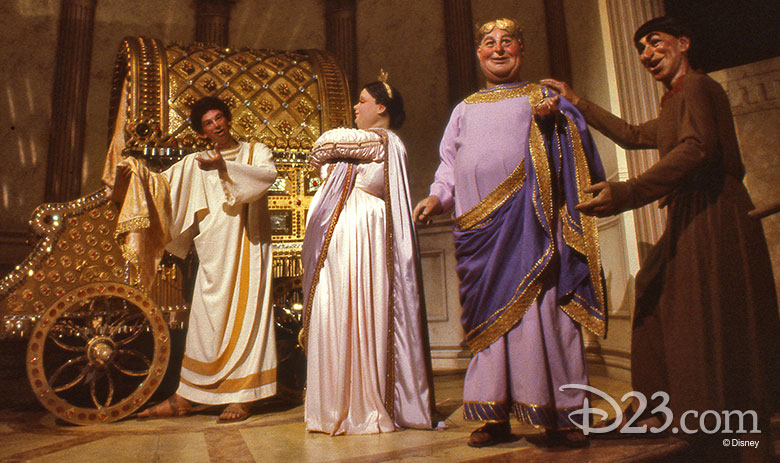 4. Used chariot salesman, World of Motion (1982–96)
World of Motion used a record 139 Audio-Animatronics® humans and animals to illustrate a light-hearted look at transportation, set to the tune of X Atencio and Buddy Baker's classic song, "It's Fun to Be Free." The attraction showcased a history that guests couldn't exactly read in a text book—such as a caveman trying to cool off his overworked feet or the Babylonians' rejected attempts at inventing the wheel. A particularly beloved scene of the attraction even featured a used chariot salesman, marking down his chariots' prices and proclaiming a "sale colossus" for his customers. These Audio-Animatronics® figures were particularly remembered for their expressive and exaggerated features—reminiscent of sculptor Blaine Gibson's earlier work on Pirates of the Caribbean—and several later found new homes in the original Pirates attraction at Disneyland!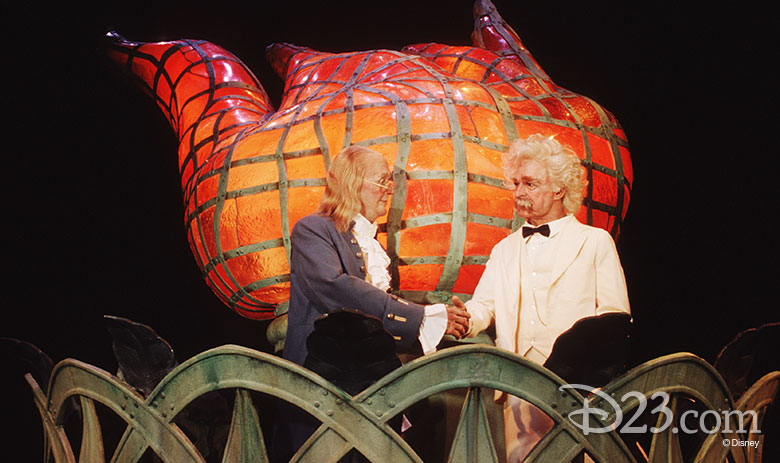 5. Mark Twain and Benjamin Franklin, The American Adventure (1982)
The American Adventure tells the dramatic story of the United States of America with an impressive cast of Audio-Animatronics® figures from American history, hosted by Mark Twain and Benjamin Franklin. The cast has become famous for showcasing a wide variety of technological feats, such as Frederick Douglass riding the Mississippi River on a raft and Will Rogers twirling his own lasso. But the real standouts are the hosts, who guide guests through the country's history. Along the way, they do some pretty cool things themselves. Famously, Benjamin Franklin walks up a set of stairs, a first-of-its-kind feat for an Audio-Animatronics® figure! Not only that, but the two hosts even shake hands at the attraction's finale. If you're a fan of Audio-Animatronics® and of classic Epcot storytelling, this attraction cannot be missed.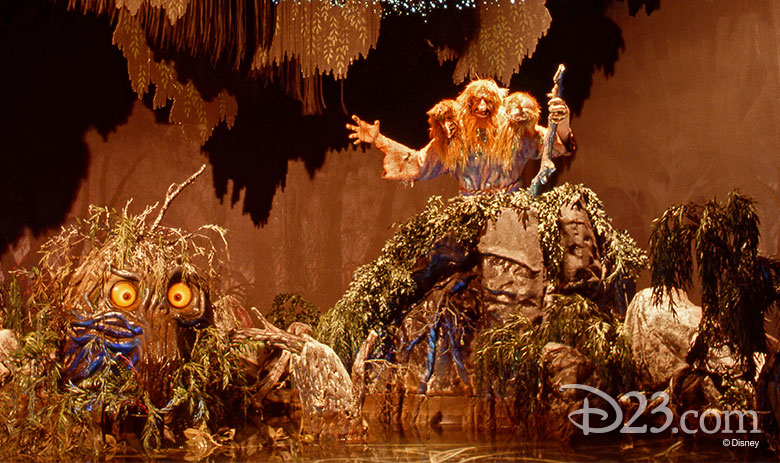 6. Three-headed troll, Maelstrom (1988–2014)
Before the Norway pavilion featured Frozen, it offered an attraction with another beloved (but not quite as huggable) Audio-Animatronics® figure. Maelstrom told the history of Norway, both man-made and mythological, featuring Vikings, polar bears, and some very upset trolls. That's right, while guests were journeying through Norway's rich history, they accidentally wandered into the marsh of a very angry three-headed troll. "This is troll country!" one of the heads proclaims, before banishing guests backwards "over the falls!" We're pretty sure that the troll meant to scare us away, but guests kept riding Maelstrom again and again to experience the spirit and adventure of Norway—trolls and all!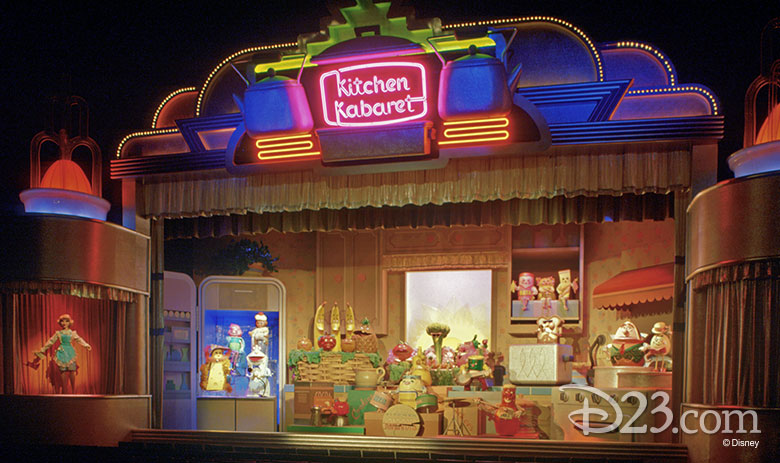 7. Bonnie Appetit & the Kitchen Kabaret cast, Kitchen Kabaret (1982–94)
Eating right has never sounded so good! Kitchen Kabaret was a musical revue about the joys of nutritious food, located in Epcot's The Land pavilion. Hosted by the charming Bonnie Appetit, Kitchen Kabaret featured classic performances by acts such as Mr. Dairy Goods and his Stars of the Milky Way and the Colander Combo and Fiesta Fruit (are you humming "Veggie Veggie Fruit Fruit" yet?) The Broccoli Audio-Animatronics® character was so popular that a nearby merchandise location—Broccoli & Co.—was named after him! In 1994, the attraction transformed into a new musical revue—the all-star benefit for good nutrition Food Rocks—and featured more performing produce to make us dance, sing, and maybe stop for a snack or two. While the new Food Rocks cast members were based on popular music artists, one figure from Kitchen Kabaret remained: Mr. Dairy Goods became the lead singer of The Refrigerator Police (singing "Every Bite You Take.")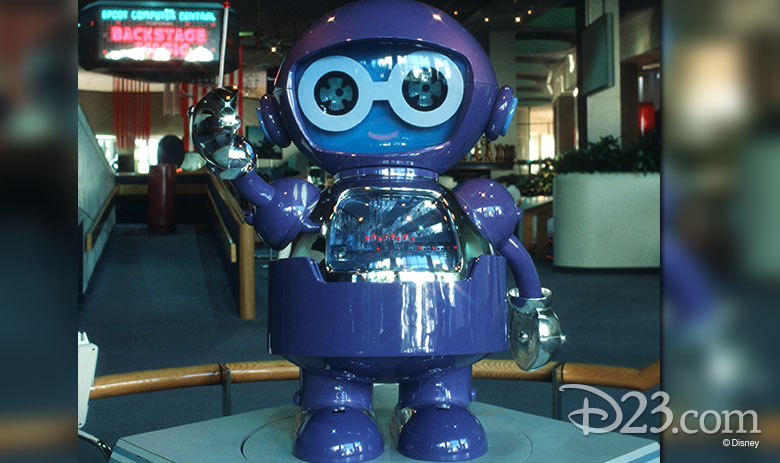 8. SMRT-1, Communicore (1982–94)
Before Innoventions, Communicore was Future World's go-to spot for uncovering the many marvels of the future. Guests could explore hands-on exhibits (using new-fangled touch-screen technology) or, if they were feeling lonely, have a chat with SMRT-1. SMRT-1 was an interactive Audio-Animatronics® robot that guests talked to through a telephone in order to play fun trivia games using the latest in voice technology. It's not every day that you get to go to a theme park and have a chat with a cute little robot, so SMRT-1 stood out from the crowd and kept guests chatting, bringing the spirit of Communicore to life.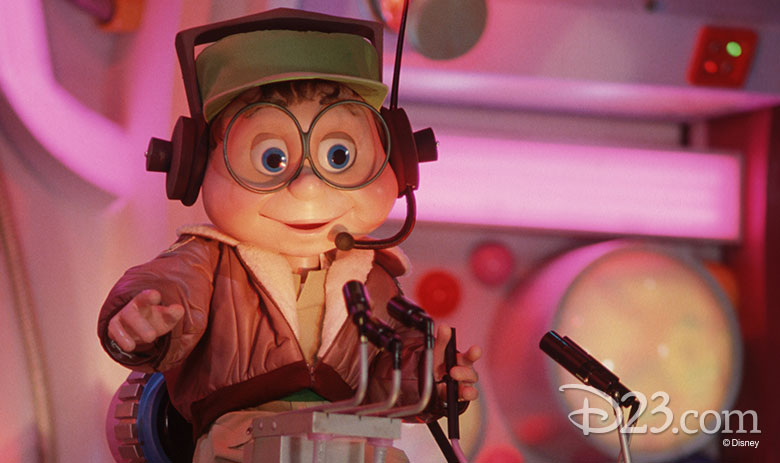 9. Buzzy, Cranium Command (1989–2007)
There are a lot of thrilling challenges at Epcot, whether you're testing out a fast car or traveling to Mars, but nothing required more bravery than having to pilot the brain of an adolescent boy! Only young Buzzy, the new Cranium Commando ready to prove himself, could ensure that 12-year-old Bobby had a good day at school. Guests joined Buzzy inside the cortex for an adventure through crushes, bullies, food fights, and more! In addition to his body crew (reporting in on video screens), Buzzy was joined by another lovable Audio-Animatronics® figure, the Hypothalamus, who cracked jokes in a monotone deadpan. Together, they made Cranium Command the show that's on everyone's mind.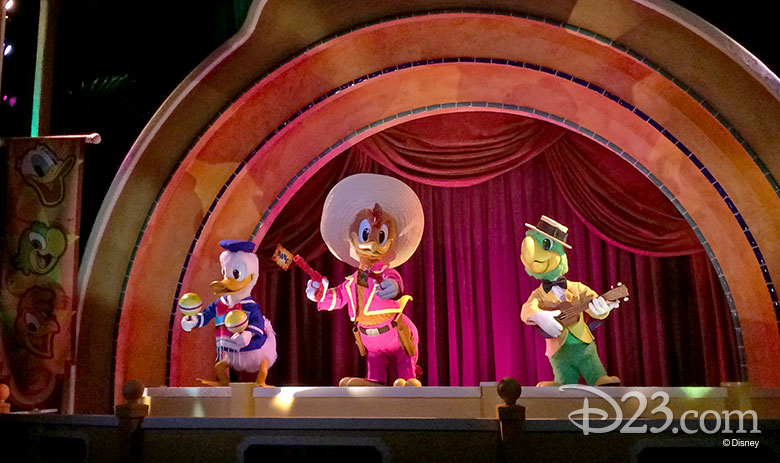 10. The Three Caballeros, Gran Fiesta Tour Starring the Three Caballeros (2007)
These three lovable characters have not just travelled to Mexico—they've been all over the world of Disney Parks! Originating in the Mickey Mouse Revue at the Magic Kingdom, these Audio-Animatronics® characters then journeyed to Tokyo Disneyland to perform when the attraction moved to Japan in 1983. Now, you can find them in Mexico—well, in Epcot's Mexico pavilion! Donald, Panchito, and José Carioca join guests in the Gran Fiesta Tour Starring the Three Caballeros, carrying on some wonderful Disney history with them. Discover more about the journey of these Audio-Animatronics® figures here.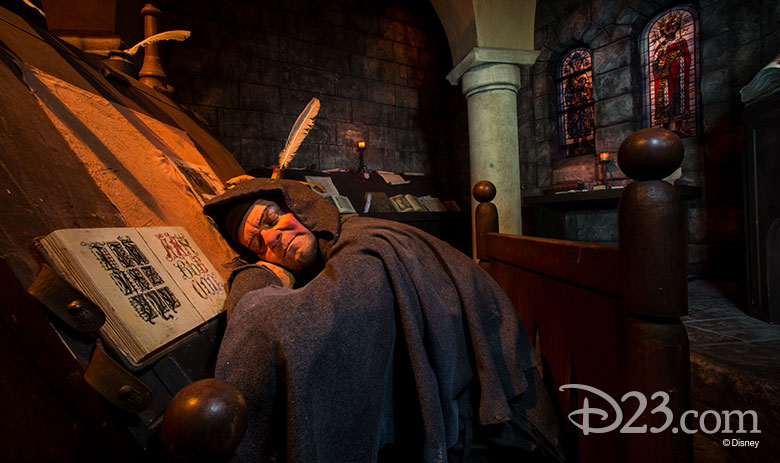 11. The cast of Spaceship Earth (1982)
It's difficult to pick just one Audio-Animatronics® figure from Epcot's most iconic attraction. Journeying through the story of human communication, guests seem to love all the characters found in Spaceship Earth, from cavemen and Phoenicians to a lute player and a sleeping monk. One of the attraction's more recent additions is a computer engineer, who is seen working on a giant mainframe computer in her lab coat and stylish boots. Despite being added to the attraction in 2007—25 years after the attraction premiered—this character has become so popular that Vinylmation product has been made in her likeness, and she remains an icon representing one of the reasons why guests continue to enjoy Spaceship Earth again and again.