By Victoria Hunt
It's hard to believe that it's been 10 years since the beloved Disney Junior series Doc McStuffins first debuted… On March 23, 2012, viewers were introduced to Doc—a six-year-old girl who wants to be a doctor just like her mom, so she practices on (and can speak to!) her adorable stuffed animals. Not only is the show entertaining (with the kind of incredible storytelling Disney fans know and love), but it also models compassion and good health for kids aged 2 to 7… all while having a lasting impact on how children see themselves and their future.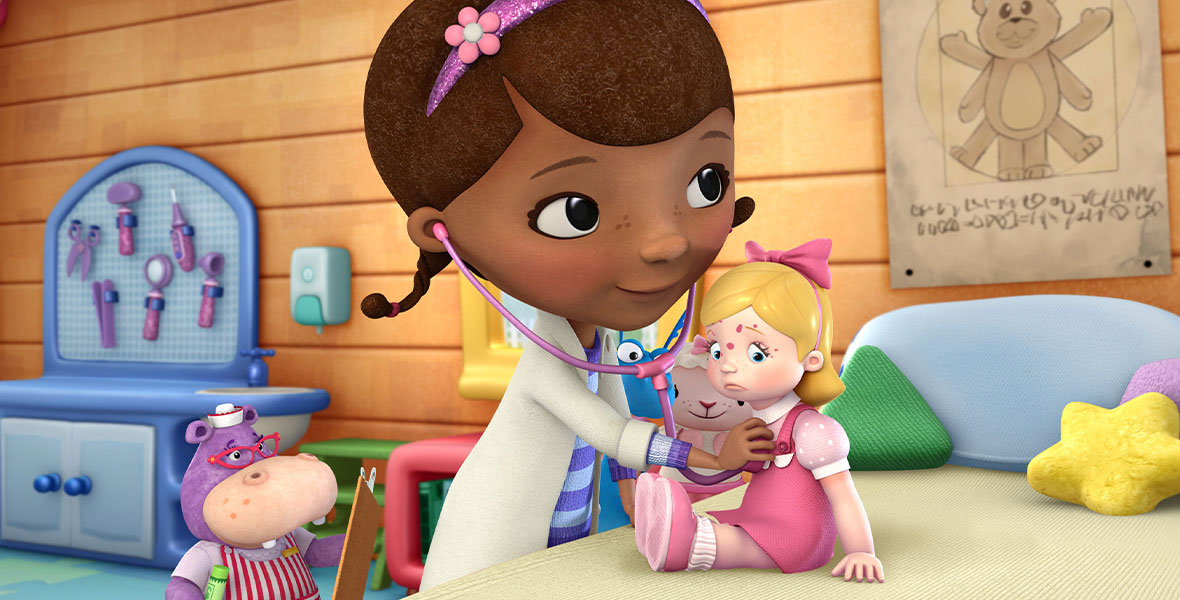 To celebrate a decade of this influential and empowering series, D23 compiled 10 fun facts about the good Doc:
In 2013, a group of Black female physicians started a movement called "We are Doc McStuffins," now known as the Artemis Medical Society. It is dedicated to changing the face of medicine and providing the foundation to create a diverse physician workforce.
Michelle Obama, an outspoken fan of the show, guest starred as herself in an episode—giving Doc a tour of the White House. The former first lady even hosted a Doc McStuffins screening at the White House for military families on Veterans Day 2014.
At the Children's Hospital of Los Angeles, Disney Junior worked with doctors and scientists to create a virtual reality experience for children undergoing surgeries. Doc McStuffins: Doctor for a Day invites children to virtually sew up stuffed animals and perform medical procedures through VR to help alleviate anxiety. According to a study performed by CHLA, 97% of children who played the game reported feeling more comfortable in the hospital.
A Doc McStuffins traveling exhibit has been making its way through museums around the country, and has now found its way back to the Children's Museum of Indianapolis. The exhibit shows children how to develop healthy habits and how to care for others, which also helps to reduce fear of the doctor's office.
The name "Doc McStuffins" hasn't only been heard on Disney Junior—it even made its way to several other popular TV shows, including Parks and Recreation, in which the character Ron Swanson once said, "There is no quiet. There is only Doc McStuffins." Fans found the quote so funny, it quickly became a viral Internet meme. Doc's also been mentioned on Brooklyn Nine-Nine and Grey's Anatomy.
Stephen Colbert seems to be well-acquainted with Doc McStuffins as well; the late-night host has mentioned her several times on his show, including during his opening monologues.
You know you've made it when you have become a Jeopardy! answer. In 2020, Alex Trebek showed his players an image of Doc with the caption, "This animated girl has a doctor's bag—and your kids can have a toy version of it."
Eight-year-old Noa Lewis was initially assigned a school project on Amelia Earhart—but after an episode of Doc McStuffins taught her about Bessie Coleman, the first African American female pilot, Lewis requested to do the project on Coleman instead. The little girl, like Doc, became an inspiration herself and landed on ABC's Good Morning America… and the National Aviation Hall of Fame even flew her out to meet Coleman's great-niece!

Disney and Laya DeLeon Hayes, the voice of Doc McStuffins, have released a new song to celebrate a decade with our favorite toy doctor. The tune, "The Doc is 10," debuted on March 18 and you can listen to it on all major streaming platforms.

Mark those calendars: Disney Junior is hosting a Doc McStuffins marathon on Wednesday, March 23, in addition to airing episodes of the series throughout the entire month of March!